Have you ever had one of those days where everything just seemed to go right? You sat down at your desk, and a coworker handed you your favorite coffee. Your usually full inbox was unusually empty. And you (finally) got that quarterly update from sales.
Proactive customer service gives your customers this same magical feeling.
While most customer support is reactive — you respond to issues your customers are already facing — proactive customer support identifies and deals with those problems before they happen.
Solving issues preemptively feels like magic. All it takes is the right combination of knowledge, strategy, and tools.
In this guide:
What is proactive customer service (and why does it matter)?
Proactive customer service (or proactive support) is when you identify and respond to issues before a customer feels the need to reach out. This can include everything from AI-powered chatbots to self-serve knowledge bases and FAQs.
Customer satisfaction can also come from using contact center tools like customer service CRMs and automatic call distribution (ACD) that help your agents give faster, more personal support.
Because you don't need me to tell you that customer expectations have skyrocketed. At the same time, companies are seeing spikes in contact center volume from all channels.
Relying only on reactive customer service means you're always under an avalanche of issues.
But by adopting a proactive strategy, your team has more room to breathe (and can focus on being customer-centric).

Source: Gartner
Here are a few other ways being proactive will benefit your company:
Reduces the number of issues that get through to your agents. A proactive strategy weeds out low-priority problems. Instead, only the most critical ones reach your agents.
Scales up as your company grows. In a reactive world, more customers mean more issues and more agents to handle them. But proactive strategies and tools don't require more agents. For example, a chatbot scales with your with your company. You can add customers without additional costs.
Improves the customer experience. Proactive support improves CSAT scores, boosts retention, and even increases sales. For example, a recent study found that 87% of online shoppers abandon their carts due to confusing or difficult checkout processes — a perfect use case for proactive support to jump in.
Fewer issues. Lower support costs. And happier customers. Proactive support can feel like the holy grail of support strategies. So why aren't more companies putting it into practice?
Read more: Call Center Strategy: How Do You Build One That Sticks? →
Do teams truly offer proactive customer support?
Proactive service has been on Forrester's list of top customer service trends since 2013. Yet, in the near decade since, few customer service teams have embraced it. But that doesn't mean they don't want to.
According to a recent survey, 78% of support leaders want to move to a more proactive support approach. However, only 26% are sure they have the knowledge and tools to do so.
Support teams often work in a state of urgency. A frustrated customer wants help now. Not in a week or two after you've spent time thinking about how you can solve their problem proactively.
Proactive

Business makes first contact
Messaging is planned in advance
Actively reduces support tickets

Reactive

Customer makes first contact
Responses depend on the issue
Time sensitive; is a point of friction
It's hard to switch your mindset from dealing with current issues to solving them in the future. But the good news is that you already have the data (and maybe even the tools) you need to offer proactive support. You just need to know where to look.
What powers proactive support?
To get in front of customer issues, you first need to know where and when they're most likely to happen. Here are a few places you can start looking.
1) Surface customer's most common issues
Studies show that for every customer who reaches out with a problem or complaint, 26 stay silent.
Every customer relationship contains a treasure trove of information on common issues. By identifying and solving them proactively, you're not just helping those in need but also the silent majority.
Here's where you can start looking for common customer issues:
Knowledge base articles: Check page views and other analytics to see which articles are most read or escalate to a phone call or chat. It could be as simple as this example from Airbnb. Their clean support center layout immediately shows the most searched questions and answers.
Chat logs: Modern business chat tools can use sentiment analysis to automatically identify issues and track the keywords that come up during negative conversations. Use this to identify the high-level topics your customers are most interested in.
Phone calls: Voice analytics can identify customer tone and the topics during complaints using automatic conversation analysis.
Social media: According to a Facebook study, 64% of customers would rather contact a business over social media than the phone. Using an omnichannel contact center lets you keep track of how customers talk about you online and address issues quickly.
2) Find opportunities to reduce friction
There are common situations where your customers get confused or frustrated — whether during payment, onboarding, or setting up your service or tool. These are irksome when they happen but easily avoidable with a little legwork.
Talk to your support agents about when customers come looking for help. This could include:
Payment and plans: Look for terminology or specific plans that are confusing for potential customers. For example, your target customer might be falling between two of your plans and need help picking which one is right for them.
Setup and onboarding: The first experience with your product or service is critical to building customer loyalty. Use automation or hands-on tutorials to walk your customers through setting up their accounts and follow up when they get stuck.
Product pages: Customers don't always want to have to figure everything out on their own. Address common concerns or questions head-on by including an on-page FAQ or using an AI-powered chatbot to ask specific questions.
3) Create customer feedback loops
The qualitative data you get from digging into your customer data and behavior can be truly illuminating. However, it can just as often leave you confused or searching for more.
Finding a common issue or friction point doesn't always provide context about why this is an issue or how customers feel about it. Instead, feedback loops let you ask those questions directly.
For example, you can ask customers to rate their experience with your chatbot immediately after a conversation. Or, send automated surveys and follow-ups based on how your customers respond.
4) Enable support, product, and marketing collaboration
Support isn't the only team that has deep insights into customer behavior.
Sales, marketing, and product all have a vested interest in understanding customer motivations. Unfortunately, these teams — and their knowledge — often end up siloed.
Your support team must have a clear line of communication with other customer-facing teams. Not only does this keep everyone on the same page about customer experience, but it also can help inform more significant changes.
Proactive support can just as easily turn into updates to your product or service (to make it easier to use) or marketing and sales pages (to make them easier to understand).
For example, you could surface top feature requests and pain points to the product team. Or, share common questions with marketing to update your main homepage with FAQs. Keeping the lines of communication open benefits everyone.
Proactive customer service: 9 Ways to get started
Most modern contact centers and customer service tools are well-suited for providing proactive support. And now that you have a good idea of which problems to solve, it's time to put together your toolkit.
You can think of proactive support as a funnel.
Funnel stage
Proactive support tools
Preempting issues
Before customers know they have a problem.
FAQ
Automated messages
Chatbots & IVA
Customer journey
Social listening
Self-serve
When customers have issues and go looking for resources themselves.
Knowledge base
AI-powered chatbots
IVR
Contact center
If self-service options don't work and customers directly reach out to the support team.
Live chat
Customer service CRM
Screen pop
Ongoing feedback
Using customer requirements and recurring issues to improve proactive support.
Surveys
Automated check-ins
Conversations analysis

At the top, you have all the opportunities to address common issues before a customer even knows they need help. For example, FAQs and knowledge bases, product announcements, or automated messages.
One layer down is when a customer knows they need help. At this stage, you can proactively supply resources through AI-powered chatbots and interactive voice response (IVR).
Finally, for those customers who need a personal touch, you can use contact center tools like a customer service CRM or screen pop to help agents resolve issues quickly.
Throughout the entire funnel, you can collect feedback and use customer loops to understand problems and improve your approach.
1) Knowledge base articles and FAQs
Knowledge base articles and FAQs are one of the best low-tech tools for proactively helping customers. According to research from the team at Vanilla, 79% of customers expect organizations to provide self-service tools (and want to use them before reaching out to customer support).
Unfortunately, too many companies let their knowledge bases fall out of date. But all this does is cause your customers to lose trust in you and either call support or switch to a competitor.
Instead, organized and in-depth knowledge base articles are a massive opportunity to delight customers. Here are a few tips:
Organize your knowledge base around the customer journey. Use categories and topics that quickly tell your customer where to go. For example, you might break up your knowledge base into sections on "Getting started," "Pricing and plans," and "Account Setup."
Use a standard structure for all help articles. Most customers will end up reading multiple help docs to answer their questions. By using a standard structure or template, you reduce their cognitive load and avoid unnecessary follow-up calls.
Add videos whenever possible. Not every customer will sit and read through a long or complex help document. Instead, a Vidyard report found that 68% of people would rather watch a video to solve a problem than speak with an agent.
Audit your content regularly. Set a regular schedule to check your content for accuracy, readability, and relevance (as well as update screenshots and images).
2) AI-powered chatbots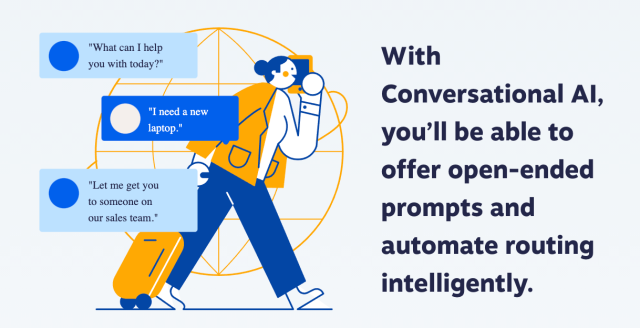 Chatbots have become more sophisticated in the past years and can now resolve many common customer issues. However, chatbots and intelligent virtual agents (IVA) can also get ahead of problems by detecting subjects and making real-time suggestions.
For example, an IVA on your pricing or plan page could suggest a plan based on company size or needs. While a chatbot on a product page could ask questions and then offer relevant paths, help docs, or knowledge base articles.

3) Live chat with skill-based routing
IVAs are great for handling routine questions, but many support requests still require a human touch.
When you hand off a question to a live agent, you want to make sure your customers are getting the help they need right away.
Skill-based routing is when you match a customer's needs to an experienced agent. Using context (what page the customer is on) and analysis (scanning the conversation for topics or keywords), you can route the customer to an appropriate agent.
Making the right match means less idle time for everyone and a quicker resolution time.
4) IVR with update announcements
Your contact or call center is still the first place most customers reach out to when they have a problem. The good news is that you can use your company's phone system to address known issues proactively.
For example, a customer might call in because a feature they regularly use stopped working. While IVR can help them navigate to the right agent, it can also inform them that you're working on a fix.
It might seem obvious, but a simple update message can let customers know you understand their issues and are working to fix them — all without talking to a live agent.
5) Support CRM and screen pop for support agents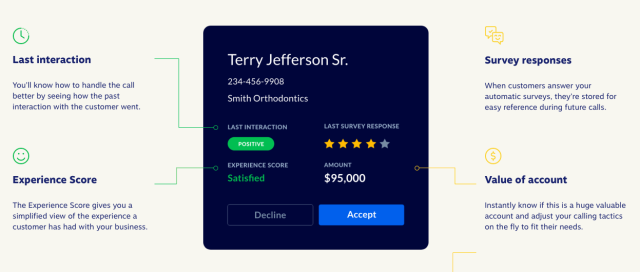 Customers will always still need to talk to support agents. There's no getting around that. However, you can still bring a proactive approach to phone calls.
72% of customers expect you to know who they are, what they've purchased, and their past interactions before they call. This context is what allows you to pre-emptively offer solutions instead of making customers repeat their issues.
To give your agents this data, use a tool like Nextiva's screen pop that instantly highlights important customer data before answering the call.

You can customize screen pop to show the data that matters most to your business, including:
Customer name and company
Recent survey responses
Experience score
Last interaction sentiment
Account value
Once your agents accept the call, they'll get deeper insights into past interactions via the customer service CRM.
6) Surveys and real-time feedback
A critical part of any proactive customer service strategy is listening to your customers and understanding their needs.
Set up automatic surveys or real-time ratings for after each interaction to get continuous feedback on how you're doing and where you can improve.
You can create automated messages based on these responses. Alternatively, use survey data to proactively identify customers who need additional help or are facing bigger issues.
If someone leaves a one-star rating or angry comments, you can escalate to a call from an agent or support manager.
7) Support automation along the customer journey
The best customer service feels like it happens right before you need it. But it's impossible to manually monitor every customer interaction and jump in at the right time.
However, you're constantly gathering data about your customer from interactions, surveys, and feedback. All this data creates a customer journey — a "map" of their current feelings about your company and brand.

Customer journeys are powerful tools for support (and sales). However, one of their best uses is for triggering customer service automation.
Customer service automation is a process where you reduce human involvement in support by automatically supplying resources at the right time.
Here are a few examples of how you can use customer journey data and automation to provide proactive support:
Automatically send welcome emails and educational materials when new customers sign up.
Follow up with customers who have been inactive for several days or who haven't finished their onboarding.
Send a 'free offer' to loyal customers (or whenever you get lower than a 4-star rating.)
Automatically escalate conversations to a support manager when you've received multiple support tickets.
Send resources and videos on specific features your customers haven't been using much.
8) Product and feature updates
Every new product or feature update changes the customer experience — both for better and worse.
In a reactive world, you'd wait for customers to interact with your new service or tools and reach out.
But that's rarely the case. Instead, you can be proactive about upcoming changes and how they'll impact your customers.
For example, you could set up automated campaigns before launching with links to resources or information on how they can get in touch. Or, for high-value customers, you could reach out personally using your VoIP call center to walk them through the changes.
Even if a change negatively impacts a customer, they'll appreciate that you set expectations early on and were ready to help.
9) Social listening
Social media is where you're most likely to hear the rumblings of an incoming support crisis.
It's impossible to monitor every conversation that's happening about you. However, an omnichannel contact center like Nextiva organizes your social media (and phone, SMS, email, and chat) into a more manageable way.
When a customer mentions your brand name or sends you a message, you'll be alerted and can see what they wrote and respond.
Those customer interactions are visible across your omnichannel contact center. So if the conversation moves from Twitter to chat to phone, you'll have the history and context to provide excellent and proactive customer service.
Proactive support feels like magic, but it's no trick
Every great magic trick relies on misdirection. You need to understand how your audience acts so you can distract them while you fill your sleeves with cards or hide a rabbit in your hat.
Proactive support follows the same process. Once you know how your customers act before they come looking for help, you can be there ready with the right tools and resources.
And just like a magic trick, they'll leave feeling excited, delighted, and inspired.
Proactive customer service is easy with Nextiva.