Have you switched from a traditional phone system to Voice over Internet Protocol (VoIP)? You should know about how VoIP phones work during power outages.
While VoIP systems tend to be much more reliable than a traditional landlines, there's still a risk of downtime because the entire network is on the internet. Lose that internet connection, and you lose your business phone service.
Power failures happen when you least expect them. The best way to keep your phone service working through interruptions is to plan for them.
When you're running a business, power failures can cause you to miss customer calls, sales meetings, and even conference calls. It's never a good look — but don't despair.
Preparation is your best defense. There are countermeasures we'll cover in this guide. Plus, we'll show you a few ways to keep the calls online during a VoIP power outage.
Four ways to deal with a VoIP power outage:
Just stepped into the office to find your entire business phone system down? Here's what to do so you can get up and running quickly.
1) Confirm you have a power outage.
Power outages are surprising because they are rare. If only one room or certain appliances like your VoIP phone or computer won't power on, you should check your electrical service panel. You might have tripped a circuit for using too much power. Flipping the circuit breaker to "ON" should fix it.
Another quick way to see if a power outage is affecting just you or your neighbors is to check for Wi-Fi. Open up your smartphone's wireless network settings. If you see almost no available Wi-Fi networks to choose, there's a good chance that your neighborhood has lost power.
Check outside if there is poor weather. During severe weather or high electrical demand (summertime), power fluctuations and outages are frequent.
Lastly, use your cell phone to check your local power company's website to see if they posted about a power outage or downed power lines. In most cases, cell towers can still provide data and voice service when the power goes out.
Related Post: 10 VoIP Problems: How to Fix Them Forever
2) Connect to a backup battery power supply.
A short-term solution is to connect your phone system to a backup power source, such as an uninterruptible power supply (UPS) that you might have.
To restore connectivity, provide power to your internet equipment. That is, you need to connect your modem, router, switch, and VoIP phone into the UPS, so they turn on. A UPS is a battery backup that powers devices for a finite period until the power company restores electrical service.
This solution will only work if your internet provider is unaffected by the power outage. For instance, a downed power pole could impact thousands of cable internet subscribers at once.
The typical uninterruptible power supply can keep a VoIP phone system online for approximately six hours. If the power outage lasts longer than that, there's more you can do.
3) Switch to your VoIP smartphone app.
One of the attractive benefits of a VoIP phone system is that you can take calls anywhere. You don't even need your building's internet connection. Your phone probably has enough battery life remaining to answer any business calls you might get during an outage.
Plus, battery packs for cell phones are relatively common these days. A full battery could last you a full recharge even with heavy usage. Just grab your extra battery and plug it in.
Nextiva offers a free business phone app for users to complement their phone service. After you download it, sign in, and you can begin taking calls in minutes.
4) Divert incoming calls to voicemail.
If you're not able to take calls on your iPhone or Android, no problem. Incoming callers can still leave a message on your voicemail. Unlike a traditional landline, voicemail is handled entirely by the VoIP service provider, even when you lose power.
You can also receive voicemail messages in your email if you have voicemail to email set up. This nifty feature lets you listen to them, forward to a colleague, or respond when your power is back.
How to prevent future VoIP outages:
While you can't rule out the odds of a power outage, you can set up some redundancies to keep your VoIP phone system online. The best part is it's easy!
When you follow these four steps, your business communication won't be totally in the dark during a power outage.
1) Choose a reliable VoIP provider.
It's a fact that some phone system disruptions happen with phone providers. Do your research into a provider's actual track record for reliability and the ways they uphold it.
Nextiva offers uptime 99.999% system uptime. We've invested millions into creating and maintaining a reliable business calling network trusted by over 80,000 companies. All of our data centers are resilient with off-grid power redundancy along with automatic failover, so calls keep flowing uninterrupted.
A quick check on social media will often uncover the truth about a provider's uptime based on user feedback.
Related Post: Is VoIP Reliable? Nine Tips To Know Before You Switch
2) Set up automatic call forwarding when unavailable.
One way to insulate your defense against a power or internet outage is to forward calls if your VoIP phone is unavailable.
See, VoIP phones stay in continuous contact with a VoIP provider. The phone provider knows when your desk phone or computer is unreachable.
You can activate automatic call forwarding to another phone — such as your cell phone — so you can answer incoming calls no matter what.
This particular feature is named Call Forward When Unreachable. Follow that link to see how to set it up in Nextiva. Once you set this up, you can forget changing it unless you want to.
If you have a working SIP device like a desk phone or a business phone app, inbound calls will be directed there. When the power goes out, your cell phone will ring like any other phone call.
3) Divert calls to another business location.
For some companies, they can't wait out a power outage. If your office needs to take inbound calls like a call center, you have to act fast, so calls don't drop.
If your company has multiple locations, you can direct all calls to another office. This quick fix is common among call centers when they have poor weather and need to route all calls to another offsite team.
Let's say your office in Miami has a power outage. You can configure your phone system to divert calls to your San Antonio office. It's a good idea for systems administrators to get familiar with how to reroute incoming calls to a different location. Make this a part of your business continuity practice for even more confidence.
Make sure your telephone service provider has the features you'll need to do this. Traditional phone systems require extensive configuration and terminal-level access. With Nextiva, you just let us know you want to activate location forwarding, and we get it done.
4) Have a backup Internet Service Provider (ISP).
In addition to power outages, you might need a backup WAN provider. Voice over IP only needs a low-latency connection to the internet, so any type of broadband connection will work. You don't necessarily need another cable or DSL bill, either.
It's possible to go with a high-speed wireless internet provider as a backup. With 4G LTE technology, you can use a cellular provider as a backup ISP for your office. All you'll need is an LTE modem, and you can switch it on during an outage to restore internet connectivity.
And, it's not just you. Around 64% of U.S. adults said they couldn't be without Wi-Fi for more than a day!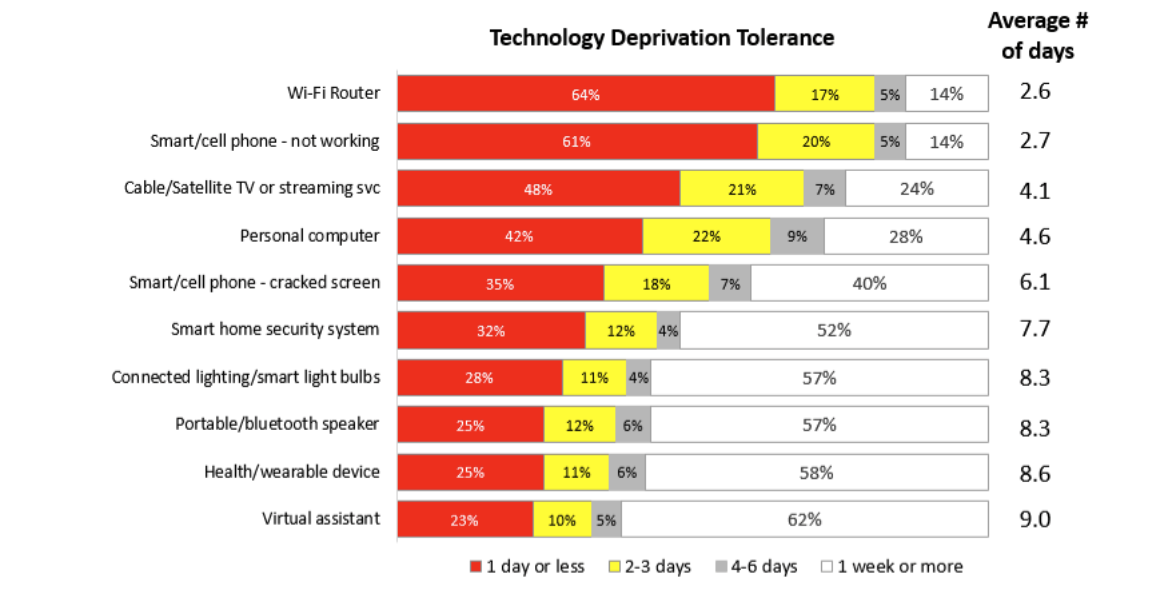 For a small office that needs internet and phone service no matter what, this backup provider is very cost-effective.
VoIP power outages don't have to disrupt your phone calls.
It can be a bit unsettling when you lose power. When your office loses power, you can:
Wait it out. Some power interruptions are resolved within a few minutes without further action.
Use a VoIP smartphone app. Some VoIP providers include a mobile app for placing and receiving calls. Many cellular services stay online during a power outage.
Forward calls to your cell phone. If you have a working cell phone, you can route calls to a different phone number.
Direct calls to your voicemail. Instead of a busy signal, you can direct callers to a voicemail box so you can return their call later.
Set up an uninterruptible power supply. These are more than big power strips. They provide hours of power for your networking equipment, including your phone.
You get more than a high VoIP uptime with Nextiva.
A VoIP power outage isn't just frustrating. Regardless of whether you're a small business or running a large scale call center, being knocked offline is a big deal.
Nextiva's VoIP phone system has plenty of capability to keep your team working. Look beyond 99.999% uptime to real-world support team availability you can count on.
Amazing Service means you can get help from a friendly and knowledgeable VoIP expert 24/7. Once you tell us about what's happening, we can suggest a quick fix for you. You've got your business communications covered with Nextiva, and we have your back — even during a power outage.