Does this sound familiar? Your organization wants a new phone system, but your purchasing process gets in the way. And all too often, you keep pushing off that upgrade.
Identifying and selecting vendors can become an elaborate process. You might need to put together an RFP or RFI to gather bids for your next VoIP phone system. It can be daunting, but it doesn't have to be.
At Nextiva, we help companies of all sizes adopt business communication solutions. In doing so, we've seen our fair share of RFPs for all kinds of VoIP projects. Everything from typical desk phones to robust SIP trunks to inbound call centers.
To give you a head start, we've put together an extensive guide to help you navigate the VoIP purchasing process. Plus, we developed free templates you can download and use!
If you're involved in the selection of a new phone system, you'll enjoy our straightforward guide. No matter if you're a purchasing agent, work in government, or gathering formal bids for VoIP, this guide is for you.
---
Download free RFI and RFP Templates for VoIP
To help you out, we've put together these free RFI and RFP templates. Download and use them to make your phone system upgrade a success.
VoIP RFI Template
Request for Information
VoIP RFP Template
Request for Proposal
---
What are VoIP RFPs and VoIP RFIs?
Organizations use two types of documents to assess potential vendors against their needs. The first is a Request for Information (RFI), which is used earlier in the buying process. The second is a Request for Proposal (RFP).
RFIs and RFPs each serve a unique purpose to empower stakeholders to make decisions. We'll focus on how you can use these to identify and select the ideal VoIP system for your company.
VoIP Request for Information (RFI)
An RFI is a document used earlier in the buying process.
A customer lays out a high-level view of the issues they're looking to solve. It lets potential providers describe how their service solves the problem. It serves as an opportunity for a vendor to understand the customer's industry.
Some customers send RFIs to many possible providers to narrow down their picks to just a few. With those few, they then ask them to respond to an RFP.
VoIP Request for Proposal (RFP)
An RFP is a document interested providers fill out to pitch their solutions.
Customers craft an RFP document and request potential service providers to complete it. Organizations use RFPs to follow strict procurement processes or have many decision-makers. An RFP aims to surface answers about the procurement of any new vendors.
Overview of Voice over Internet Protocol (VoIP)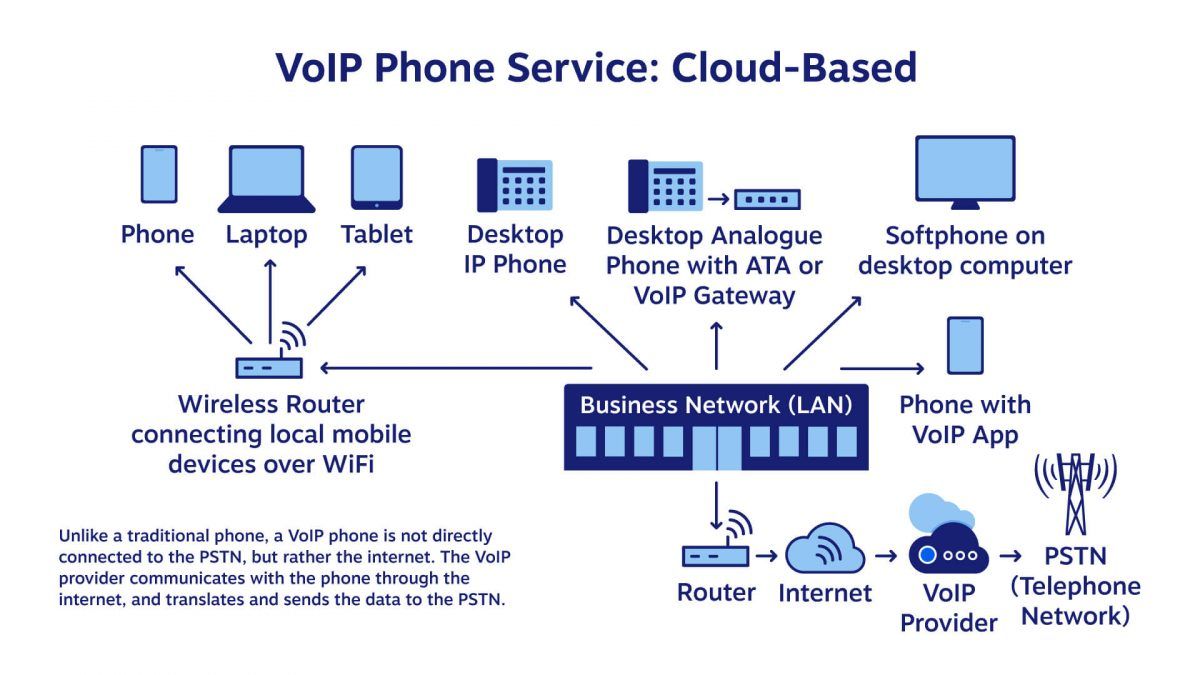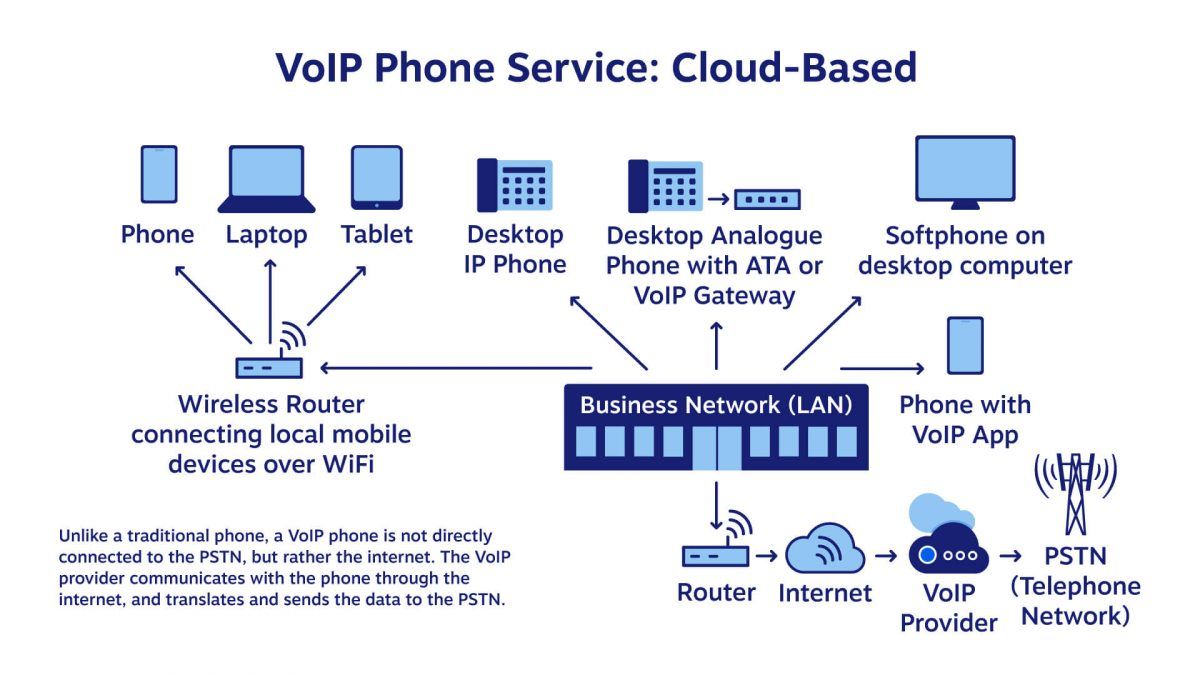 VoIP lets you make and receive calls over the internet. Calls can take place anywhere an internet connection is available, including over Wi-Fi. VoIP providers establish connectivity between parties using digital signals.
VoIP phone service is location-agnostic, unlike traditional copper landlines. VoIP exists in many forms for a company to consider. Solutions include business phone service, SIP Trunks for IP PBXs, virtual call centers, and more.
Voice over IP brings a company's telephony into the digital era. It functions as a cloud PBX with many features and is more cost-effective than landlines.
On-premises PBX phone systems don't offer the flexibility and unified messaging needed today. Today's VoIP solutions offer unmatched performance compared to traditional landlines over the PSTN.

VoIP Request for Information (RFI)
When you need a VoIP RFI
Replacing your existing phone service takes a lot of thought, time, and effort. You need a VoIP RFI when you're kicking off the exploratory process. If you don't have much experience with the ins and outs of VoIP, you'll gain a lot from a VoIP RFI.
An RFI allows you to ask a broad range of potential suppliers. It's a great way to describe your communication needs. When you ask many questions, you're interviewing long-term partners. Pricing aside, it lets you confirm their solutions will meet your needs.
Answers from prospective vendors will give you an idea of the market and help you shorten the list.
Ideally, the RFI can also help identify which companies can meet your requirements. It lets them differentiate themselves in providing unified communications services.
Related: Installation Checklist: 12 Steps To Install a VoIP Phone System (+Project Plan) What to include in a VoIP RFI When a company crafts an RFI to explore the VoIP services available, there is a lot to consider.

The exact format of an RFI will vary depending on the size and scope of a project. Common elements found in a VoIP telephone system RFI, include:
Company information like size, areas of operation, and competitors
Pricing models (monthly subscription, annual subscription, paid in advance or arrears, methods of payment)
Hours of operation and support availability
A list of features that have caught your interest: auto-attendant, group paging, intercom capabilities, conference calls Softphones, or mobile apps
Call center or contact center functionality
Issues that you are looking to resolve by changing providers
Desired contract terms and requirements
Compliance requirements (HIPAA, PCI, CCPA, etc.)
Other conditions like infrastructure needs including cabling and maintenance that might be required Questions or requirements for implementation, deployment, and training
Any questions you have about VoIP, incoming calls, call routing, porting of phone numbers
Specific requirements for your voicemail system, expected volumes, the ability to transfer voicemail Outbound calling requirements estimated local, long-distance, and international needs, automated attendants, receptionist software, caller ID questions, or direct inward dialing (DID).
The nature of these inquiries should be open-ended to allow prospective providers to distinguish themselves. How to structure a VoIP RFI It's important to format a VoIP RFI in such a way that it's easy to complete. A PDF might make for a prettier RFI, but it will be more challenging to answer your questions in-line.
We recommend using a word processor format like Microsoft Word or a read-only Google Doc. This format lets prospective providers copy or download it to provide answers. Consistent formatting helps streamline the review of an RFI. You can add commentary, highlighting significant passages, and share with others.
An RFI should include many open-ended questions to allow a provider to answer at length. Who should be involved in your VoIP RFI You should involve anyone that will be involved in the deployment of your new telephone system. In particular, you need to involve your IT team. If you have a tech partner that works with your company routinely, you should involve them as well.
For instance, systems administrators may want VoIP to integrate with the existing hardware. They're often focused on behind the scenes, not necessarily the aesthetics.
These groups can provide you with input about when it comes to implementing a new system. IT will examine potential solutions with many different lenses.
To avoid your project from going sideways, establish clear roles decision-making. A project sponsor, usually an executive like the Director of IT or a CIO, sets the plan in motion.
A project coordinator might organize available resources. The coordinator should gather technical requirements from stakeholders and draft the RFP. The executive sponsor should review the information requested in the RFI and sign-off. VoIP Request for Proposal (RFP) When you need a VoIP RFP An RFP happens later in the selection process. You're now at the proposal stage.
At this point, you should have solidified your requirements for a VoIP phone system. You should have narrowed down your list to a few major contenders.
The RFP lets you firm up your needs and preferences into a comprehensive document. RFPs put the onus on the provider to ensure that they meet your needs. In most cases, this is the last step before making a final decision.
Keep in mind that RFPs are text-based. It's a tool that's used to choose between providers, and many decision-makers need to weigh in on the product. Your team should be able to rely on the documents alone to base their decisions.
This process can be cumbersome if you're operating a small business. It may be more efficient to schedule demos, free trials, or proof of concepts with VoIP providers. No formal RFP response will provide the same context as seeing a solution live or using it yourself.
Some companies adopt Request for Quote (RFQ) as a step after the proposal. At Nextiva, we include the quote as an attachment with our RFP submittal. What to include in a VoIP RFP An RFP for a new phone system should cover a lot of ground for describing how a vendor will meet your needs. It should be exhaustive and leave nothing up to interpretation.

Depending on the needs of the business, you can deviate from standard VoIP RFP topics.
Many of the RFPs that Nextiva has responded to adopt the following criteria:
RFP schedule: A timeline provides you with a method of weeding out providers that can't meet your timetable.
Make sure you schedule a time for a Q&A session where providers can get clarification on the RFP process.
Evaluation criteria: Every RFP takes time from a VoIP provider to fill out and prepare. Providing clear evaluation criteria ensures the providers that submit your RFP believe that you will pick them.
Information about you: Include details about your organization, such as history, values, and current technologies used. Knowing this helps potential VoIP vendors design the ideal solution.
Be sure to mention any industry compliance or regulations that apply.
Required licenses and hardware: How many end-users do you have that will need to place and receive calls? How many will need a desk phone? Do you need cordless handsets? Meeting rooms? Include details about the broadband provider used at each location.
Additionally, cover hardware needs like speakerphones and Power over Ethernet (PoE).
Requested features: This can be a bulleted list of features that you need, that you would prefer to have, and that would be nice to have. You may want to round up your IT team to reach a consensus on these VoIP features.
Proposal submission methods: Describe how you wish to receive RFP submissions. Many RFPs can be submitted via email or utilizing a Dropbox or a Google Drive link. Some industries need vendors to send submissions via paper or through the mail.
Scope of work: A proper VoIP implementation is more than technology. Gather details around the onboarding, training, and routine support. This allows RFP respondents the opportunity to describe what's included. This also outlines the time to migrate and how it affects the total cost of the proposed solution. Examples include remote installation, on-site installation, live training, etc.
How to structure a VoIP RFP
Structuring an RFP sounds complicated at first, but once you dig into it, it's a breeze. Don't lose sight of the fact that people need to read the document in its entirety to understand your needs.
VoIP RFP Outline
Introduction
Scope of Work
Activities and Services Solicited
Eligible Proposers
Criteria for Evaluation of Proposals
General Instructions
Vendor Overview Security, Uptime, and Redundancy
Technical Checklist
Required Attachments
An RFP should be structured in an organized and consistent way. Doing so enables you to compare responses against each other when they come through. Begin with the relevant information about your organization and its needs.

Include the series of questions for the VoIP provider. Let them provide contact information for a point person who will submit the finalized RFP to you.

Provide any legal or contractual requirements that apply. Examples include outage response processes, Service Level Agreements, and terms of service.

Finally, enter your checklist of requirements. Allow the potential cloud phone system provider to respond to each item. This gives you an in-line description of each in the provider's words. They should articulate how they can support those features in a compelling way.
Sometimes things change after you've sent out the initial RFP request. If you need to change any attributes of your request, you can send out an addendum to follow up on your RFP.
Pro Tip: We've included free templates that you can use in the creation of your RFP. It'll save you a lot of time. Who should be involved in your VoIP RFP You'll want to work with the team that helped you with RFI. After all, RFP is the next stage after RFI. This is where the rubber meets the road in the VoIP phone system selection.
You may want to broaden the stakeholders to include some rank-and-file members. Their insight from the field will help add context not seen by others.
Decision-makers should have a say in the payment terms. Training experts dig deep into the internal deployment surrounding the product. Enlist the help from legal to review any contractual terms or regulatory requirements.
Ask your partners to offer insight into the other technologies currently used. They may have line-of-sight into risks and opportunities that you haven't considered.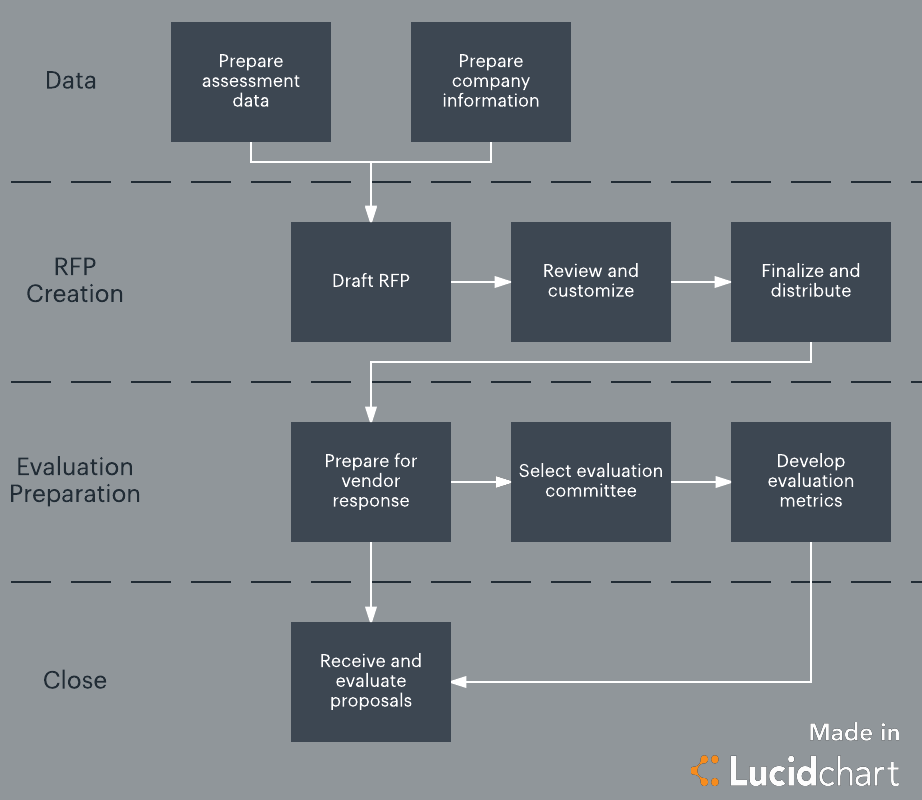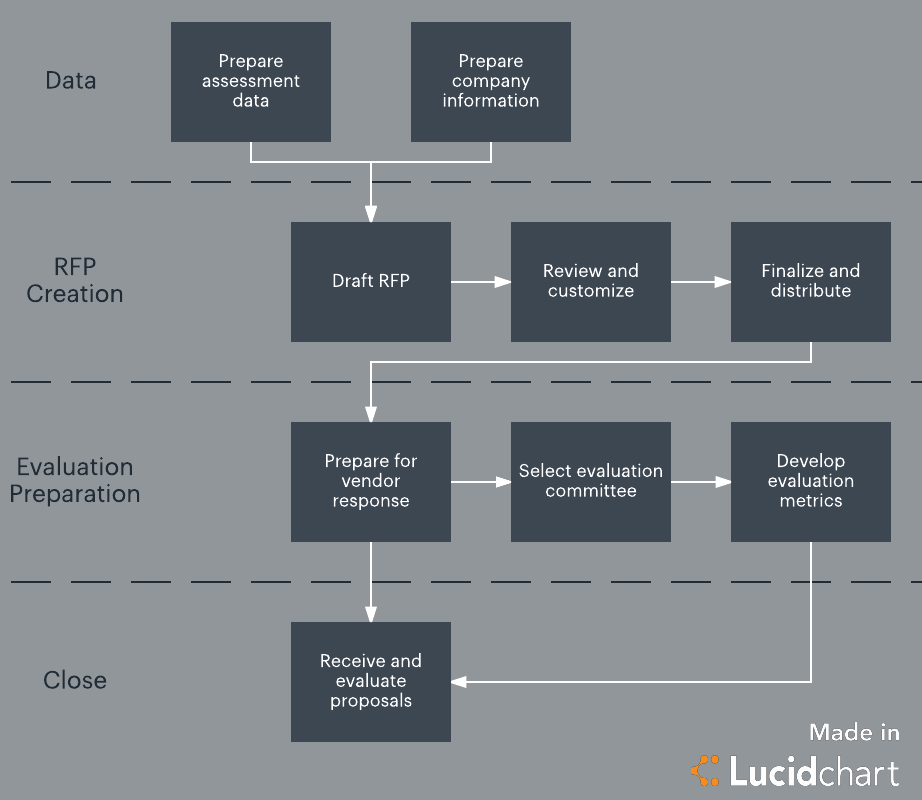 Three tips to make the VoIP vendor selection process go smoothly
We've seen what works in successful phone system projects as well as a few misses along the way. Here are a few tips to improve your outcomes:
Follow up with short conversations with each vendor. Talk with them about your needs and what they can offer you. Schedule a demo or two to understand their solution and how it might work for you.
Create a robust RFP document. A comprehensive VoIP RFP helps you avoid surprises later. The selection process is made clear within the RFP. Spend a healthy amount of time to make it actionable and specific to your organization.
Aim for a long-term partnership. Look for a provider who has a proven record of reliability and customer satisfaction. The last thing you'd want is to have to switch providers a year or two later. Forecast your needs and describe them in your RFI and RFP.
Better communication is within your reach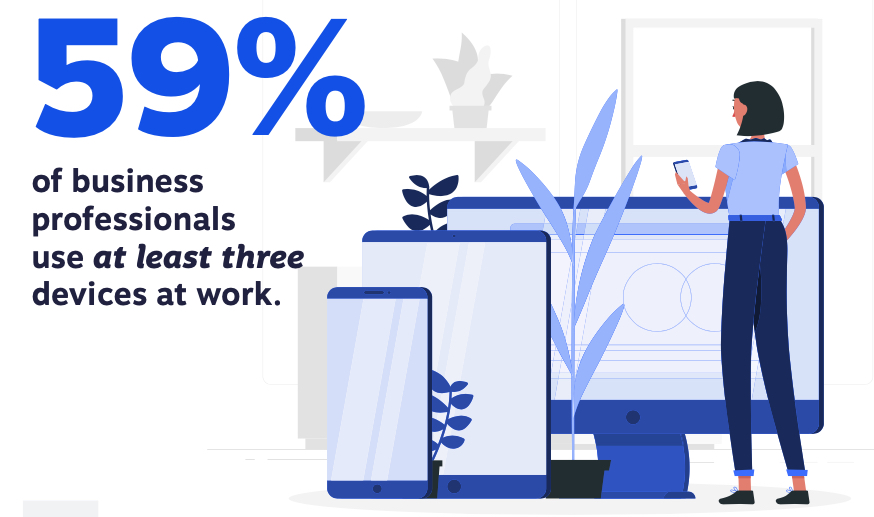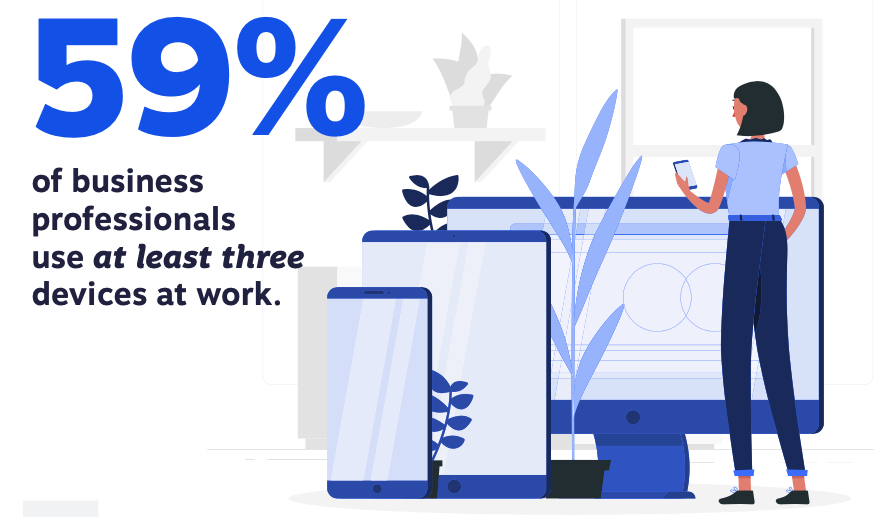 It's always a good idea to keep your finger on the pulse of your technology needs.
The communication demands today are entirely different from five years ago — let alone 20 years ago. Two-thirds of organizations have experienced a communications crisis in the last year. (It's not only you!) And employees use three devices on average to complete their work.

The pivot toward remote work underscores the importance of a cloud phone system. If your current phone system no longer helps you achieve your goals, it costs you more not to upgrade.
The VoIP RFI and RFP process balances cost, feature, and fit for every mature organization. It's a great tool to get an idea of the VoIP marketplace and select the right vendor.
Best of luck and keep your standards high.