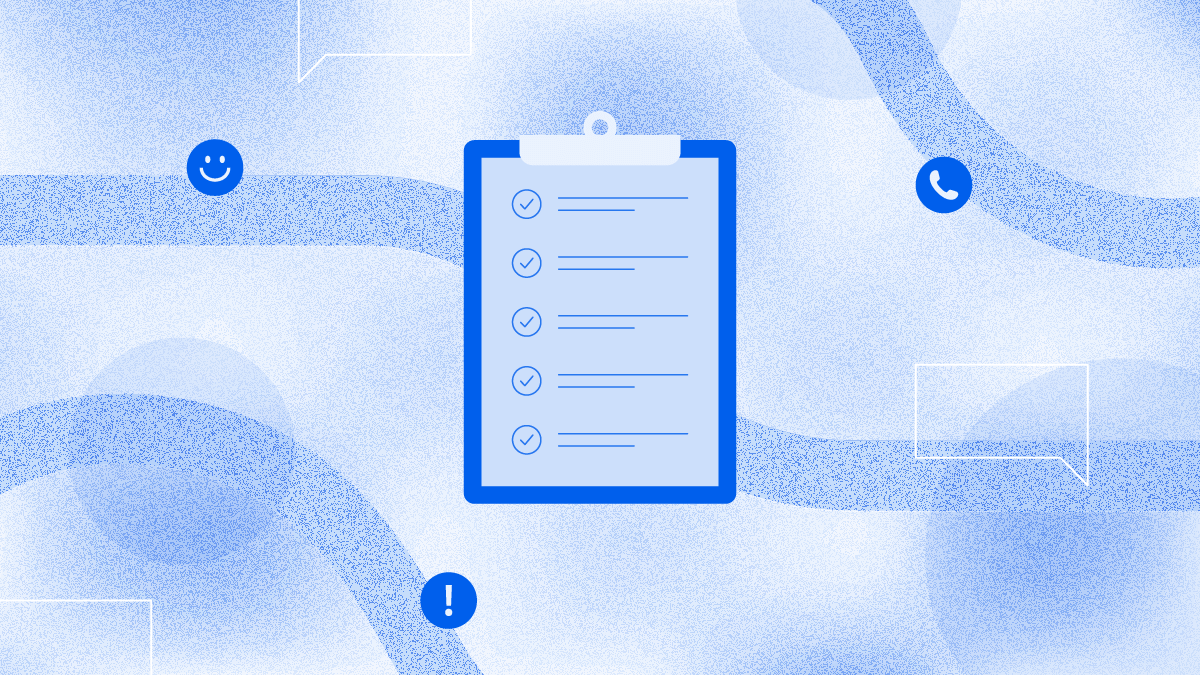 Moving to a new Voice over Internet Protocol (VoIP) phone system is exciting but can be a big project to tackle. After all, you want to make sure your company's phone system is operational at all times.
No matter if you're coming from landlines, PBX, or another VoIP phone system, it helps to have a plan. The good news is we've done the work for you.
Our VoIP installation checklist shows you the way in three stages. You can harness the power of a virtual phone system in just 12 steps.
Let's begin!
Identify phone system needs
Prioritize features
Perform bandwidth tests
Select optional VoIP phones
Transfer phone numbers
Add and manage users
Download VoIP apps
Design the ideal call flow
Verify network connectivity
Confirm number assignments
Record voicemail greetings
Activate extra VoIP features
Phase 1: Research & Prep Before You Buy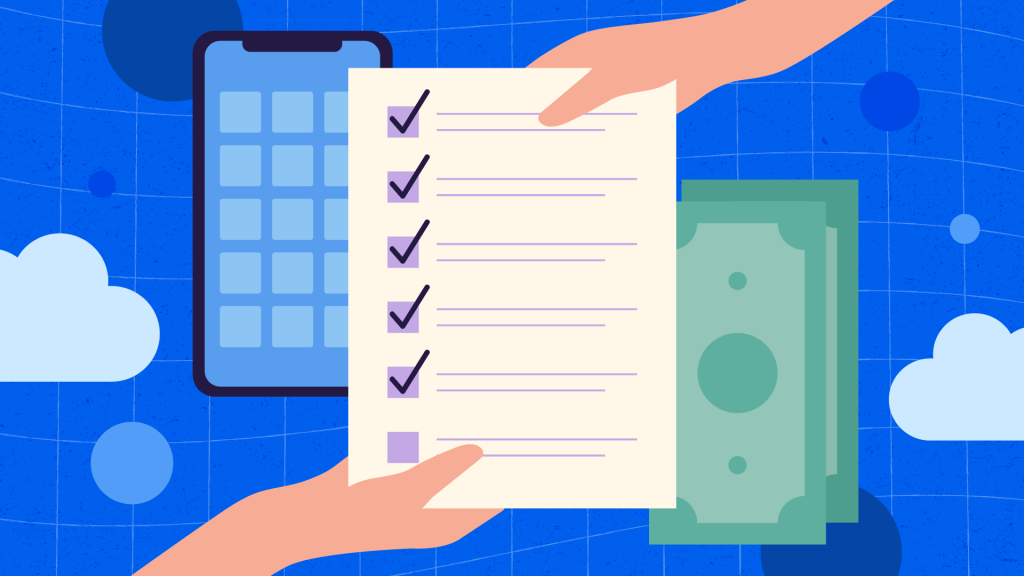 You'll want to gather details about your voice communication needs to have a plan in mind.
1) Identify your phone system needs
We've heard from thousands of business leaders. It's not uncommon to find they don't have a list of requirements for their phone service. If the basics aren't covered, it doesn't matter how trendy the communications feature.
Examples of phone system needs:
Number of users (local and remote)
Active business phone numbers
Phone system usage (a phone bill works)
Expenses and budget changes
Legal and regulatory requirements
Once you have these in hand, think about what you want from your new telephone service. Do you have a remote team? If so, you'll need a provider that offers softphone apps for devices employees use. If you have a global presence, you'll need affordable international calling.
Figuring out your business needs first will put you on the right path to choosing the best VoIP provider. It'll save you time and money in the long run.
2) Prioritize communication features
You might have some phone system features that you've always wanted. There might be some phone system features you've never heard of. The world of unified communications opens up a lot more functionality to interact with your team and customers.
Several notable VoIP features include:
Auto attendants to welcome and guide incoming callers.
Call routing for directing calls to one or more team members.
Video conferencing to meet with your team and customers over video.
Instant messaging lets you chat with a coworker securely.
Voicemail transcription delivers voicemails to your inbox so you can read them instantly.
And these are just the start. We listed out more than 40 telecom features you can get included with business VoIP plans. You might be surprised.
3) Perform bandwidth tests
VoIP works by connecting calls over an internet connection. You'll need enough bandwidth to take those calls. This isn't a problem for most people. On average, Ookla reports that most broadband connections are above 50 Mbps.
For reliable Voice over IP calls, heed these guidelines:
Bandwidth: 100 Kbps per line (Example: 10 lines need 1,000 Kbps or about 1 Mbps)
Latency: 150 milliseconds or less
Jitter: 20 milliseconds or less
Take our VoIP speed test to see whether your bandwidth is healthy enough for VoIP. It simulates voice traffic on your network to test if your internet connection is good to go. Rest assured that individual VoIP calls take a minuscule amount of network traffic.
Most networked routers today are more than enough to handle Voice over Internet Protocol traffic. But if you're shopping around, look for one that has QoS and bandwidth management functionality.
4) Select optional VoIP phones
The allure of VoIP is that you don't need new equipment. You can use your existing smartphones and computers with internet phone service.
VoIP phones connect to the internet, not through a conventional phone line. If you prefer the feel of a desk phone, browse our VoIP desk phones and check out the variety of handsets and specs. Keep in mind that headsets and other peripherals vary between manufacturers.
We don't recommend committing to only one model. Speak with your cloud communications expert to get their recommendations. As an insider tip, ask about VoIP phone rebates or promotions.
Phase 2: Migration & User Setup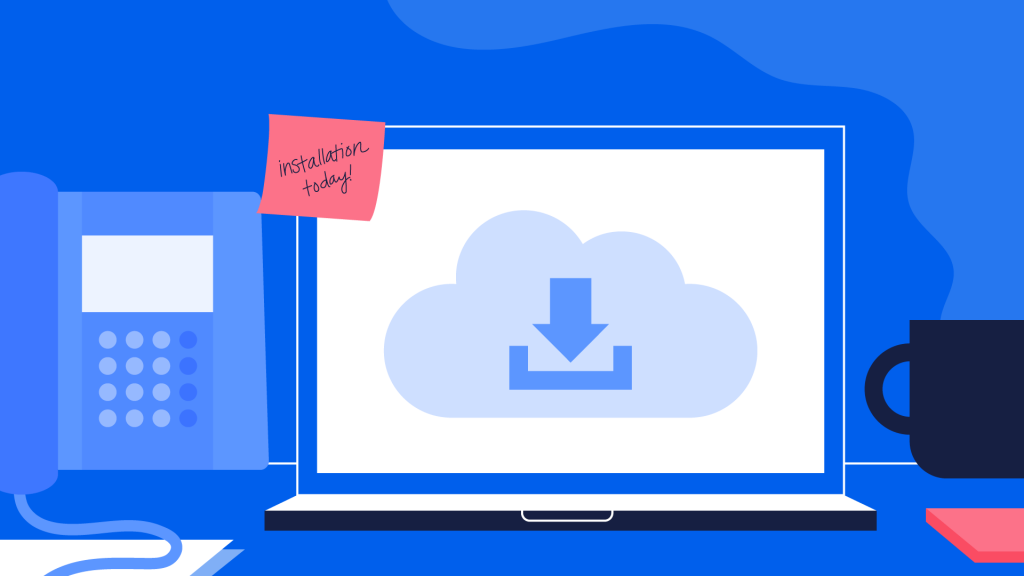 Once you've chosen a provider, it's time to set up your new VoIP phone service. This stage is stress-free when your communications provider guides you through the transition.
5) Transfer phone numbers
What's in a number? For almost all companies, it's their identity. Customers likely know your phone number, or it appears in your marketing materials. It's essential to transfer your existing phone numbers. Porting or "port-in" both describe the process of moving telephone numbers.
Your new VoIP provider will migrate your numbers seamlessly. Get a copy of your old phone bill, and Nextiva will guide you through completing a Letter of Authorization (LOA). Your service provider will inform you when your numbers are ready.
You can transfer any phone numbers you use, such as PSTN/analog, wireless, and virtual numbers. Of course, you always have the option to pick out new digits if you'd like.
Tip: To switch to a cloud phone service immediately, get started with temporary phone numbers and port your numbers later.
6) Add and manage users
How many employees need to use your business phone system? This question isn't a trick. The number of users might differ from the number of phone extensions and employees. Perhaps you might not want some staffers to have a direct-dial number (DID). Either way, add them to your phone system so they can make and receive calls.
For most small businesses, this should all fit on a spreadsheet. Plan out the users, phone extensions, permissions, and any desired call flows you want so you can be ready on day one. Large organizations should think about ring groups, administrators, and profiles. Don't worry; you'll cover all these and more during onboarding.
Tip: For employees that work from home, provide their home address for their E911 location. Public safety dispatchers can access this information when a user dials 911.
7) Download VoIP apps
It's now time to set up the devices you want to use for your new phone system. Arguably, this is the most exciting part of any VoIP solution.
You can fast-track your VoIP installation. Use a softphone to make business calls from your smartphone or desktop. The Nextiva App is available for iPhone, Android, macOS, and Windows. After you sign in, you're done.
For those with desk phones, plug them in. Through the magic of IP telephony, they will connect to your VoIP provider. From there, associate the physical phone with the user in your admin portal. With Nextiva, your VoIP implementation is done — no firmware updates or struggles with TFTP.
Tip: If you have a Power over Ethernet (PoE) switch, you won't need to use the AC adaptor. The phones will power up from just your Ethernet cable.
8) Design the ideal call flow (auto attendant)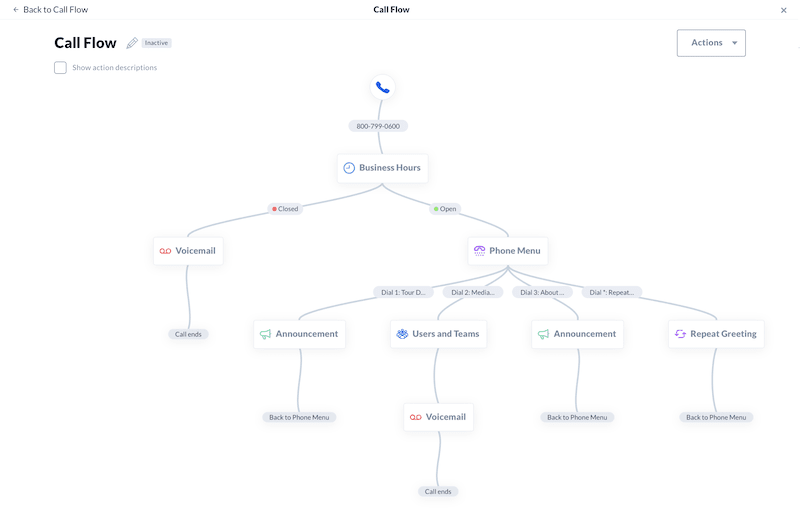 Finally, you want to think about the journey when someone calls your company. A professional auto attendant is your saving grace here. You might already have one of these if you're coming from an on-premises or hosted PBX.

Auto attendants greet callers with a short menu of choices. Businesses need to be aware of the customer experience when setting up their call flow. Nextiva's visual Call Flow Builder makes it a breeze to create the ideal experience.
"There are two types of callers: people who are unfamiliar with your company and will need guidance, and callers who know exactly who they need to speak to and know their extension."

James Bucki, The Balance

James Bucki, The Balance
Record a brief greeting that welcomes callers. Name the destination then the number you want them to press. For instance, "For sales, press 1." Keep it simple and straightforward as you get started.
With VoIP, you can always change it without any technical help.
Phase 3: After installation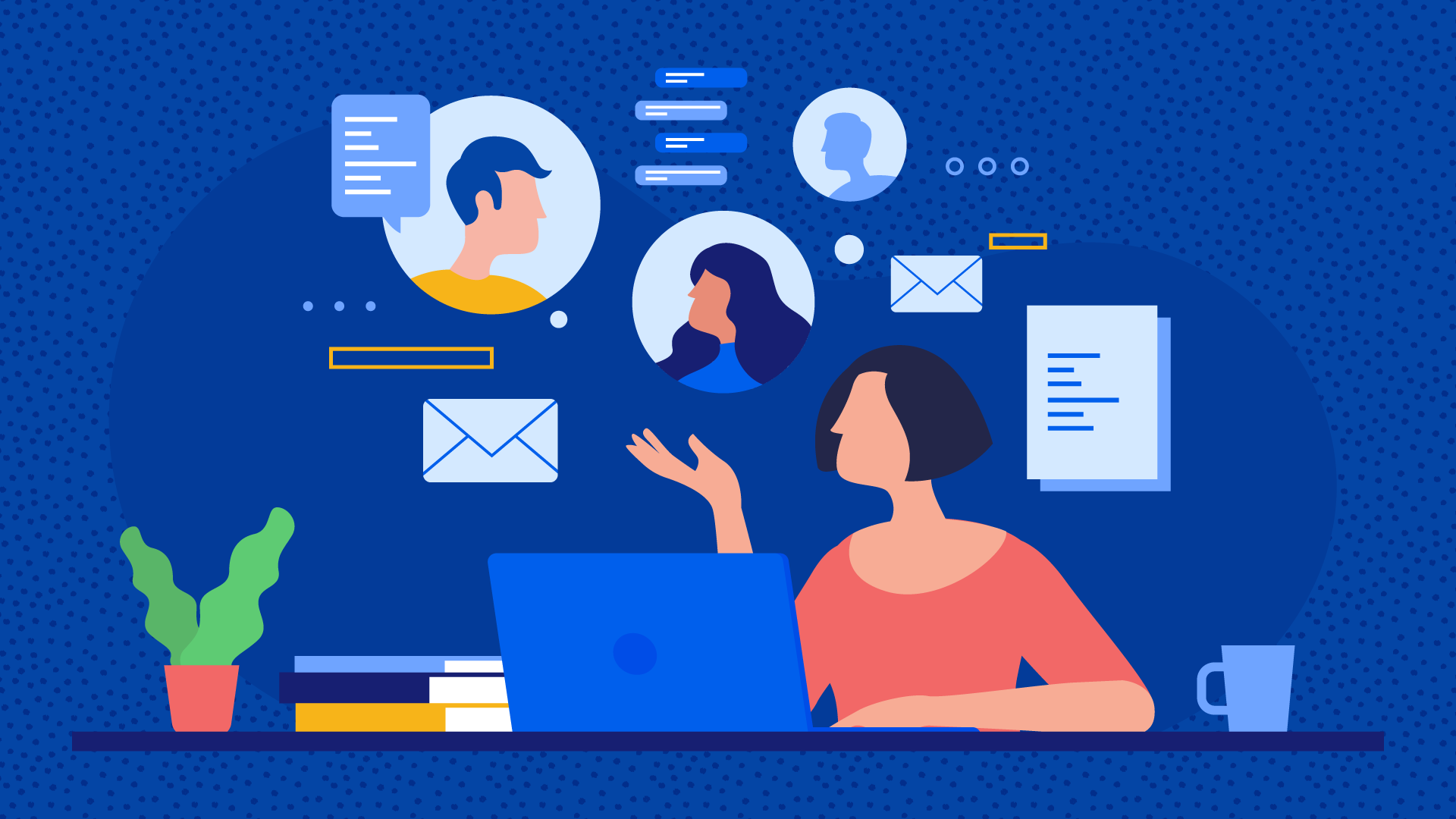 Congratulations, you've completed most of the business phone installation. These final four steps ensure you take full advantage of everything a VoIP phone system has to offer.
9) Verify network connectivity
Occasionally, your network configuration can take you by surprise. For peace of mind, double-check your connectivity during the VoIP installation. Confirm your Voice over IP connections are operating correctly.
Here are easy ways to test your new phone system:
Call your number from your cell phone.
Call your cell phone from your business phone number.
Complete a test call for approximately 20 minutes to listen for any audio issues.
As a best practice, disable SIP ALG inside your network's router. Go a step further and configure Quality of Service (QoS) settings for VoIP. Doing so will maintain superior call quality and performance. If you have any voice communication issues, now's the perfect time to adjust your firewall.
10) Confirm your number assignments
Besides direct inward dial numbers, you might also use ring groups (also known as call groups). These can direct incoming calls to a handful of users from one phone extension. This functionality varies between VoIP service providers.
Likewise, confirm that you've configured the outbound caller ID as you desire. A user's caller ID might default to the location's phone number. It may take a few weeks for telecom providers to update their caller ID databases.
Tip: Try calling 1-800-444-4444, which is the MCI Automated Number Announcement Circuit (ANAC). It will read back the Automatic Number Identification (ANI) for your phone number.
11) Record voicemail greetings
Voicemail is vital to every business phone system. Your voice helps customers and coworkers know if they reached the correct number. Suppose you prefer a text message instead — a voicemail greeting establishes that convention.
Don't let the horrors of dialing into your PBX scare you away from setting up your voicemail. Nextiva's online portal enables you to craft the perfect greeting right from your browser. It will take you just seconds to complete.
Tip: For optimal call quality, use a wired internet connection instead of Wi-Fi.
12) Activate extra VoIP features
The last step to install your VoIP phone system is to set up the extra communication features. These aren't essential on day one, but they help your company enhance its workflow and productivity.
Popular communication features that businesses need include:
Business VoIP installation checklist
Here's a handy implementation checklist you can take with you. It's a summary of the big picture for researching, setting up, and enjoying a new VoIP phone system.
I. Research
II. Migration
III. Post-setup
Phone system needs


Users, phone numbers, extensions, and must-haves.

Transfer phone numbers


Toll-free, direct-dial, and virtual phone numbers.

Verify connectivity


Incoming calls, outbound calls, and network performance.

Desired VoIP features


Call recording, call queues, conferencing, and email integrations.

Add users and E911 info


Usernames, extensions, permissions, and physical addresses for E911.

Confirm phone numbers


Outbound caller ID and inbound call paths work as desired.

Bandwidth tests


~100 Kbps per line with less than 150ms latency.

Install VoIP apps


VoIP softphone apps for smartphones and desktops.

Record voicemails


Record greetings and messages for future call flows.

Optional desk phones


Desk phones, conference phones, headsets, etc.

Set up call flows


Auto attendants, holiday schedules, and call routing.

Activate extra features


Conferencing, recording, faxing, and text messaging.
Your specific VoIP installation might look much different depending on the size of your company. This template helps you understanding how a typical VoIP plan might go.
Transition to VoIP with confidence


Ready to make the switch to a modern VoIP phone system? Not only does it provide you with more features, but it's also surprisingly easy to install. You don't have any interruptions to your business while you switch to the cloud.
For the third consecutive year, U.S. News named Nextiva the #1 business phone system. Nextiva was also ranked the top VoIP service on G2 for businesses sized 51-1000 employees.
You don't have to brave it alone. Our onboarding and simple online setup have you covered. In a matter of minutes, you can transition your phone system to the cloud. The first step is to get a personalized quote. From there, we'll guide you through your VoIP implementation.
Related: 10 Signs It's Time to Upgrade Your Business Phone System