A VoIP (Voice over Internet Protocol) phone service helps phones communicate with the regular phone network, through the internet instead of a phone line.
Essentially, it'sinternet phone service. With the right software, you can answer calls from your computer or mobile phone.
VoIP services offer unique benefits that make them a no-brainer for businesses that rely heavily on the phone. These benefits drive robust growth, with the sector projected to pass $190 billion in revenue by 2024.
Overview:
What does VoIP phone service mean?
Regular phone service works by connecting individual phones in a loop through the PSTN (Public Switched Telephone Network).
Each phone has a unique number that identifies it to the "switching centers" that connect phones. The centers make these connections based on the dialed phone number.
Voice over Internet Protocol (VoIP) is an innovation that completes calls over the internet using digital signals instead of analog. To use VoIP, you would need a cloud phone system provider and an IP phone that can make and receive phone calls. You can also use a VoIP app you install on a computer or smartphone.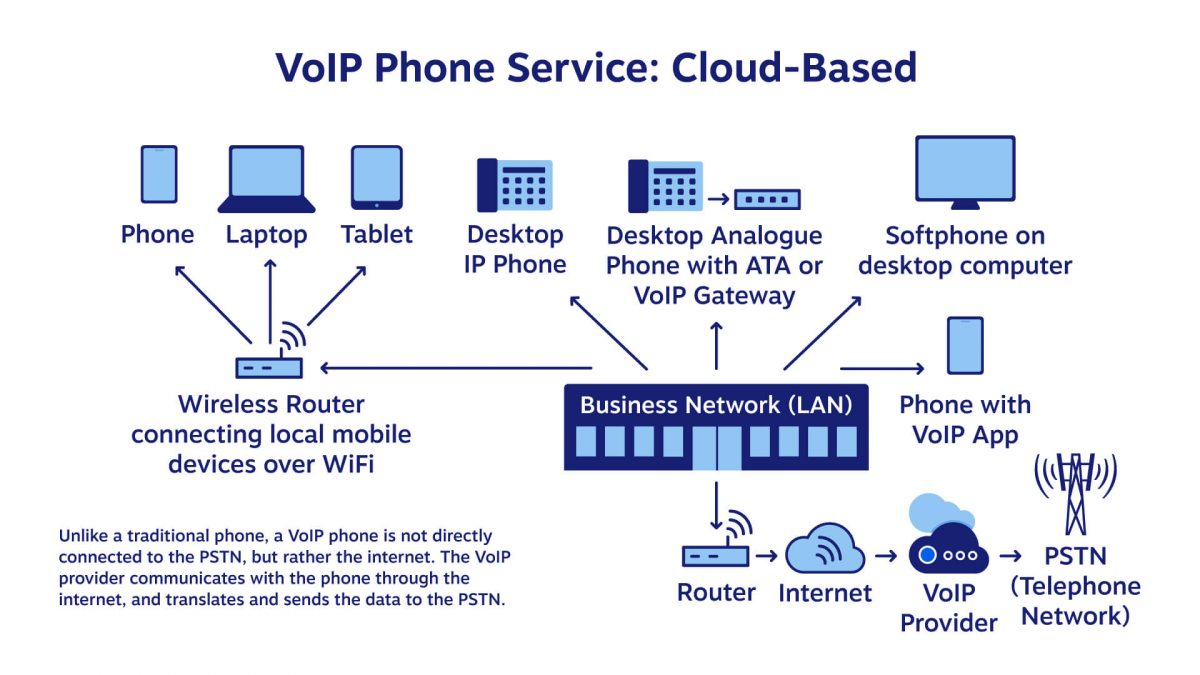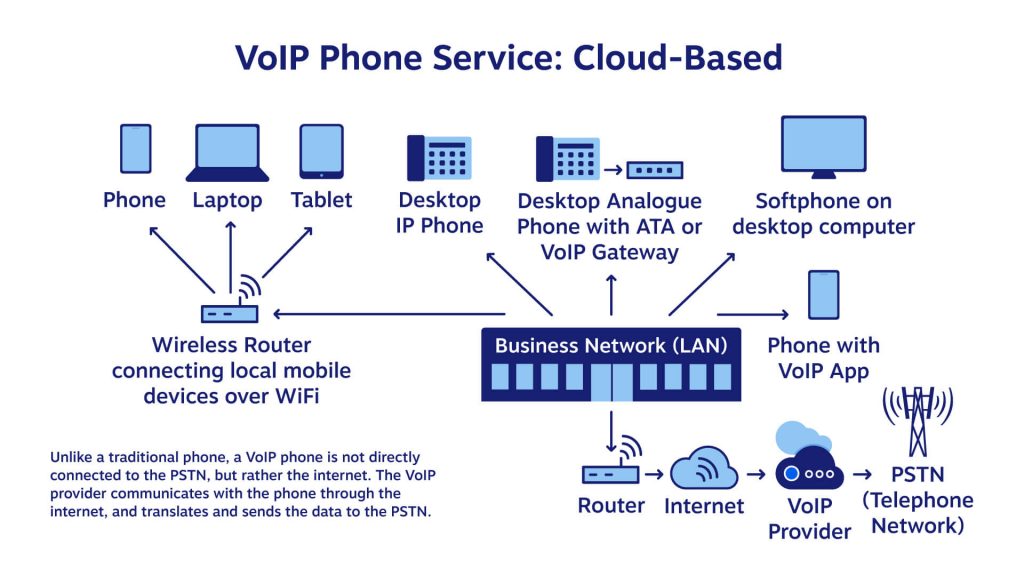 What is a VoIP phone and how does it work?
The IP phone immediately digitizes the sound you speak into the microphone. It then divides these sounds into data packets and sends them to your provider's servers.
Summed up, it sends digital signals over the internet to the VoIP provider.
Then, the data is translated to phone signals and sent to the traditional telephone service network.
SIP trunking vs. hosted PBX
There are two ways that you can take advantage of a VoIP system at your office. If you have a PBX system and equipment set up, you can use IP trunking to route the calls through the internet.
This approach will allow you to take advantage of your existing equipment and processes, while also integrating calls with your other channels through the cloud.
If you have no business phone equipment set up, a Hosted PBX is an A-to-Z business phone solution hosted in the cloud. Routing, answering, and messaging are all handled by the VoIP service provider directly.
Related: Hosted PBX Vs. SIP Trunking: Top 7 Differences & Why It Matters
Everything you need to know about making VoIP phone calls
1) Is VoIP the same as a landline?
The technology behind the two methods of calling isn't much different. Both use a microphone and a speaker. A VoIP phone transforms the sound into digital files and sends them as packets over the internet.
An analog telephone turns air vibrations into an analogous electrical frequency. The phone's speaker interprets the voice signals and reproduces the sound.
The main difference is that an IP phone needs a VoIP service provider to transform the signal and connect it to the phone network. An analog phone directly plugs into the PSTN. VoIP works only with an internet connection, not a phone line.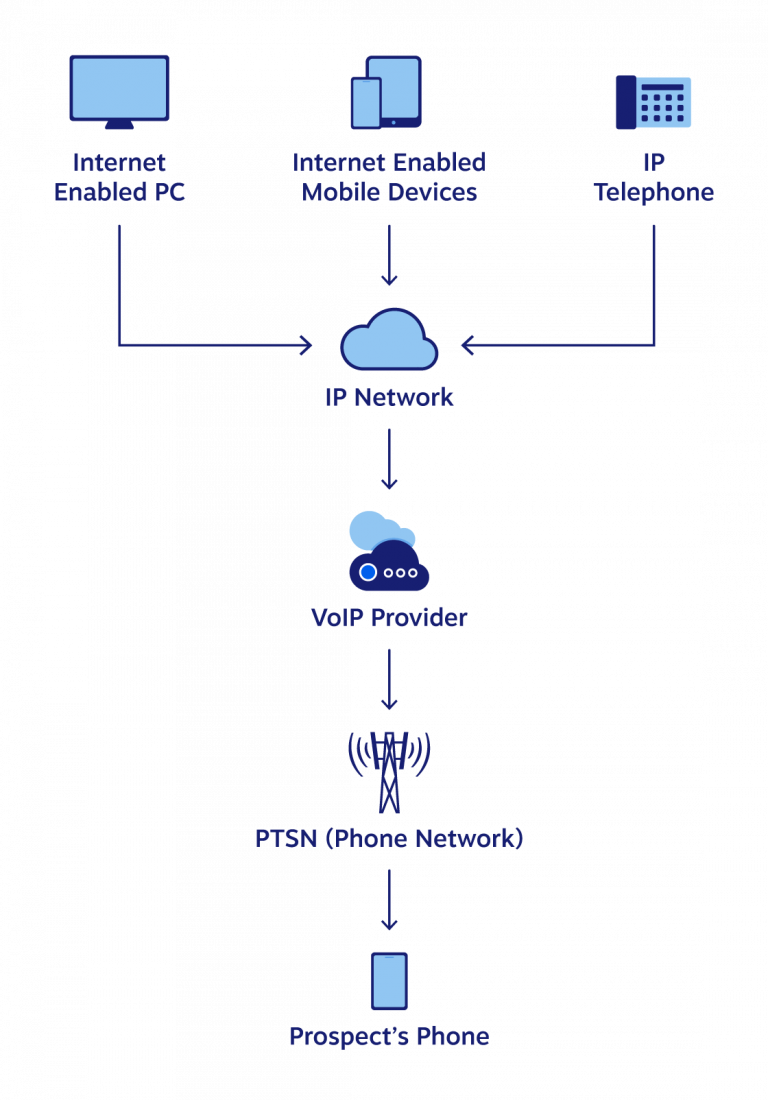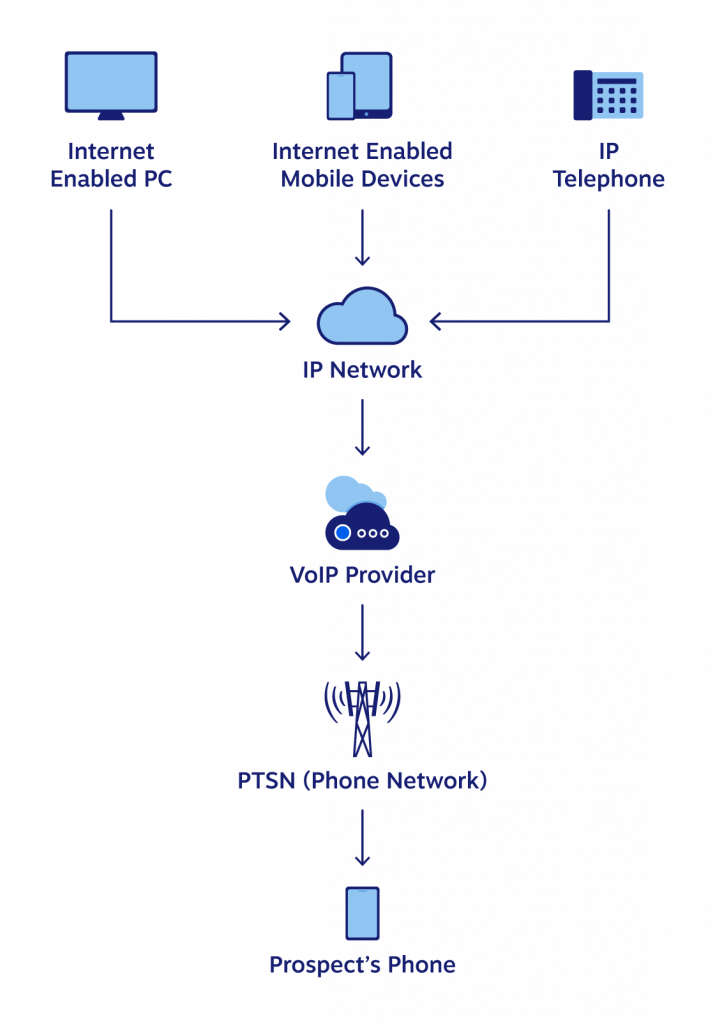 2) Can you use your current desk phone?
By using a VoIP adapter, you can connect your old analog desk phones to your new SIP-based phone service.
The problem with this is analog phones might not support features that give you some of the most significant benefits of switching to IP phones.
You also have to make sure that your service provider supports the adapter in question.
3) Use your cell phone (if the provider has an app)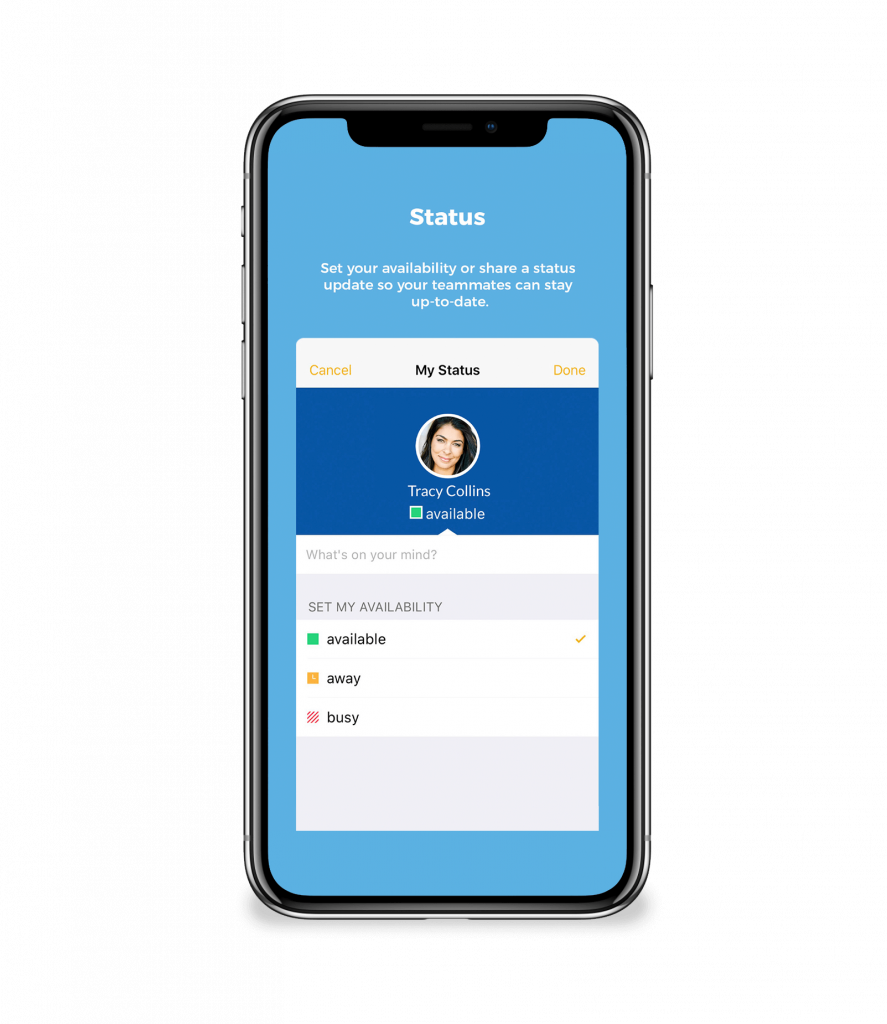 It's 2019, and 54% of private households in the US have already moved on to only mobile devices.
And the majority of 41.7% that kept the landline still have a cell phone. That makes it the most ubiquitous piece telecoms equipment.
Luckily, you can use VoIP on your cell phone.
Unlike landline phones, you don't need an adapter for the smartphone. It already has the software and hardware required to communicate with other computers/servers over the internet.
But, if you want to use it as a dedicated business phone during business hours, your provider needs to have a VoIP app.
The Nextiva App is precisely that.
You can handle inbound calls meant for you, even if you are not at the office. You can call prospects with your office number as your caller ID.
4) Using softphones is also an option
In the internet telephony industry, there are two main categories of phones:
Hard phones: specific equipment made for IP calls
Softphones: Virtual phones that exist inside a computer system
Have you ever used Skype or Messenger to make a call to a family member from your mobile phone or computer?
That means you have already used VoIP technology. If you have ever called a phone number with Skype, you have also used a "softphone."
A softphone is simply a computer program that has a function for telephony, and you can use to connect to the phone network.
5) Can you use a VoIP phone like a regular phone?
The short answer is; yes, you can.
As long as you have a provider and an internet connection, you can make calls on an IP phone just as on a regular telephone.
But to receive calls, you need to make sure that you set up a VoIP number with your service provider.
As long as you choose your area code, receiving calls will be no different either.
Related: VoIP Basics: The Beginner's Guide to Mastering Voice over IP
What are the advantages and disadvantages of VoIP phone service?
For business owners and call centers, many distinct advantages make it a natural choice. That's why 36% of US-based small businesses have already made the switch.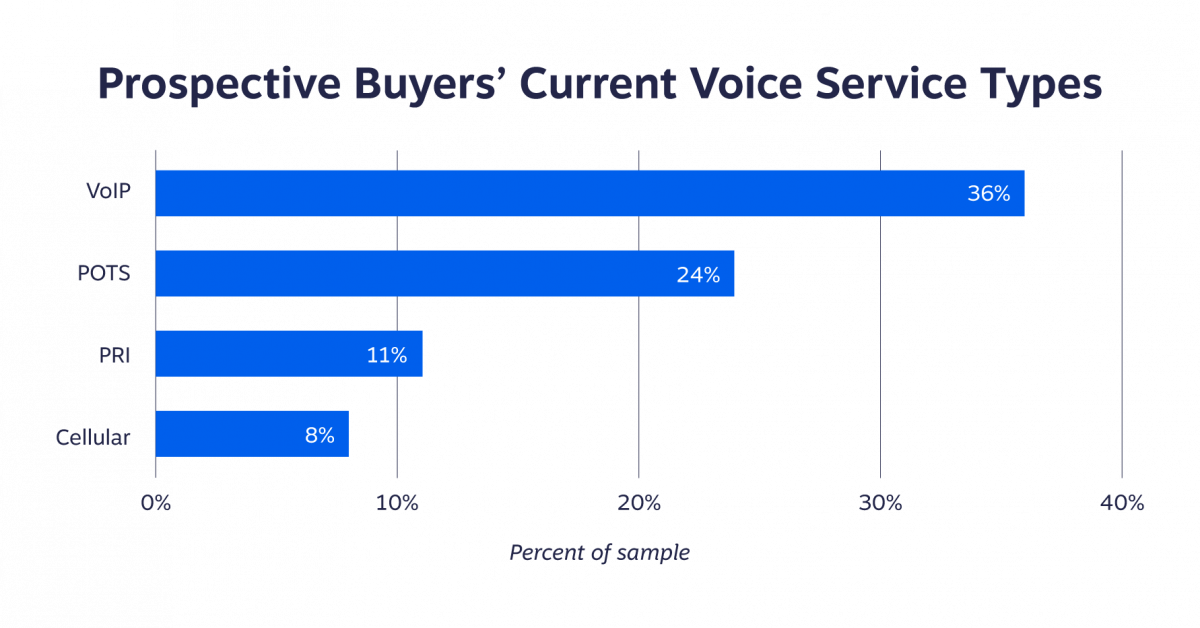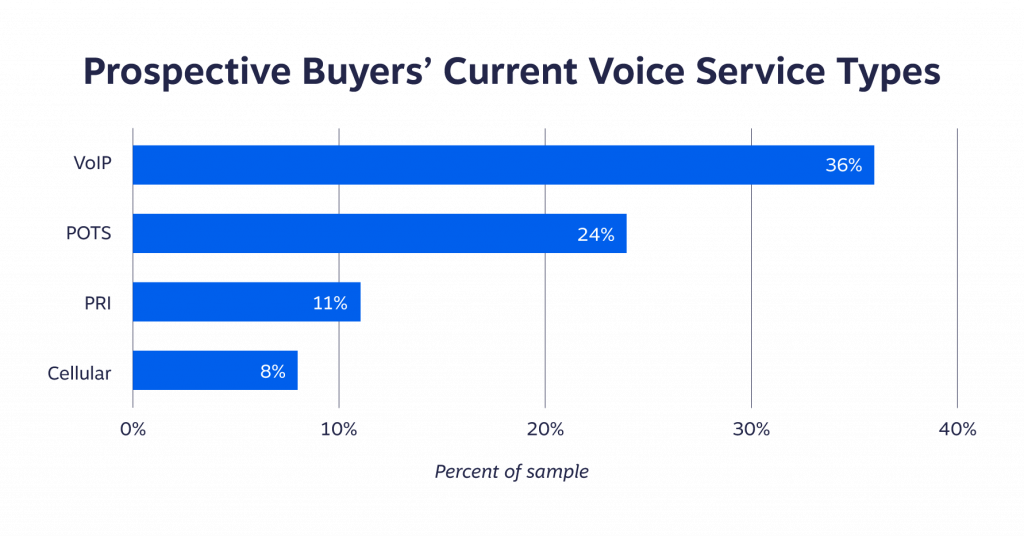 Cost is the biggest concern for most business owners. And that is where we will start.
Related: VoIP Examples: Who Uses VoIP? (+4 Ways You Can, Too)
1) Is VoIP service cheaper than a landline?
That is the big question a lot of people have when it comes to switching service provider.
In short, yes. But it depends on multiple factors like the number of employees and how much they call internationally.
But on average, businesses tend to save ~50%  when they switch from a business landline service.
These savings often come because phone companies charge extra for most necessary business features.
Many of our customers tell us that that's why they chose to switch.
Jersey College saved over $1,500 a month on their phone bill by switching to Nextiva. They used to have multiple landlines on business plans in their office — one for each staff member that heavily relied on the phone.
And as I'm sure you know, business plans can be quite expensive. (Some carriers start from as high as $60 per line, before factoring in long-distance calls.)
Switching to VoIP eliminates the extra costs. The basic fee per line with Nextiva is only $20 per line.
Feature
Nextiva VoIP Service
Verizon Preferred Voice
Pricing
$100 for five lines
$435.33 for five lines
(New York, Dec. 2018)
Setup Fees
None
$70
Contract Length
Monthly
Two Years
Unlimited Domestic Calls
✓
✓
International Call Rates
From $0.05/minute
From $0.05/minute
Unlimited Internet Faxing
✓
Toll-Free Phone Number
✓
Keep Existing Number
✓
Auto Attendant
✓
✓
Call Forwarding
✓
✓
Line Hunting
✓
✓
Handle Calls on Mobile
✓*
Unlimited SMS
✓*
Unlimited Web & Phone Conferencing
✓*
CRM
✓
Analytics
✓
Reporting
✓
*Only available in Pro and Enterprise plans, starting from $25 and $30 per line.
2) Easier to Manage Remote Staff
3.9 million Americans worked from home in 2018. That's 2.9% of the entire US workforce.
It's also increasingly a priority for job-seekers that you offer this kind of flexibility. Flexibility must be on the table to attract top talent for service and sales positions.
You might worry that this will lead to lower productivity or a hard-to-manage work environment. If you were using a traditional phone system and relying on self-reporting, it might.
But with VoIP, it's different.
Through our dashboard, managers get live insight into the performance of remote teams and individual reps.
3) Seamless integration with CRM and other channels
The problem with trying to integrate calls used to be that the analog phone is an isolated channel.
If someone sends you an email or a social message, it's easy to make it work. Most modern helpdesk solutions plug directly into social and email.
It's simple because they are internet-based channels.
Analog phones connected to landlines are different. It isn't connected to the internet and does not run other software.
IP phones change that since they communicate through the internet.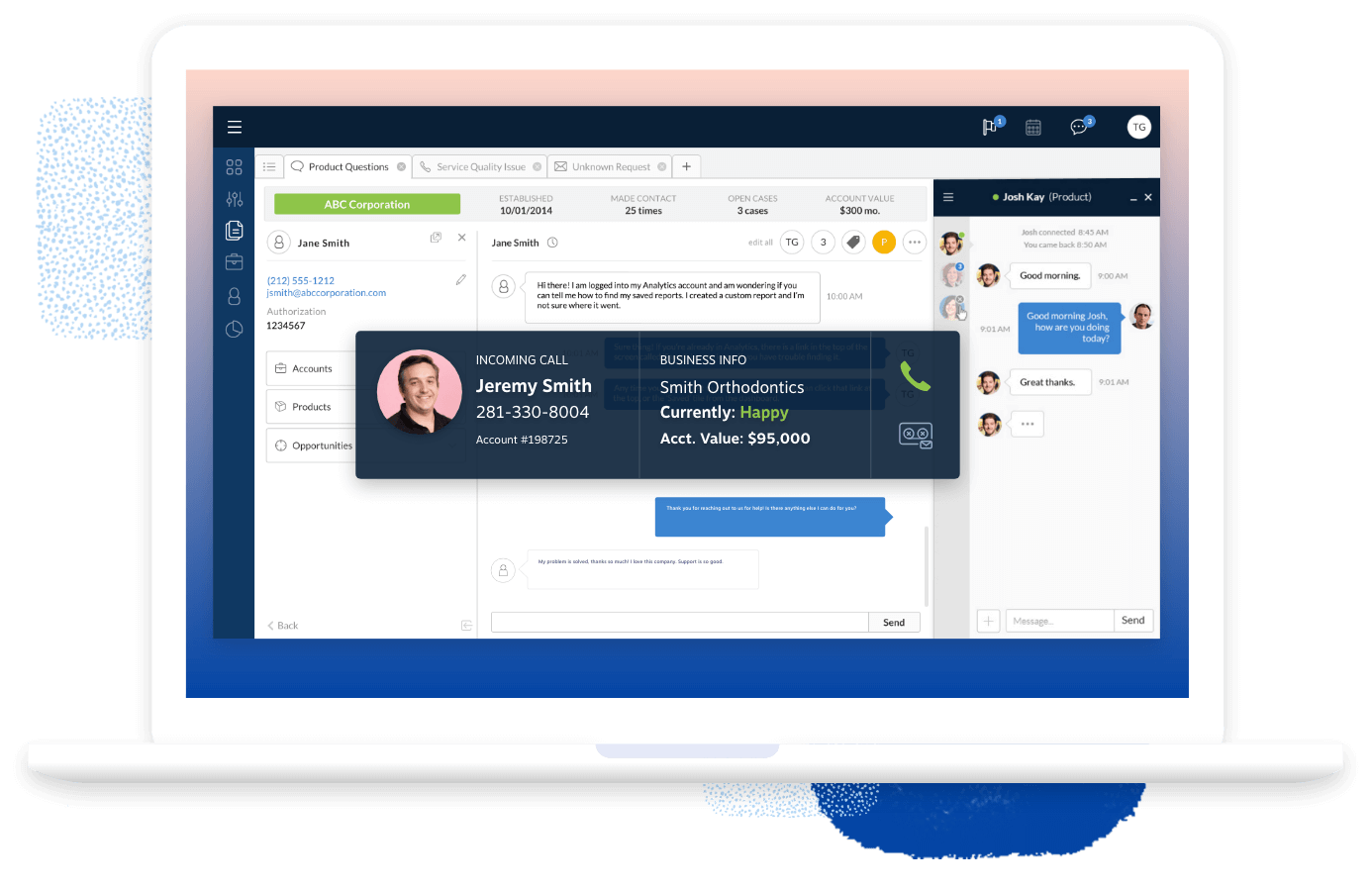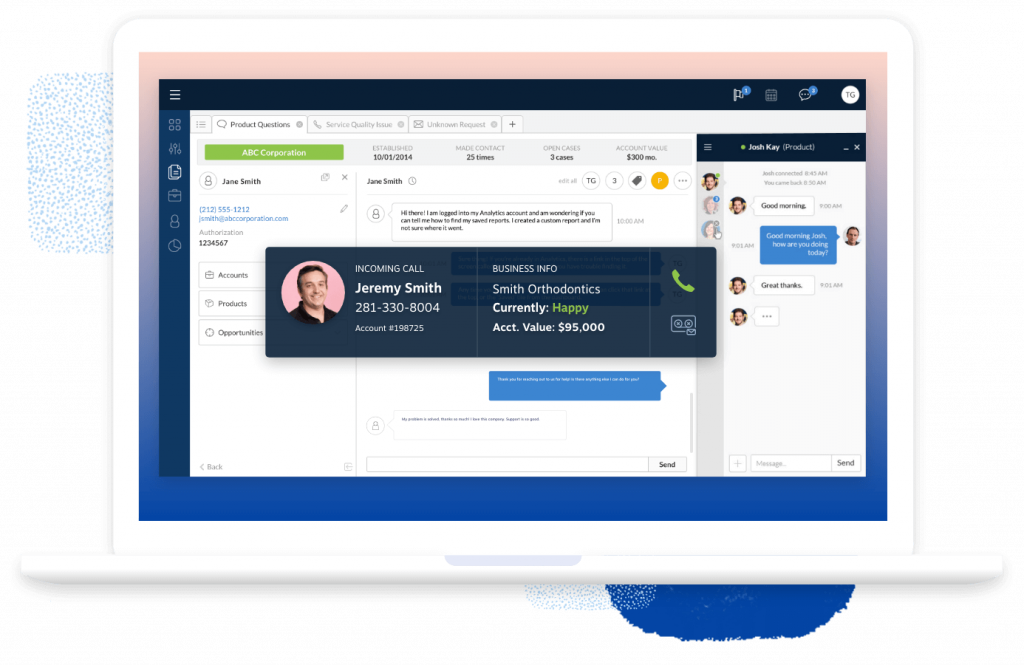 This image is a snapshot of a customer profile inside our CRM. You can use priority tags and value to let every employee know how to treat a prospect/customer.
Further categories show where they are in the sales cycle.
You also get a breakdown of their recent interaction history and current status. And this is only one part of our Business Communication Suite, the CRM.
The business phone system from Nextiva also includes:
Business analytics
Advanced call routing
Call recording
Omnichannel help desk
Voicemail to email integration
Video conferencing
Team messaging
4) Handle more calls faster
With efficient grouping and international routing capabilities, VoIP helps you utilize the human capital you have to the maximum.
Inbound phone calls automatically reach an open agent. That is the beauty of automatic call forwarding.
5) Service countries without a local office
If you have high-priority customers abroad, getting customer service calls online can be a huge differentiator.
The smart solution is to use a VoIP number, and multilingual staff right in your home office.
With a VoIP number, you can freely choose the area code regardless of your location.
Forget about the long-distance charges or business establishment bureaucracy in a second country.
What do you need to use a VoIP phone service?
As a business, what you need depends on what solution you want for your office. The perfect VoIP phone system for you depends on your business.
There is no ideal set of equipment that works for everybody. It depends on the office or call center that you want to create. It also depends on your current telephone system.
1) Wireless headset call center
In a traditional call center, the analog phone shackles each employee to their desk. They have to sit in that exact spot for 8 hours a day to be available for calls.
The modern workplace has changed the old office in many ways. For the call center, the most notable improvement of the last few decades has been high-quality VoIP headsets.
They eliminate the noise-pollution for the customer, leads to less clutter in the office, and enables each agent to move freely.
You need:
Reliable high-speed internet connection (Recommended minimum of 5-10 Mbps per 10 concurrent calls.)
One headset per employee
It's the perfect choice if you want to trade in the handset for something more modern.
2) Modern call center with IP phones
Your staff and you might not care about headsets and modern office layouts. If all you want is to integrate channels, get better call quality or other VoIP features, you can switch your phones.
You need:
Reliable high-speed internet connection (Recommended minimum of 5-10 Mbps per 10 concurrent calls.)
One high-quality VoIP phone per employee
3) Repurposing analog phones
But not all business have the available capital to replace their office tech completely. If you are happy to use your old phones but need to integrate data with other channels, you can rely on VoIP adapters instead.
It's the solution that leads to the least change and requires the least up-front cost.
You need:
Reliable high-speed internet connection. (Recommended minimum of 5-10 Mbps per 10 concurrent calls.)
How do I get VoIP phone service?
You have two options when it comes to setting up IP telephony in your office. The first option is on-site IP PBX, and the second is hosted or cloud-based IP PBX.
PBX stands for Private Branch Exchange. It refers to a private telephone network within an office or company. (You might know it as a business phone system.)
To use on-site IP PBX, you need to install a PBX server and connect every IP phone to it.
Getting set up with hosted PBX is a lot simpler. The server is in another place, so you only need to connect your phones to the internet. If they are virtual phones, all you need is an internet connection to make voice calls.
In essence, getting the service set up is a quick process that looks like this:
Since a reliable internet connection is a must, checking network quality is the first step.
If this is inadequate, you need to replace your internet service. The best choice is a fiber connection. (You also need a high-performance wireless router if you want to use Wi-Fi.)
Explore your options and choose an internal PBX or a hosted solution.
Select your service provider, buy equipment, choose your number, and start setup.
Business VoIP is the future — it's faster, more reliable, and affordable. Test run Nextiva's small business phone service today.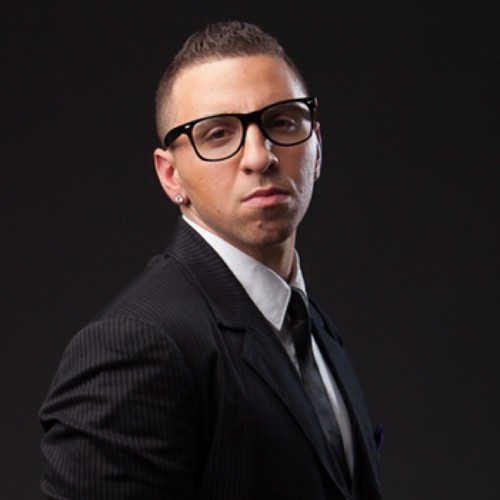 Gaetano DiNardi is the Director of Demand Generation at Nextiva and has a track record of success working with brands like Major League Baseball, Pipedrive, Sales Hacker and Outreach.io. Outside of marketing, Gaetano is an accomplished music producer and songwriter - he's worked with major artists like Fat Joe, Shaggy and loves making music to stay turbocharged. To get in touch, follow him on LinkedIn.