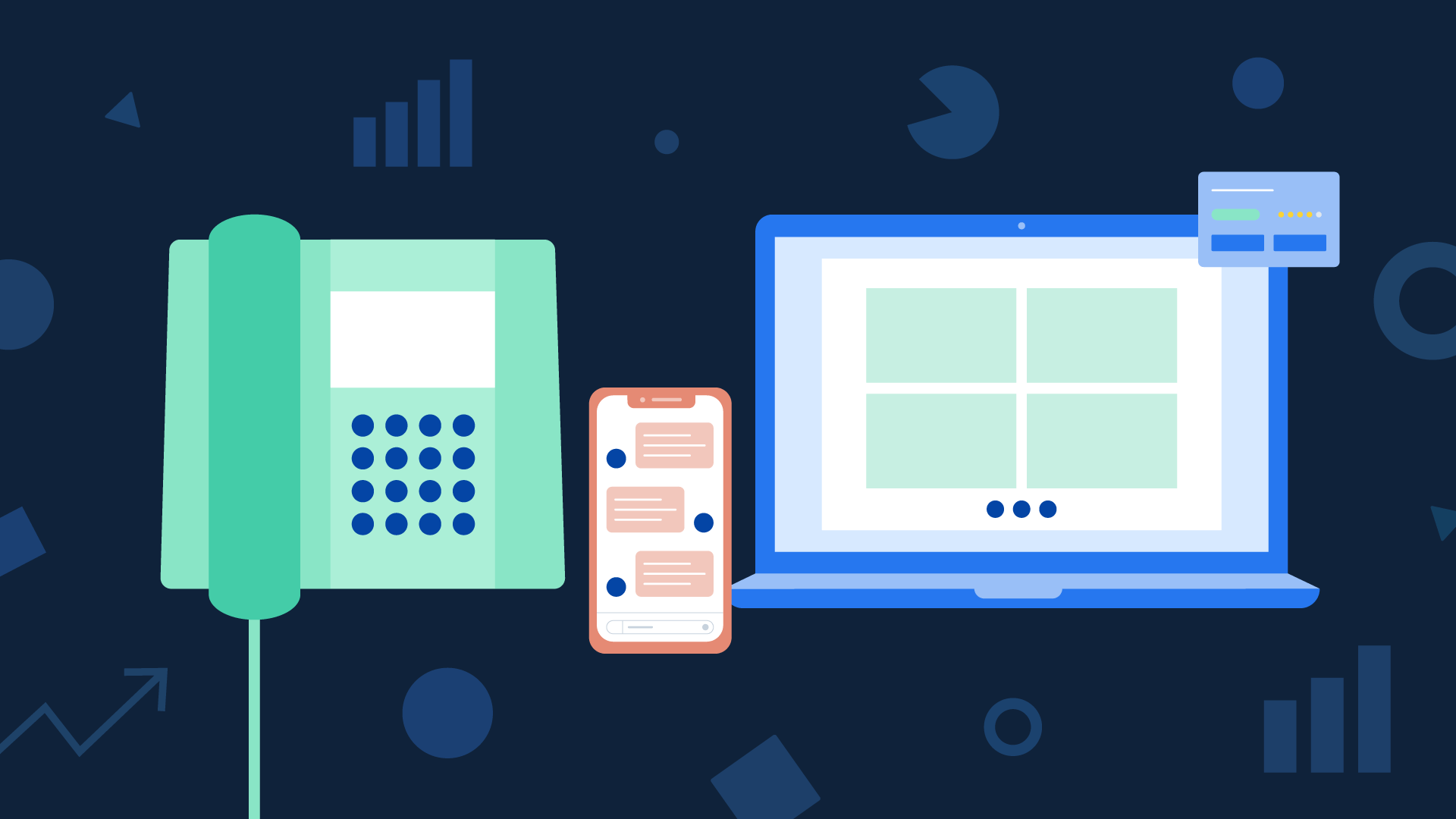 Unified Communications as a Service (UCaaS) stands as one of the fastest-growing markets. These technologies underpin the voice and messaging infrastructure used by millions of people daily.
Unified Communications has become the norm for small and large enterprises alike. The market size has grown among all the key players.
The subscription part of UCaaS has contributed to its astounding global market growth. On-premises solutions can't compete against fully integrated cloud phone systems. Company leaders gain unprecedented flexibility UC solutions tend to be more cost-effective.
Let's look closer at UCaaS market growth, key industries, and top features.
What is UCaaS?
UCaaS is an acronym for Unified Communications as a Service. UCaaS is a category of cloud-based messaging tools packaged as a complete solution. Unified Communications (UC) functions include phone, chat, online meetings, screen sharing, and more.
The "as a Service" part means companies pay a subscription fee to vendors for cloud service and software. Unlike Software as a Service (SaaS), UCaaS covers a broad range of communication tools.
Companies use UCaaS solutions to provide employees with an end-to-end collaboration platform. They can use these tools on their computers, desk phones, and smartphones.
Are you ready for Unified Communications?
Take our free quiz and find out now →
How UCaaS differs from VoIP
UCaaS sets itself apart from Voice over Internet Protocol (VoIP) in two notable ways.
VoIP provides voice connectivity using the internet, rather than copper phone lines. VoIP itself is a standalone phone service that functions over the internet.
UCaaS includes VoIP and interconnected messaging services that relate to customers and employees. Essential functions include phone, SMS, conferencing, video, and team presence. Firms leverage these capabilities to enhance business interactions among staff and customers.
VoIP fits under the UCaaS umbrella, but so do other cloud services. Below is a table comparing VoIP and UCaaS features by component.
UCaaS vs. VoIP
| Capability | Description | VoIP | UCaaS |
| --- | --- | --- | --- |
| Voice | A digital phone service that functions over the internet to complete calls. Typcial feature set includes voicemail, call forwarding, call rejection, and basic call logs. | Y | Y |
| UC telephony | Enterprise-grade voice capabilities that often include support for IP phones and unified desktop and mobileapplications. | Y | Y |
| Meeting solutions | Meet with others using audio conferences,video conferencing, and screen sharing. | N | Y |
| Unified messaging | Blends content across different media suchas voice, email, and mobile. Example: voicemail transcription and voicemailto email. | N | Y |
| Presence and instant messaging | Send messages to individuals or groups inreal time. Presence displays the status of other people and resources. | N | Y |
| Clients | The front-end interface to interact withothers. Includes desktop software, mobile apps, and embedded in business applications. | N | Y |
| Communications-enabled applications | Modular voice functions designed for acontact centers and communications platform as a service (CPaaS) apps. | N | Y |
| Clouddelivery | Provisioning occurs over a hostedinfrastructure instead of needing on-premises hardware and servers. | N | Y |
| Workstream collaboration | Next generation of team presence andmeeting solutions. Teams can set up workspaces for contextual communications. | N | Y |
| Communications-enabled business processes | Advances business goals with unified communications. Examples include ChatOps, CPaaS, business analytics, and artificial intelligence (AI). | N | Y |
| Performance dashboards | Display the volume and business outcomes of customer and team interactions. Dashboards may refer to campaigns, users, departments, or locations. | N | Y |
Related: 28 Essential UCaaS Features & Benefits You Need To Know
Where is UCaaS growing?
The $46 billion Unified Communications as a Service market is growing worldwide. Analysts from IDC and Gartner show similar figures in the rapid growth of UCaaS.
Gartner expects the unified communications market share to more than double from 17% in 2018 to 35% in 2023. The firm also published a report in April noting that the market share had already risen to 24%.
UCaaS pulled ahead of the entire business software industry, according to extensive global market research reports. Research methodology varies, but they are based on public data and privileged conversations among many key players throughout the UCaaS market. Forecast periods have to be taken in context with regard to data obtained before or after the global pandemic.
Market growth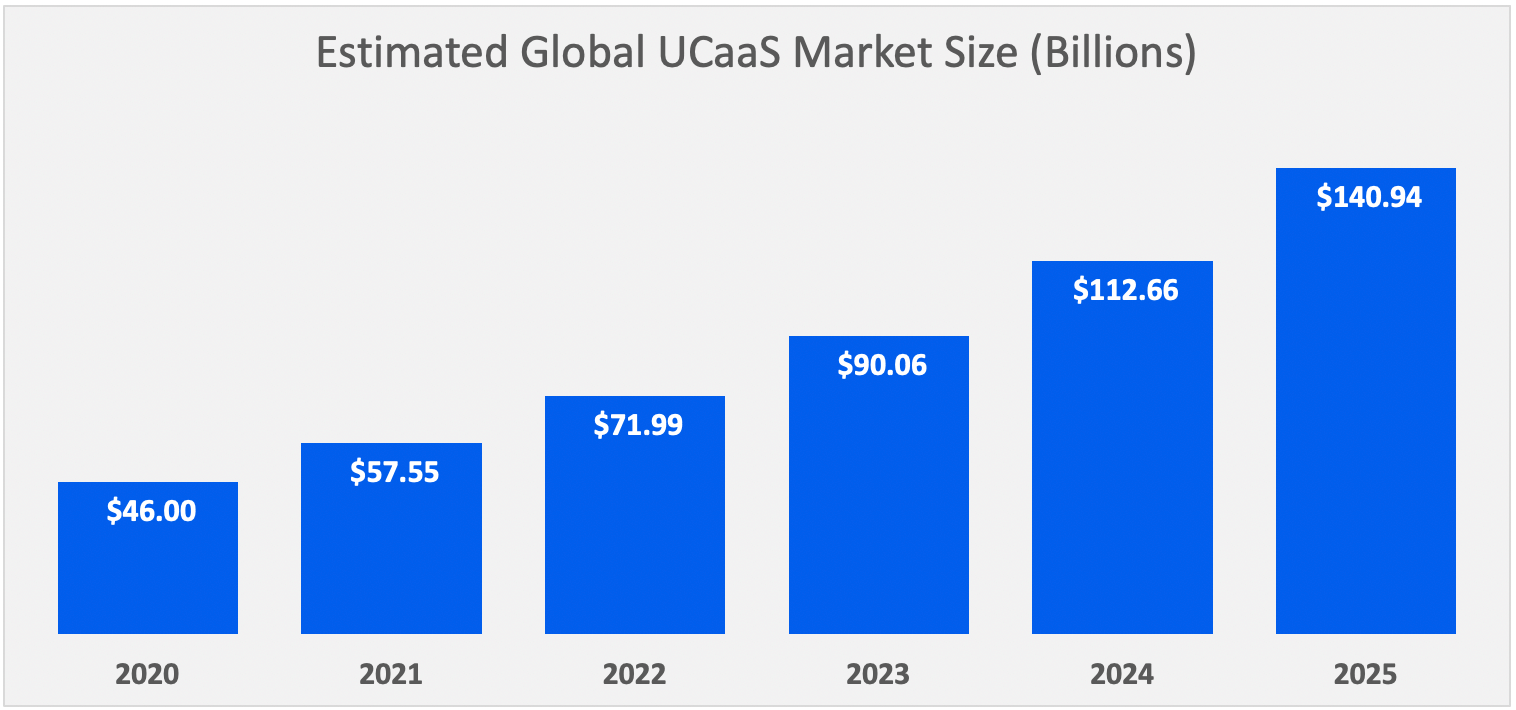 One metric to track growth is the compound annual growth rate (CAGR). It reveals the rate of return over a given period, smoothing out short-term spikes of demand.
Many analysts have seen a double-digit CAGR for customer service software worldwide. Gartner sees a 10.9% growth for Customer Relationship Management (CRM) software between 2018 and 2024. IDC observed 12.2% for Customer Service Applications between 2018 and 2023.
These analysts also predict a downturn affecting on-premises telecom systems. IDC forecasts a -7.9% CAGR for on-prem contact centers and -2.7% for on-site customer service applications. In 2017, Frost & Sullivan predicted a -4.7% for on-premises voice solutions between 2018 and 2022.
The upswing of the UCaaS market while the on-premises telecom declines. This dynamic suggests businesses are moving their in-house PBXs to the cloud. Many market drivers are at play, including the COVID-19 impact.
The growth of the UCaaS market has been healthy for well over a decade. Traditional telecom solutions have become much less attractive to manage in recent years. As companies move to the cloud, they rarely go back to analog.
Let's take a look at the global UCaaS market.

The Americas
Within the Americas, North America shows the most pronounced growth. North America is currently the largest UCaaS market by revenue and the second in users.
Frost & Sullivan expects a 25.1% CAGR for cloud communications services. The firm also anticipates a decline of 5.4% CAGR for on-premises voice through 2022 in North America.
Gartner still predicts healthy growth in Latin America. The company forecasts a 4.5% CAGR between 2018 and 2024 for the enterprise software market. Analysts expect the CRM market to grow by 7.3%.
Europe, Middle East, Africa (EMEA)
The EMEA region covers a vast expanse of cultures, both personal and business. Gartner predicts a 10.7% CAGR for the entirety of the enterprise software market and a 12.4% CAGR for the CRM market.
Most of the revenue in this market focuses on the Western Europe region. But there is an uplift in the other areas. Eastern Europe has a projected 17.8% increase. Sub-Saharan Africa has a projected 16.2%. The Middle East and North Africa regions have a 16.6% increase, compared to the more modest 9.52% in Western Europe.
The global unified communications segment continues to grow at a healthy pace. The nature of remote work applies universally to any location. The UCaaS market size closely follows the increases in broadband availability.
Why is UCaaS demand surging in today's challenging COVID-19 landscape?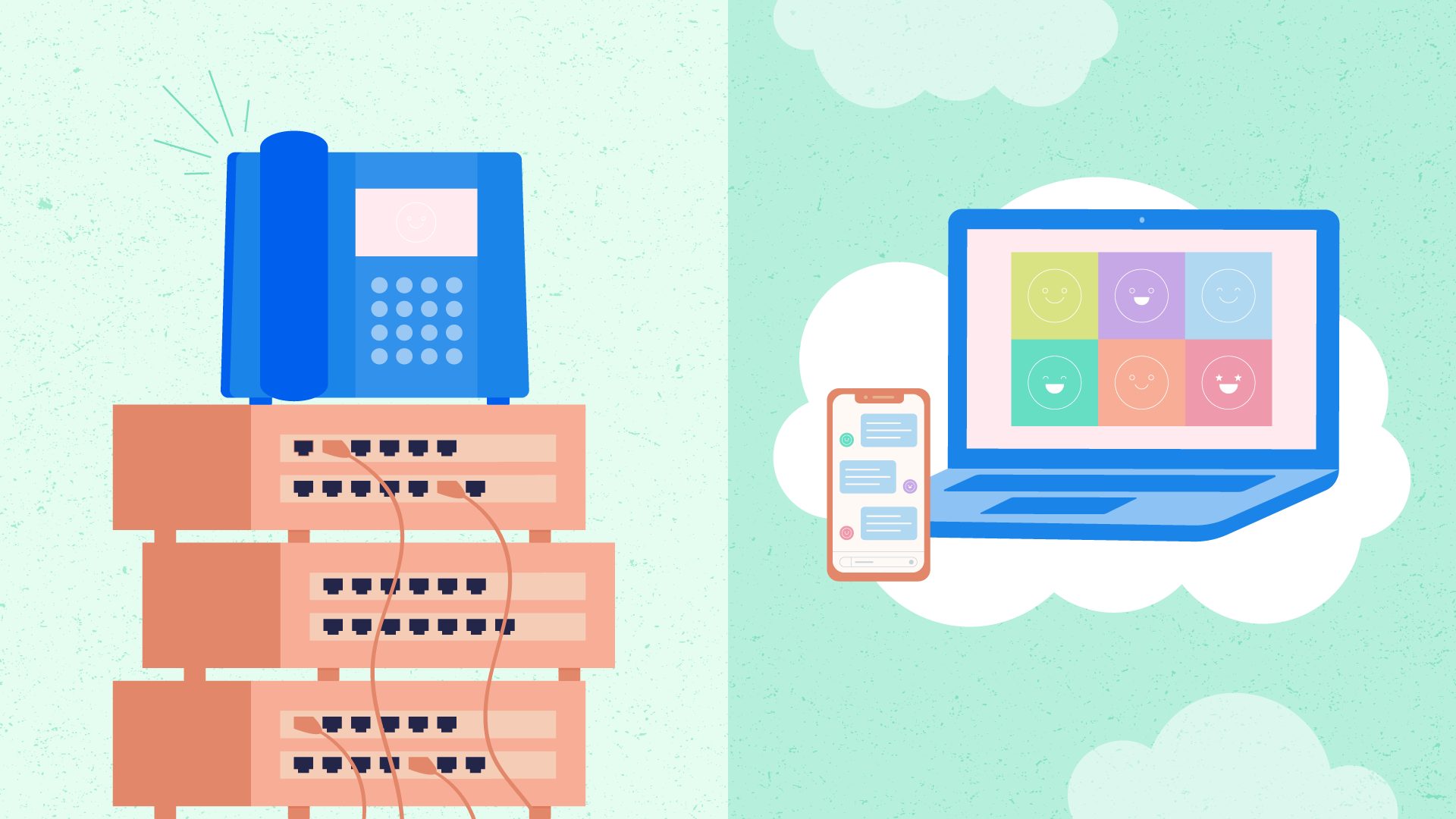 Unified communications has been growing at a rapid pace over the past 20 years. However, there are a few notable market dynamics that have accelerated it in recent years.
Coronavirus pandemic
We can't ignore COVID-19 and the ways that local governments have responded. The entire UCaaS market has seen a surge of demand.
The pandemic became public knowledge in early 2020 and spread worldwide.
The emerging restrictions limited occupancy in many buildings. These mandates proved the inflexibility of most traditional phone systems. The nature of operating a call center became a liability rather than a strength. For instance, employees would sit near others to handle calls. These employers had to act fast to empower their staff to work remotely.
The pandemic is not the only key factor for the market growth in UCaaS.
Migration from on-premises hardware
The steady march away from traditional phone systems has added to the UCaaS growth rate. Since the early 2000s, copper-based lines have seen precipitous drops in customers. It's expected to eclipse $45 billion USD by 2022, per a market report published by Gartner.
UCaaS pricing is accessible for every organization size. The cloud-delivery model affords greater scalability and the features meet the needs of many stakeholders. Additionally, UCaaS allows companies to defray hardware costs with a Bring Your Own Device (BYOD) option. This lets end-users use existing devices such as Cisco, Avaya, or Polycom phones.
With the modernization of the workplace, there have been considerable improvements in how teams and individuals share information. Many organizations use several (some, over a dozen) communication tools to work. This effort has resulted in a few growing pains.
Each separate communication tool specializing in one area or function tends to chip away at a company's agility. It's challenging to get a solution that ticks all the boxes, and you end up paying for each piece and hoping they fit together in a way that allows your business to run smoothly.
Consolidation of the communication stack
A typical business would need several tools to call customers, store interactions, nurture prospects, chat internally, host meetings, and collect customer feedback. Most of these tools don't integrate well with each other, which erodes brand trust among employees and customers.
UCaaS consolidates separate tools into a shared platform that all work interchangeably.
Over time, businesses have faced more regulations and must follow industry regulations. Examples include HIPAA, CCPA, the GDPR in Europe, and other standards. Many legacy communication tools often fall outside of such requirements.
Landlines don't fit well in today's hybrid work-from-anywhere environment. One of the benefits of going digital is the ability to adjust business operations on a dime.
The natural rise of remote work
The pandemic seemed to improve the acceptance of working from home. But the truth is that this was happening well before COVID-19.
Remote work has been on a steady rise over the last 10 years. With UCaaS, employees can carry out job duties without the constraints of an office. Cloud-based tools support customer service interactions as well as team engagement.
Physical buildings no longer define who your colleagues are. Employers now can attract top talent who might otherwise be unwilling to relocate. Telecommuting leverages UCaaS' suite of integrated features to keep remote staff productive.
Top UCaaS Features
As a UCaaS provider ourselves, we've seen a rise in demand. Here's an overview of the top features organizations ask us about. In particular, these UCaaS features trended higher in 2020 than in previous years.
Mobile and desktop softphones — Both VoIP and UCaaS feature the ability to sync a user's desk phone with an application. This business phone app allows users to complete calls with ease. It also allows them to manage features like call forwarding and Do Not Disturb. These apps are compatible with Microsoft, Apple, and Linux-based operating systems.
Work from home capabilities — COVID-19 has accelerated the move to working from home. UCaaS-ready phones can retain all the user's information, and IT can manage it remotely. Staff can plug the hardware into their network and continue working as if they were in the office. UCaaS solutions help your remote staff work better with voice, video, and team chat. Altogether, they maintain your business continuity.
Find-Me, Follow-Me — Redundancy isn't just about data centers. Team members need to connect with each other without needing to track down phone numbers. UCaaS providers have a feature to route calls to any device an employee uses. Their cell phone or landline rings from their phone extension without missing a beat.
E911 fidelity — As your workforce spreads out, they need to reach emergency services nearest to them. You wouldn't want a Denver employee to call 911 and have the fire department show up at your office in Boston. The correct info is passed along regardless of your virtual phone number.
Virtual faxing — Many businesses rely on fax machines to send and receive faxes. UCaaS platforms often include the option to fax by email. They also have a hardware method to retrofit existing hardware to exchange faxes over VoIP.
Video conferencing — Hosting high-quality video conferencing and screen sharing has become a staple of UCaaS. Unified communication platforms replace several different meeting apps. This component saves valuable time better spent keeping everyone on the same page.
Team presence — Knowing whether your team is available on the phone is essential to avoid interruptions. Phone presence allows you to see if they are busy or in a meeting. Unified communications apps are more accurate than, say, separate messaging apps.
Internal chat — You don't always need to call your colleagues for a quick conversation. You can send a short chat message and get a timely response. Internal team chat is an excellent resource in maintaining fast and open communication.
Unified messaging — Voicemail's been around for a while, but unified messaging is a vast upgrade to it. Users can receive voicemails in their email along with a transcription of it. A unified messaging approach enhances the way people communicate, ensuring nothing slips through.
Customer management — A newer element of UCaaS has emerged: CRM. As organizations streamline their tech stacks, they can't neglect their CRM software. Firms can now look to their UC solution for handling all sales and service interactions. This capability bridges the divide between call analytics and business performance.
By now, you're probably at least a tiny bit curious about how certain industries use Unified Communications as a Service. Let's take a peek into use-cases by each market segmentation.
Top UCaaS Verticals
Cloud-based business communications spans across many industries. Several key markets, in particular, have more prolific needs for UCaaS.
Healthcare
Health providers prove a higher degree of adoption of unified communications services. Doctors and nurses need all the relevant information about their patients, but they must also uphold patient privacy.
Since healthcare providers must comply with HIPAA, their communications infrastructure is critical. UCaaS serves as the foundation for secure phone calls, voicemails, faxes, and other conversations.
Banking, financial services, and insurance (BFSI)
Financial services at large need a communications system to serve their clients securely and reliably. When they store customer interactions in their UCaaS platform, they create profitable relationships.
As an example, USAA, a bank with over 13 million members, UCaaS allowed its workforce to telecommute. Employees use a dedicated internet connection, VoIP telephony, and operate securely in the cloud.
UCaaS technology allows forward-thinking organizations to stand out in the competitive landscape. The financial services industry was impacted in March, but has since adapted to the flexible working arrangements.
Retail
The most significant benefit for retail is the variety of hardware and the degree of customization UCaaS offers. Retail employees need to finalize customer transactions and answer questions in context.
Automated interactions can absorb questions around store hours, product availability, and account-related topics. As retail proves more competitive, unified communications can facilitate optimal customer experiences.
Plus, flexibility in VoIP hardware means retailers can select the right IP phone for the job at hand.
Public sector
Local governments such as cities, townships, and local services are moving to more reliable communications platforms. Severe weather can impact a city when emergency services are needed. UCaaS provides redundant avenues to accept calls.
Cloud communications enable organizations in the public sector to operate safely and with increased scalability.
The productivity advantages of unified communications improved day-to-day operations with the community.
Education
UCaaS desk phones can double as speakerphones and for ultra-fast messaging. School leaders can message a teacher or the entire school using group paging. Automated attendants and IVRs can relay snow-days in minutes.
Schools and colleges have to compete to earn student enrollment. These institutions have to attract students in a similar way consumer goods drives market share.
Higher-education contact centers can exchange text messages regardless of where they are. The nature of digital voice and text improves the speed and reach of communication.
Home services
In-home providers like landscapers and electricians benefit from unified communications. Shared calendars, CRMs, voice, email, and SMS allow customers to book appointments easily. Providers need to stay organized so all personnel can make their appointments.
After the work is performed, a customer survey can track if they're fully satisfied. In turn, the provider can generate positive customer reviews and drive customer referrals. Home service providers improve their workflow word-of-mouth with UCaaS solutions.
UCaaS market predictions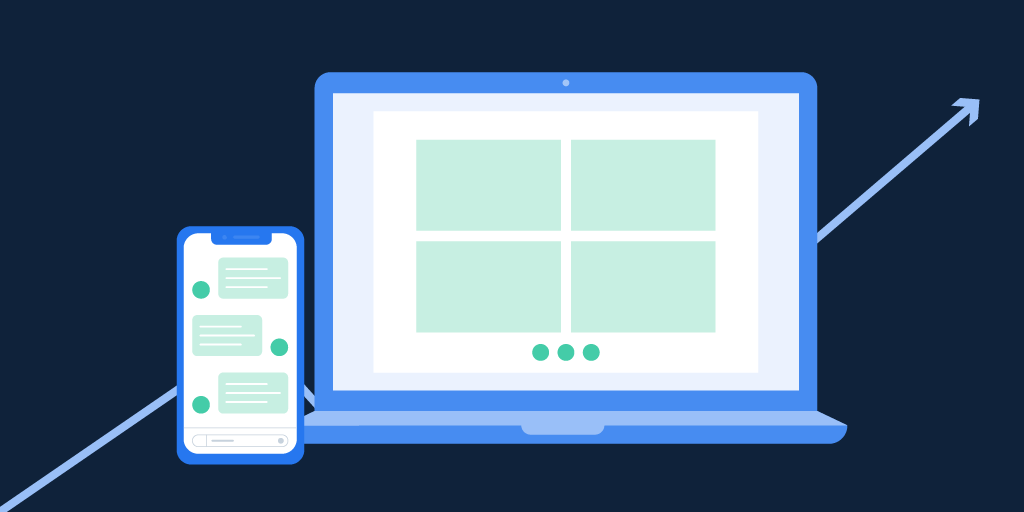 All signs suggest that the UCaaS market has a bright future. Companies of all sizes — not only enterprises — want a fully integrated communications platform.
If this year was any indication of where the market is going, it could mean that the global market will rise to over $140 billion by 2025 based on a 25.1% CAGR.
Millions of companies have adopted UCaaS in favor of on-premises voice solutions. When companies embrace UC, there's little desire to switch back.
We anticipate many more businesses will move their communications to the cloud. Even after the COVID-19 effects, organizations will need to insulate themselves from future risks. UC solutions solve for team connectivity needs requiring little upfront capital.
Customer expectations continue to increase, and UCaaS will rise to this challenge. Various point solutions contribute to a disjointed view of the customer. The first step is to integrate existing services. The next is to consolidate all business communications in one place.
UCaaS remains a competitive industry, with many opportunities for growth and innovation. Small businesses and enterprises both stand to experience enormous value from UCaaS providers.