Have you ever heard the term CPaaS (Communications Platform as a Service) and asked yourself, "What is CPaaS?" In today's growing SaaS industry, it can be hard to keep track of all these acronyms, let alone just trying to figure out which solution your business needs.
At Nextiva, we're here to help. We've designed this in-depth guide to answer three main questions:
What is CPaaS?
What are the advantages of CPaaS?
Is CPaaS the right solution for businesses?
Let's begin with the definition of CPaaS:

CPaaS = Communication Platform as a Service

CPaaS is a piece of software that acts as a base or foundation for other communication applications. These applications, like voice, video, or chat, are "plugged in" to the CPaaS (commonly through APIs). This alleviates the need for extra software or hardware.
Think of a CPaaS like an old-school stereo system. You start with a receiver – that's the CPaaS in this case. If you want to listen to cassette tapes you don't have to buy an entirely new system, you just add a tape player to the receiver. Want to listen to CD's? Just add a CD player to the system. And so on. Instead of having a bunch of different pieces of equipment laying around for listening to music, you have a centralized system made up of different components.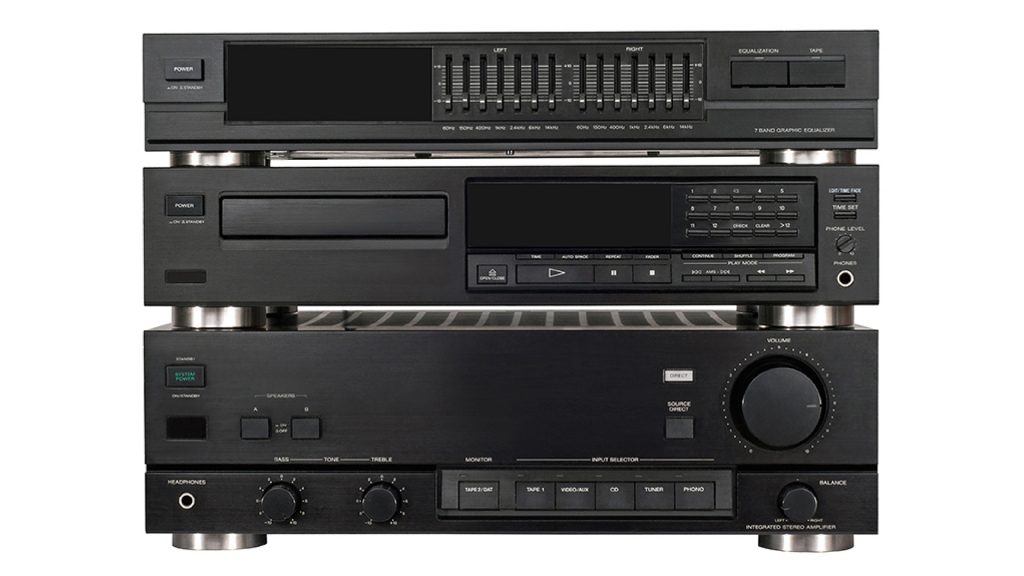 What Are the Advantages of CPaaS?

CPaaS affects your business in a number of positive ways. And as the technology evolves, so will your business. Given the current state of CPaaS technology, there are three main benefits companies can expect:
Money

Consider our earlier example of the old stereo equipment. From a practical standpoint, cutting down the number of separate systems and pieces of hardware you have is a natural cost saver. Add in the lower infrastructure and development costs, and you're really in for some savings.
Time

CPaaS is a complete foundation that provides developers a quick and efficient way to integrate pre-built applications. There's usually no need for them to spend time building or maintaining their own apps.
Energy

Saving energy and effort goes hand-in-hand with the time savings afforded by CPaaS systems. Instead of spending valuable developer resources on building and maintaining applications, their efforts can be focused on other areas of your business.
CPaaS in Action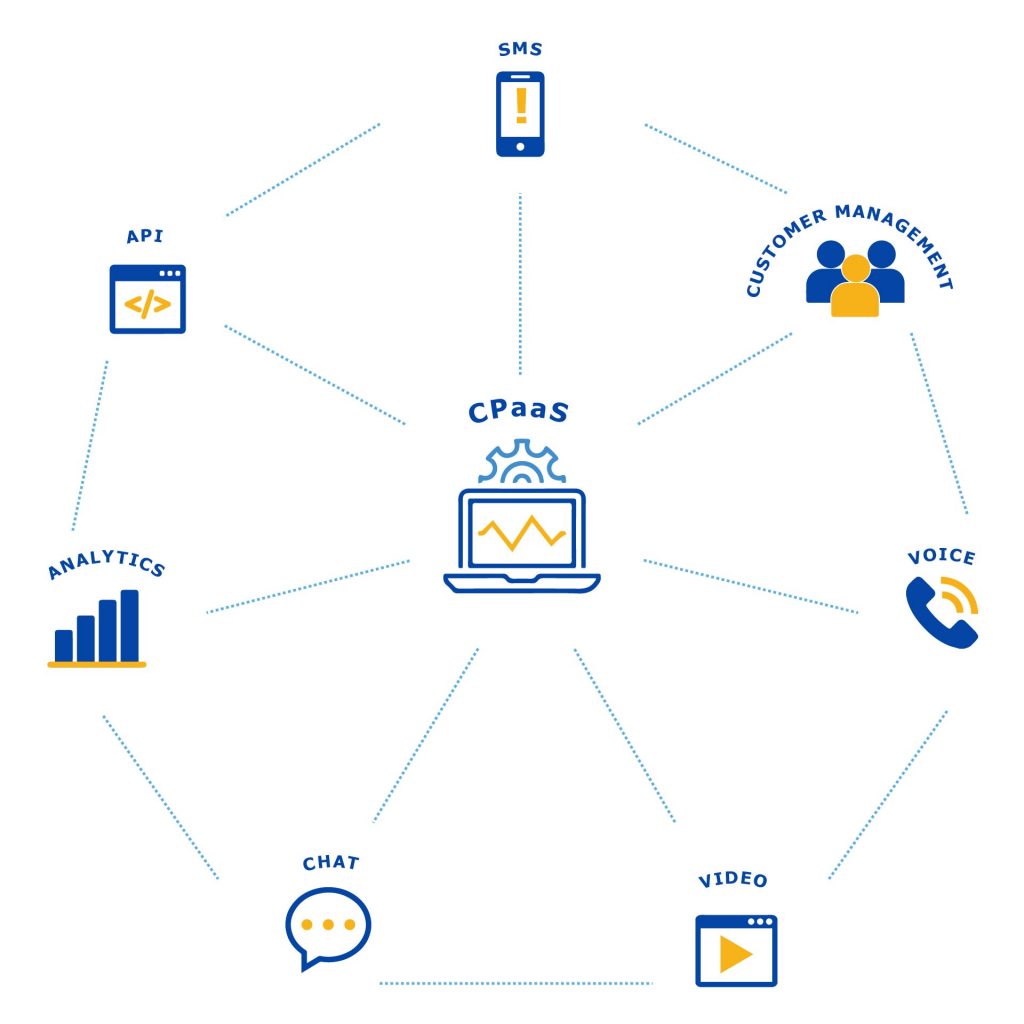 To fully appreciate how a CPaaS system can work for your business, it's important to understand the various integrations available to you. In the following list you will find the most frequent use cases for the software. However, this is not an all-inclusive inventory. New technology is being introduced almost every day to support and expand these initiatives.
Customer Experience

1. Help your customers with special needs
Every customer is different, and so are their needs. CPaaS integrated applications allow organizations to meet their customers' unique needs in an efficient and friendly way.
Customers with a hearing impairment may find it impossible to contact your business by phone. Likewise, those with a physical disability may be unable to communicate via chat or text. Using a CPaaS system with both voice and chat integrations can help these customers connect with you in the way that's best for them. It could mean the difference between gaining a customer or losing one.
2. Make missed appointments a thing of the past
Many a doctor's appointment has been missed because the patient forgot to mark their calendar. For most people, making an appointment is still a very manual process. You call up the doctor and schedule the appointment; then you either write down the details or type them into your phone or online calendar. If you forget this step, or you make an error in your note, you could miss your appointment altogether. At best, it's an inconvenience. At worst, you've incurred a missed appointment fee.
CPaaS applications can help automate business processes to ensure your customers don't miss important dates. And it's not just for doctor's appointments. Use automation to remind your customers it's time to have their car's oil changed, or time to reorder new contact lenses, or even when it's time to pick up their prescription.
3. Let your customers help themselves
There are many CPaaS applications devoted to self-service. These apps save time for your customer and help your business run more efficiently.
If your company is one that regularly takes payments from customers, using a self-service application can revolutionize the way you do business. Providing a self-service option, allowing customers to pay online or through a mobile app, is more convenient for your customers and will drastically cut down the number of phone calls your agents deal with.
4. Make phone calls a breeze
A lot of the information in this article is related to chat, texting, or other non-verbal communication. But don't forget, voice usually is a big part of any CPaaS. In fact, voice was probably one of the first applications to ever be integrated with a CPaaS.
Using a voice application can make the lives of your customer and your call center agents a lot easier. An integrated system can pre-populate customer information, reducing the need for your customer to provide general information each time they call. Customer history can be available to your call center agents, as well, so no need for the customer to rehash their life story.
5. All customer interactions in one place
With compatible applications, you can store not only phone records, but also chat transcripts, email conversations, and any other contact the customer had with your team. Providing a comprehensive view of a customer's interaction with your company makes it easy for your team to provide great service. Customers love it too – knowing you care about their history makes customers feel appreciated.
Marketing Resources

1. Find out what your customer is thinking
Surveys are one of the best ways to monitor customer satisfaction. Unfortunately, many organizations struggle with finding the best way to get active participation in their surveys.
A survey application integrated with your CPaaS is a great way to send surveys in a way that appears seamless to your customers. A survey generated at the end of a phone call or live chat seems very natural, and because the customer is already engaged, they're more likely to participate.
Analyze your survey results to gauge customer satisfaction or to even target certain customers in marketing campaigns.
2. Use text or push notifications to reach your customers
Similar to applications that remind customers of appointments, you may also use an app to proactively contact your customers about sales or special offers. Notifications can include links or special discount codes to entice your customers to shop right away.
3. Automate marketing processes
Use CPaaS applications to automate marketing campaigns and follow-ups. Launch and track drip campaigns and follow-ups to nurture leads and convert them to customers.
4. Analyze your customer data
Leverage the information gathered through customer surveys and marketing campaigns to refocus your effort where needed and plan ahead for future campaigns.
5. Handle off-hours tasks
Many business processes run on a 24/7 basis, even if your business office is not open. Using the power of CPaaS integrated applications, companies can schedule off-hours tasks to be handled automatically. This includes things like posting to social media, sending follow-up communications, or scheduling tasks for the next day.
People Management

1. Monitor your agents
Use the reports available to you through your contact management application to review call, chat, and email reports for your agents. This information can help you identify who needs kudos and who needs training.
2. Schedule coverage
Some contact management applications can also be used to help manage employee coverage for phones, chat, or email. Couple this functionality with traffic reports to identify which timeframes needs more coverage than others.
3. Manage employee records
Making use of an HR application through your CPaaS can help manage your teams' personnel files. Keep track of payroll and tax documents, manage performance reviews and disciplinary actions, and document training efforts.
CPaaS vs UCaaS

I'm throwing another acronym in the mix here, but don't get too annoyed. This one is easy to understand, and you'll be glad I told you about it.
Introducing UCaaS. Here's what it means:
UCaaS = Unified communications as a service

Unified communications as a service (UCaaS) is a cloud-based solution that centralizes and manages the various communication and collaboration applications a business relies on.
So this definition is pretty clear. UCaaS is a system with all the pieces you want, already built in.
Let's revisit our stereo analogy. A CPaaS is like buying a stereo receiver and several different components, so you can listen to tapes, CD's, records, or whatever. A UCaaS is like buying a stereo system with the capability to listen to tapes, CD's, and records already built in. You don't have to buy any other systems or buy any separate components.
A CPaaS system is highly customizable, but the customization is by necessity since a CPaaS is essentially a blank slate.
A UCaaS system, on the other hand, comes complete with applications most businesses require. Any customization is done by choice for a very specific need.
How Are UPaaS and UCaaS Similar?

There are a few basic similarities between CPaaS and UCaaS. Both are cloud based, delivered through public or private IP networks. Both are scalable for any size company. Both can facilitate external communication with customers or internal communication within an organization.
That's where most of the similarities end.
How Are UPaaS and UCaaS Different?

Here's where the list gets a little longer. There are some stark differences between CPaaS and UCaaS.
Take a look at this chart for an easy comparison of the two.
| | | |
| --- | --- | --- |
| | CPaaS | UCaaS |
| Pricing | Normally pay per use or pay per each contact that passes through the system. 3rd party APIs cost extra and are often required. | Normally a per user or per month access fee. No added 3rd party costs. |
| Out-of-the-box functionality | Little to none, until applications are integrated. | Many, usually including voice, chat, email, and SMS. |
| Flexibility | Very flexible in that any application can be built for or added to the system. Requires in-depth knowledge on how to code and/or integrate 3rd party APIs. | Flexible, however applications are provided by the vendor/service provider. |
| Ease of installation | Easy to moderate – All applications must be integrated; if an app is not available, it must be built prior to use. | Very easy – Vendor handles installation. |
How do you choose?

Just like shopping for any other technology, choosing between CPaaS and UCaaS will be largely based on your organization's specific needs.
Most companies lean toward UCaaS because it's seen as a plug-and-play, ready-to-go option. This is almost always the route we recommend since working directly with the system's vendor can alleviate the time and stress involved with both setup and ongoing maintenance.
While CPaaS is an attractive option for companies looking for a lot of flexibility, it does require a fair amount of technical support.
Think of it like going to buy a new car. You walk onto the lot and you're given two options.
Option 1: Select exactly the pieces and parts you want in your car and then build it yourself. You can pick the biggest engine, the best tires, the nicest interior. But you still have to figure out what goes where and put it all together. This is CPaaS.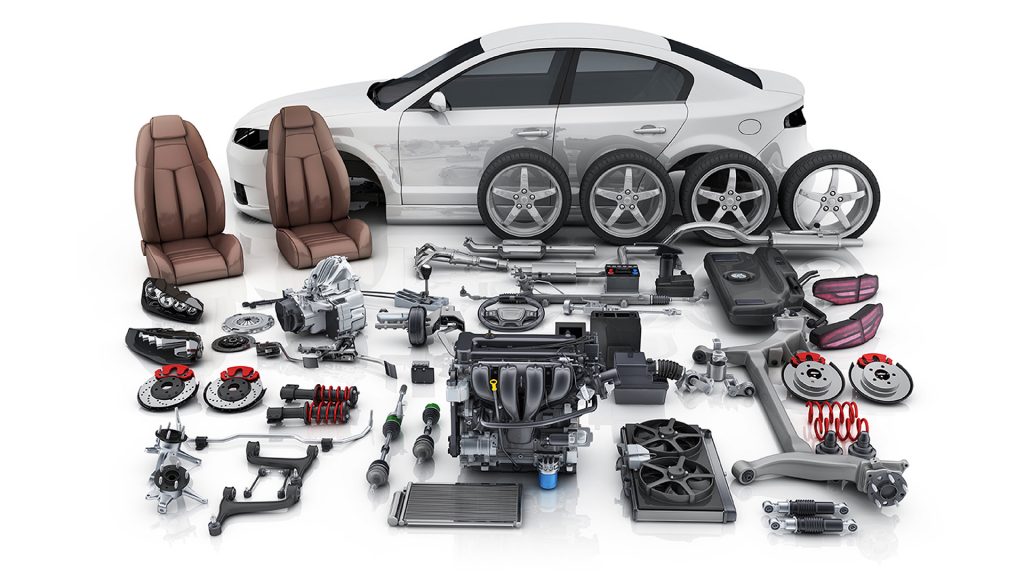 Option 2: You walk to a row of cars ready to be driven off the lot. You tell the salesmen which options you want, he points to the car that fits your needs, and you drive away. This is UCaaS.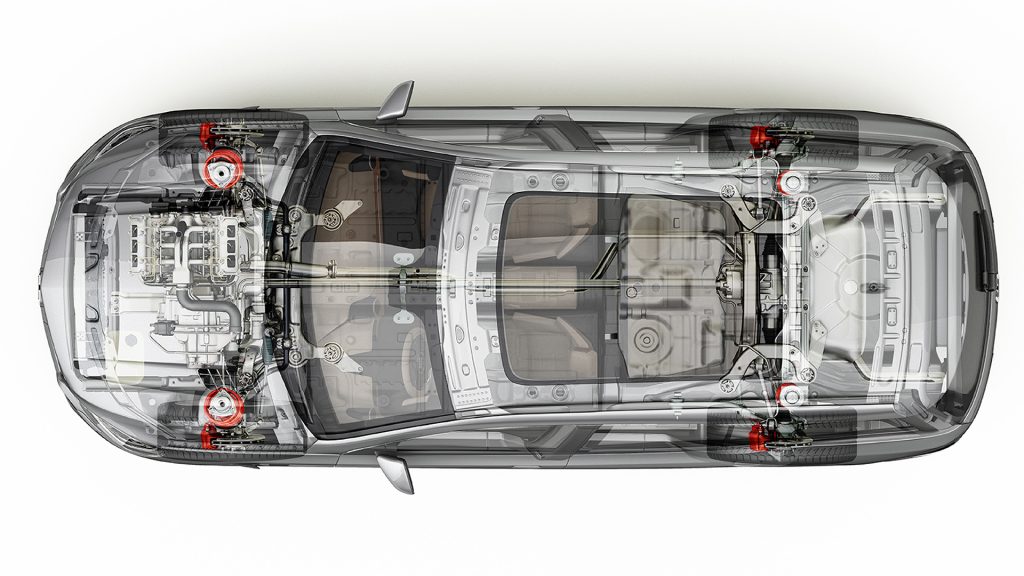 There's one more thing

Let's take this one step further. CPaaS and UCaaS can actually work together. In some cases, they're very complimentary.
Where UCaaS connects people with other people through various contact channels, CPaaS connects people with other systems.
Using the power of UCaaS to communicate with your customers while also leveraging other tools and applications through an API with CPaaS can mean the best of both worlds for your business.
The bottom line

When it comes to an all-in-one solution for your communications needs, it doesn't get much better than Nextiva's NextOS platform.
Why?
NextOS is the first system of its kind, capturing every customer interaction from every touchpoint. It combines so many powerful tools, you'll wonder how you've lived without it this long.
Have a look at what's inside NextOS.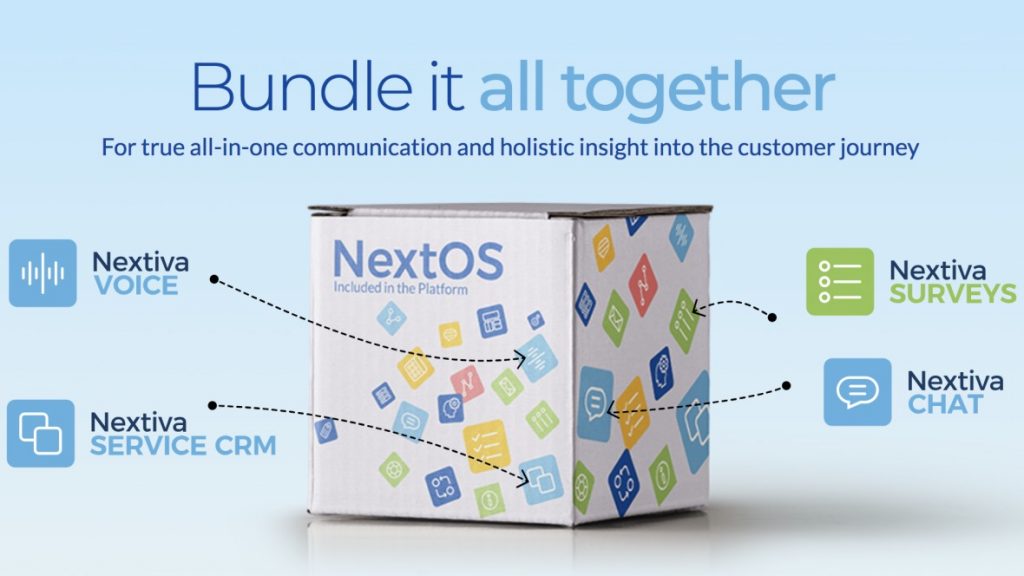 1. Voice
Nextiva Voice supports your phone calls with all the standard features and even some features you didn't realize you needed. Auto attendants, call groups, and call recording are standard features, along with PBX/SIP trunking and conferencing. Crystal clear calls with Nextiva's VoIP technology make Nextiva Voice one of the best systems in the industry.
2. Live Chat
Connect with your customers in real time using Nextiva Chat. Address your clients quickly and efficiently with the help of canned responses, knowledge articles, and document attachments. Make use of Nextiva Chat for internal communication, as well. Ask questions or reach out to a manager all without your customer knowing.
3. CRM
Nextiva's Service CRM manages all your customer interactions in one place. A single dashboard allows multiple conversations across multiple channels – voice, chat, and email. Add in calendars and internal chat and you have everything you need for an ultra-efficient support team.
4. Email Marketing
Use the Nextiva Marketing application to simplify and automate your marketing campaigns. Design emails with your brand, your colors, and your voice. Launch campaigns in a snap. Then, sit back and watch your conversion rate go up and up. Save email templates for successful campaigns; scrap the ones that don't work. Automate your campaigns to launch when you want and how you want.
5. Surveys
Take a deep dive into your customer's world with surveys. With Nextiva Surveys you can get feedback from your customers, review robust reports, and use the data to make your business better. Nextiva Surveys are easy to set up, mobile friendly, and reflect your brand and voice. Data is collected in one centralized, secure location.
6. Analytics
Take business intelligence to the next level with Nextiva Analytics. A simple, user-friendly dashboard gives you all the data you need in one location. View real-time data, analyze historical reports, or use forecasting to make decisions about your company's future.
7. AI and automation
Take your company's efficiency to the next level with Nextiva's automation and artificial intelligence technology. Apply workflow automation for routine tasks and free up your team for more important duties.
Give us a try

If the blank slate of a CPaaS system is a bit too much for you to tackle, go with the all-in-one solution of a UCaaS like NextOS.
Give us a test run. We know you'll love NextOS and our commitment to Amazing Service. Transform the way you communicate with customers today and watch your business grow tomorrow.