The rise of remote work has brought with it communications challenges for many workplaces. As many employees now work from home, IT leaders are revisiting their phone system, which also includes its underlying VoIP architecture.
Upgrading your phone system is no small feat. There are a few different ways to provide reliable connectivity for employees while keeping costs in check.
In this guide, we'll give you a straightforward approach to planning out a scalable VoIP network for your company. Plus, we'll include nifty VoIP network diagrams to show you how it all works.
You'll be able to tackle your virtual phone system and empower your employees with tools and best practices that will take their work to the next level.
Let's jump right in!
Introduction to VoIP architecture
VoIP architecture is a network topology that supports real-time audio with an internet connection.
You might already be familiar with how VoIP works. To recap, Voice over Internet Protocol (VoIP) converts audio signals into digital ones and transmits them over the internet.
VoIP has been around for many years, with varying degrees of complexity and performance. VoIP is now the gold standard to provide staff with reliable business communications.
Not all VoIP phone systems are equal. A lot depends on the underlying VoIP architecture that powers them.
Let's lift the hood to get a look at some essential components of a VoIP network.
VoIP architecture components
Session Border Controller (SBC): Connects to analog call services with digital voice calls, call records, and provides bandwidth management control. Also, they regulate the flow and balancing of network traffic to maintain superior performance. Behind this VoIP gateway is access to the Public Switched Telephone Network (PSTN).
Media server: Enables features like voicemail and video calling, as well as voice to email, interactive voice response (IVR), and voice-based dialing. These provide useful functions like call recording, call queue messages, and more. These media gateways can handles hundreds, even thousands, of SIP calls at once.
Application server: Enables call forwarding, call waiting, call transfer, phone service to the IP network, and call detail records. These are essential to provide users with core telephony features.
Database services: Stores the registration details for all SIP devices, which locates an endpoint and translates addresses that are potentially different in various networks. These maintain call logs for all internet telephony activities.
SIP services: Session Initiation Protocol (SIP) takes care of connecting, disconnecting, and setting the parameters of call sessions. It acts as the foundation for modern voice, messaging, and video technologies.
IP PBX: An Internet Protocol (IP)-ready Private Branch Exchange (PBX) use to provide telephony within a company. It acts as the main control center for legacy phone systems. These rely on SIP trunking for voice service.
Endpoint devices: These are the VoIP phones or softphones (including smartphone apps) that receive VoIP phone service. Examples include desk phones, VoIP apps, conference phones, and even fax machines.
IP network: This allows the voice data packets to travel between endpoints over an Internet Protocol network to upstream services accessible via one or more IP addresses.
Codecs: For optimal call quality, codecs convert the analog signals to digital packets with different types of compression. G.722 is the standard for HD voice calls.
How VoIP works

Voice over Internet Protocol (VoIP) facilitates phone calls over the internet instead of a regular landline. Telephone service is made possible through the internet, as shown in the simple VoIP network diagram below.

Since VoIP converts analog calls into digital signals, it needs a stable network connection. You can go fully wireless if you have a strong Wi-Fi signal, but be aware it's susceptible to interference.
Most IT leaders contend with designing the right VoIP architecture for their organization. A hefty list of requirements includes unlimited calling, flexible call forwarding, team conferencing, call routing, team collaboration, HD video, and more.
All that a reliable VoIP service provider requires is a high-speed WAN internet connection. From there, you have many options for your desk phones or VoIP phone apps.
VoIP is poised to meet the business needs of today's offices. People no longer want to be tethered to a desk in the office. They need their phone service to follow them around wherever they work — even working from home.
Every successful VoIP implementation begins with a comprehensive plan. Here's what you need to keep in mind.
Planning your VoIP architecture
Think about your company's plans to grow. What is your firm's timeline for expanding your offices and adding headcount? Prior estimates for voice communications might have changed drastically since 2020.
Knowing the needs of your organization helps you select the right VoIP architecture. Here are some specific questions to think about:
Where will your company be one year from now?
How many employees will you have?
What remote work tools do they use?
How much of your workforce will work remotely?
Which VoIP features are essential?
The answers to these questions will help you plan your business phone system to maximize your company's efficiency and results.
But first, you need to take a closer look at your network bandwidth. As companies scale, their broadband requirements grow with them. Unlike traditional telecom, VoIP requires a reliable internet connection.
Related: Is VoIP Reliable? Nine Facts You Must Know
The importance of bandwidth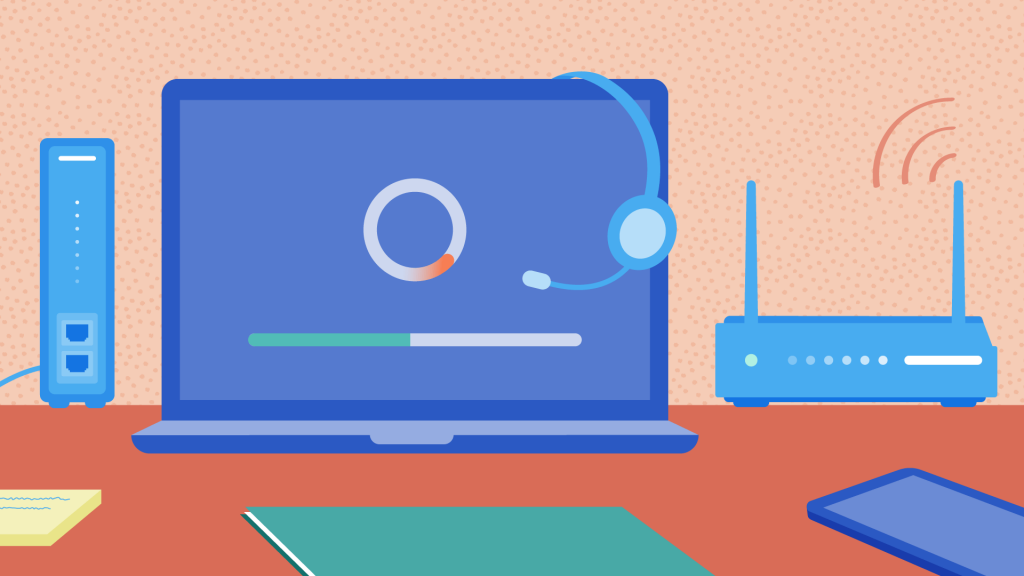 The amount of your network bandwidth affects your call quality. It's the foundation of a scalable VoIP architecture.
VoIP calls need around 100 Kbps of bandwidth per call. Multiply this by the number of concurrent phone calls to get an idea of your bandwidth needs.
On top of that, keep in mind that other concurrent activities, such as video conferencing and file backups, require extra bandwidth too.
With high network utilization, VoIP calling will work, but voice quality may degrade or experience latency.
The secret to a successful VoIP architecture is a well-planned network architecture. You might have avoided the use of Quality of Service (QoS) before, but network prioritization can ensure all users have a great experience and no outages.
As more and more employees work remotely, you'll discover that you have less control over residential broadband networks. Not to mention, employees often work from home with other family members who compete for bandwidth.
Encourage your staff to use wired connections (Ethernet) for their computers and perform network tests to verify its performance. They may need to disable SIP ALG in their routers for peak VoIP performance.
The bottom line for Voice over IP is that it's less about speed — after all, VoIP only needs 0.1 Mbps — it's all about stability.

Four different types of VoIP networks
There are a variety of VoIP networks you can select for providing voice calls using an internet connection. Your choice will depend on your existing setup and equipment, budget, IT staff, plans to grow, and more.
Keep reading to see our updated VoIP network diagrams. They'll help you visualize different VoIP network configurations. A VoIP network diagram helps you understand your implementation and explain it to your team for a smooth rollout.
1) Business phone service
For most companies, Phone service in the cloud gives you a reliable and easy-to-use solution. There's no hardware needed. Your VoIP provider handles the maintenance, upgrades, and support on their end. You provide the internet; the business phone provider does the rest.
It's no surprise why this type of VoIP network is so popular. Each desk phone connects to your network switch. From there, the phones sync with the VoIP provider to download its configuration automatically.
Additionally, with cloud phone service, you can manage phone extensions easily. Users can extend their office availability with their iOS or Android smartphone. They can also manage features like voicemail, call forwarding, and team messaging on the go.
2) SIP trunking
SIP is short for Session Initiation Protocol, and it's an application-layer control protocol for establishing, maintaining, and terminating calls between two or more people. SIP architecture includes clients and servers.
SIP trunking provides telephone service to on-premises phone systems such as PBXs. It transitions your existing PBX setup into an internet-powered telephone network and gives you access to affordable and infinitely scalable phone service. It also frees up your server room from bulky telecom hardware.
The advantage of SIP trunking is that you maintain your existing IP PBX and get the benefits of VoIP. The downside is that your phone service is still limited to the physical office.
3) First-generation VoIP
If your phone system is proprietary and you might be stuck with a first-generation VoIP phone system. Two decades ago, these emerged as an alternative to rising landline costs.
Despite using VoIP, these phone systems require highly specialized talent to manage as well as finding obsolete components. These PBXs may be trunked with SIP or PRI, but at the end of the day, you're holding onto technology that doesn't facilitate remote work.
Adding new lines and finding the right hardware is also expensive and takes time. These phone systems had their day, but the cost to maintain them outweighs its benefits.
4) Call centers
At the heart of a call center is a VoIP network designed to handle a high volume of inbound and outbound calls. You don't have to be in the call center industry to use them. For instance, if you have a sales team or a customer support department, you likely need call center functionality.
Top features for call centers complement typical business phone service. Additional functionality includes call queueing, live monitoring, and dynamic call routing. In particular, they need to have fine-grained control over after hours handling, agent priority, holidays scheduling, and analytics.
Managers will want to access detailed call logs as well as call recording. Supervisors will want to add new agents, analyze call center metrics, and leverage advanced PBX features like silent monitoring.
IT leaders should carefully consider their commitment to creating and maintaining VoIP architecture on their own.
VoIP Phones: Maximize your VoIP architecture
Beyond the business phone service itself, you might want to consider the VoIP desk phones your company needs. Perhaps executives get a high-end phone, another for meeting rooms, and everyone else gets the same phone for consistency.
Audit your phone system usage, requirements, and nice-to-have features. Selecting the right combination of VoIP phones for your team will help everyone experience it to the fullest.
Related: Switch to VoIP and Spend 65% Less Than Landlines
VoIP network diagrams
VoIP has made it possible for companies to use their existing IP network to transfer voice and data. As broadband increases speed and reliability, businesses can depend on them for more services.
When it comes to planning, you'll want to design a high-performance VoIP network. As the company adapts to different types of work, employees look to you for a robust communications system.
Here are a few VoIP network architecture examples. We also include a helpful VoIP network diagram that illustrates each network. These VoIP diagrams illustrate to others how your phone system is configured.
You can use these to map out your VoIP architecture based on your current office setup and growth plans.
Single office


For businesses that operate from one location, they will typically have one internet service provider that provides broadband connectivity. This connection could be cable internet, DSL, or fiber.
Each workstation should have at least one Ethernet network drop. The wiring should combine into a network switch. For a VoIP implementation, consider using a Power over Ethernet (PoE-enabled) switch. They provide 15-30W of electricity to power VoIP phones without impacting network connectivity.
Pro-Tip: Equip your network switches and routers with uninterruptible power so your phones can stay online even if the building loses power. For more info, we explain how to keep VoIP connected during a power outage.
Larger offices should opt for managed switches to take advantage of VLAN tagging, QoS optimization, and network management capabilities. But for most offices, any PoE switch from a reputable brand will work fine.
Instead of connecting the computer to the network drop, you would connect the VoIP phone to the network drop. Then connect the computer to the VoIP phone. This setup is also known as daisy-chaining or a pass-through network configuration. This approach eliminates the need for additional wiring, and with PoE, you won't need any extra power adapters.
Multiple locations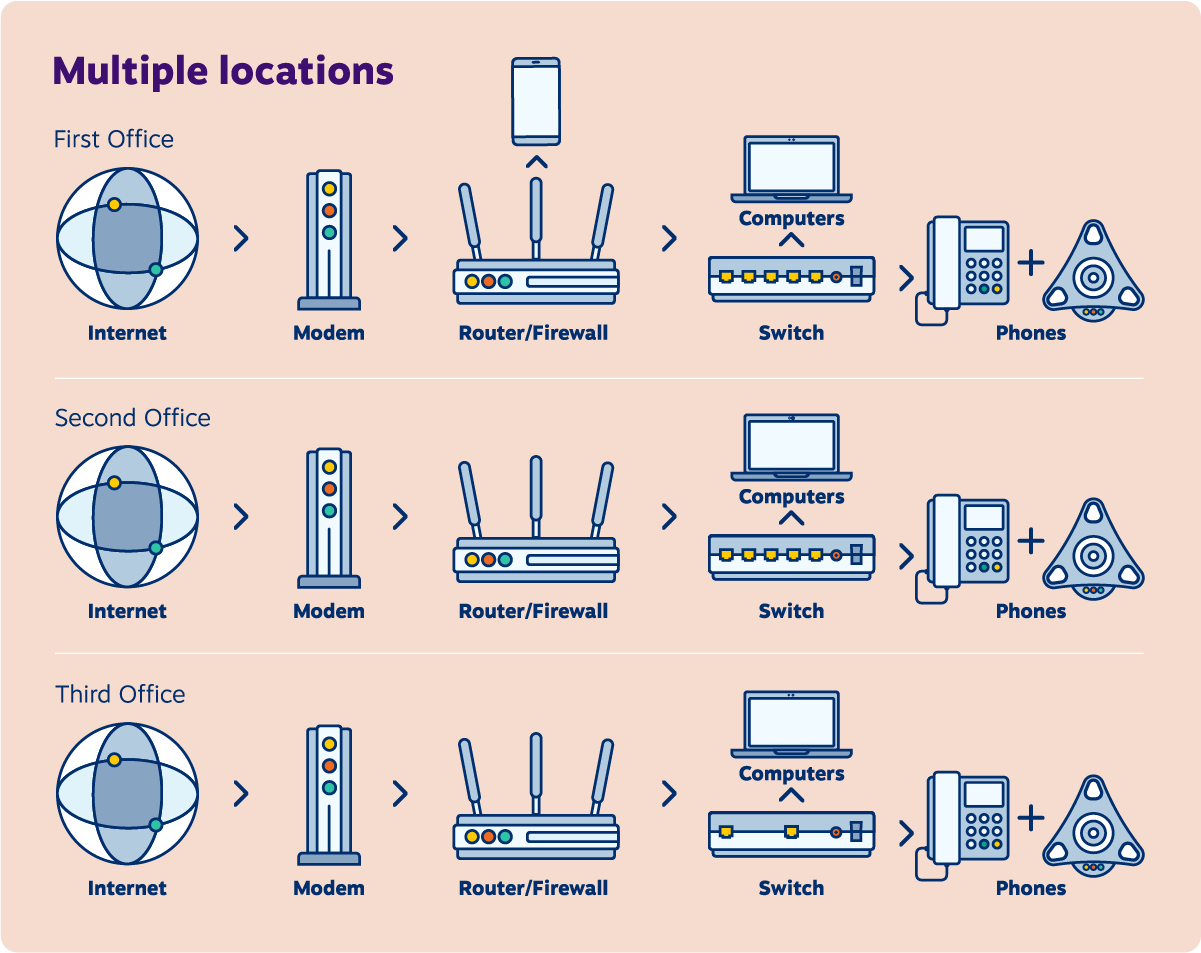 Companies with a bigger footprint with multiple locations will have to contend with different network demands at each office.
Within each office, your VoIP configuration would be similar. Connect your workstations to the phones, then the phones into the Ethernet drops. Then connect those into a network switch. VLAN tagging is ideal to limit some network congestion.
You might need to choose one or multiple internet providers to serve your offices with high-speed internet. As each location expands, fiber connectivity is preferred.
The most critical data point to track is your bandwidth utilization at each location. With streaming music, viral videos, and cloud communication apps, you'll likely use more bandwidth than you expect.
The IT staff in each office should understand your VoIP architecture seen in each office. To do this, we recommend maintaining documentation. Train your IT team and on managing the phone system and educating staff on top FAQs about their voicemail, call forwarding, and setting up their business phone app.
Remote employees



For remote employees, you will be contending with a variety of residential broadband providers. Employees are bound to have different network equipment, so from an IT perspective, this adds more complexity.
Since hosted VoIP phone service works with any internet connection, employees can take their desk phones home. They will likely need a power adapter since most home-offices network devices aren't PoE-enabled.
Many employees who work remotely might not need a physical desk phone. They can use a VoIP softphone app installed on their computer or even their smartphone. However, the same principles apply when it comes to maintaining network performance.
Some broadband gateways offer limited settings for additional configuration. These gateways will interrupt the voice packets causing delays or dropped calls. We recommend disabling SIP ALG within the router or gateway for optimal VoIP performance. Doing this from the start will help you prevent VoIP issues later.
Educate and remind your remote staff to limit competitive network activities like video streaming or having too many wireless devices connected.
Related: VoIP RFPs: The Complete Guide to Upgrading Your Phone System (+Free Templates)
VoIP best practices for peak performance
Finally, here are some useful approaches to keep in mind to make the most of your VoIP setup.
Opt for higher speed broadband providers. As a part of a robust VoIP architecture, you will want rock-solid network bandwidth. While phones only need 100 Kbps, you have many other cloud-connected devices that consume data. Aim for only using 80% of your allotted bandwidth.
Segment large networks with VLANs. After approximately 20 employees or so, we recommend you start implementing network prioritization efforts through QoS and Virtual LAN (VLAN) tagging. Doing so will minimize packet loss and keep your users happy. You'll also improve your network security.
Prioritize network bandwidth for VoIP. Choose VoIP equipment that offers high performance for all types of traffic. On your router, set up Quality of Service (QoS) to prioritize voice traffic on the network over computers and other network traffic like YouTube. Perform several VoIP speed tests during the workday to see how VoIP would perform under real-world conditions.
Share one VoIP system between all offices. The best thing about a shared VoIP phone system for your company is the ability to manage and run it from a single platform. Employees can work remotely can collaborate seamlessly with team messaging and one-click conference calls. The best part is, every office can share the same phone number.
Cloud phone systems like Nextiva offer so much more than phone service. Look into its unified communications and collaboration features for higher productivity.
Three simple VoIP tips for your team
Your VoIP architecture is the foundation to get work done — not create more of it. It's a good idea to arm your team with actionable tips to make the most of VoIP, especially if they work from home.
Use a wired connection instead of Wi-Fi. An Ethernet network connection will always provide more stable connectivity. If you must use Wi-Fi, use a faster 5 GHz band over the crowded 2.4 GHz band.
Stay connected with a VoIP app. use a VoIP app to make and receive telephone calls on a computer. It's easy to use and gives access to features for remote workers. Nextiva's VoIP app is available for Windows, Android, macOS, and iPhone.
Remain vigilant to security threats. While VoIP is secure, the security landscape continues to evolve. Educate your staff to recognize legitimate voicemail-to-email messages, so they don't fall for scams. Add endpoint protection to your workstations to protect your team from malware risks.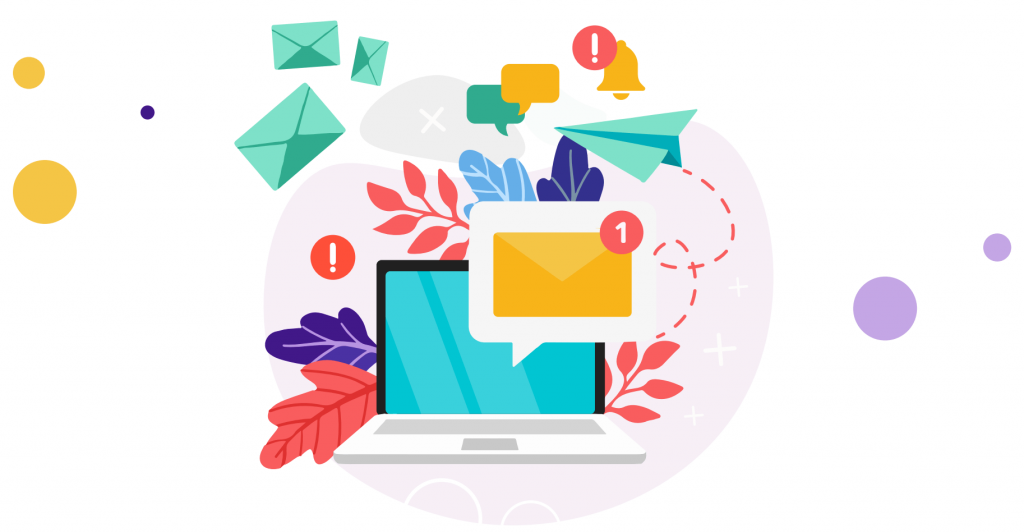 Don't let an outdated VoIP architecture hold you back.
A successful VoIP architecture is the one that supports employees so they can work remotely and move their projects forward.
Modern IP telephony is more than voice. End-users expect HD video conferencing that looks and sounds great wherever they're working. They don't care for the minutia of VoIP technology or VoIP protocols. They just want it to work.
If you're holding onto your on-premises PBX, consider the costs that come with it. Not just financially, but also the way it's holding back your growth and taking your focus away from the work that matters.
With today's VoIP networks, you can have a reliable cloud phone system for a fraction of the cost. With the always growing features for collaboration and remote connectivity, employees will be efficient and communicate better.
Manage every aspect of your phone system from the cloud and make changes in seconds. This way, you can support your company's growth and plans.
Related: 17 Dos & Don'ts of Successful VoIP Setups