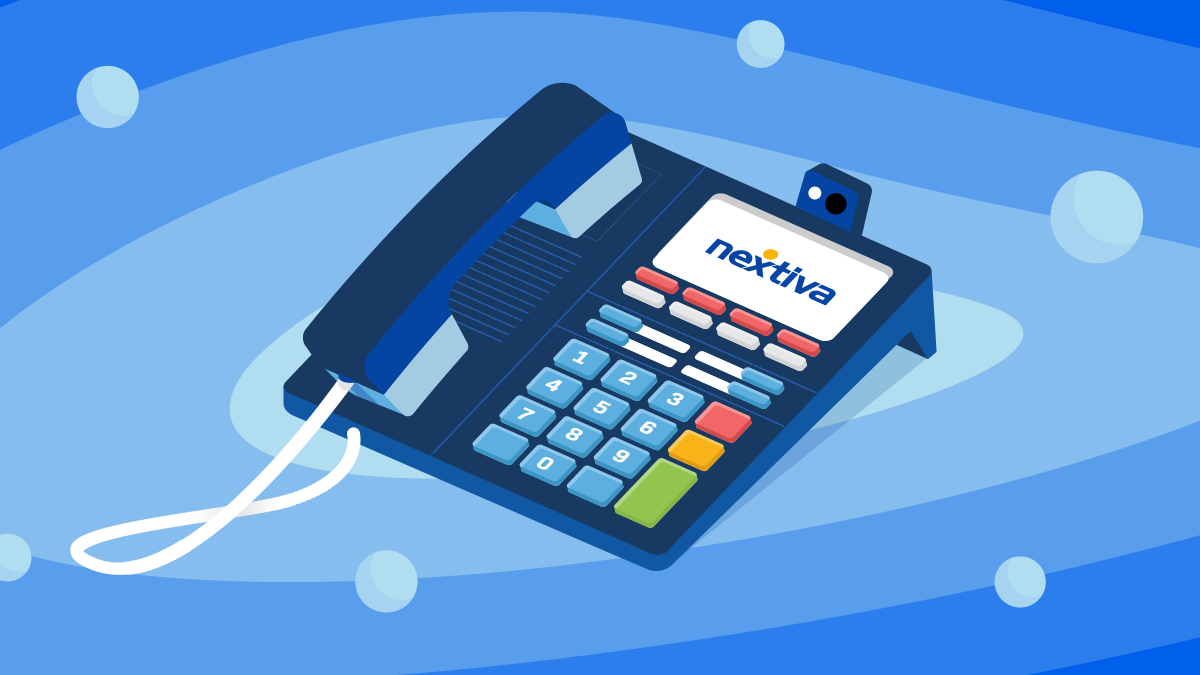 In this guide, you'll learn everything you need to know about VoIP.
You'll discover how it works, common terminology, different ways to get started and how to find the right solution for you and your business.
If you're looking to set up a new communications infrastructure or scale your existing system, this guide will show you realize the benefits of cloud-based phone service.
What is Voice Over IP (VoIP)?

Voice over Internet Protocol, or VoIP for short, enables you to make low-cost phone calls over the internet.
You might often hear the terms "internet telephony" and "broadband phone service" when referring to the service, but these days VoIP is the standard terminology used among IT professionals.
After you set up a VoIP phone system, you can dial anywhere in the world and anyone can call you. The underlying technology makes talking to people over the phone as simple as sending a direct message over social media.

How does it work? The answer depends on which method you're using:
IP Telephones: These devices operate in a similar fashion to traditional phone systems, but this time they plug straight into your computer. IP phones usually come with all the hardware and software needed to connect to your router or server.
Computer-to-computer: With this approach, all you need is the right software and a decent sound card. If you have a headset and a microphone, you're good to go.
Analog Telephone Adaptor (ATA): An ATA adaptor allows you to plug your traditional telephone to your computer and make VoIP calls. It takes the analog signal from your traditional phone and converts it into digital data, which can then be transferred over the internet.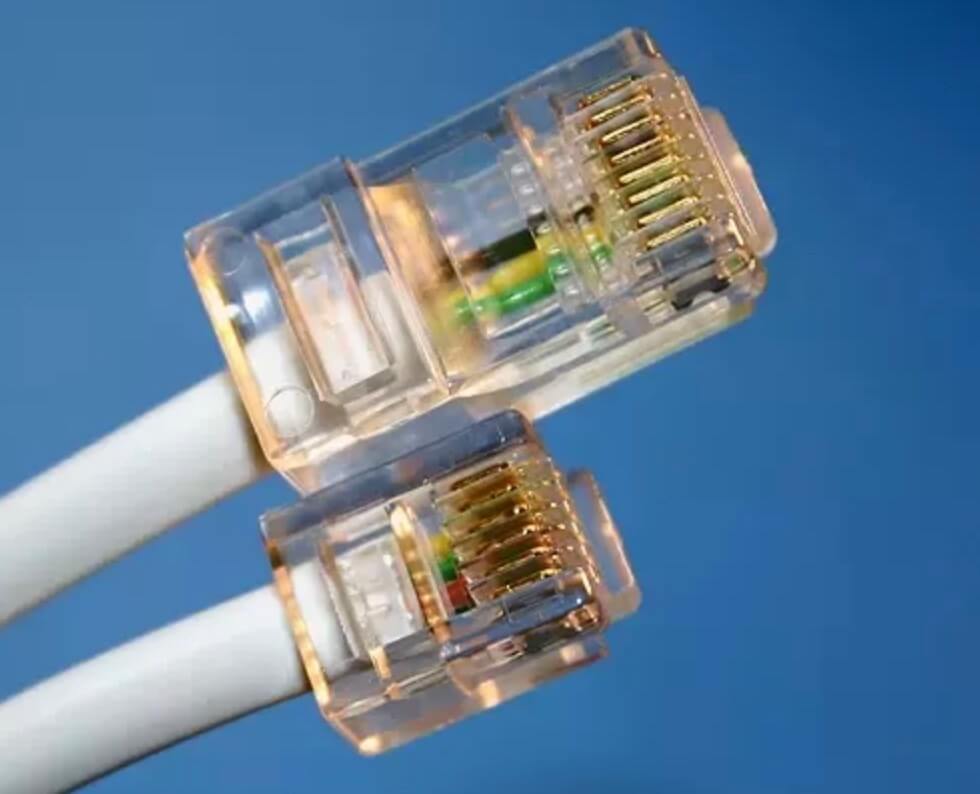 The main difference between ATA and IP is in the connectors. ATA uses traditional RJ-11 connectors, while IP telephones use RJ-45 connectors that can be plugged directly into an Ethernet port.
This image from a Quora post perfectly illustrates the difference:

The complexity of each approach listed above depends on whether you're building an on-premise system or using a hosted service. We'll explore the distinction between the two shortly.
1. The benefits of VoIP
Now you understand the basics of how VoIP works. The question is, why should you invest in it?
There are many benefits to VoIP, and the reasons to implement it will depend on your business structure, strategy, and goals.
Here are several of the common reasons that organizations and IT professionals invest in VoIP:
Costs: A reduction in hardware means fewer costs for setting up and maintaining your communications stack. Traditional landlines are expensive due to the limited number of lines available. This isn't a problem when making calls over the internet, making it a cheaper approach.
Reliability: If the internet is down, does that mean you can't make calls? Thanks to flexible call forwarding options, the answer is no. The same goes for weather interferences, or hardware and power outages.
Mobility: If you have a smartphone that can connect to the internet, you can make VoIP calls on the go. This is especially handy for remote teams, as it allows them to make calls from anywhere in the world. In the age of working remotely, a remote office phone system has your business covered.
Simplicity: Looking to make conference calls over landline phones? Be prepared to pay additional hardware and connectivity costs. However, this isn't a problem with VoIP, which allows as many people to join a call that your internet bandwidth allows.
Customer service efficiency: From an operations perspective, you can use VoIP for more efficient customer service processes. Use call recording to train your team, and listen for frequently asked questions that can be used to inform your knowledge base.
Sales growth: VoIP can also be used for sales training, allowing sales managers to tailor their feedback in one-to-one meetings. With the right tools and leadership, you can grow faster.
For established organizations, making the shift to an internet-based telephony platform can seem costly. But the long-term gains go beyond savings. Implementing a VoIP system can improve efficiency, and empower teams to do their best work.
2. On-Premise vs. Hosted VoIP Services
With an understanding of the benefits, the next step is to implement a VoIP system. Typically, there are two approaches: On-premises and hosted (cloud-based).
Both operate what's known as a Private Branch Exchange (or PBX for short). Each type of phone system has pros and cons depending on your business needs.
With on-premises PBX, all the equipment and hardware necessary for making VoIP calls are held in the office. Typically, this will be stored in your designated server room (if you have one). Calls are made from IP phones that connect to a PBX (or IP-PBX server) using a LAN connection.
Hosted PBX, on the other hand, is where a third-party company (like Nextiva) is responsible for handling the hardware, set up and maintenance of the PBX system. The headaches usually associated with getting started are no longer your problem.
Let's check out the pros and cons of each system in more depth:
On-premises PBX Pros & Cons
| | |
| --- | --- |
| Pros | Cons |
| Easy to add open-source features | On-site expertise needed to set up and maintain |
| Costs may work out cheaper if spread out over several years | Expansion may require complex and lengthy project lead times |
| Back-up telephone lines through additional SIP trunks | If a manufacturer goes out of business, you may struggle to get support |
| Total control over how your system operates | Extra costs incurred when technicians are called out |
| | Unless you have a SIP provider, power cuts could mean a loss of service |
Check out the next section to learn more about SIP trunking.
Hosted PBX Pros & Cons:
| | |
| --- | --- |
| Pros | Cons |
| Providers are well-resourced, as it's the focal point of their product offering | Fast internet connection required for high-quality calls |
| Fast and simple number selection | Depending on your provider, new feature releases and bug fixes can be slow |
| Instant feature setup and deployment | Some providers require a contract to get the best price |
| Getting set up is easy, as the only hardware requirement is your internet router | Reliability will also depend on the architecture and expertise behind the provider |
| All upgrades and patches are taken care of by your provider | |
| If you lose your internet connection, calls can be routed to a voicemail or cell phone | |
If you choose the hosted route, be sure to find a provider that has skin in the game. In other words, a brand that prides themselves on building a high-quality product that they're constantly iterating and improving upon.
3. VoIP Terminology
We've covered a lot of the VoIP basics, how it works and the technology behind it. Now, let's check out some common terms used and what they mean.
These definitions will further help you to understand how VoIP works as you begin researching and implementing the right system for your organization.
Session Initiation Protocol (SIP)
SIP is a protocol used to initiate VoIP sessions in real-time. It also allows you to maintain, modify and terminate each connection.
As a signaling protocol, it is used when two or more endpoints communicate with each other via voice, video or messaging.
Public switched telephone network (PSTN)
PSTN is a worldwide collection of telephones and other voice-focused devices. This includes devices operated on a national or local level.
In simple terms, it's the infrastructure that allows for private and public telecommunication. It interconnects telephone lines, cellular networks, fiber-optic cables, and undersea telephone cables, which allow devices to connect with each other.
SIP Trunking
Communications providers use SIP Trunking to connect PBX together with the traditional phone network to send and receive calls over the internet. It's the best way to retrofit an existing office PBX with VoIP connectivity.
Codec
When talking about codec in the context of VoIP, their job is to compress VoIP data to save bandwidth and improve connection speed.
Some codecs also provide "silence suppression," which stops data from being transmitted when one (or several) parties are not talking into their device. Codecs offer more than bandwidth optimization, they make your calls sound superior with twice the frequency range of a typical phone call by using the G.722 or G.729 codecs.
Dynamic Host Configuration Protocol (DHCP)
DHCP is used by client-side network devices to be assigned an IP address and other important parameters to make a connection. It also ensures IP addresses are unique. VoIP phones can be configured with a static or a dynamic IP.
Jitter
Jitter is the variation between the time it takes for a packet of data to reach the destination. When the jitter is high, users perceive this as "lag."
Latency
Latency is the interval between a signal being sent and it arriving at the other endpoint. In other words, it's the amount of time it takes for a user's voice to be heard by the recipient.
Still hungry to learn more about VoIP? Swing by our VoIP FAQs for answers to all your top VoIP questions.
How to Build a VoIP Infrastructure
As an IT leader, you may be considering the in-house route. Many find the level of control it offers appealing.
Before we dig into evaluating hosted options, let's first look into what it takes to build an in-house VoIP infrastructure, so you can decide which system is right for yourself.
Step 1: Understanding your business' requirements
As VoIP operates over the internet, you must ensure you have a strong and reliable connection. Part of understanding this is to figure out how many users you'll need.
Pro tip: Start by assessing how many users you need in the short term and long term. For example, if you have 100 employees but expect employee count to grow by 50% every year, account for this growth ahead of time.
You'll also need to define which shared resources are needed across the company. For example, three meeting rooms means three conference phones.
Once you know how many users you must accommodate, you can evaluate whether or not your current internet capabilities are sufficient enough.
Of course, even if you have 100 employees, not all of them will be using the VoIP system at the same time. But you'll need to account for unexpected volume increases.
Speak to your ISP about your requirements and see what they can offer you. We've also created a VoIP speed test tool so you can see how much data your existing connection can handle:
Now, you can calculate the number of lines you'll need to support business needs. To get an accurate number, consider the following:
Phones: How many phones will you need over the next six, 12 or even 24 months?
Numbers: If you have more than one physical location, you may need a separate business number for each
Simultaneous calls: An inbound or outbound call is considered a line in use. If you anticipate a certain number of inbound and outbound calls at any one time (e.g. 50), then that's the number of lines you'll need
Want to learn more about this topic? Check out our article "How Many Phone Lines Do I Need for My Business?" here.
Step 2: Setting up the hardware
When setting up your VoIP system, you'll need the right hardware to meet your needs. Here's what a PBX system might look like:


Let's break down the important elements laid out in the diagram above.
Internet: You'll need a stable internet connection to handle the number of lines you'll need. Again, speak to your ISP if you need advice or to evaluate your needs
Router & server: As VoIP connects to the internet, you'll need a router that connects to your server. Each IP phone will then connect directly to the server
SIP trunk: This connects to your VoIP service provider. This avoids sharing the same internet connection the rest of the business uses
Wireless routers: Allows mobile devices using VoIP software/apps to connect to the system
IP phones: Plug directly into the server via RJ11 connectors, allowing employees to make calls
SIP trunking allows voice data to travel over a dedicated line. This means that voice data has a dedicated line, which saves bandwidth from being eaten up over your main network.
Learn more about how this technology works in our guide: How Does VoIP Work? The Complete Guide to VoIP
Step 3: Choosing providers and features
There are dozens of providers available to handle your VoIP and PBX needs, all with varying costs and features.
We'll cover how to evaluate different vendors in the next section. For now, let's look into which features you should consider when building your VoIP infrastructure.
Here are five of the most critical (and common) VoIP features most businesses and IT professionals consider a "must-have:"
With a list of important features, look for vendors who can support your needs. Some solutions only offer the basics (such as call management), while others come with advanced features.
A good on-premises phone provider will also assist with getting everything set up and offer long-term support. For example, many will help you with the following:
Connecting your PBX to your ISP (via your router)
Visit your office to install hardware, phones and confirm that everything works
Configure vendor-specific services and settings
Have a list of questions when contacting vendors. Ask them how much support they offer during the setup process, and whether or not they send an engineer to consult and configure the VoIP system. We'll cover more about the vendor evaluation process shortly.
Evaluating Cloud-Based VoIP Vendors
An on-premises system can seem appealing for flexibility. For many business owners and IT professionals, the amount of work can be daunting.
For most business leaders, they don't want to deal with the intricacies of managing a phone system. Instead, they focus on developing products, acquiring customers, and offering excellent customer service.
Streamlining adoption, and making it as simple as possible, is the most appealing route when implementing any new technology.
Which is why hosted (or cloud-based) VoIP is usually the most attractive option. Instead of having to install everything manually, all you need is an internet connection, a headset, and a microphone.
Other benefits of switching to a cloud phone system include:
Cost savings: According to Sage Research, businesses save an average of $1,727 per month when using hosted VoIP.
Cheap international calls: Call anywhere around the world for as low as from as little as a penny per minute.
Integrations: Most hosted solutions will integrate with your CRM, email marketing, e-commerce, and other platforms.
True mobility: Make calls from the same number on any device, anywhere in the world. That includes smartphones and tablets.
Unified communications: All channels are integrated into a single dashboard, allowing employees to view communications across the organization in a single feed.
Be sure to check out our comprehensive guide to selecting a VoIP phone system—it's loaded with strategies, examples, and best practices. For now, let's look into how to evaluate vendors and find one that's right for you.
1. Define your requirements
Just like figuring out your requirements, it's best to start with your business objectives first and reverse-engineer necessary features from there.
What do you want to achieve with VoIP? Is it to improve sales efficiency, customer satisfaction or reach business-critical goals?
Work with the boardroom and other senior decision-makers in your organization to come up with a requirements document. This should then form a mission for your implementation project, for example:
"The new VoIP platform for Company X must help sales reps close more deals, give support teams resources to delight more customers and make collaboration across the organization more efficient."
With your mission defined, include features you need to achieve the desired outcome. For example, you might expect your hosted VoIP platform to provide the following:
Direct messaging across teams
Communications analytics and reporting
Mobile apps to access VoIP anywhere, anytime
Call recording
Video conferencing
Integrates with existing business processes
Operates across different channels (email, phone, chat, text, etc.)
If you're already using a VoIP platform and looking to switch, you should also ask potential vendors if they'll help with migration, onboarding, and training.
In short, your requirements document should outline exactly what you need in order to achieve your business goals while making the setup and onboarding process as smooth as possible.
2. What's your budget?
With all your needs fleshed out, you'll need to know how much it will cost.
Some vendors will include all features in a single package, with a flat fee depending on the number of users needed. Others may charge extra for premium features. Bear this in mind, and be sure to check out the pricing pages of each vendor where available.
If you want to get truly granular with your budget, you can calculate the following:
Total number of users required
The average number of calls made each day
The average duration of calls (segmented by team and organization as a whole)
Hardware needed (e.g. desk phones, microphones, and headsets)
If you don't already collect this data, then make a rough estimate by speaking to leaders of the departments that make phone calls as part of their day-to-day roles.
3. Shortlist and evaluate vendors
If you're not familiar with the VoIP landscape, start by looking at popular software directories like G2. These can help you compare features across popular solutions, as well as reviews from existing customers.
You can also ask for referrals from your existing network. Sometimes, a quick post on LinkedIn is all you need for reliable recommendations.
Once you've listed your options, go through the sales process for each of them. State your requirements early, with a strong emphasis on your goals and desired features.
Ideally, sales reps will offer a demo running through the features that are most relevant to you and your goals. You'll also receive sales material to share with other stakeholders involved in the process.
If you're happy with a particular vendor, explain how quickly you'd like to get the system implemented. It's also the perfect time to negotiate on pricing.
VoIP Security
Any IT professional worth their salt would be concerned about VoIP security. "How secure is VoIP?" is a common question we hear in the space.
The answer depends on your chosen approach. For example, if you've decided to build an on-premise system, then you'll need to install and monitor the proper provisions against malicious attacks.
To improve your on-site security, make sure you have a firewall installed protecting the organization. Your router should also come with built-in security settings but speak to the manufacturer if you're not sure.
If you're worried that VoIP calls can be hacked, intercepted and spied on, fear not – professionally installed VoIP networks are very secure. Your VoIP provider may offer encryption for your deployed phones. Since this varies by device and configuration, you will want to contact them to verify compatibility.
For peace of mind, ask VoIP providers the following questions:
What accreditations do they have?
What third-party tools or software do they use?
How do they detect and prevent security threats?
How well are employees trained on security protocols?
Further Reading
If you're looking to learn more beyond the basics of VoIP, here are some guides that dig deeper into the topics covered in this guide:
Get the top-rated cloud phone system
made for the way work gets done.