SIP trunking or Session Initiated Protocol lets you run your business phone service over the internet versus traditional phone lines. That's your short answer.
SIP trunking can revolutionize your business. By layering applications and devices, communication can be cost-effective, speedy and straightforward. But how about we go into a more comprehensive explanation — what is SIP trunking and how does it work?
What is SIP Trunking?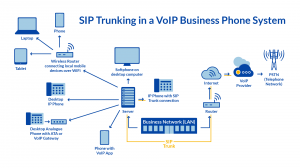 SIP or Session Initiation Protocol was created by the Internet Engineering Task Force (IETF). IETF created SIP as an open-signaling protocol standard.
SIP uses the same plain-text language as HTTP, hypertext transfer protocol. SIP was used by the open source movement and acted as a catalyst for VoIP (Voice over IP.) Also, SIP has capabilities that far surpass HTTP, especially in regards to availability and functionality.
SIP is also part of the IP Multimedia System (IMS), PC operating systems, fixed mobile convergence (FMC), and unified communications.
VoIP vs. SIP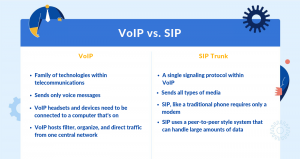 So what does an open-signaling protocol standard do?
It helps facilitate peer-to-peer communication. And as we know, peer-to-peer communication can mean voice calls. It can also mean emails, texts, instant messaging, video conferencing, voice mails, faxes, gaming – the list goes on.
SIP vs. PRI can be confusing. That's why we've broken it down here for you
But, what's broken?
And all these media is transported through different applications and devices, ranging from email to SMS to IM applications to mobile phones. There are so many ways to communicate and so many incoming and outgoing messages to sift through that communication can be tedious and overwhelming.
How does SIP trunking help?
SIP acts to simplify communication from all aspects of it. It can connect a range of communication devices, such as phones gateways, proxies, servers, softphones, Private Branch Exchange systems, instant messaging, video conferences, and collaboration systems.
What SIP doesn't do is transfer the media itself, which isn't necessary considering the range of applications designed to do this already that you are probably using already. Instead, SIP is extensible, meaning it can easily employ various applications simultaneously to create a larger communication framework.
SIP Trunking Benefits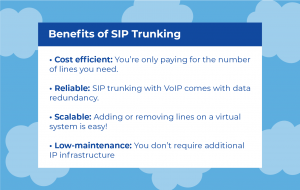 SIP offers a range of benefits, mainly by connecting a variety of devices to connect individuals and businesses locally and globally through voice, video, and text. It simplifies business communication systems and makes businesses technologically competitive. Before we go into some of SIP's specific benefits, here are some others you should consider. SIP trunking is:
Cost efficient: You're only paying for the number of lines you need.
Reliable: SIP trunking with VoIP comes with data redundancy.
Scalable: Adding or removing lines on a virtual system is easy!
Low-maintenance: You don't require additional IP infrastructure
SIP and Virtual Presence
One of the ways that SIP does this is by creating a unified virtual presence. It allows individuals and businesses to make a protocol of preferences when it comes to communication. They can choose when and how they would like to be available.
SIP will allow them to change and revise these "rules," so there is contact only on preferred channels.
For example, if the user is unavailable because of a business meeting, they can set preferences so all calls and messages and be forwarded to their assistant, regardless of the communication device used.
So calls to the user's mobile phone, direct office line, and even home phone is sent directly to the assistant. Or if the user is on a business trip, all calls and messages are routed to a smartphone.
But here's the best part
SIP lets you communicate seamlessly —  zero interruption and effort on either side of the communication. What's also unique is that SIP trunking can translate information to fit any device. This applies to voice, IM, video, inline translation services, multi-modal messaging, speech-to-text translations and web-based Interactive Video Response (IVR).
SIP offers speech-to-text translations and vice-versa, where one user may only have voice capabilities, and the other has only text capabilities. It translates communication between both parties.
SIP thus centralizes communication
Thus, SIP can centralize communication. We all have multiple ways we communicate: our home phone, home computer, laptop, mobile phone, office line, direct office line, texting, video chat, the list goes one. SIP grants a user one "address" for all these devices and applications.
This way, anyone who is trying to contact you doesn't have to go through a list of addresses and phone numbers to send a simple message. Instead, they can utilize your SIP Address of Record (AOR,) which a single identifying number – your one public number.
This links all the user's devices to one single address. And this is all because SIP allows for Uniform Resource Identifiers (URIs,) which supports both numeric and alphanumeric addresses. For example, both phone numbers and email addresses.
How Does Virtual Presence Work? Why is it Important?
You send an email to someone only to have it ignored or forgotten. Or you instant message someone, but they are "Away." You call them, and it goes to voicemail. After attempting 12 different communication devices, you give up and wait it out.
With an established SIP presence, this frustration dissipates. An individual or business can communicate whether the user is available or not.
A user status communicates whether the user is online or offline. The availability dictates if the user is available to chat, is away, in a meeting, on a call, or busy. And so, whoever is trying to reach you knows exactly where and when to contact you.
Auto-status and forking
Besides, SIP presence creates a protocol for communication. For example, if the user is inactive for a set period, an "Away" status shows up. Also, calls are routed from one device to another automatically if the user is not available at the former one.
When there is an incoming call, the SIP proxy, which receives the invitation, will decide as to where to route the call. The SIP proxy may send the request to several addresses — mobile phone, home phone, and email.
This is called "parallel forking." If the SIP proxy chooses a specific address, this is called an "intelligent fork."
Take your business to the cloud with Nextiva's SIP Trunk.
SIP metered plans starting at $14.95
Bringing Things into Context: SIP Trunking for Your Business
Before SIP
Before SIP, enterprise communications had separate structures of voice and data communication. You probably know now that this can result in a comms and business continuity breakdown.
This old system cannot handle large volumes of calls and customers may receive busy signals. All the while, the internet may be completely underutilized.
After SIP
With complete interoperability through SIP trunking, communications sync with business operations. You can now route and record calls instantly, as well as manage emails. Multimedia messaging can mean that on one side of the conversation, an individual can be texting and the other can be on a voice call.
Video conferencing, instant messaging and instant data exchange can make communication reliable and speedy.
SIP's advantages also trickle down Customer Service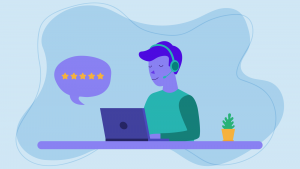 With SIP, your customers are no longer in the dark. With intelligent routing and self-service options, customers can now receive answers well before an SLA.
Also, privacy protocol can be built into the language of SIP, so customers and users can feel comfortable with virtual communication. These protocols can include security certificates and authentication. These are just a few among the many jobs you can do within Customer Service with SIP.
SIP and contact centers
Formerly known as customer call centers, customers had to phone overstretched phone operators. This inefficient system meant overloaded employees and impatient customers. Now, there are contact centers, where customers can phone, email, submit messages or texts to customer service agents.
There are automated services, where customers can deal with bills, ask questions and check balances with speedy, self-service.
Contact centers can be divided in such a way that an agent might deal with just email inquiries, billing issues, purchases, troubleshooting, or incoming phone calls.
Another department may deal with outgoing customer contact, in regards to services, surveys, or announcements.
Are your customer service reps using these 21 phrases? See why and how they impact your CX.
How to Get Started: SIP Trunking with an Existing PBX
The equipment that you will need for SIP trunking depends on your current system. If you have an older PBX system, then you may need a SIP-ISDN gateway. A newer system may not require this additional hardware. The gateway acts as a translator between SIP and ISDN of the SIP trunks and PBX system.
You should also know what SIP proxy servers are. Simply put, a SIP proxy server connects one SIP device with another. Once a connection is established, the server drops out making room for point-to-point communication.
Must-Read: Hosted PBX Vs SIP Trunking: Top 7 Differences & Why It Matters
How many SIP trunks do you need?
The number of SIP trunks depends on how many calls the user will receive. For example, a customer contact center may require a SIP trunk per customer service agent, so that each one can receive simultaneous messages.
However, a smaller branch could work well with a SIP trunk per five or six employees. The right setup and a strong internet connection will ensure maximum efficiency and quality without time delays or data loss.
Ready for SIP? Take our speed test to make sure your internet is ready too!
How much is SIP trunking?
Before SIP, businesses used Time Division Multiplexing (TDM) carriers. They connected their PBX telephone network to one of these carriers and lost money – these carriers charged money even when the lines were idle or busy, incurring toll charges and expensive long-distance charges.
Now with VoIP and SIP, companies can integrate voice, video, and data for a much lower cost. SIP trunks transport voice and data over an IP connection. The voice data moves through a carrier cloud, rather than pure voice circuits.
The IP circuits can carry email, video and other data as well.
Nextiva, for example, offers two SIP trunking plans — SIP metered plans starting at $14.95 and unmetered plans at $24.95.
How does SIP bring your costs down?
SIP trunking costs remain low because it only uses a single IP pipe. Also, SIP is not tied to a particular geographic location, which means it has number mobility and can be used wherever and whenever.
You have free calls between sites, free DDI rental, and in some cases, zero ISDN line rental charges.
SIP trunking can do this because it links the communication system to a public telephone network with the same connection as your data services.
Sound Interesting? Let's Get You More Information
As a recap:
SIP utilizes existing equipment, applications and communication devices to simplify and expedite communication.
With an online presence, it can initiate, manage and end communication sessions without interruption.
SIP can even prioritize messages automatically for users, eliminating the need to sift through hundreds of incoming messages.
In addition, it reduces response times and improves SLAs with self-service options within Customer Service.
Take your business to the cloud with Nextiva's SIP Trunk.
SIP metered plans starting at $14.95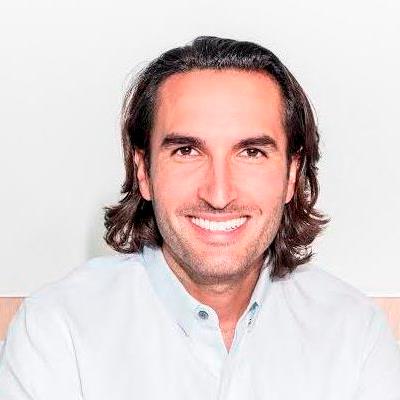 Yaniv Masjedi serves as Nextiva's CMO. An avid reader and lover of all things marketing, leadership, and personal growth, Yaniv is obsessed with creating strategies that drive awareness, strengthen brands, and create customer-centric culture. To get in touch, follow Yaniv on LinkedIn.