Looking to upgrade your company's phone system to something more reliable, easy to use, and cost-efficient?
While there are several options to choose from, you're likely whittling it down to a premise-based or cloud-based system.
There are advantages and disadvantages of running your phone system on-premise or hosting it in the cloud. That's what makes it such a tough but important decision for business owners. Choosing the right system can make business communication stress-free.
In this article, we'll share the pros and cons of both options. By the end, you'll have a much clearer picture of which phone system fits your unique requirements.
What is an on-premises phone system?
An on-premise phone system is a phone system that is physically installed in a building.
It can either consist of physical wires around the office, which connects your office's data center to employee desk phones. Or, you can use IP technology and make connections through an internet connection. Either way, the main PBX system is inside your physical workspace.
Premise-based phone systems can be expensive to set up because of the equipment needed. For example, you'll need IP phones and SIP trunking. Not to mention a dedicated room in your office for the equipment to live.
Maintenance is inevitable too. You'll either need an on-hand IT team or a third-party service to come in and repair any problems. These additional costs can be expensive for your business.
Plus, there's a lack of flexibility that comes with physical systems. Anyone needing to make calls through the business phone system needs to physically be in the office. Remote employees can't dial in and make or receive calls away from their desks.
What is a hosted cloud phone system?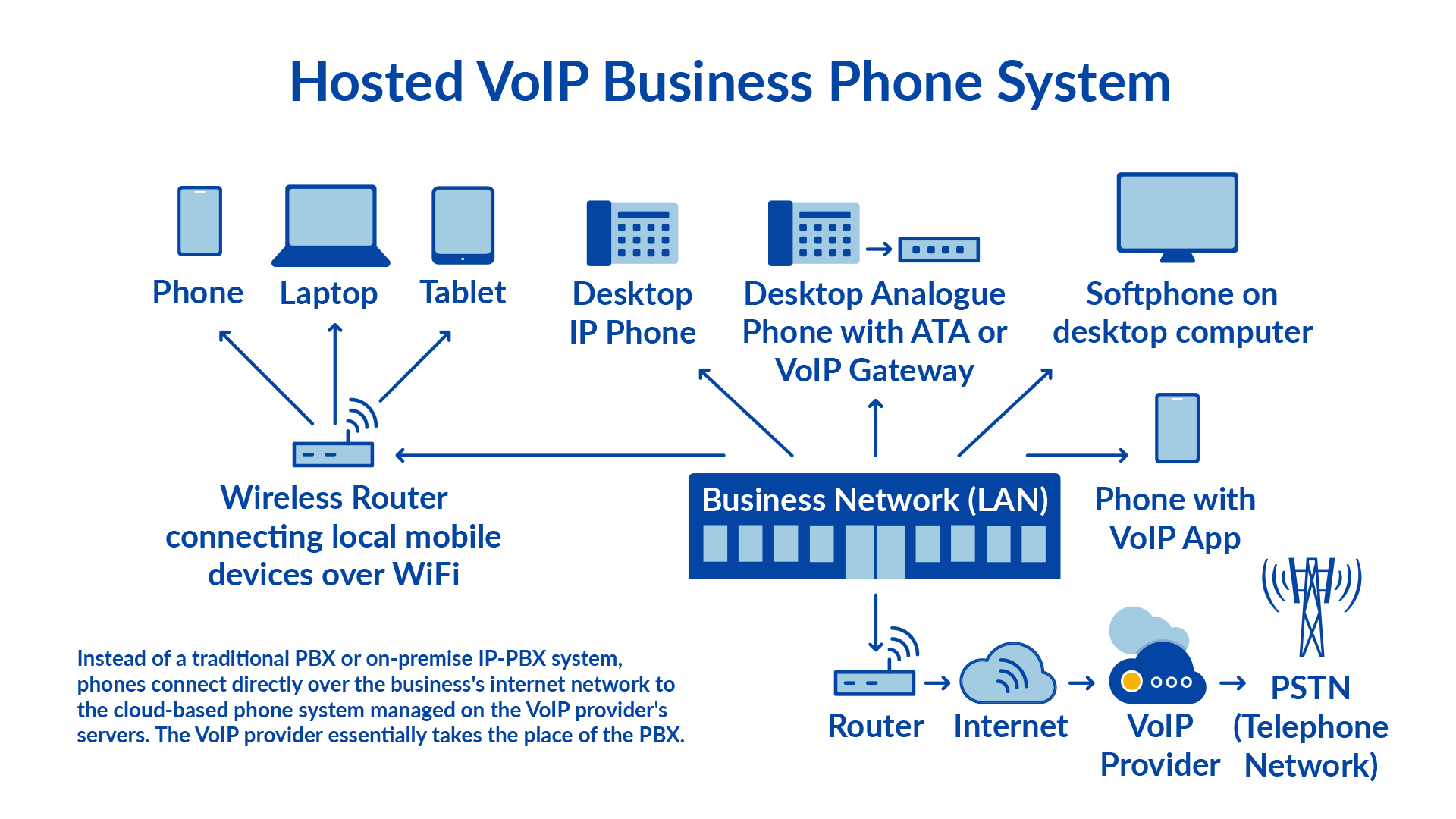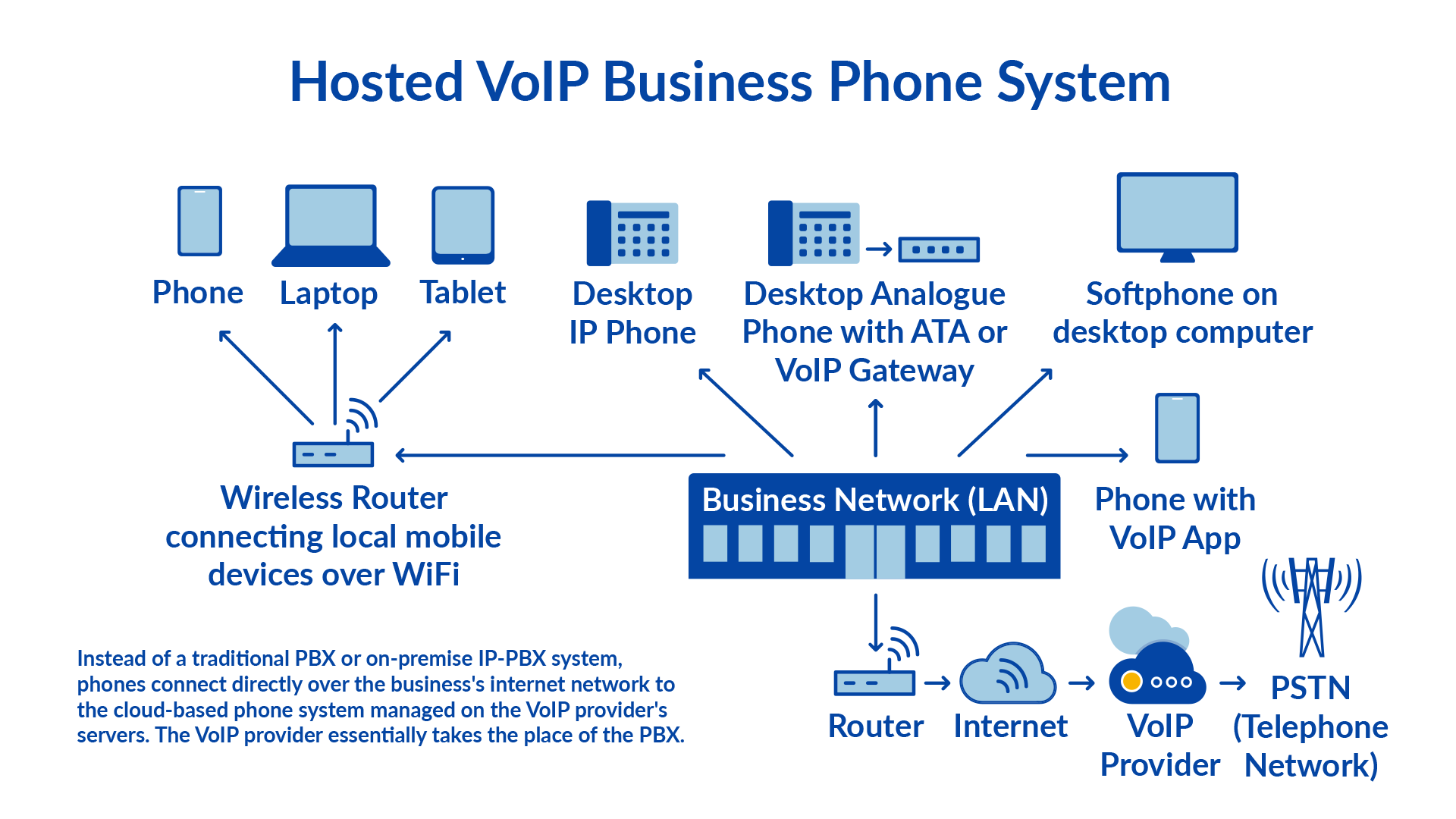 A hosted phone system functions similarly to an on-premise solution. The only difference is that calls are made using an existing internet connection. This gives you a lot more flexibility and freedom that you don't have with an old-school setup.
This means that cloud phone systems are usually cheaper than their alternatives. All you're paying for is the connections to be set up. And since those connections are made through the internet using a Voice over Internet Protocol (VoIP) solution, it's much quicker to get up and running.

But one of the biggest differentiators between cloud and on-premise phone systems is the fact remote teams can use the hosted solution. You can have team members on the other side of the world and still make phone calls and join conferences, so long as they've got compatible VoIP software installed on their device.
Speaking of which, you'll still be able to use your normal, everyday equipment. You don't need any special IP phones or hardwired desk phones to use a cloud phone system. Simply download the provider's app onto a laptop, mobile device, or VoIP conference phone to start taking calls.
If you'd prefer new equipment, VoIP headsets are a great option. They provide clear and crisp sound, and cordless ones have incredible range. You can take a walking phone call, or sit on the other side of the office and still have a crystal clear phone connection.
VoIP desk phones are powerful and easy to use, too. They provide mobility not seen in a legacy phone system. Your team in the office can physically take their phones home and continue working without any interruption, or vice versa.
On-premises vs. cloud phone system
Now that we have a better understanding of both telephone systems, let's review some of the key differences between the two.
Costs and maintenance
The most obvious advantages are the setup costs and ongoing maintenance. It's your responsibility to maintain an on-premises solution after the lengthy and expensive setup is finished. Costs and maintenance associated with the upkeep of an on-premise system is one of the main points we touch on in our video below:
Fortunately, a cloud-based system takes all of these concerns off your hands.
Flexibility for remote teams
A cloud-hosted solution is much more flexible for distributed and remote teams. Employees don't need to use their personal devices when they're out of office or working remotely. They can use their business phone number on a mobile device to make and receive work calls. People on the end of the line won't notice any difference.
Reliability
It's also worth noting that hosted phone systems are more often more reliable than their traditional counterparts. Your hosted PBX provider is responsible for the maintenance, security, and general upkeep of your cloud phone system.
Which is right for your business? 4 questions to consider
We already know that on-premise solutions typically come with large upfront costs and limited features. But that doesn't mean you should rule them out completely. On-premise solutions are still favored by some companies.
So, do you absolutely need an on-premise system? Or can you make the switch to the cloud?
Consider these four things to help you decide what's best for your business.
1. How much can you afford to spend?
Arguably the most important thing to consider when choosing between hosted VoIP and on-premise phone systems is the cost.
Both providers will give an upfront cost and monthly service fee when you enquire. But, it's worth noting that overall, VoIP is much cheaper than on-premise solutions when it comes to total cost of ownership.
Sure, there's a monthly fee to stay connected—but maintenance costs aren't as high because it's managed by your provider remotely. You don't need IT coming in for repairs to the network.
The setup cost for VoIP is cheaper, too, because you can use the devices you've already got. Remote employees' personal phones can double as work phones. You can also retrofit your current analog phones or PBX setup by using a VoIP adapter.
Related Post: How Much Does a VoIP Phone System Actually Cost?
2. Do you have a remote team?


It's harder for a remote team member to call into a premise-based phone system. Connections are made physically inside the office from data center to device. That makes them a bad choice for businesses with remote teams.
However, cloud solutions allow remote teams to thrive. Employees can use it from anywhere in the world to access the business phone system using Voice over IP. All they'll need is an internet connection to make and receive business calls.
And the best part? Call quality is noticeably better. VoIP solutions send and convert voice waves into digital files using the internet. It has twice the bandwidth of a typical analog phone call, even if the end-user isn't using a VoIP system themselves.

All you'll need is an internet connection with a strong enough bandwidth. If you're unsure whether or not your internet can handle VoIP, give our free network speed test a try.
3. Do you plan on expanding your team?
A hosted phone system is more scalable than an on-premise alternative. That's because you don't need extra wire lines connected to your on-premise data center.
Instead, your hosted provider can add another line to your online account. Any new team member can have an account created within minutes. And since they can use the technology they've already got, devices like their work laptop or mobile phone can double-up as their business communications tool.
This means that expansion of the system makes hosted VoIP superb for growing teams. If you plan to expand your call center or hire new employees within the next few years, call management is easier with a hosted provider.
4. How much control do you need?
Do you need complete control over your entire network? In this case, an on-premise solution might suit your business needs better. You've got complete control over the system when it's inside your office, and you'll have access to an in-house IT team that may have a better understanding of the nuances of your network.
If you'd prefer a hands-off approach to managing and maintaining your phone system, a hosted solution might be better. Your provider is responsible for all the upkeep. And, since there's no additional equipment inside your office, all you need to do is update the software on the devices you're using. It's that simple.
Choosing a business phone system provider
Have you decided which phone system you'll be using? Next, it's time to choose an on-premise or hosted provider to give you the phone service you need.
Below are four key things to consider when choosing any new phone service provider.
Reliability: How often does your cloud provider have technical problems or outages? The more uptime, the less chance you have of your business phone system shutting down. (Nextiva's business voice network connected more than 1 billion calls last year!)
Accreditations: Check your provider is ISO/IEC 27001 certified, and SOC-2 and PCI compliant. This shows that their network is secure. If you're working in specific industries like healthcare, also check your hosted VoIP provider is HIPAA compliant.
Security: Both on-premise and VoIP phone systems are secure on the whole. Check your provider is committed to security by asking for their security protocols, and see if they show how to report a vulnerability.
Important features: Check if your provider offers features that make the system more powerful for your employees. This can include voicemail-to-text, call recording, real-time analytics, and so much more. If you need help breaking down all the different VoIP features, we wrote the guide with 40+ features to consider in your research.
Once you've found a business phone provider that ticks off all four, book a demonstration with each. It's the best way to get to grips with the dashboard and ask any questions about unified communications features your business needs.
Related: What Is UCaaS? (+6 Benefits of Unified Communications)
Have you made your decision?
Hosted VoIP will be the best choice for some businesses. Others might get more value from an on-premise solution that's inside the office.
But after reading this article and answering the questions we presented, you should have a much clearer idea of what's best for your business.
If you've decided that a cloud-based phone system is the option for you, get in touch with Nextiva. We've helped thousands of businesses of all sizes create a strong, robust, and reliable VoIP network with almost-perfect uptime.
We're rated the best business phone system by U.S. News & World Report for a reason.