Manage business communication and stay in sync, no matter where you are located. With Cospace, you can hold conference calls with up to 250 participants, from both inside and outside your organization. Cospace incorporates messaging in a sleek teamwork tool featuring enhanced video conferencing, screen share, crystal clear voice, and project task management.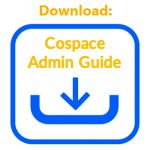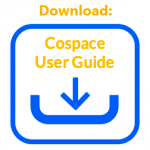 APP DOWNLOADS
COLLABORATION
Invite teammates: Create a collaborative environment by inviting Users from your organization to join Cospace.  
Conference & video calling: Initiate a call (with or without video) with another User, all members within a space, or all attendees to a meeting. Including the option to share your screen. 
Chatting: Send messages to one User or a space. All discussions, files, and links are saved to the space.
Sharing Files: Share files and links in one place for all users to easily access. 
SPACES
Creating Spaces: Create unique spaces for teams, events, or projects.
MEETINGS
Create Meetings: Any User can create a meeting and invite other users or guests. Meetings can be scheduled or created for immediate use.
TASKS
Creating Tasks: Stay on track with your own to-do list and collaborate easily by assigning tasks to other teams or Users.
INTEGRATION
Integrating Google Calendar: Sync all Cospace meetings and tasks to Google Calendar, keeping all events in one place.