While Voice over Internet Protocol (VoIP) isn't a new technology, many myths and misconceptions are floating around today.
Hosted VoIP has been rumored to be unreliable, expensive, and difficult to install. The truth is VoIP is one of the easiest and most reliable ways for businesses to communicate.
Is there any truth behind these Voice over IP urban legends? We'll break down the top VoIP myths — and set the record straight.
Infographic: 10 Common VoIP Misconceptions
We're big believers that VoIP is the best way for companies to communicate with their staff and customers. We created this handy infographic that tackles the top VoIP misconceptions.

---
Want to use this infographic on your site? Copy and paste this embed code:

---
Myth #1: VoIP isn't secure
The average cost of a data breach in the U.S. now exceeds $8 million. It's not unreasonable to worry about someone eavesdropping on your company's phone calls.
IP telephony is no less secure than a traditional Public Switched Telephone Network (PSTN). Thanks to encryption, VoIP can mitigate risks more effectively than with traditional landlines.
VoIP phone systems also provide advanced security features. Most providers offer call encryption, two-factor authentication, advanced monitoring, and detailed logs. Select VoIP providers also earn industry accreditations like PCI, SOC 2, and HIPAA.
There's no need to set up a PBX and firewall, either. The VoIP service provider manages all that.
Myth #2: VoIP is only for tech companies
It's a common misconception that only large businesses with deep tech experience can get value out of Voice over IP. In fact, this was the first myth Prince Rich of Rich Technology Group touched on in his video below:
Companies from virtually every industry use Voice over IP for business communications. They're all around you: car dealerships, home services, bakeries, manufacturing, and law firms.
Top VoIP providers walk you through setting up a new phone system. You can use your existing phones, get new ones, or skip them altogether.
The healthcare industry has been quick to adopt VoIP phone systems. Many cloud phone service providers are HIPAA compliant, which means the private medical information transmitted through your network is entirely secure.
Of course, we can't blame business owners for embracing VoIP. It lets them speed up onboarding, lower IT costs, and scale effectively.
Myth #3: VoIP isn't widely used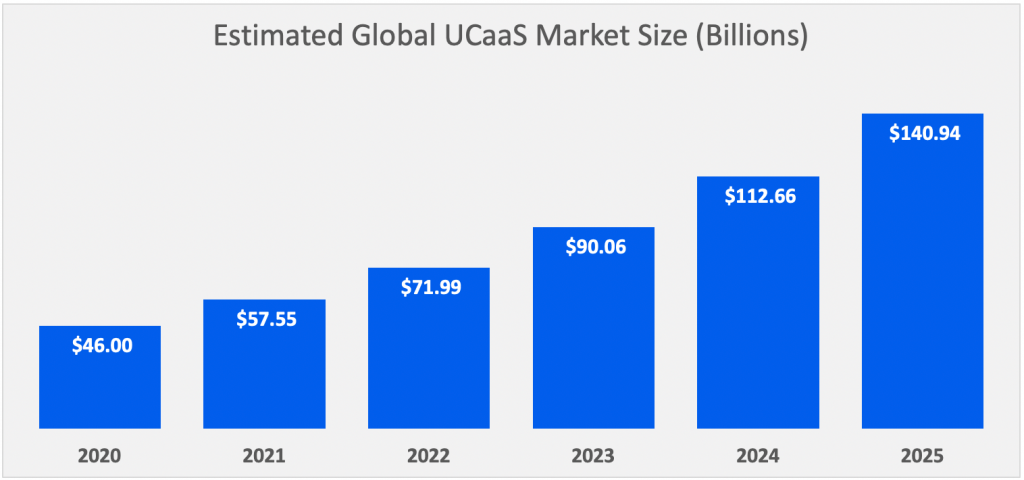 Did you know that every time you make a call over the internet, you're using VoIP?
It's a telecommunications technology that's been around for over 25 years. Communication apps you're already familiar with, such as Skype and WhatsApp, use VoIP technology for audio and video calls.
Have you ever ordered a meal from Uber Eats or Doordash? When you exchange real-time messages or calls with drivers, it takes place using a robust VoIP platform known as CPaaS.
If you're still not convinced, consider the fact that VoIP users reached 1 billion in 2017. This statistic is why the VoIP services market is expected to reach $195 billion by 2024.
More people are using VoIP than you think — including your potential customers.

Myth #4: VoIP is unreliable
If you're debating whether to choose a traditional telephone system over VoIP, you might be concerned about reliability.
There's no need to worry. Business phone service providers like Nextiva offer 99.999% uptime as long as you have a broadband internet connection. They have eight redundant data centers located strategically around North America.
We equip each data center with redundant power sources and IP connectivity. If one goes offline, calls are automatically routed through the nearest data center.
Even if you face a power outage, you can forward calls to your cell phone or laptop connected to Wi-Fi.
Myth #5: VoIP has poor call quality
Approximately 60% of customers prefer to reach businesses by phone. It's not a surprise that voice quality is an oft-repeated myth.
It's a common misconception that calls made over Voice over IP are worse than their landline alternatives. The reality is that with a decent internet connection and 100 Kbps bandwidth, VoIP calls sound better than traditional phones.
HD Voice calling uses wideband audio that supports twice the audio frequencies offered by analog phones. VoIP phones automatically adapt to the available bandwidth to provide callers high-quality sound.
Many VoIP handsets offer noise-canceling features that improve the sound quality of every call. If you have a broadband internet connection, voice traffic will be crystal-clear.
Myth #6: VoIP is expensive
Businesses these days need to do more with less. Sticking to a budget is the key to survival. It's no wonder why the cost of a VoIP phone system is on their minds.
VoIP is the most cost-effective phone system you can choose. Companies can lower communication costs by up to 65%.
Compared to analog phone systems, VoIP a no-brainer. Legacy telecom providers charge extra for business features such as auto attendants, conference calling, and nationwide long-distance. You need a business voicemail? That'll be $13 more every month.
Virtual phone services like Nextiva provide everything your team needs to stay in touch, starting at $18.95 per month.
Myth #7: VoIP is difficult to install
Despite what you think, there's some truth to this common myth. Several years ago, businesses needed telecom experts to install and configure their phone system. This often meant bulky PBX equipment and wiring to tether employees to their desks.
Setting up a cloud-based phone system is as easy as downloading an app. Without any technical knowledge, you can manage your phone numbers, call flows, and users.
VoIP desk phones that you get from Nextiva are pre-configured, so you plug them in and get back to work. Granted, the more phone lines, locations, and features all contribute to the installation time.
Either way, it's still easier to set up than a conventional PBX. It'll take minutes to get started. Try Nextiva free and see how easy VoIP can be.
Myth #8: You can't keep your current numbers with VoIP
Transferring your existing phone numbers has been a bit of a mystery to some people. The days of phone companies holding your old phone number hostage when your switch carriers are over.
The Federal Communications Commission (FCC) mandates that consumers can assign their phone number to any phone service provider. This process is known as porting. You can port your existing landline, wireless, or virtual phone numbers.
At Nextiva, we'll guide you through completing the number transfer request. All you need is a recent phone bill to get it started.
Myth #9: Your current network can't handle VoIP
Not every small business has the luxury of a high-speed internet connection. That doesn't mean VoIP is off-limits for you.
To make and receive VoIP calls, you need at least 100 Kbps upload and download bandwidth per line. A single DSL or cable connection will be sufficient. Most business broadband packages start at 25 Mbps, which is 25,000 Kbps.
Many people now work from home. Residential broadband connections work just fine with commercial phone service.
If you don't have any broadband internet available, this myth is factual. Satellite-based internet isn't sufficient for reliable phone calls. Perform an online speed test to confirm your network connection is ready for Voice over IP.
Myth #10: VoIP can't support your existing devices
You don't need to run out and buy new hardware to start using VoIP. If you have a fax machine, you can move it to an online faxing service, so you can exchange documents like email.
To use your traditional phone systems in the cloud, you'll need an Analog Telephone Adapter (ATA). In most cases, this isn't cost-effective.
VoIP devices are affordable — and can be available at no cost with select plans.
Ready to experience VoIP?
With these myths and misconceptions cleared up, are you ready to see how VoIP can benefit you?
Our VoIP phone service is a modern approach to business communications. You'll be able to set it up in minutes, connect with your team, and level up your customer experience.