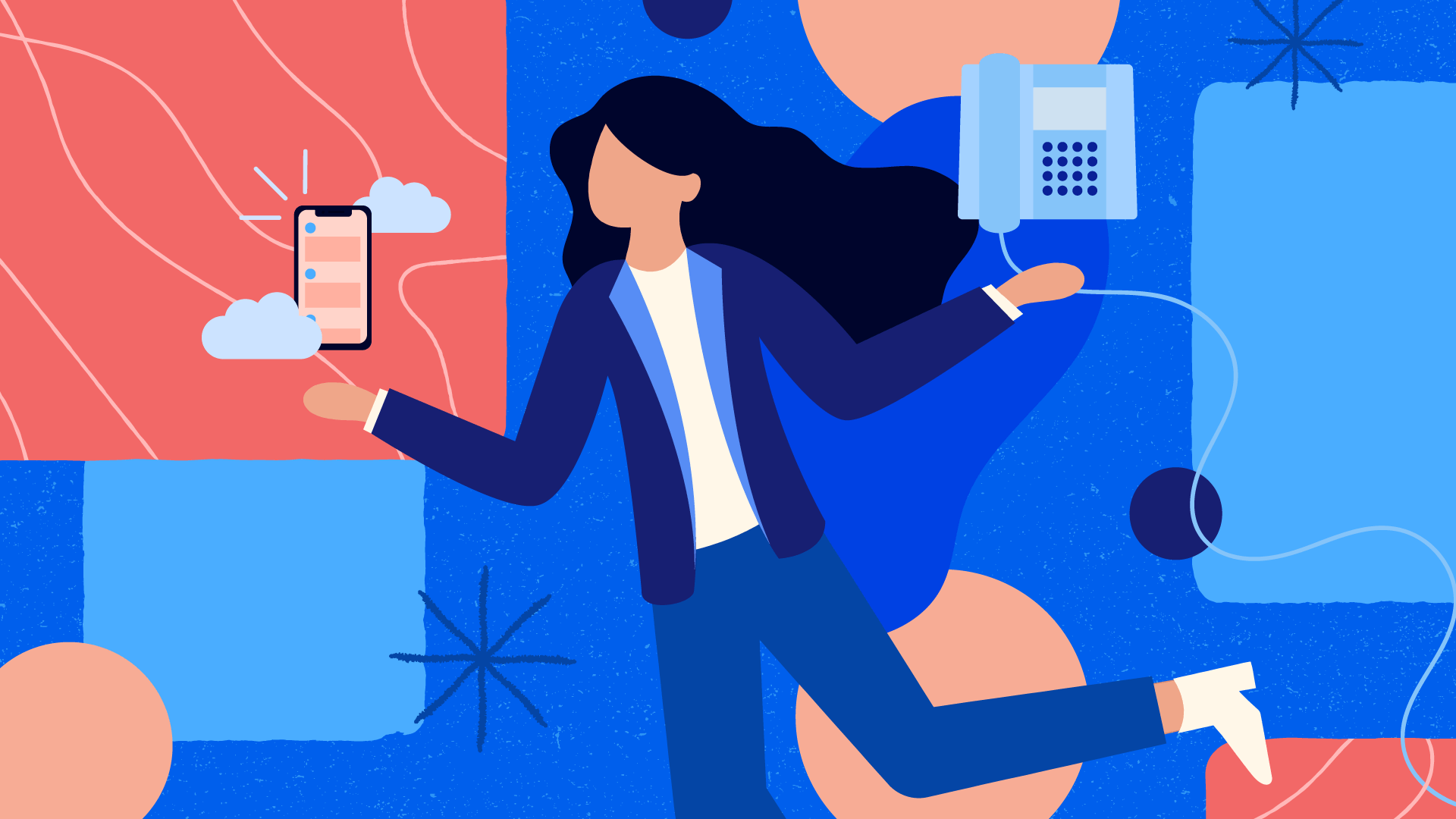 Are you considering using a VoIP alternative for your business?
Voice over Internet Protocol (VoIP) is one of the fastest-growing business solutions around.
VoIP replaces your landline telephone with one that establishes calls over the internet. You can talk with anyone using your mobile phone, laptop, or desk phone.
Once you're connected to the internet, you can make and receive calls using a business VoIP phone system.
To help you decide which choice is best for you, we've rounded up the top VoIP options and VoIP alternatives. Here's a rundown of which ones made the cut:
Whether you're looking for a VoIP or VoIP alternative for your business, there are plenty of great options for every budget.
A VoIP phone system provides access to call recording, call forwarding, conference calls, and so much more.
Small businesses, enterprises, call centers, and remote teams take advantage of VoIP solutions. The low price, reliability, and features make it quite attractive.
Compared to landlines, a VoIP service provider can save you up to 65% off of your phone bill.
All you need is a high-speed internet connection. Just plug your phone (or download a VoIP app), and you're done.


9 VoIP Alternatives for Your Business
You could spend all day researching VoIP phone systems and other good alternatives.
But we've already done the heavy lifting for you.
So here's how the top nine VoIP and VoIP alternatives compare.
1) Nextiva
As the leading VoIP platform, Nextiva provides a full range of solutions for businesses to stay in touch with employees and customers. Examples include business phone service, collaboration tools, call center software, and more.
With superior voice quality, customers won't even realize you're using VoIP. They might ask if you got a new phone because the quality is outstanding. You'll see a significant difference in your expenses.
And it's not just the financial perks that make Nextiva a top contender. With Nextiva, and you'll be able to:
Send unlimited texts from your mobile phone or desktop.
Route calls to the right department with an auto attendant.
Get voicemails in your email and read them on-the-go.
Forward your calls whenever and wherever you want.
Enjoy unlimited calling in the United States, Canada, and Puerto Rico.
Collaborate with your team over HD quality video conferencing.
Send and receive faxes just like email whenever you need them.
You'll find everything you need to run your business without physically being in the office with Nextiva.
And you'll no longer have to worry about being held back by a landline phone system. With cloud PBX, you can make calls and manage your phone service from anywhere.
Nextiva's cloud communications network offers an impressive 99.999% uptime. This enterprise-grade reliability means you can stay in touch with more customers and employees wherever they are.
The company's in-house customer support team is unbeatable. It's why the company was awarded five years in a row for its service to customers.
The best part is that you can score all these features for as low as $20/month per user.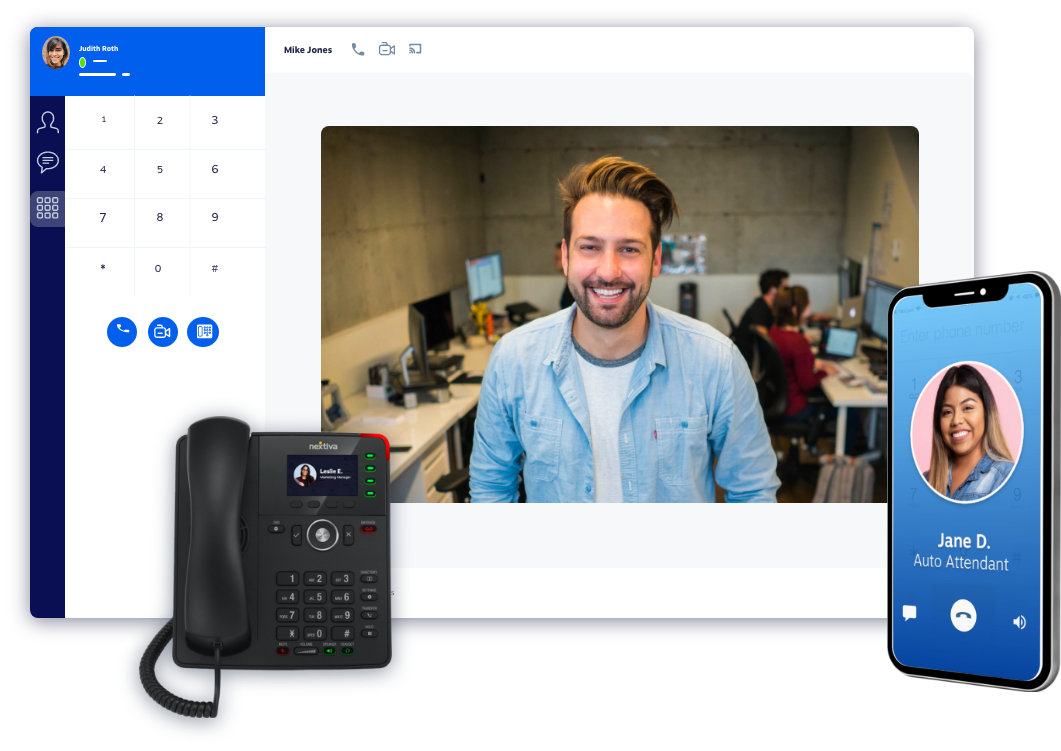 2) Google Voice
The free Google Voice app is a notable alternative to VoIP. However, it won't give you the full features of a complete business phone system because it doesn't offer too much customization.
Despite this, Google Voice still offers capabilities worth noting, such as:
Seamless integration with your G Suite. You can coordinate it with your Google Calendar and Hangouts effortlessly. This may be attractive to some Android users.
Auto attendants and voicemail transcription.
Unlimited text messages and calls from the U.S. and Canada.
Built on the scalable Google Cloud network.
Side-by-side integration into Gmail.
Google Voice services start at just $10/month for up to 10 users. For an extra $10/month, you can upgrade to unlimited users and domestic locations.
The premium version of their service offers advanced reporting and international locations. Heads up: these added upgrades will cost extra every month.
There's also no guarantee that when you call customer support that you'll be speaking to someone in-house. This can make getting help a bit more challenging, especially while you run a business.
Take to heart that Google Voice isn't very customizable. For instance, custom outbound caller ID, call forwarding rules, and dedicated conference bridges.
Related: 40+ Best VoIP Features Your Small Business Can't Do Without
3) Skype
Skype is one of the original VoIP alternatives to a costly telephone plan, and it remains one of the most popular.
After Microsoft acquired Skype, Skype for Business Online system became Microsoft Teams.
With this communication tool, you can:
Place video and phone calls through their app from mobile devices or smartphones, laptops, and desktops.
Chat via instant messaging.
Enjoy 10 GB of file storage within the app.
Share your screen and files with anyone in your chat.
Skype lets you make and receive calls, chat, and share files. It comes in handy for communicating with your team.
It won't give you voice answering features, auto attendants, call routing, or call forwarding to serve your customers.
If you're loyal to Microsoft, then a phone system that integrates with Teams is a better option.
Voice calling from Microsoft gives you a handful of VoIP features. You can manage hold music, send calls to voicemail, offer customer support, and use an admin center to track your calls.
This level of access can run you $8 for the phone system, $12 for 3,000 minutes in the U.S. and Puerto Rico, and $24 for 600 international minutes.
Business phone service can get rather pricey, depending on your usage and Office 365 plan.
4) WhatsApp
WhatsApp is a popular messaging and communication app used to chat with people all over the world, just like Skype.
Yet many people are surprised to learn that it's also a VoIP alternative. It employs VoIP technology for its voice and video calls with decent quality.
The WhatsApp Business App is free to download and geared towards small business owners.
With this level of service, you can:
Connect with customers and respond to their inquiries within the app via their chat feature.
Use quick replies and automated messages to help streamline and speed up your responses.
To use WhatsApp for larger businesses, head over to the Business API. You'll find all those same features, just on a bigger scale. The emphasis is on messages with images, videos, and GIFs.
One considerable downside is that while you may be able to send as many as 20 messages per second, there's no guarantee of a 100% delivery rate. Their website mentions a few reasons for this instability.
Also, the Message Templates in WhatsApp don't allow you to send promotional messages. This restriction may limit how you can use them.
WhatsApp may be an excellent tool for communicating with your customers via text. But it won't help you manage inbound calls, large call volumes, or voicemail messages like Nextiva.
Instead, think of it as a virtual chat with your customers, which may be very limiting for some businesses.
---
| | Voice over Internet Protocol (VoIP) | Traditional Landlines |
| --- | --- | --- |
| Setup time | Low | High |
| Operating cost | Low | High |
| Bandwidth | 100 kbps | N/A |
| Multimedia | HD voice, video, conferencing, and texting | Standard voice |
| Scalability | Easy and affordable to scale | Expensive hardware needed to scale |
| Add-ons | Premium features included such as auto attendant, conference lines, toll-free phone numbers, and HD call quality. | Extra costs for each add-on service. |
| Reliability | 99.999% uptime with automatic forwarding. | Busy signals during an outage. |
| International Calling | Global calling is nearly free. (Calling the United Kingdom is $0.01/min.) | Often requires a separate calling plan. (Plus, Calling the United Kingdom is $1.21/min.) |
| Pricing | Business plans start at $18.95 per user every month. | Price plans not typically published. |
Differences between VoIP and a traditional phone system.
5) MagicJack
MagicJack may be better known for its home VoIP service, but they offer a business option as well.
With this enterprise plan, their robust VoIP system gives you features like:
Unlimited calling in the U.S. and Canada
On-hold music
Caller ID
Call forwarding
Voicemail
Conference bridge
MagicJack has a 99.99% uptime guarantee, and their phone lines cost as low as $15.99 per month per line.
But if you're looking for features like an auto-attendant or virtual fax, you'll need to upgrade with their premium add-ons. MagicJack states their platform does not offer access to emergency calls or text messaging.
The auto-attendant feature costs an additional $10 per month.
Need virtual fax? That's another $5 per month.
Now the monthly cost for both features, plus the baseline service, brings you to $30.99 per month.
As for your voicemail, you'll get a notification on your phone and via email. But it won't send you a voicemail transcription to email. The fine print indicates the company may assess a fee for phone number porting. This point alone makes it a tough pill to swallow if you're looking for a VoIP alternative.
So MagicJack has its limitations and comes in at a higher price point than most. It's ideal for a home phone service.
6) Spoke
Spoke is a phone service in that it turns any mobile phone into a full-fledged business phone system.
Instead of buying phones for your employees, you can use their cell phones as business phones.
Their modern cloud PBX system boasts features like:
Auto-attendants
Call groups
Voicemail to text
Conference calling
Scalability with multiple IVRs and locations
Call recording (for legal purposes, training, and quality assurance)
Masking your employees' personal phone numbers
Office hours: Employees can set their phones to Do Not Disturb mode during off-hours
Calls made to the United States and Canada are $0.014 per minute
AI powers all Spoke's call routing, which you can also program to suit your company's needs.
These features come at a steep cost, though.
For internal-only calls to and from your customers and between teammates, you're looking at $9.95 per month.
Above that, you can add features like transfers, conference calls, voice notes, and app integrations for around $35 per month. The company's terms state a minimum of three lines is required along with a prepaid contract.
Call recordings, for example, cost one cent per minute. And calls and extra phone numbers will also cost you more.
If your business needs every feature just mentioned, you'll have to call for pro pricing. You should research your exact phone usage and forecast future use to avoid a surprising business phone bill later.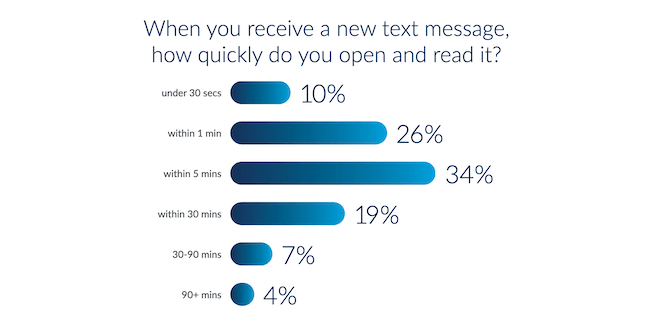 7) TextRequest
TextRequest is like WhatsApp since lets small businesses send text messages to their customers.
With this option, you can text customers appointment reminders, send them promotions, and keep in touch.
You can also send mass texts without your customers knowing the other recipients.
Some other features with this service include:
Unlimited users
Unlimited group messaging
Picture messaging
Message forwarding
Autoresponders
Saved responses
Unlimited chat history
Landline texting
These TextRequest features allow you to communicate with your employees. This will keep everyone on the same page and in the loop.
TextRequest's text-based communication system isn't exactly cheap to use.
To access these text features, you'll find plans as follows:
Basic starts at $49/month for 1,000 texts
Starter starts at $119/month for 2,500 texts and $0.04 for each additional text sent
Corporate starts at $249/month with 6,500 texts and $0.03 for each additional text
Enterprise starts at $499/month with 20,000 included texts and $0.02 for each one after that
If texting is all you need, TextRequest offers a plan for every budget. But it would be unwise to think of it as an alternative VoIP solution.
Related: Is VoIP Reliable? Nine Facts You Must Know
8) ZipWhip
ZipWhip is another text messaging-only solution, so it doesn't offer the full features of VoIP either. However, it's a different alternative to the others on this list.
With this communication system, you can turn your existing business phone number into an SMS-ready phone number. This means your customers can text your business number, and the message will go to your computer or mobile phone.
The types of messages you can send with ZipWhip include:
Billing reminders
Service and support
Marketing and promotions
Recruiting
Alerts and reminders of upcoming appointments
You can use templates, schedule messages to deliver in the future, and set up auto-replies. You can even add emojis to your texts and personalize your messages.
All these will help you complete marketing tasks in batches. You can send group messages to up to 50 contacts at once.
ZipWhip also integrates with your other apps to allow for seamless communication.
You'll have access to ZipWhip's message reports and analytics features to see how your messages are performing as well.
Here's how ZipWhip's pricing plans work:
Starter ($25 per month) includes 500 messages for one user and one phone line.
Unlimited ($60 per month) includes Unlimited messages for up to three users on one line.
Premium ($125 per month) includes Unlimited messages, five users, and one line.
This style of communication costs more than using Nextiva and other VoIP alternatives.
And you'll still lack a solution for your team/customer phone calls.
9) Viber
Viber is a free and secure call and text messaging application that's quickly growing in popularity.
Its capabilities let you:
Text, call, or video chat with your customers.
Create group chats to stay in touch with an unlimited amount of users in your community.
Use chat extensions to add music, GIFs, videos, events, and more to your chat.
As for their security, your information and messages are encrypted. So no one else, including other Viber users, can read your messages.
Another layer of security they've added is verifying the identity of whom you're chatting with by using secret keys. This means you won't have to worry about who's on the other end.
Viber also lets you make voice calls both domestically and internationally. You simply buy credits or a calling plan that lets you pay-as-you-go.
For an unlimited plan to make calls in the U.S., you'll pay $5.99 per month. Or you can purchase 263 minutes for as low as $4.99 per month.
You can also use Viber's VoIP system (known as Viber Out) for business or personal use. This lets you call any phone number, both international and domestic, for a low rate. U.S.-based calls, for example, will run $1.90 per minute.
The Viber Out service doesn't give you any additional features from their regular service. But it does provide an on-demand VoIP service when you need it rather than having to commit to a monthly contract.
However, the latter is more affordable than paying as you go, which is something to consider.
Related: How to Switch to VoIP and Save Up To 60% off Landlines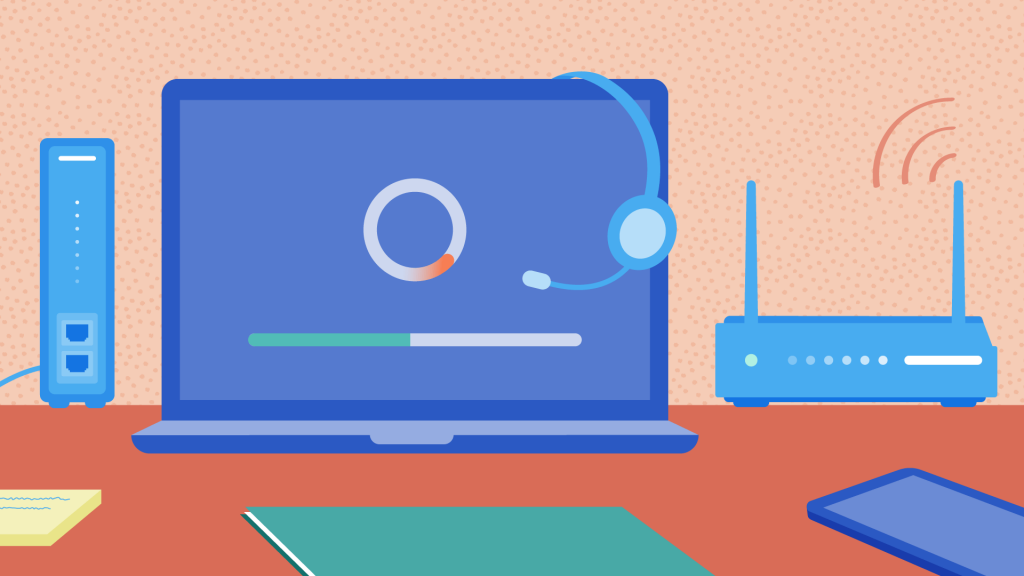 Final Thoughts on VoIP Alternatives for Your Business
VoIP and VoIP alternatives give businesses more features than a traditional phone system. And the price is usually far less than what most are already paying.
Now you can work from anywhere in the world, across many devices, seamlessly. Teams can collaborate via video chat and instant messaging when they can't be there in person.
Plus, VoIP allows you to communicate easily with your customers. You'll avoid miscommunication and boost your outreach efforts.
You can route calls to the right department instead of a live operator. And you can save time with getting your voicemail messages delivered right to your inbox.
To realize these benefits, start with the top cloud phone system mentioned in this guide. It provides an affordable, feature-rich phone system that's designed specifically for businesses.
The possibilities are endless with VoIP and your savings add up fast.
You'll appreciate the perfect blend of features, service, and reliability VoIP provides. Learn more about the advantages of a cloud-based phone system.
And if you are considering Nextiva for your next cloud phone system but need a little more research, we created an easy-to-read list of Nextiva alternatives, their features, and their pricing.
Don't Miss: Looking for Alternatives to 8×8? Read This!