Switching to a VoIP (Voice over Internet Protocol) is a priority for many businesses. It has become a necessity to catch up with your competitors in the digital age. Many business owners and systems administrators have searched for how to install VoIP.
VoIP offers cost savings, increased call quality, quicker setup, and it's easy to use.
It lays the foundation for omnichannel communication making it a must-have in 2020.
Before you can reap the rewards, you need to learn exactly how to install VoIP.
This guide walks you through VoIP installation in a simple five-step process:
Want a quick rundown of the steps below before reading? Check out our three-minute video on setting up your VoIP phone system in five simple steps:
1) Meet VoIP Setup Requirements
The first step of a VoIP installation is to make sure that your office meets the requirements. The first thing you need is a high-speed, wired internet connection.
You also need:
A high-quality DSL, cable, or fiber-optic modem.
Reliable VoIP network router with Ethernet ports.
An account with a virtual phone system
VoIP Phones or Headsets (more on this later.)
You don't need phone lines or traditional phone systems.
Deciding on the type of internet connection
Choose a wired fiber or cable connection instead of wireless internet (satellite or microwave internet). Satellite is generally a lot slower and has high rates of packet loss. Satellite and microwave connections are also vulnerable to bad weather.
You don't want an unreliable connection to knock out your whole contact center during a storm.
Bandwidth requirements
The amount of bandwidth you need depends on how many VoIP lines you're going to set up in your office. We recommend a minimum of 100 kbps (upload and download) per line.
Note that many plans have slower upload speeds than their advertised download speed.
If you already have an internet connection, you can check if it's up to par with this VoIP speed test, which also tests if your router is up to the task.
You also need to edit your QoS (Quality of Service) protocols to set voice traffic to high priority. Get in touch with your ISP (Internet Service Provider) for details on how to do this.
Related: 7 Easy Steps to Set Up a VoIP Phone System at Home or the Office
2) Choose Your VoIP Provider Wisely
VoIP providers are basically your new phone service.
Who is the best VoIP provider?
Take your time when choosing a VoIP service provider. Be sure to consider factors like price, features, customer reviews, customer service, and more.
Nextiva offers competitive pricing. It's as low as $20 per line. You can also save money on other SaaS costs. Our Business Communication Suite provides everything your business with CRM, analytics, reporting, and an omnichannel support desk.
Selecting a trusted VoIP provider will help you achieve a successful implementation. No matter how you install VoIP, you want to reach someone for instant help and strategic guidance. Cheaper doesn't always mean better.
We have all the essential business VoIP/PBX system features:
IVR
Auto-attendant (digital receptionist)
Internal chat
Voicemail to Email/Text
Caller ID
Smartphone support
Video conferencing
Integrated real-time analytics
You can read more about Nextiva's VoIP features on our site.
Nextiva is the top-rated business VoIP provider, according to GetVoIP. Nextiva has more than 1,371 customer reviews with 95% of them recommending it to others. You can explore other VoIP services there as well, and see why we come out on top.
If you choose Nextiva, you can port your old number to a VoIP phone number. This means you won't lose your business phone number.
3) Choose Your VoIP Hardware (Phones, Headsets, Adapters)
With VoIP, you have a few extra options that a call center with a traditional landline setup doesn't offer.
What equipment do you need for VoIP?
With hosted VoIP, desk phones aren't a necessity. You can use hands-free headsets connected to your computer. If you're on a tight budget, you can also choose to keep your old analog desk phones and use VoIP adapters. This way, you don't have to rearrange anything in the office.
Here are your hardware options:
VoIP Desk Phones (or Handsets)
Mobile Phone (App)
Softphones (Computer Program)
Analog Phones with VoIP Adapter
Of course, you don't need all this hardware; you can choose a single option. With softphone apps, you can even use your existing devices to handle calls.
If your office has a PBX, you could take advantage of the SIP Trunking. It offers lower costs, along with a lightweight footprint to set up and use. Benefits of SIP Trunking include lower costs, infinite scalability, increased reliability, and better quality of phone calls.
Phone service made for the future.
Modern. Easy. Affordable. Get a free quote.
4) Connect your VoIP Phones
The necessary steps to install your VoIP phone system depend on your network infrastructure and cabling.
All Nextiva VoIP phones are plug-and-play. You don't need to shut down or unplug anything. Simply use an Ethernet cable to plug the phone into the nearest router or Ethernet drop.
This section will give you a walkthrough of installing the most common VoIP phones.
How to Install VoIP Desk phones
This will depend on the model that you've bought. Here we cover a few of the leading options.
VoIP desk phones (Nextiva-X-815/35/885) to Ethernet port or router without PoE:
Plug the AC adapter into an outlet, and then plug it into the phone.
Connect the phone with the router, switch, or CAT5e or CAT6 cable.
Check for dial tone.
Some phones can use a PoE (Power over Ethernet) installation. With a PoE setup, the PoE network switch powers individual phones through Ethernet cables. This way, the phones don't need their own AC adapters.
Voice over IP desk phones to a PoE-enabled router:
Connect the phone with the PoE-enabled router or switch with an Ethernet cable. The recommended max length for twisted pair cables is 328 feet.
Check for connectivity. The phone should turn on and establish a connection to the VoIP provider.
How to Install VoIP Headsets
If you want to use the one-touch answer feature, you need to connect them with Electronic Hook Switch (EHS) cables.
Headsets and desk phones with headphone ports (Poly EncorePro 510/520):
Plug each headset into the headset port with a direct connect cable. (Phones typically mark the port with a small headset icon on the left.

Press the call control button to check for a dial tone.
Make sure the call quality and volume are good by making a test call (If the volume on the headset is low, you may need to get an amplifier.)
Wireless VoIP headsets with EHS cable (Poly CS510/520):
USB-based headsets with a computer softphone:
Plug each headset into the USB-port of a laptop or desktop computer.
Wait for Windows/Mac OS to install the headset driver automatically.
Test your microphone and the volume.
Open up your softphone software, like the Nextiva Desktop App, and do a test call.
Once you finish this step, your phone system installation is complete. The only thing left is making test calls and troubleshooting.
Official User Guides for Popular VoIP Phones
Did you lose or misplace the user guide to your VoIP Phone? Don't worry. We've got you covered.
The following is a list of official user guides for popular VoIP phones. The list also covers most of the phones we offer to our clients:
5) Check Your Line For Issues
In 2019, a VoIP telephone system is easy to set up. But that doesn't guarantee that everything will work correctly. Network or connection issues can impact your call quality.
The best way to check your line for issues is to make a few test calls. You might consider calling a diagnostic phone number that confirms your caller ID. Two test numbers include (800) 444-4444 or (800) 437-7950.
How is the audio quality? Are there any latency issues? If it's not excellent, you might need to adjust your router settings to optimize for VoIP traffic.
What can go wrong in a VoIP system?
Here are a few of the most common VoIP issues and their causes:
Choppy Audio
One-way Audio
Dropped calls
Poor call quality
You can avoid many common VoIP issues by investing in quality VoIP hardware and configuring your internal network correctly.
Related: 10 Common VoIP Problems (+Easy Fixes)
What is a properly configured network?


For small businesses, a properly configured network should look like this:

For enterprise businesses, there are a few more necessities to improve security and speed:

For optimal VoIP call performance, configure QoS on all routers and firewalls.
Related: VoIP Configuration Examples: 17 Dos and Don'ts Before You Set It Up
Troubleshoot Problems with Staff
If you don't have any technical staff in your office, it can be challenging to figure out VoIP troubleshooting. With some companies, it can be hard to reach them after you've paid your first invoice.
The Nextiva support team helps you every step of the way. You can view them as partners, in the sense that they are there to make you successful. If you get stuck or need a second opinion on selecting the right hardware and voice service settings.
Frequently Asked Questions – FAQs
1) Can I Just Plug a VoIP Phone Into My Router?
With most modern VoIP phones, you should be able to plug in and make calls. With Nextiva, that's what you can expect.
You may need to configure your firewall or router settings. For HD-quality calls, you need a high-speed internet connection with low latency.
For larger companies with more staff, you want to multiple switches and a VLAN solution.
2) How Do I Install a VoIP Phone System For Small Business?
How you should set up your IP phone system depends on your goals and your budget. Do you want a modern call center with headsets, conference calling, and unified communications?
A complete solution for SMBs includes phones, headsets, and service. To minimize costs, you can use desktop softphones with the Nextiva App instead. With a virtual phone system, you have all the flexibility your team needs.
With Nextiva, our support team will even walk you through the setup. So even if your company has no IT staff, you'll be well-supported.
3) Can I Use a VoIP Phone At Home?
You can use VoIP as long as you have an internet connection, an IP-enabled telephone, and a VoIP provider. With Nextiva's hosted PBX, you can take the office phone home, plug it in, and use it. The phone won't need any additional configuration.
Alternatively, you don't even need a VoIP phone. With VoIP apps, you can use your smartphone or laptop to make VoIP calls from your home. The Nextiva App is available with Pro and Enterprise accounts.
4) Can I Keep My Landline Number with VoIP?
Whether you keep your landline number will depend on your VoIP service provider.
Depending on how you set up VoIP, you can keep your landline number. With Nextiva, all of your previous numbers turn into your VoIP numbers through a process known as "porting."
You can also opt to get a toll-free number for your business.
5) Is VoIP Cheaper Than a Landline?
For businesses with at least two employees, VoIP can be much less expensive. You can save from up to 60% on your telecom expenses by making the switch, and up to 90% on international calls.
There are also no extra fees for domestic long-distance calls.
In short, VoIP means no surprising expensive bills from the phone company.
With Nextiva, you also lower your other SaaS expenses, as our platform includes analytics, CRM, and marketing automation tools. Imagine getting all that, starting at just $20 per line.
6) How to Connect VoIP Phone to Laptop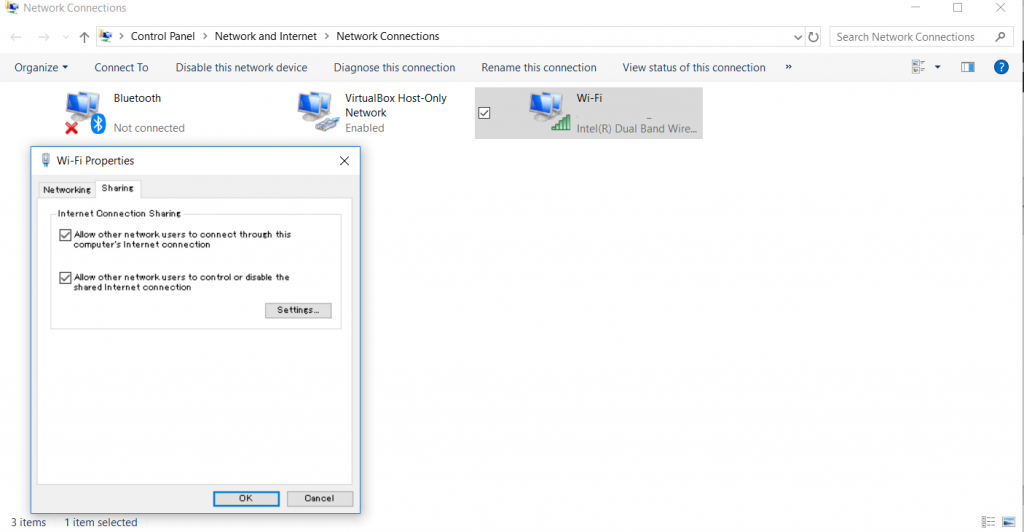 It's possible to plug a VoIP phone in with an Ethernet cable. You have to enable Internet Connection Sharing option.
You can do this by going to Control Panel > Network and Internet > Network Connections:

It might seem like an easy workaround if you only have a wireless router at your office (or not enough network jacks).
A Wi-Fi connection alone is likely to cause packet loss and unreliable audio quality. Connecting it to a laptop adds another layer of firewall issues on top of that. So it's never a good idea to use it as your main VoIP setup.
Take business calls from truly anywhere.
Discover the power of business-ready VoIP service.