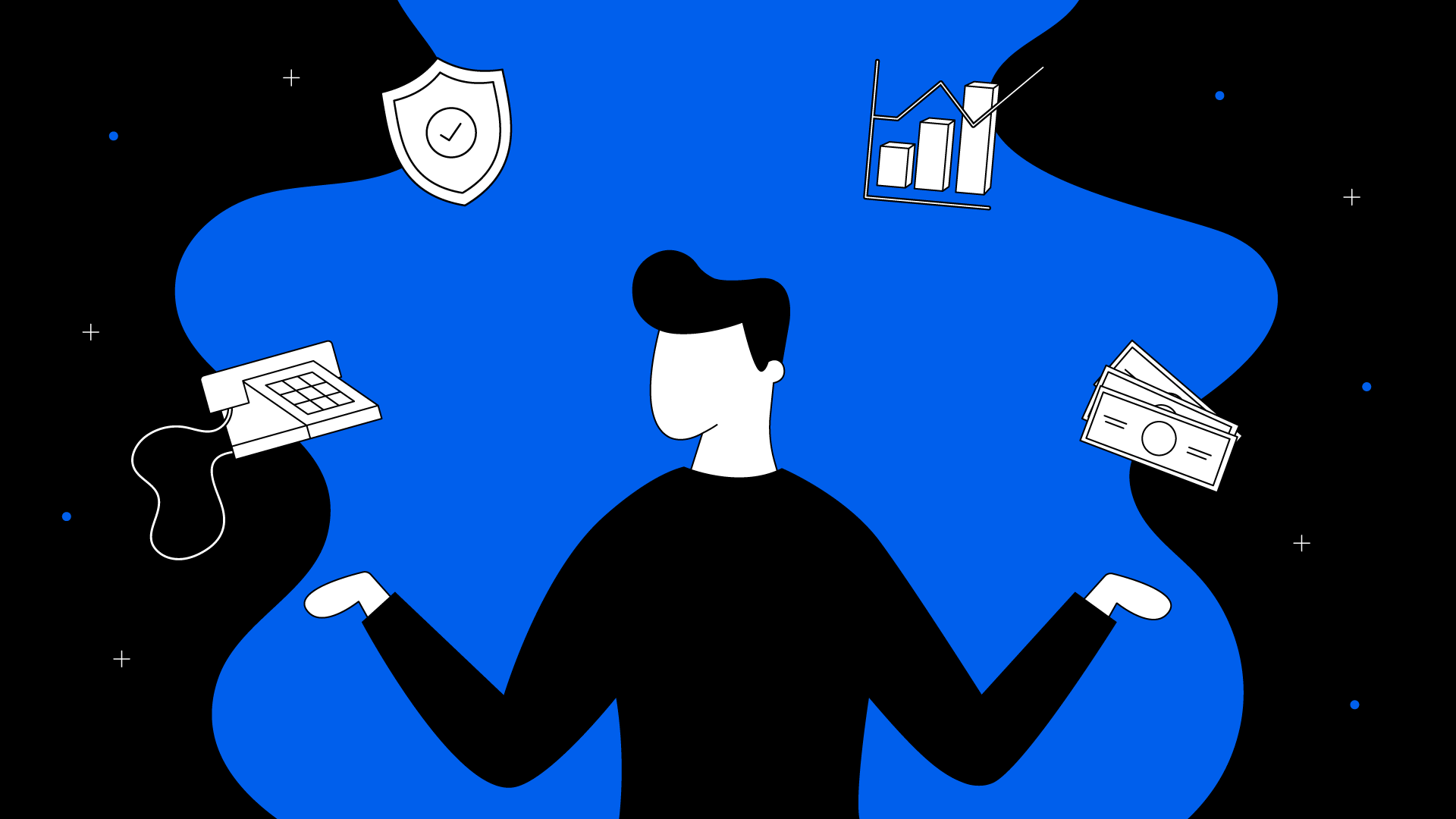 A SIP trunk lets you operate your company's phone service through an internet connection. SIP, short for Session Initiation Protocol, is a signaling protocol that enables end-to-end communication through voice, video, and chat. Voice over Internet Protocol (VoIP) is built upon the standards of SIP.
In a nutshell, SIP trunking providers provide a virtual bundle of phone lines that uses your internet connection for business voice service.
It's most well-known as a way to transition your on-premise PBX system to the cloud, but there are so many more benefits of SIP trunking. Let's dive in.
SIP Trunking Benefits:
Benefit #1: Consolidated communication systems
SIP trunking allows you to use the same IP-based network for various types of data transmission, like voice, video, and more. There's no more need for multiple, overlapping networks (and paying for each).
You no longer need to subscribe to different services for voice and data. Instead, you can build a solid infrastructure through SIP trunking.
This infrastructure will allow you to grow in the future without having to add new services to support that growth.
For example, in case you need to support a higher number of concurrent calls, you don't need to research a new voice service solution to purchase. You already have it, and simply need to increase your internet bandwidth. Easy!


Benefit #2: Cost savings on a recurring basis
Thanks to SIP trunking, you'll no longer fear your monthly phone bill. The cost of your entire phone system becomes predictable and simple.
This is possible because:
SIP calls use the internet or the third party's IP network instead of expensive physical phone lines
Long-distance and international calls become local calls with SIP, making them cheaper
SIP plans are simple and understandable, usually broken down to a per-user recurring rate
Simply put, SIP doesn't have mystifying charges that often come with international calls. It won't make you wonder about your upcoming phone bill, ever.
Benefit #3: A strong local presence
SIP trunking makes it possible to set up your company's phone numbers with local area codes. Even if you have one location with a PBX or many locations with multiple PBXs, SIP trunking is how you can provide connectivity to everyone.
Often when companies don't have a local presence but want it, they use standardized toll-free numbers. The issue with toll-free numbers, such as 800 numbers, is that they're generic. They are not customized for the local audience of prospects, customers, and supporters. There are pros and cons with toll-free numbers, but why not have both?
You can take a different route and get your SIP trunking provider to set you up with a local number. Even though you don't have a physical office there, phone calls to that number will be routed over the internet to wherever you're located. Both you and your customers win!
Related: What is a SIP Phone & How Does It Work?
Benefit #4: Instant return on investment (ROI)
Many business solutions take a long time to prove valuable. Hiring, pivoting, product development, and many other decisions can take months or even years to return a profit.
Not with SIP trunking. There's no risk or massive upfront investment necessary to get started. SIP trunking services are affordable from the start. You can instantly see the difference between your current PBX bill and what you'll pay with a monthly SIP plan.
Instant ROI makes it easy for you to make a business case for your decision-makers. In this respect, SIP trunking provides companies with greater capability and lower communication costs.
Add more call capacity today.
Unlimited SIP Trunking for just $24.95/mo.
Benefit #5: The potential to grow and scale globally
Traditional phone service limits your growth. Growing in a current location or expanding to new ones can become very expensive, very quickly.
Because SIP relies on your internet connection, your potential to grow has no limits. You no longer have to buy local PSTN (Public Switched Telephone Network) gateways. The same goes for PRI (Primary Rate Interface) lines.
SIP consolidates your voice service and data into a single network, so all your offices and remote workers can be combined, too. As your needs change, you can easily add and modify your users and bandwidth. No risk and no unexpected costs.
Related: PRI vs SIP – Which Is Right for Your Business?
Benefit #6: Increased productivity for every employee
Poor communication and changing priorities are some of the main reasons projects fail. Does your business communication setup allow a seamless connection between employees and offices? If not, your deadlines and goals may suffer.
This benefit of a secure SIP trunking service is simple. Your employees can spend less time trying to figure out how to get in touch with someone and more time doing meaningful work.
Plus, you are able to access raw call logs and reporting so you can measure usage and availability. This capability benefits IT professionals and business owners, so they can scale their phone system to the needs of their workforce.
Benefit #7: A strong, end to end unified communications system
Unified communications manages all of your channels into one platform. Because you're reading this topic, you're likely using voice and text communications. There's also video conferencing, instant messaging, collaboration apps, and more.
A SIP trunking provider moves all your communication channels to a data network. This facilitates a key step toward achieving unified communication as a service (UCaaS) platform.
As a result, you no longer have to develop a patchwork of voice integrations. All of your real-time communication is handled from one place.
Related: SIP Line vs. SIP Trunk: What's the Difference?
Benefit #8: Infinite employee mobility
A huge advantage of SIP trunking is in the mobility and flexibility it gives your employees. With a traditional phone system, you could only receive calls when you're near your phone.
Now, voice calls can easily be routed to employees' mobile devices.
This also means they're easy to reach when working remotely, like when working from home or traveling for work.
Related: VoIP vs. Landline – A Comprehensive Phone System Comparison
Benefit #9: A reliable phone service
A frequent question that comes with moving toward internet telephony: what if my internet goes down?
The answer is simple. SIP trunking provides redundancy for power outages or system failures. Your service provider will reroute your calls to employees' mobile devices or other offices.
This way, you can ensure business continuity, no matter what happens. Failover capabilities of SIP trunks create reliability that no traditional phone system can match.
Benefit #10: Easy-to-manage communication system
SIP trunking looks complex, so here's a frequent favorite revelation: it's simple to manage. You and your employees will never have to depend on your IT team or customer support team.
VoIP phones and SIP trunks are easy to manage. You can use it to add or remove phone lines, call features, extensions, and more.
This central platform is intuitive and doesn't require hours of training to learn. You'll be able to make changes in minutes and get back to focused work.
Benefit #11: Security and fraud prevention
Your SIP provider can offer superior security for all your communications. SIP trunks run a dedicated connection to you. This makes your connection more protected from potential social engineering attacks.
SIP trunks are also monitored for unusual call activity. This means that in case someone gains access to your data network and tries to make calls, they'll be caught quickly.
Of course, make sure to talk to your SIP service provider and ask about their security processes.
Benefit #12: Exceptional call quality
Calls with poor audio quality leave a bad impression on customers. If your calls have echoes or drop occasionally, you need to upgrade your internet service and SIP trunking provider. VoIP problems happen, but you can avoid them by following industry best practices.
SIP trunks make sure that there is enough bandwidth for all your concurrent calls without audio issues. This is the case even during peak hours, and any time you have an unexpected increase in call volume. If your PBX is overloaded, it may be time to go all-in on VoIP phone service.
Simply put, SIP trunking lets you handle anything that comes your way. Instead of worrying about call quality, you can take care of your customers.
What is the purpose of SIP in VoIP?
SIP and VoIP (Voice over Internet Protocol) aren't two different solutions for running your calls over the internet. They're fully compatible: SIP is one of the industry-standard methods of achieving VoIP.
As we mentioned earlier, SIP is a signaling protocol in the VoIP family of technologies. SIP requests go through a SIP proxy so that messages can arrive in their original format.
When you're looking for VoIP phone service, SIP trunking is one way to go. It's ideal if you already own PBX equipment on-site. A fully cloud-based alternative to SIP trunking is hosted PBX.
What is a SIP Gateway?
A SIP gateway, also known as a SIP Server, is essential in VoIP communication solutions. It is a device that manages the device registrations—like desk phones, conference phones, and softphones—and provide them connectivity.
SIP gateways enable simultaneous audio and video connections over the internet. If you want to use conference calls, voicemail, and video calls (who doesn't?), you'll need a SIP gateway.
Numerous SIP Trunking Benefits
The benefits of SIP trunking are clear. If you choose that route, you will:
Improve employee productivity
Lower communication costs
Scale faster without being a burden to the organization
Minimize resources needed to upgrade voice connectivity
A central place to manage all your communications will make processes run smoothly. This means you can stop worrying and start making the most of everyone's skills and talents.
As a trusted SIP trunking provider admired by more than 100,000 businesses, Nextiva has nailed down exactly what works and provides award-winning support to back it. Experiencing the benefits of SIP trunking is closer than you think.
Upgrade your PBX with the #1-Rated SIP Trunk.
Get started for only $14.95/mo!