The larger your organization becomes, the more critical communication is to success. Yet, it's easy to overlook enterprise-grade tools and strategies to scale.
Unlike small businesses, the stakes are higher. Finding the best platform to replace aging telecom infrastructure is no small task.
However, there's more to think about than picking the right cloud communications provider. Enterprises need a bulletproof migration plan, stay on budget, and support future growth.
If you're dealing with obsolete hardware that should've been retired, this guide is for you. Read on to get a primer on the ways to optimize your enterprise's communications.
Intro to enterprise communications
Enterprise communication consists of an organization's tools and practices to collaborate and share information internally and externally. Common examples include phone, email, instant messaging, and face-to-face video meetings.
An enterprise communication solution manages several essential business apps into one:
Voice: Business voice functionality, including telecommunications and advanced call routing capabilities.
Video: One-to-one and team video conferencing for meetings, training, and customer support.
Messaging: Unified, text messaging (SMS) plus real-time engagement for fast answers.
Contact Center: An app that provides your team omnichannel tools to support customers.
CRM: A salesforce can easily access and manage its pipeline and customer data.
Analytics: Create actionable dashboards based on the underlying data found in communication services.
APIs: Push or pull business data securely across one or more communication platforms.
Traditionally, large organizations were tethered to on-premises phone systems, making remote work impossible. Administrators have to configure the trunk provider with an on-site PBX to connect end-users.
Shift to move enterprise telephony to the cloud
The pandemic accelerated plans to move enterprise communications to the cloud. Legacy equipment lacks the functionality of the cloud for the same price (or less).
This shift isn't only for new features. In the 2022 State of IT report, solving hardware/software compatibility gaps increased by 20%. The research offers context for why enterprises are overhauling their communication systems:
"Enterprises tend to have more resources for experimental projects, larger workforces […] the need for better customer support, the need for better tech expertise, and discount offers."

The 2022 State of IT, SWZD
Communication is one place where your company can't afford to get left behind. That's why larger firms have welcomed Unified Communication (UCaaS) solutions.
UCaaS streamlines many communication tools into a single interface. But that's not all. It integrates well with enterprise apps like contact centers, CRM, and mobile presence. As a result, it makes it easier for companies to uphold peak productivity across the workforce.
And because cloud communications are hosted, it costs less to maintain and benefits from regular updates.
Here's a side-by-side comparison of traditional enterprise communications versus its cloud equivalent.
| Features | On-premises enterprise communications | Cloud-hosted enterprise communications |
| --- | --- | --- |
| Set-up | Complex. Overlapping tools for business phone, video conferencing, team collaboration, chat, and support. | Lightweight. One tool for all internal and external communication. |
| Infrastructure | A mix of on-premise and cloud services relying on one carrier. | Hosted entirely in the cloud with redundant upstream carriers. |
| Ability to innovate | Slow to innovate due to high capital costs for implementing new infrastructure. | Faster innovation due to focus on software over hardware. |
| Customization | Inflexible. Small requests such as changing call routing require technical telephony expertise. | Customized to your organization's needs. Non-technical teammates can adjust it. |
| Scalability | Requires new infrastructure and costly upgrades to scale. | Scales to your company's needs in real time. |
| Support for remote teams | Minimal. Remote employees don't have access to the same tools and data. | Comprehensive. Employees can communicate and collaborate from home using their own devices. |
| Pricing | Upfront costs for hardware, commercial leases, human capital, and license fee increases. | Low setup and monthly costs that are ~50% less than most traditional systems. |
No matter which type of enterprise communication solution you choose, implementing one is a significant project. Follow our guide for a helpful VoIP checklist to simplify the migration.
Now, let's dive deeper into scalability and what that really means for larger companies.
Scaling with unified communications
As companies scale up, so do the demands for reliability and performance. Gone are the days of taking the office offline when switching telecom providers.
Advancements in cloud telephony provide firms with continuous and rock-solid business communications.
Enterprise-grade service providers offer more than fancy workflows and messaging tools. One exciting part of UCaaS has to be the admin interface. It makes it super simple to adjust user settings, speed up onboarding, and keep the workforce productive.
There are several notable advantages of unified communications for enterprises.
1) Makes collaboration more effective
The return to the office has been bumpy as of late. The New York Times reports that 54% of Manhattan employers are fully remote, with less than 10% in the office entirely. Moreover, the trend of hybrid workplaces heavily favors unified communications platforms.
Productivity and communication are symbiotic. Yet, enterprises often struggle with individuals and even entire departments being siloed. Communication breaks down. Teams end up in accidental competition.
Simply put, call forwarding isn't a replacement for in-office collaboration.
A unified communications solution strengthens the bonds of communication. For example, people can engage their team with screen sharing, and the group can offer support (and links) in the chat.
The meeting notes can be shared asynchronously following a team meeting. This way, information flows more freely, and projects don't get held up.
2) Supports a hybrid workforce
The pandemic has pushed most organizations to adapt to remote work. However, legacy telecom systems were never designed to be used outside the office. As a result, many employers now offer hybrid in-office and work from home options for their teams.
One of the best features of a unified communications solution is built-in remote work functionality. This benefit means less headache for IT and more connectivity — and more productivity.
The Nextiva App lets users call, attend meetings, and chat from any mobile device or computer.
Related: Remote Office Phone Systems: Features, Costs, and Benefits
3) Protects confidential information
Communication tools are one of the most vulnerable systems to cyberattacks. As such, spending on IT security is expected to reach $150 billion this year.
Unified communications help mitigate corporate data leaks and breaches. While no phone system is immune, VoIP is secure thanks to its call encryption achieved by TLS and SRTP. Plus, detailed call logs show how your company's communications are used.
This security is especially important for healthcare providers. Select UCaaS providers like Nextiva offer HIPAA and SOC 2 compliance. Together, this increases client privacy and even lowers the firm's insurance premiums.
4) Offers deep insights into business performance
How are inbound call volumes? Is the new IVR call flow working as expected? What about that new ad campaign? These questions can't wait for clunky CSV exports.
This is where call analytics comes into play for larger organizations. Since the enterprise's communications are under one roof, tracking call data is easier. It also can blend the data from other sources like CRMs or helpdesk tickets.
It should be worth mentioning that analytics functionality isn't limited to administrators. Both technical and less savvy end-users can maneuver around data dashboards with ease. Anyone can see the company's contact center performance.
The best part is this. A unified communications platform serves as a single source for business metrics. Department heads won't ask, "Where'd you find that data?" since everyone sees it in real-time. Reducing uncertainty helps everyone focus on driving results.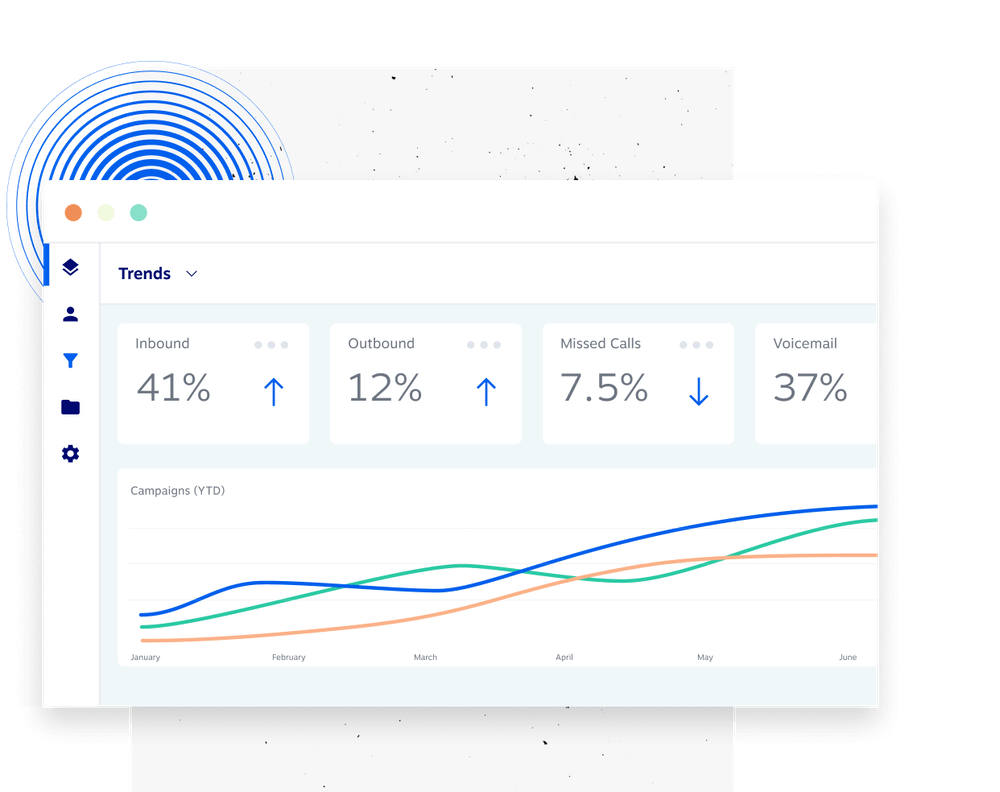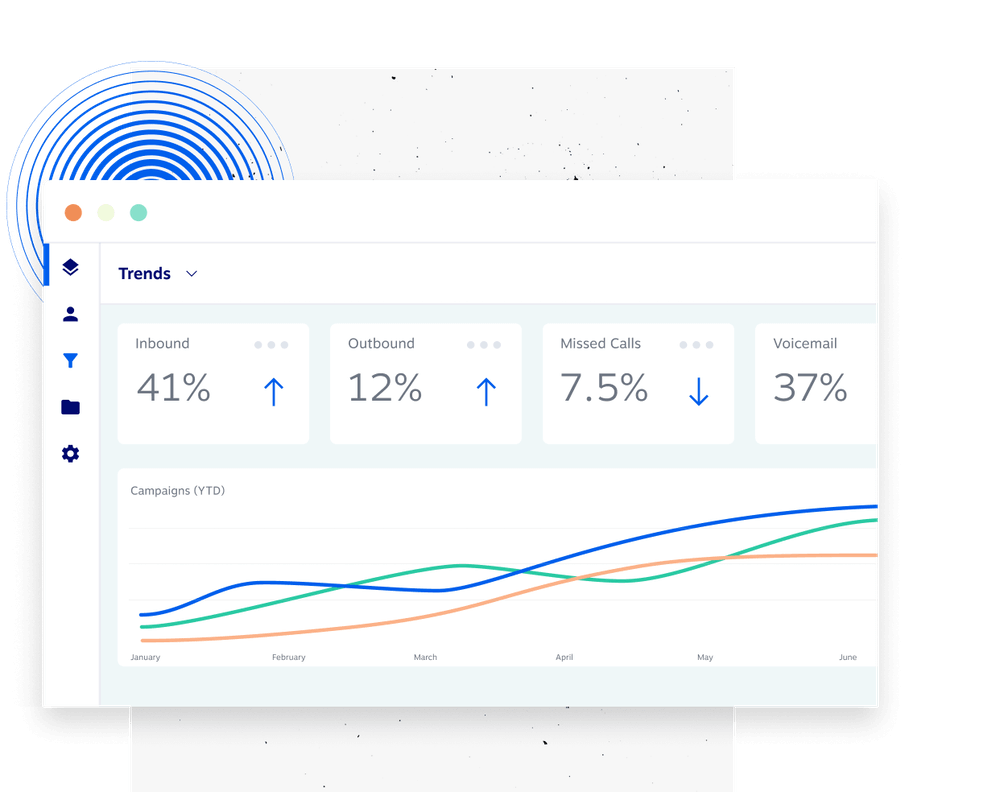 5) Facilitates personalized customer experiences
Customers today expect a positive customer experience every time they reach your employees. The reality is that doesn't always happen.
A recent Gartner report found that 69% of communication tools don't integrate with a CRM. You could be missing critical data that will improve the customer experience.
How can frontline agents impress customers if they don't look at the same view of the customer?
Integrating UCaaS with your contact center could be the missing link. Why?
Contact center agents can see the vital signs the moment they access a customer's account. This advantage preps them for any inbound calls, including a face-to-face meeting.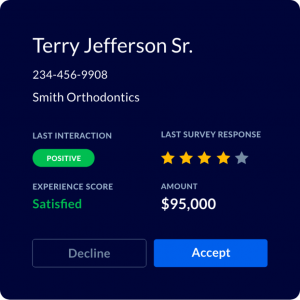 6) Onboards (and transitions) employees faster
Employing an enterprise communication system isn't just about replacing your aging infrastructure. Instead, it's an opportunity to mature your processes for welcoming new hires and getting them going — fast.
Many workplaces let employees use approved business apps on existing devices. The smartphone makes it easy for them to connect with their teams virtually. It won't consume much bandwidth and provides secure business messaging built-in.
And when it's time to provide a desk phone, all they have to do is plug in the Ethernet wire, which will automatically set the device up. This feature enables new employees to get started right away.
7) Makes IT management's job easier
Look around. The modern IT department has exploded in scope over the past couple of years. It can be exhausting to add a new communications tool to your responsibilities. We get it.
Unified Communications is meant to simplify the world of IT management. Since it operates in the cloud, you can manage it remotely. There aren't any clunky Powershell scripts or commands to remember.
Nextiva's UCaaS solution is made for the enterprise. End users can solve most of their needs on their own. And when they need your expertise, you can help them in minutes, not hours or days.
There are countless benefits to moving to the cloud, such as deep integrations with Microsoft Outlook and Teams, among others.
The NextivaONE App works on iPhone, Android, Mac, and Windows. And you won't have to spend a year learning it.
Framework to select the right enterprise communications provider
Switching your enterprise communications system is a big decision. It requires internal support and a clear strategy. The last thing you want is to pick a solution that does more harm than good.
Josh Harder, a former VP at Bessemer Venture Partners, summed it up best when he wrote, "In the enterprise, the plumbing is never as exciting as the fixtures."
After helping thousands of companies make the switch, we've developed a framework for finding the right product: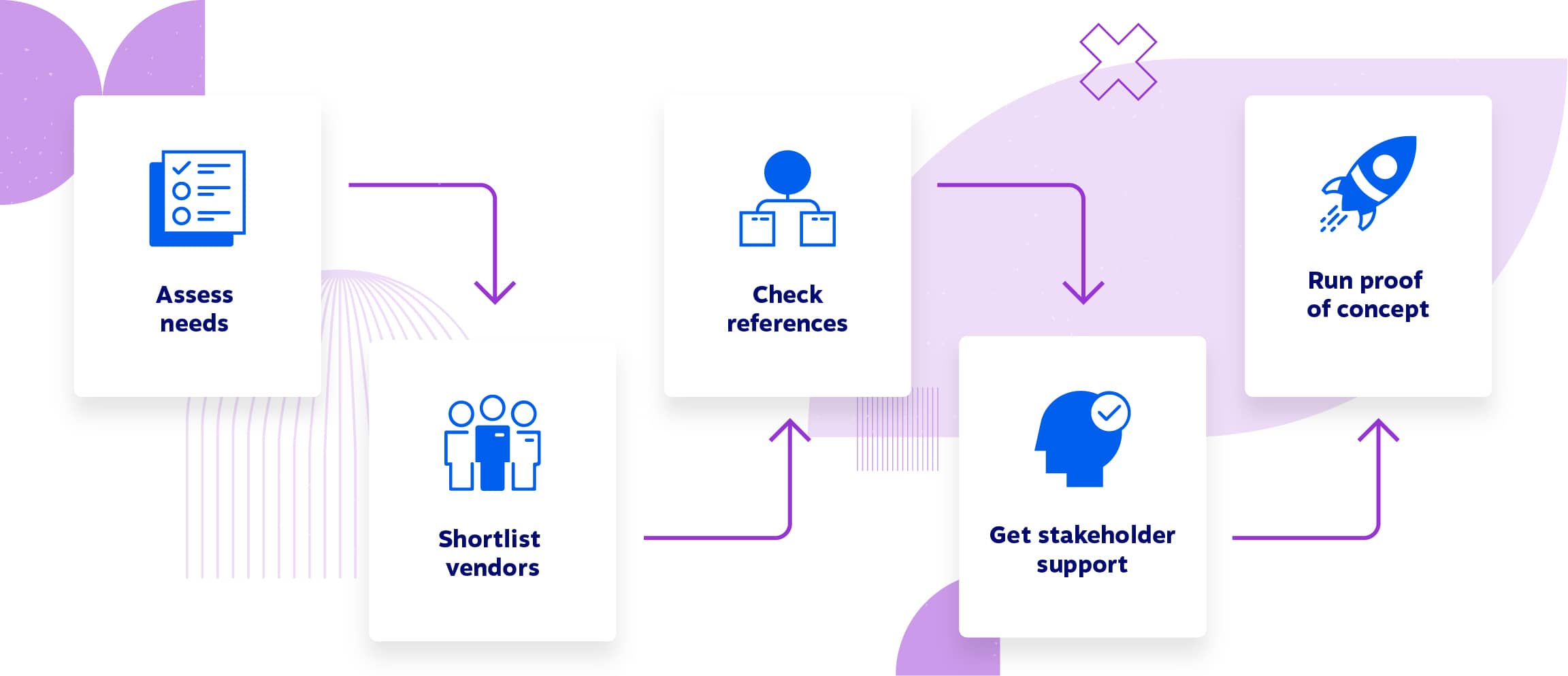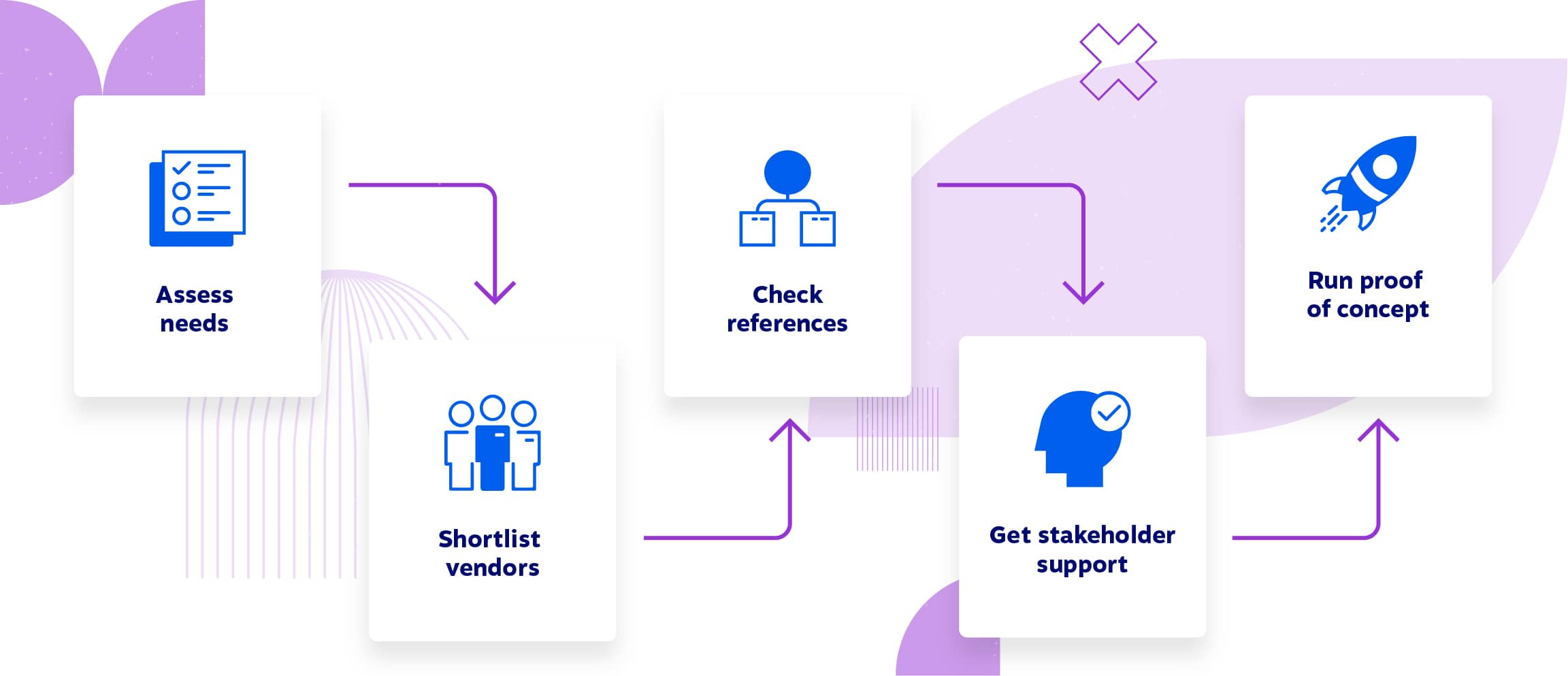 Following this framework ensures you've done your due diligence and are well-prepared to make the switch.
Assess needs — Inventory your current and future communication needs
At a minimum, an enterprise communication platform has to be on par with your current needs. However, the ultimate goal of this project should be to achieve a better outcome.
Take stock of what you need to maintain your current workflows and processes.
Gather input from team leaders to understand their perspectives and unique needs.
Obtain data on historical usage to benchmark current system needs.
An effective enterprise communications strategy is grounded in reality but focused on the future. Historical data and diverse anecdotes establish a clear understanding of needs and requirements.
Shortlist vendors — Ensure providers support your business needs
A list of features and future needs will help cut vendors that can't meet your expectations. But features aren't your only consideration.
Analysis by Gartner forecasts that 75% of enterprise users will not use a desk phone in 2024. This figure is up from 30% in 2020.
Confirm softphone (app) functionality exists for users.
Verify compatibility for existing desk phones, conference phones, and paging systems.
Get clarity on the porting process to transfer numbers and other data from the enterprise.
Check references — Examine reviews for a balanced perspective
Well-known brands are not necessarily the most innovative in the enterprise communications industry. For this reason, it's challenging to pick a provider you trust and know will be around for the long term.
Once you've narrowed down your choices, you'll want to confirm they can handle an organization of your size. Here are key indicators you can use to assess the true quality of a service provider:
Uptime reports: Reliability needs to be at the top of your list. Look for companies that maintain 99.999% uptime across their network. Many companies make their uptime reports public.
Critical reviews: Check online review sites for perspectives from real users and trusted sources. You can often filter by industry and company size as well. For example, U.S. News named Nextiva the best business phone service. Customers also rated Nextiva the highest among North American mid-market companies (51-1000 employees) on G2.
Client references: Ask the vendor if they have a reference customer they can introduce to you. Ask them about their experience, any issues they've had, and if they would recommend the company. This first-hand knowledge is invaluable.
Get stakeholder support— Avoid surprises early on
Any major technology overhaul needs to be grounded in a business need. You also need your champions internally to see it through.
Identify an executive sponsor for the enterprise communications project and its goals. It could be the CTO/CIO, but it doesn't have to be.
Obtain a budget for onboarding, ancillary tech upgrades, and ongoing costs. This helps avoid surprises later; you don't have to share specifics with vendors, but it helps to have a ballpark figure.
Align the new communication solution around a broader business objective or strategy. If it's a cost-cutting exercise, don't bury that fact. Lean into it to see what functionality is possible for the budget you have in mind.
Executives are busy. But getting them involved early on is key to your success.
McKinsey's latest Global Survey found that top-performing organizations are nearly twice as likely to have senior leadership involved with technology investment initiatives.
Getting stakeholders on board helps make the business case so it doesn't stall out later.
Run a proof of concept — Set up a real-world evaluation
The final step is to de-risk your choice by running a proof of concept (POC).
A POC is a smaller-scale project that allows you to see how a technology solution works for your enterprise's needs.
Ideally, you'll want to run what's called a "lighthouse project." It offers significant rewards with manageable risks. There are three ideal scenarios to try:
Customer service – Get a few customer support agents to try the new call center platform. These tools combine all your support team's communication in one. This way, customer conversations flow from social media, chat, and phone without losing customer data.
Sales team – The second example to explore is to pilot a few members from your sales organization. You'll witness how the outbound call center platform integrates with your existing systems and processes.
SIP trunks – The third project is great if you're using an on-premises PBX. Add more call capacity by replacing your POTS/PRI connections with an enterprise SIP trunk provider. You'll keep your on-site hardware and back it up with the scalability of the cloud.
These proof-of-concept projects help you get a firm idea of the communications provider's strengths. Assessing their support, reliability, and ease of use weighs on your decision to move forward.
A POC should run for at least four to eight weeks and include structured feedback. Discuss with your team to understand how these tools improve their workflows.
Nextiva's Call Flow Builder lets you quickly update call routing with a click.
Accelerate growth with enterprise communications
Every company relies on effective communication. Whether for smooth business operations, cross-department collaboration, or providing a superior customer experience.
When operating at scale, you need a provider that sets you up for future growth.
The right enterprise-grade solution like Nextiva unlocks your true potential. And when you upgrade, you'll communicate better, work smarter, and grow faster.