The Nextiva App is a great way for businesses to manage their unified communications solution. With the Nextiva App, Users can use voice, video, instant messaging, and presence services from a single device. Users can access their account information and feature settings from their computer, tablet, or any supported mobile device. The app is currently available for Windows, macOS, iOS, and Android platforms.
NOTE: As a prerequisite, a Pro or Enterprise Business Communication Suite license, an Office Pro Plus or Office Enterprise license, or the Nextiva App add-on is required to use the Nextiva App. For instructions adding licensing, click here or call Nextiva Support.
Installing
Install the Nextiva App for iPhone from the Apple App Store by searching Nextiva and download the Nextiva App.  
Signing In
Enter the Nextiva Voice username and password and tap Sign in.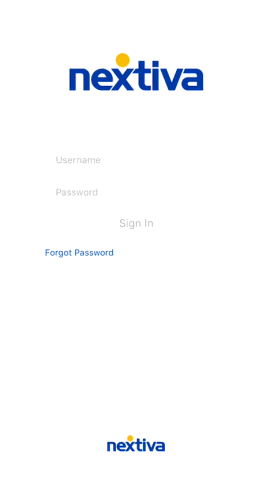 Logging In
NOTE: Users can choose the Forgot Password option to reset the password.
System Requirements:
iOS Version 11.0 and above
Supported Devices:
Mobile Devices:

iPhone 5S
iPhone 6/7/8
iPhone 8 Plus
iPhone X
iPhone XS Max

Tablets:

iPad Air 1
iPad Mini 4
iPad Pro 12″
iPad 9″ (2017)
For additional assistance, please contact a member of our Amazing Service team by emailing support@nextiva.com to immediately open a case.
Related Articles: