Plan to receive inbound calls from a big marketing campaign? Conducting an outreach effort for your leads? You'll need a full-featured SaaS call center to manage all those calls.
Even a small contact center handles hundreds of calls every single day. There's a lot to manage under the hood. Routing calls to the right agents is just the beginning.
Ensuring callers reach the right department, record all calls in a CRM, and provide consistent service across channels is challenging, to say the least. Building a call center from scratch used to take months. Today, you can establish your contact center in days using a SaaS call center solution.
We've developed a guide to the benefits of a scalable platform to host your call center.
Get a cloud contact center solution from Nextiva.
IVR, call recording, VoIP numbers, call routing, advanced reporting–integrated in ONE cloud platform.
Big Business Benefits of SaaS
For those unfamiliar with Software as a Service (SaaS), it's how software application services are delivered to users. Previously, you had proprietary applications configured once and rarely upgraded.
Upgrades were costly, and it quickly became expensive to maintain.
Since the technology boom in the early 2000s, the concept of a software-as-a-service took the market by storm. Technology buyers appreciated the lower cost footprint, additional features, and enjoyed not needing to build servers or 10x their IT budget for routine business applications. Additionally, SaaS apps provide more functionality, accessibility, and can be used on more devices.
In practical terms, SaaS means software applications can be provided through the internet instead of CDs or DVDs. Instead of paying thousands for a service and software suite, a user would pay a modest rate of $10-20 per user monthly to use the service.
Hosting business applications in the cloud was once taboo, but now it's standard practice for companies of all sizes. Research firm, Gartner, indicates that 75% of all CRM spend is earmarked for SaaS solutions.
Today, businesses with a sales or customer service departments can massively benefit from moving their communications platform to the cloud with a SaaS call center solution.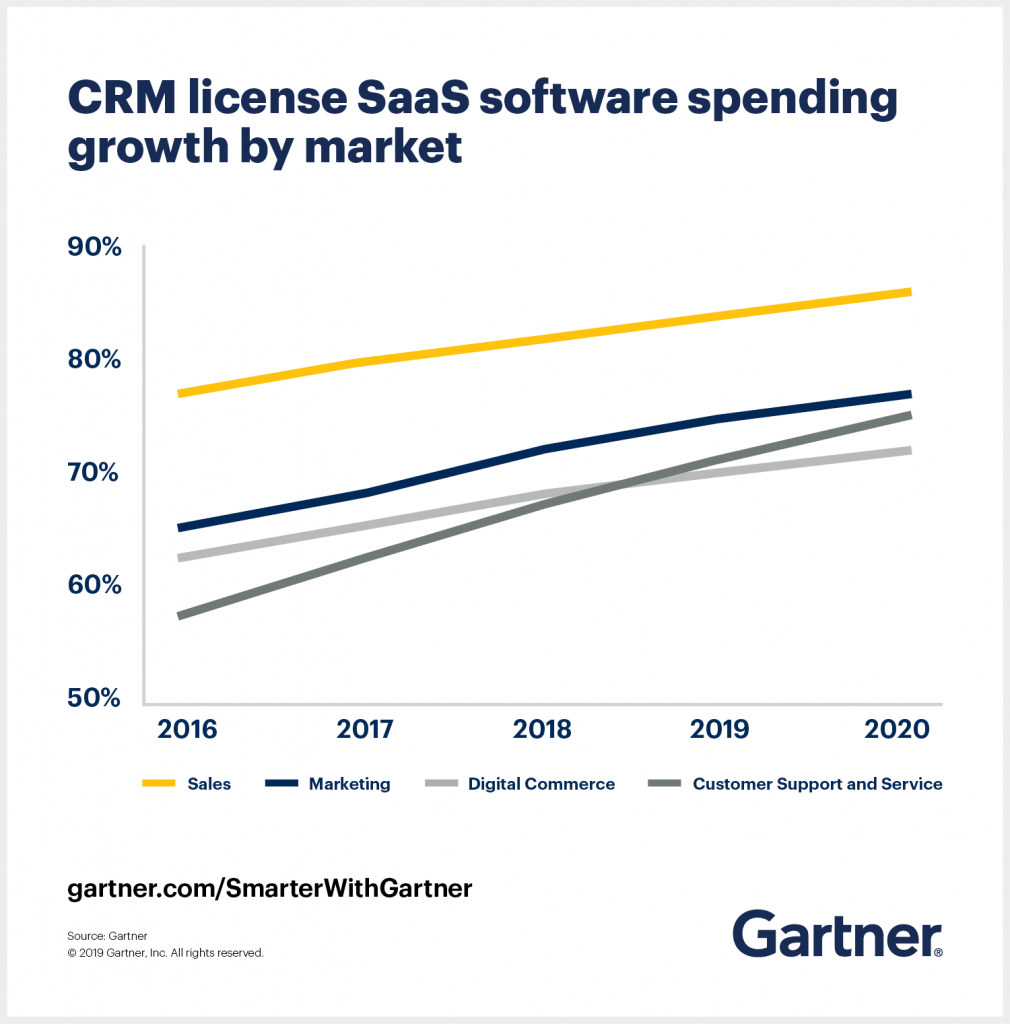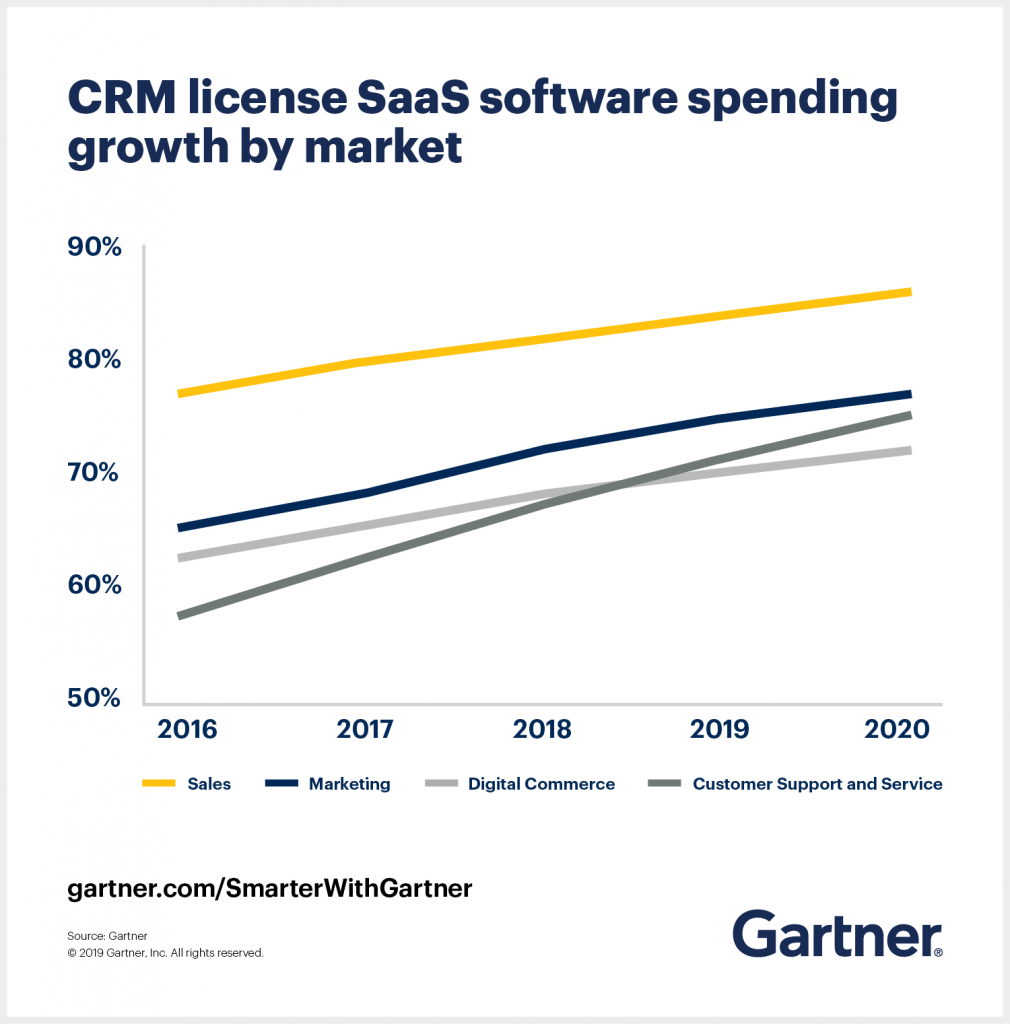 What is a Call Center SaaS Solution?
A call center SaaS solution is a scalable platform that manages inbound and outbound calls. This covers everything from call routing, escalation, analytics, and measurement.
What separates a SaaS call center from an Inbound call center solution is its advanced call management features, analytics, and built-in CRM. Call center software helps to distribute inbound calls among available agents. Likewise, when agents make outbound calls to leads, the software facilitates end-to-end call capabilities.
All the logic is managed from the cloud. Gone are cassette tape recorders (remember those?) to record live calls. Agents can log on and take calls anywhere with nothing more than a laptop or a cell phone. All the infrastructure is in the cloud, not on-site.
Tracking customer interactions help you gain deep insight into your customers. Managers can view analytics and drill down into detailed reports of their agents and how their call center is performing.
The bottom line is that a call center SaaS solution helps you build and grow a call center team.
14 Reasons Why You Need a SaaS Call Center
Ready to level up your knowledge of SaaS call center solutions? Here are the 14 powerful reasons why any business should move its call center platform to the cloud.
1) Cost
Implementing a cloud-based solution for your call center is much more affordable than other options. If you opt for on-site PBX, the upfront costs can be astronomical. The network infrastructure, PBX switch, and software license can cost thousands of dollars.
… And that's before you factor in VoIP desk phones and other hardware.
Startup and ongoing costs for SaaS solutions are much more affordable. As you grow, you pay a fair price for using call center software for each seat. Since it's hosted in the cloud, you don't need to budget hundreds of thousands of dollars for servers.
How Much Does Call Center Software Cost?
Even if you don't have IP phones at the office, cloud-based call center solutions are much lower than on-prem options. Our call center solution starts as low as $50 per user. There are no startup costs or hidden technology or consulting fees.
This price includes unlimited calling and texting in the United States and Canada.
2) Easy Setup
The benefits of a SaaS call center don't end with costs. It's also much easier to get set up with a cloud-based contact center platform.
You won't need to schedule month-long installations of new hardware.
At Nextiva, we provision VoIP phones before we send them to you. You can plug the phones into the network switch, turn them on, and start handling calls. You can deploy a virtual call center in record time.
You don't even need to invest in VoIP phones if you don't want to. You can use the Nextiva App on your desktop or mobile phone to handle calls. Get your call center up and running, without having to invest in infrastructure. Download and sign in. Boom, you're done!
With on-site contact center solutions, you will need technical assistance with the installation. If there are any problems, you have to schedule more appointments before you can troubleshoot and fix the issue.
3) Advanced Features
With a SaaS solution, you can access advanced features even as a small business. From IVRs and CRMs to omnichannel support management, we've got you covered.
Here's a snapshot of the top advanced features of a SaaS call center solution:
ACD
An automatic call distributor helps route calls to available customer support reps. Policies like skills-based routing use tags and data to match customers with the right agent.
CRM
A service CRM provides each agent with the data and context they need to handle each call correctly.
Track prospects, follow up on sales, and keep customers happy. The call pop feature instantly brings up the customer profile whenever an agent answers a call.
DNIS
DNIS (Dialed Number Identification Service) identifies the inbound phone number that a person dials to reach a call center agent. This is helpful for routing calls for select marketing campaigns and to know which product or service callers are inquiring about.
Live Chat
Econsultancy reports that 21% of consumers prefer to chat with a live agent over a phone conversation or email. It's also cheaper and faster to have your agents resolve issues over chat.Live Chat
IVR
Interactive Voice Response solutions let customers interact with your phone system through recordings, voice recognition, and keypad commands. IVR systems ensure that callers end up with the right department or agent. It can also help customers solve simple issues without involving a person.
Number Porting
With VoIP number porting, you don't even have to change your phone number. You can keep your landline number when switching to a SaaS contact center solution.
Related: Contact Center vs. Call Center: Which Does My Business Need?
4) Higher agent productivity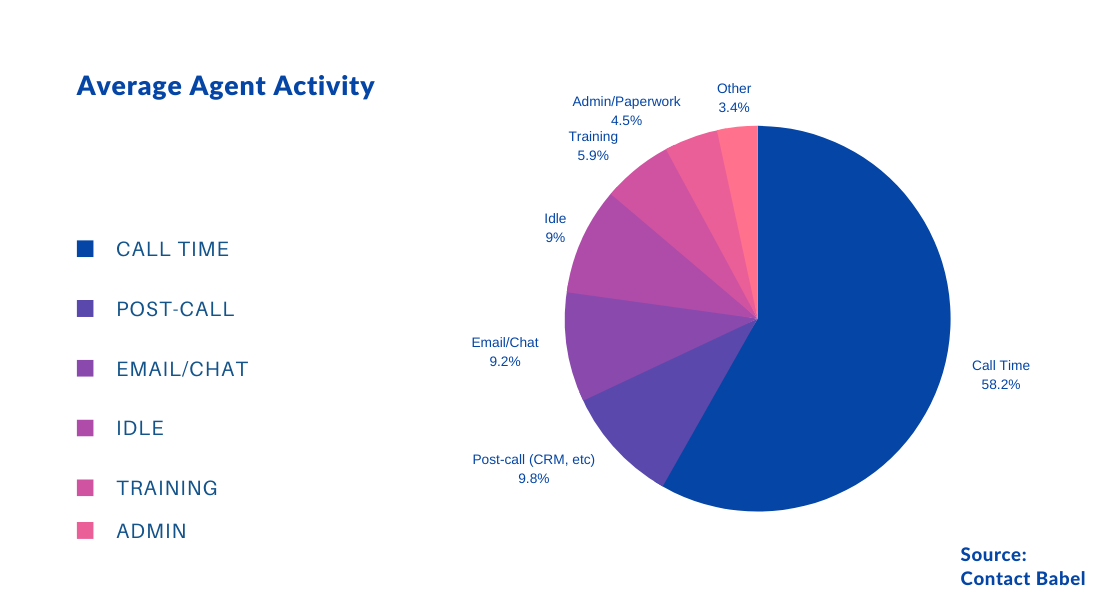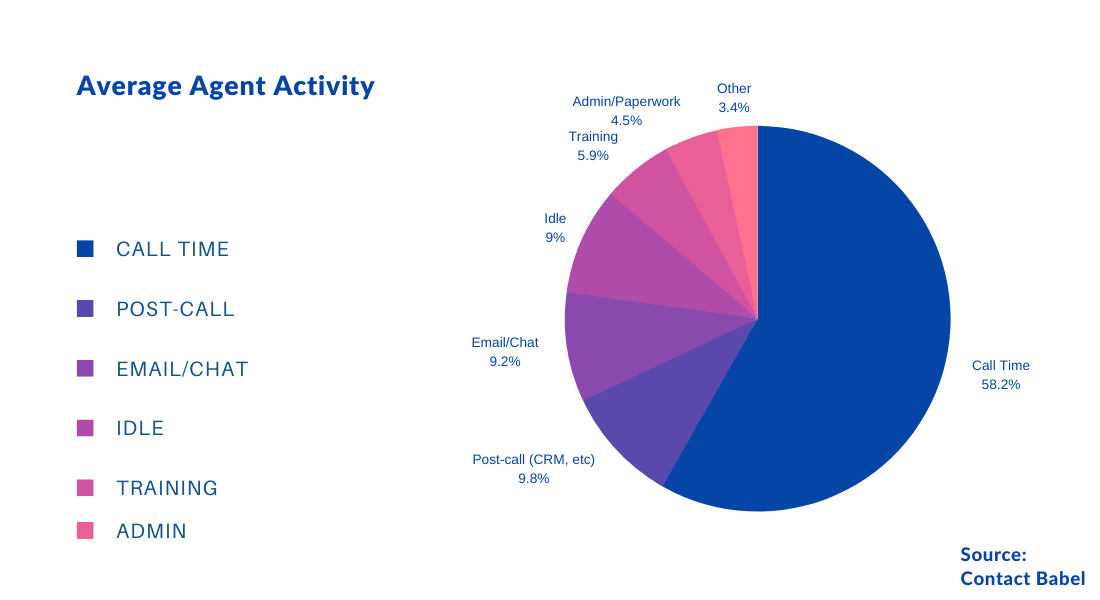 With the right tools in place, it becomes easier to do your job. Just like the wheelbarrow and plow changed agriculture, SaaS is changing the way your business sells to customers and keeps them engaged.
On average, call center agents spend almost 15% of their time on post-call data entry and admin work according to research conducted by Contact Babel.
It gets expensive.
A SaaS call center automates repetitive tasks and improves on existing workflows. CRM software connected with the phone system keeps track of customer calls.
It automatically opens customer profiles for the agent to update with call details. These changes might seem small, but they add up.
Your agents will spend less time on data entry and admin work. They will have more time to focus on improving the customer relationship.
Imagine having a documented log of every customer contact available for all employees. This eliminates excess business intelligence/analytics requests.
Related: 25 Proven Call Center Best Practices to Wow Your Customers
5) Better CSAT
Customer Satisfaction (CSAT) has become one of the biggest priorities for businesses. And it's no question to understand why.
Customer retention is a crucial part of running a successful business. It doesn't happen by accident. You have to take practical steps to improve your customer's experience. Subjecting phone calls to quality assurance (QA) reviews is one straightforward way to improve it. Maybe your call center campaign upsets customers and you don't even know it.
A SaaS call center solution is a big step to achieving higher customer satisfaction. Having one CRM, analytics, surveys, and customer journey platform give you the full picture. By understanding the customer, you can provide them with the service and support they need.
Related: 12 Customer Service Trends You Can't Ignore in 2020
6) Centralized data
Most call centers rely on a myriad of applications just to do business. Instead of an integrated solution, the majority use multiple apps during calls. Worse yet, some call centers use middleware to integrate two half-baked solutions.
Agents hate slow call center software. Who pays the price? Ultimately, your customers. Agents' capability scores drop and your customers begin to question their loyalty to your brand.
Not only do multiple apps interfere with productivity, but it scatters your customer data. Five different applications all store various pieces of the puzzle in their database. To integrate them, you need data analysts or custom-developed solutions.
An integrated call center SaaS solution eliminates this problem. It handles all aspects of your business' communication from the actual VoIP call itself to analytics and CRM. Plus, it can intelligently follow up with customers after calls without additional work.
Modern call center technologies mean your agents only work in a single program, and your managers get access to centralized data and reports that show the whole picture.
7) More Mobility
Once you've invested thousands of dollars in phone lines and an on-premises PBX, moving your call center is a tough decision. Even expanding and adding on a small office becomes a big project.
With a CCaaS platform, that's not the case.
Through VoIP, your business phone numbers and call centers exist in the cloud. Your VoIP provider routes the calls through the internet to any connected IP phone or softphone.
That means you can move the physical location of your call center a lot easier. You can even skip that costly commercial real estate lease—even let your staff work from home! This added flexibility is a great way to reward and motivate your team with lower costs.
With a softphone app, you can even make outbound calls with your office phone number. We have released it for both iPhone and Android smartphones. Nextiva App works flawlessly on Windows and macOS, too.
8) Increased Collaboration
Your agents, account managers, and customer success managers have to work as a team. A disjointed customer support team will deliver an inconsistent customer experience.
The biggest issue with bad internal communication is customers having to repeat themselves. According to customer service statistics, 72% of consumers think having to repeat themselves to multiple agents is poor customer service.
Your agents can use call center features like an internal chat to avoid this issue. If an agent answers the phone, then realizes the customer has called the wrong department, it doesn't have to be a bad experience.
They can identify the proper department, and keep talking to the customer while using internal chat to get the other agent up-to-speed. Then they can complete a warm transfer.
And that's just one of the ways better collaboration leads to better customer service.
Related: UCaaS: The Definitive Guide to Unified Communications
9) Omnichannel and Multichannel Communications
Over the last twenty years, the internet has added many communication channels. Snail mail and phone calls are no longer the only things your company needs to worry about.
The future of customer service is omnichannel communications. To thrive, businesses have to provide service everywhere the customer is located. Channels include chat, email, helpdesk tickets, SMS, and phone calls.
Traditionally, companies relied on different applications for each channel. They used email clients for email, social listening tools for social media, and numerous other point solutions.
Handling everything with separate apps makes it hard to stay on top of things. Your support teams handling emails and chat aren't aware of voice interactions and vice-versa.
Nextiva helps businesses provide true omnichannel customer support. Nextiva offers a fully integrated customer helpdesk, live chat, voice, and SMS into a single dashboard. With one SaaS call center platform, you can track customer touchpoints across all channels.
The same customer service rep can communicate with the same customer on all channels. This new level of consistent service is essential for omnichannel engagement.
10) Instant Upgrades
With an on-site solution for your call center, it can be challenging to implement upgrades. You might need to purchase and install new hardware. If the equipment isn't compatible with your software, you need to upgrade. Plus, you'll need an experienced technician who likely charges $100 an hour for their specialized IT knowledge.
With a cloud-based platform like Nextiva, upgrades are completely hassle-free. Software updates are made routinely to the platform with zero interruption, so you experience top-notch reliability.
As your company grows, you just need to toggle on additional features by talking to the sales team. No installation project required to get up and running.
Planning on adding new locations, additional users, or changing your workflow? A SaaS call center solution pays its dividends quickly.
11) Zero Maintenance
Maintaining a business phone system and a PBX is not easy. Beneath the surface is sophisticated technology, compliance with SIP, and standards all working cohesively. With an installation on-site, your staff takes on the responsibility of maintenance.
If you don't have any technical staff on payroll, you will need to hire an IT manager. IT leaders have an average salary of over $100,000 per year in the U.S. This single hire can cost your business more than a virtual call center with hundreds of lines.
Even with a third-party maintenance service, expect thousands of dollars in recurring costs.
A cloud contact center platform frees you from these expenses, let alone thinking about them.
12) Massive Scalability
Another benefit of choosing the cloud is scalability.
With an on-site solution, your call center needs a physical location. It can only handle as many agents as can fit in your offices.
Thinking about adding PRIs for outbound calling? If so, you're limited to a block of 28 lines, even if you plan on adding one agent. If you must use trunking, go with a SIP Trunk. It's less expensive and infinitely scalable, too.
A cloud-based platform is entirely different. The VoIP provider receives calls and redirects them over the internet. You can open up new locations and treat them as the same call center. Offices across the country can effortlessly work together to serve customers.
You can even expand your team with work-from-home staff for additional coverage. By using our suite of collaboration tools, the service remains consistent and contextual. VoIP enables you to scale your call center without having to relocate.
13) Robust Integrations
According to Better Cloud, companies use 16 different SaaS apps on average, which is up 33% in 2017. For customer service to be a valuable part of the whole, your platform needs robust integrations.
With an on-site solution, you often have to custom code and develop integrations using APIs. High developer salaries make this a terrible option.
Instead, you can choose a SaaS solution that already has laid the groundwork for you. Nextiva has already integrated voice, SMS, chat and help desk into a single dashboard.
With Go Integrator, you can integrate Nextiva with Salesforce CRM and dozens of other third-party business applications.
14) Transparent Reporting
Data is the key to improving every part of your business. You can't glean insights from data that you don't understand.
That's why businesses want to look for pre-made analytics and reporting dashboards. Not all call center software apps offer this.
Managers without a degree in data analytics can identify problems. You can easily navigate from individual agents to the full contact center overview.
For instance, here are a couple of reports you could instantly pull:
Agent Activity Report gives you an insight into all activities of each agent in your call center. At a glance, see how many calls they handle, transfer, and how often they go unavailable.
Call Center Call Detail Report displays the life of each call that came into the call center. How long it waited, total hold times, transfers, destinations, if they abandoned the queue (and when if they did).
Nifty, huh?
SaaS or Managed Contact Center?
With a managed contact center, you pay a third-party to handle your customer service calls and messages. The upside is that you don't need to invest in an office, phones, or other infrastructure. You also don't need to hire any call center agents.
The downside is that you have little control over the level of customer service, and the running costs are high. If you're worried about customer satisfaction and loyalty, it's not the best option.
SaaS software for call centers makes the startup costs less overwhelming. With less required on-site technology, it's easier to get up and running. You can even run 100% virtual call centers where all your agents work from home — no office necessary.
You can also expand your call center with extra seats in just a few minutes.
SaaS Call Center Benefits
Lower operational costs, minimal capital expenditures
Launch a call center in less time
Better data with granular capabilities
Compatible with softphones for lower equipment costs
Our VoIP-powered call center solution is user-friendly and easy to set up. We set up your phones and manage the entire VoIP configuration for you. Need to change a call flow? You can do it yourself or simply ask our support team and we'll take care of it. Either way, you're in full control of the phone system.
How to Set Up a SaaS Call Center for Your Business
Are you ready to take advantage of the cloud? Do you want to take your call center to the next level with SaaS?
The first step to setting up a SaaS call center is finding the right VoIP call center solution. After you've figured out the right plan, we will help you port your phone numbers.
We will also help you select the right VoIP phones and headsets for your customer service team. Our phones require no technical configuration, so setting them up is as easy as plugging them in. You can also use softphones to reduce the upfront costs and get a call center online quickly.
We've helped thousands of businesses make the switch, so we know all potential challenges. Our Amazing Service team will help you with the transition every step of the way.