Business owners take landline costs and restrictions for granted, but Voice over Internet Protocol (VOIP) providers offer a major technological step forward – and reduced costs.
VoIP eliminates the need for hardwired phone systems and PBX setups and can integrate seamlessly with your sales and customer tools of choice.
This article explains why VoIP is cheaper than a landline when considered against a business' complete needs.
What is VoIP?
Voice over Internet Protocol (VoIP) is a service for providing voice communications (i.e. phone calls) via the internet. VoIP is an alternative to traditional landline phones, which most business owners have learned to 'price in' their cost as an assumed part of doing business. 
But as even small businesses find their customer base expanding globally and grapple with the challenges (and benefits) of remote work, the landline has been eclipsed by VoIP. This article explains why VoIP is usually cheaper than a landline and looks at the additional benefits a top VoIP provider can add.
5 Reasons VoIP saves money vs. traditional phones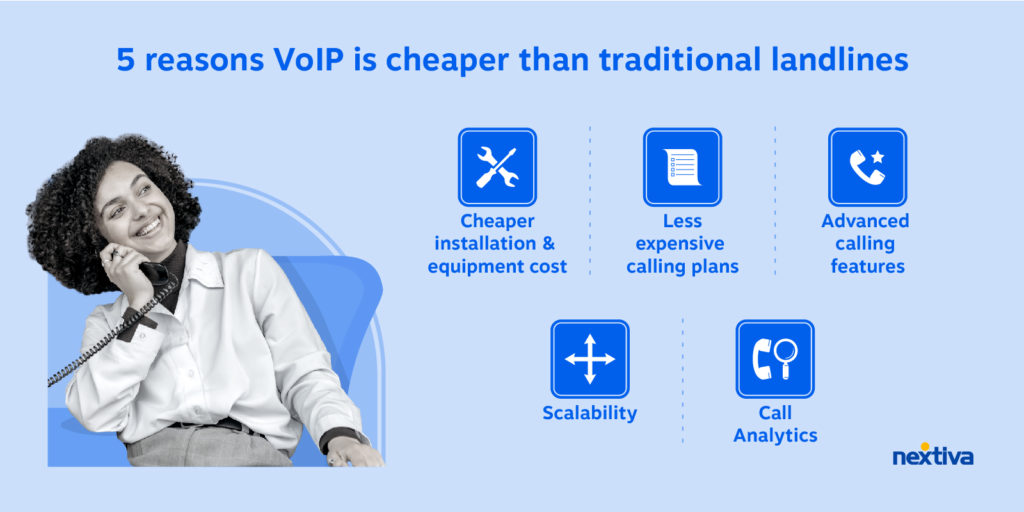 1. Reduced Installation and Equipment Costs
Unlike landlines, VoIP won't require technicians to come and hardwire your office with expensive copper wires or PBX technology. VoIP equipment – which is usually available directly from the provider — can be used anywhere a fast internet connection is available. 
Not only will you say goodbye to ongoing phone technician maintenance needs, but your team can use their business phone number from home, ensuring you have a seamless customer experience even in remote work situations.
This benefits more flexible 'work from anywhere' models and provides an extra level of resiliency in business continuity/disaster recovery scenarios.
2. Less Expensive Calling
In addition to the cost savings on equipment and infrastructure, VoIP calling plans can often provide significant discounts vs. landline providers because they use the same digital transfer as the rest of your internet traffic.
VoIP providers may offer unlimited calling plans for your central business regions while providing low-cost international calling options. And because you have control over the area code(s) or locations of your chosen phone numbers, you can arrange for anyone in the world to call your company free of charge.
3. Seamless Integration and Added Features
One of VoIP's most significant advantages is that it makes possible a level of seamless integration with many of your business apps (such as CRM software) that traditional phone lines can't match. And you'll enjoy the many additional benefits of VoIP – call routing and recording, auto attendants, virtual voicemail, free toll-free calling, and more.
One feature you can't get with traditional phone lines is visual voicemail which provides text-based transcriptions of your voicemail. You can even have these sent directly to your email. Stop wasting time listening to voicemail; visual voicemail saves time so you can get on to your next task.
VoIP can be used on your computers or mobile phones and allows you to use the same service for phone calls, video calls, faxing, and SMS. You can also reduce the number of providers you need to work with. By contrast, traditional firms may use one company for their landline service, another for mobile phones, and another for video conference calls. This adds unnecessary administrative and training costs.
You can also bundle VoIP with your helpdesk software, productivity tools, and Sales CRMs of choice, ensuring that your team has a complete picture of customer and prospect interactions in real-time.
4. Quick Scalability
Setting up a traditional phone system for an office or contact center is usually cheapest when done at future scale. In other words, if you expect your business to need 200 phone lines someday, it will be cheaper to make that capital investment now than when you are trying to scale to meet rising demand.
VoIP allows you to quickly add or reduce overall user headcount to meet your needs. This is critical for a growing business and can also be a significant cost saving for companies that enjoy cyclical customer support or sales cycles.
5. Call Analytics & Insights
Top VoIP providers also offer call analytics and business intelligence capabilities to help you understand call volume and real-time trends. You can also analyze historical call data and access call recordings to improve QA for customer service or issues. 
Combined with integration capabilities for launching surveys, reviewing customer or prospect accounts, and automating workflows, it becomes clear that VoIP isn't just cheaper than a landline — it is also a powerful upgrade to your business' agility and strategy capabilities.
An Investment in VoIP Saves Time and Money
VoIP's advantages over traditional phone lines are clear. For many businesses, an investment in VoIP will be key to matching the cost efficiencies and service quality increases enjoyed by competitors.
That's why choosing the right VoIP provider is so important. Make sure to select a provider that offers top-line reliability to help your business make the most from its investment.
Talk to an expert today to learn more about how VoIP can enhance your business.