In today's business world, having great products with good value will only get you so far.
The interaction between your brand and its customers, also known as the customer experience, is the differentiating factor between a brand that people like and a brand that people are dedicated to. 
So, how can you ensure that your business is providing an experience worthy of having customers dedicated to?
There are a million tips & tricks you can incorporate into your customer service strategy that will help better your company's customer experience.
Here are the five key steps that will help you create a better customer experience:
1. Establish
Before you can implement a new customer experience strategy, you have to establish exactly what that strategy will be.
Start by determining what your company can do to provide a customer experience that stands out from your competitors, and then set key objectives for carrying these new ideas out.
Consider the end results of this project, as well. What are you planning to accomplish with this new customer experience strategy?
Once this is established, make sure these objectives are clearly communicated with all members of your team, not just customer-facing ones.
No matter how great your plan to provide a better customer experience is, if your team isn't on the same page, you won't see results. A team that is prepared to provide customers with the absolute best experience is the foundation of any memorable customer experience.
Take time to meet with your team, ensure they have the tools needed to undergo this change and that they understand how this new project will affect them.
2. Identify
The number one focus of your customer experience strategy should be the needs of your customer. To truly identify your customers' needs, though, you need to evaluate their full journey as a consumer.
Put yourself in the perspective of a customer and assess your business. How does your brand come across? What kind of interaction are your customers having with your business?
Don't forget to look beyond your business and evaluate your competitors from a customer's standpoint, as well. What makes a customer choose your business over a competitor's, or vice versa?
Collecting customer feedback will also help you identify the needs of your customers. With tools like Nextiva Surveys, you can quickly gain insight on what your customers think about your business and what they want to see next.
Looking forward and anticipating the needs of your customers should also be an integral part of your customer experience strategy.
Listening for and fulfilling unexpressed needs is likely something that any brand with a loyal customer base is doing. Customers want to feel understood and valued, and when they do, a good customer experience will turn into an outstanding one.
3. Engage
Customer experience goes beyond the initial interaction between your business and a customer. In order to fully grasp the attention of your customer, you need to make sure you're consistently engaging with them.
Customer engagement is rebuilt each time a customer interacts with a brand. If you take action to ensure your company's engagement with customers is reliable and positive, your customers will feel more connected and loyal to your brand.
Recognizing each of your customers as individuals, as opposed to an overarching consumer market, is also an important aspect of the customer experience.
Any customer that has developed a relationship with your brand is more likely to be loyal to it. By treating every one of your customers' concerns as equally important as the rest, you will be able to develop and grow a relationship with your customers.
In addition to creating loyalty, customer engagement helps to keep your brand at the forefront of your customer's minds. When you're regularly communicating with clients, they'll be more likely to remember your brand, as opposed to competitors they're not in contact with.
4. Evaluate
After you've implemented changes to your company's customer experience strategy and have seen them in action, you should take a step back and evaluate your strategy.
Is your new strategy helping you to meet the goals you initially established? Are you finding gaps in your strategy or alienating any key customers?
Nextiva Analytics is a great tool for tracking your progress in your journey of implementing a new customer experience strategy. You can see all the data from this process in one place and use it to make decisions that will help ensure your plan is successful.
You might have to redefine your goals or implement new ideas if things aren't on the right track. However, as long as you keep evaluating and reflecting on how your strategy will help meet your customer's needs, you'll be able to build a customer experience that helps to define your brand.
5. Refine
Once you have implemented a successful customer experience strategy, it's important to remember that what's working today might not be working tomorrow.
Your business might scale up or down, or cross over into a new market, and you can't rely on the same strategy if this happens. Continuing to refine your customer experience strategy to keep up with these needs is just as important any other step.
As your business and your customers evolve, your customer experience strategy needs to evolve with it. Stay current on customer service trends, continue to innovate, and refine your strategy when necessary.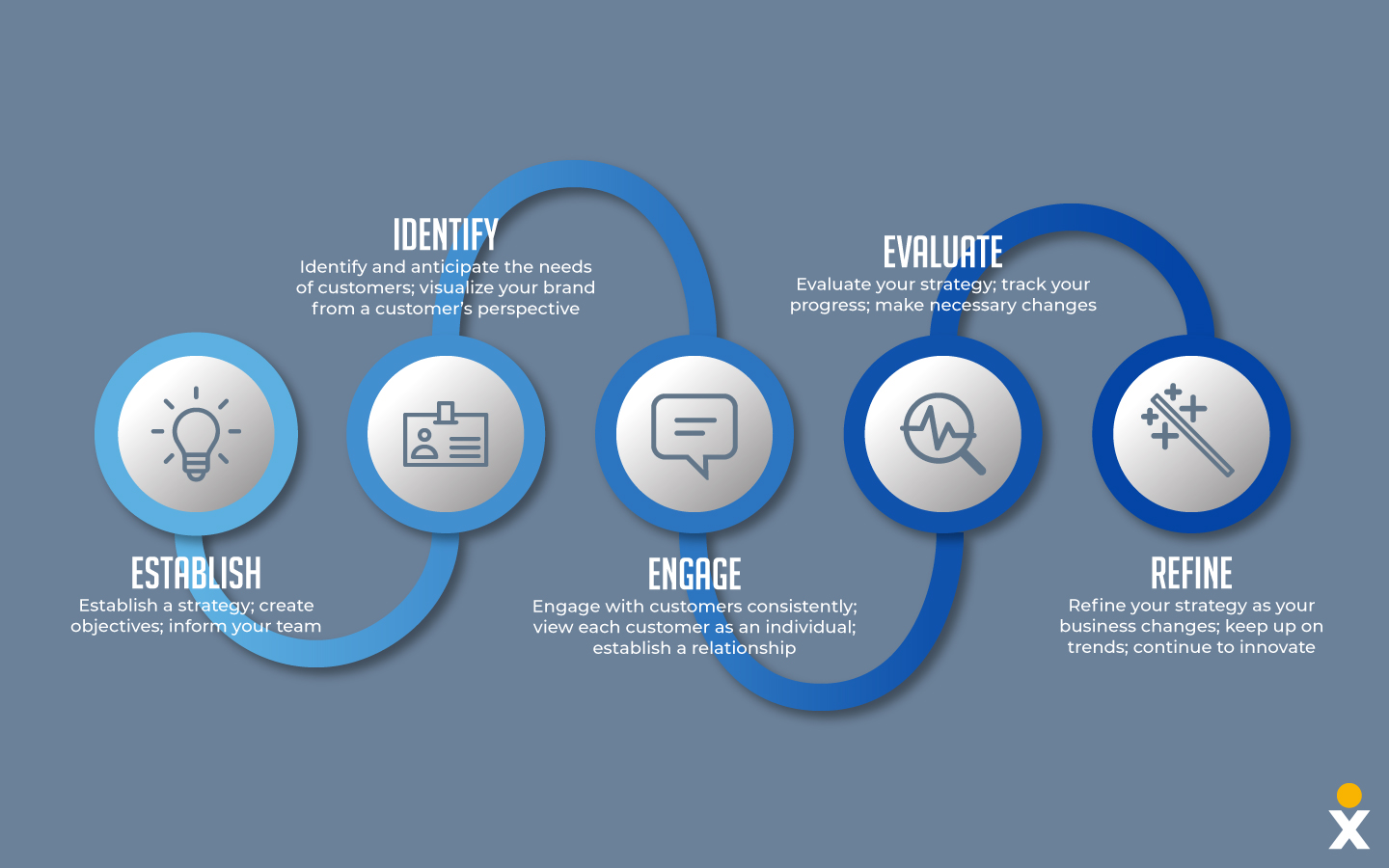 More:
4 Ways To Make Customer Experience Your Competitive Advantage
The 3 Keys to Providing Standout Customer Experience
The Importance of Brand Standards for the Customer Experience