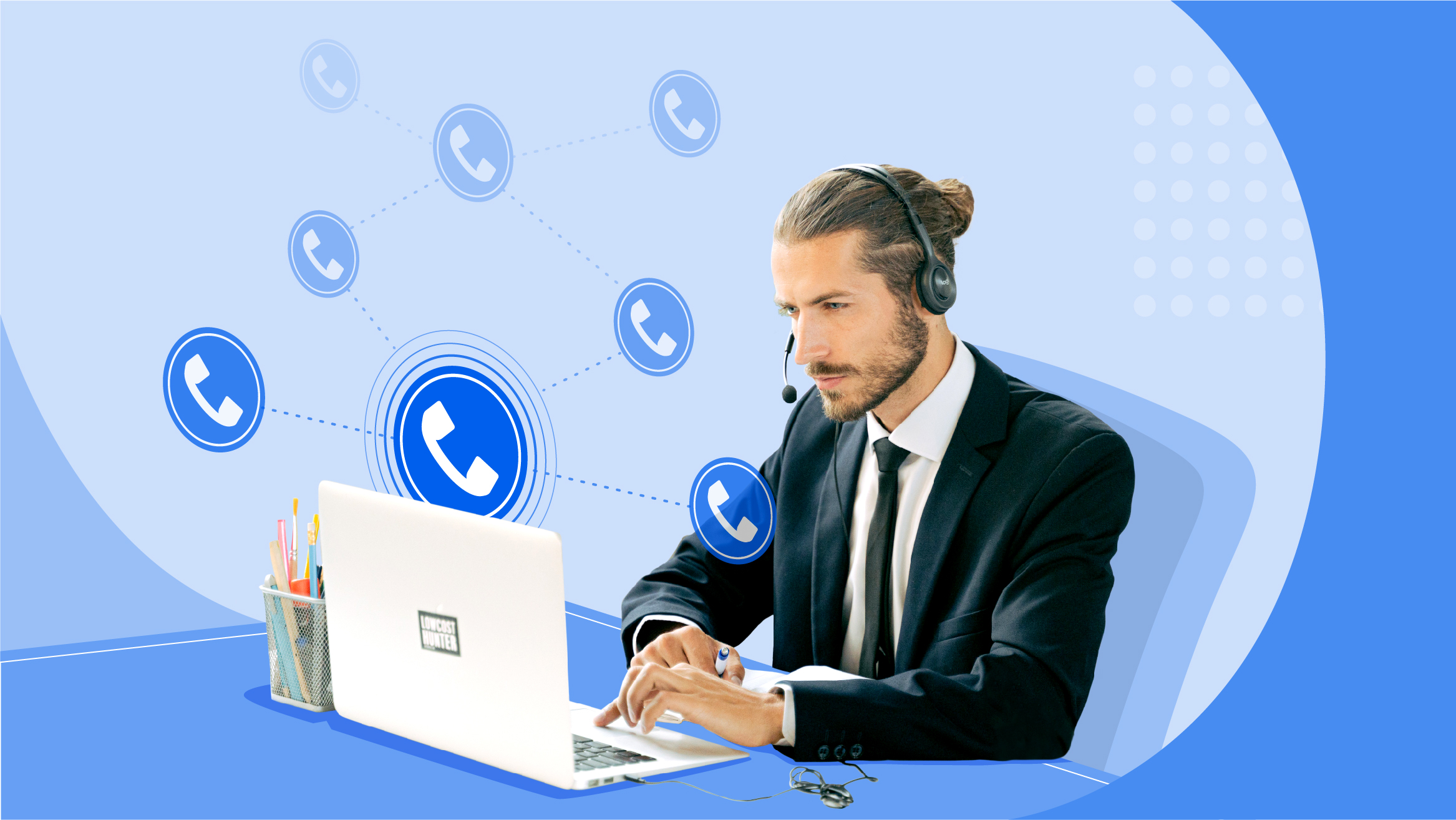 If you would like to reach a larger audience, close more sales, or avoid being left waiting for a lead to pick up the phone, a predictive dialer is what you need. A predictive dialer would be a fantastic option if you want your salespeople to speak to a significant number of leads and have more time to convert them into paying clients.
With a predictive dialer, you will be able to reduce the gap between answered calls to 3 seconds. So rather than spending up to 20 minutes dialing and listening to voicemails or busy signals, you can spend that time speaking with leads using a predictive dialer.
What is a predictive dialer?
A predictive dialer is an outbound calling solution that lets you dial numbers in bulk from a list. A predictive dialer helps to forecast an agent's availability, automatically calibrates the dialing frequency and connects agents with live leads. The system makes simultaneous calls to multiple numbers(leads), transferring to a live person only when a contact picks up the phone.
Predictive dialer systems differ from other automated dialing systems in that they can forecast when an agent will be available to handle the next call.
What distinguishes predictive dialers from other autodialers is their ability to forecast when human agents will be available to take the next call using call analytics. That is, they schedule their auto-dialing to coincide with agent availability.
How do predictive dialers work?
Based on past call length data, predictive dialers determine or "guess" when an agent will wrap up a call and start dialing before the agent actually concludes the one they're on. 
A predictive dialer uses a combination of call metrics, mathematical formulas, and unique algorithms to estimate when an agent will be available to answer a call and adjusts the dialing frequency correspondingly. 
Rather than dialing one call for each available person, waiting for the call to conclude, and then dialing again, the predictive dialer dials more calls than the agents could possibly take if all of those calls were answered (which is almost impossible).
But what if a call center is overburdened and several agents are on the phone? In that case, the predictive dialer will reduce or halt outreach until it detects that agents are wrapping up their calls.
Predictive dialers are also distinguished by the fact that they dial multiple numbers simultaneously. The goal is to call the right amount of prospects at the right time to guarantee maximum agent usage. 
What is the difference between predictive and progressive dialers?
Progressive and predictive dialers are popular automatic dialing systems utilized by outbound call centers.
While progressive dialer only dials numbers during an agent's available time, a predictive dialer starts dialing numbers prior to the time an agent becomes available to take the next call.
Predictive dialers make multiple calls for each available agent, but progressive dialers only make one call for each available agent.
Furthermore, a predictive dialer uses a pacing algorithm to evaluate an agent's availability, whereas a progressive dialer does not utilize an algorithm because dialing is done in real-time.
What is the difference between a predictive dialer and a power dialer?
A predictive dialer can dial multiple phone numbers per an available agent. And you can choose how you wish to use the agent's capacity when establishing the dialer configuration. As a result, the predictive dialer will complete the campaign in less time.
Power Dialer, on the other hand, dials one number after another from a campaign for each available agent. It dials the next contact only after the previous one is wrapped up.
Why use a predictive dialer?
A predictive dialer allows businesses to gain control over outbound calls since the dialer doesn't transfer outgoing calls to busy agents. As a result of that, your team's efficiency will improve. Additionally, when a customer picks up an incoming call from your call center, the agent on the line can offer them any available offer, which is an essential component of successful campaigns.
With a predictive dialer, agents and telemarketers can save a lot of time. For instance, dialing a phone number manually can take up to 30 seconds. And it's possible that just one out of every three or four calls will be answered. However, predictive dialers can determine the average number of dials required to make a connection and the average duration of a call and then optimize dialing to allow representatives to switch from one call to another effortlessly.
What features do I need in a predictive dialer system?
The following are the basic features of a predictive dialer system you will need:
·   Predictive Dialing – selects a number and dials it, reducing the time spent manually dialing each day.
·  Pacing Ratio – the ratio between available agents and calls made for each agent.
·  Direct Numerical Control (DNC) Management – operates with a remote central processor.
·  Filter-Based Calling, Reports & Analytics – filters chosen data for convenience.
·  Call Back Scheduling & Reminders – sets a call back reminder window that pops up on the agent's computer.
·  Call Recording/Monitoring – a system that records calling conversations for review.
·  Customer Relationship Management (CRM) Display – a filtered display of records.
·  Voicemail message drop – a pre-recorded message in someone's voicemail inbox (their voicemail won't ring, but they get a notification of a new voicemail).
In addition to the basics features above, the best predictive dialer software will also include the following helpful features:
·  Voice broadcast – sends critical messages to a large number of customers at the same time.
·  Local presence caller ID – enhances the response rate.
·  Answering machine detection – allowing agents to leave a message and then go on to other customers.
·  Time zone awareness – allowing calls to be delayed till the best response times
CRM integration – enables the generation of leads in a seamless manner.
How much is a predictive dialer system?
The cost of a predictive dialer system is determined by whether you go with an on-premises or a hosted solution. On-premises predictive dialers are available as a component of a complex call center software suite or as a standalone product, with prices starting at $5,000 for a system with a limited number of agents. A large call center can increase that amount by some hundred dollars more. That's before you factor in installation and maintenance charges, which might eat up a large chunk of your money.
Talk to an expert at Nextiva to see how you can save money while improving call center performance with software that includes powerful features that you won't find from other vendors.
How do I choose a predictive dialer?
When choosing a predictive dialer, keep the following factors in mind to guarantee that the dialer meets all of your business needs:
1. Scalability: If you want to be in business for a long time, scalability is an important factor to consider when choosing predictive dialers.
2. Customization: Although most predictive dialers can match agents and prospects based on a variety of factors these days, you should think about the level of specificity your contact center requires. If possible, you should inquire about a vendor's willingness to develop new customizations.
3. Integrations: Ensure the predictive dialer you choose is compatible with your current software and also any new tools you plan to buy in the future.
4. Support: It's pointless to get a nice predictive dialer that can do everything you want but is too difficult to use. As a result, it's a good idea to look for a dialer with great free technical support.
5. Cost: Another consideration is the cost of predictive dialers. This may vary depending on the vendor's limitations and capabilities. If you're on a tight budget, you'll want to choose a dialer that meets your needs as closely as possible while being as cost-effective as possible.
How do you set up a predictive dialer?
You can begin setting up your predictive dialer once you've chosen a provider that meets your call center's needs. 
To set up a predictive dialer,  follow the below steps:
·  Import a list of contacts or, if that option exists, integrate the tool with your existing CRM
·  Add a call script or survey
·  Set up an outbound campaign, and launch it. 
·  Start using the predictive dialer
·  Occasionally check the campaign statistics
You can customize your predictive dialer settings to meet your specific requirements.
Does Nextiva have a predictive dialer?
Yes. Nextiva has a predictive dialer in its cloud contact center (powered by Five9). Nextiva's regular VoIP phones do NOT come with predictive dialers, but the Five9 contact center DOES include a predictive dialer. 
A predictive dialer would NOT be available if you only purchase a Nextiva VoIP phone. Predictive dialing is a capability customers get through its Five9 contact center. 
Does a predictive dialer drive sales?
Yes. A predictive dialer allows your sales agents to move faster since they do not need to manually dial phone numbers. A predictive dialer system will help your call center boost sales, cut expenses, and rapidly scale to meet new business needs.