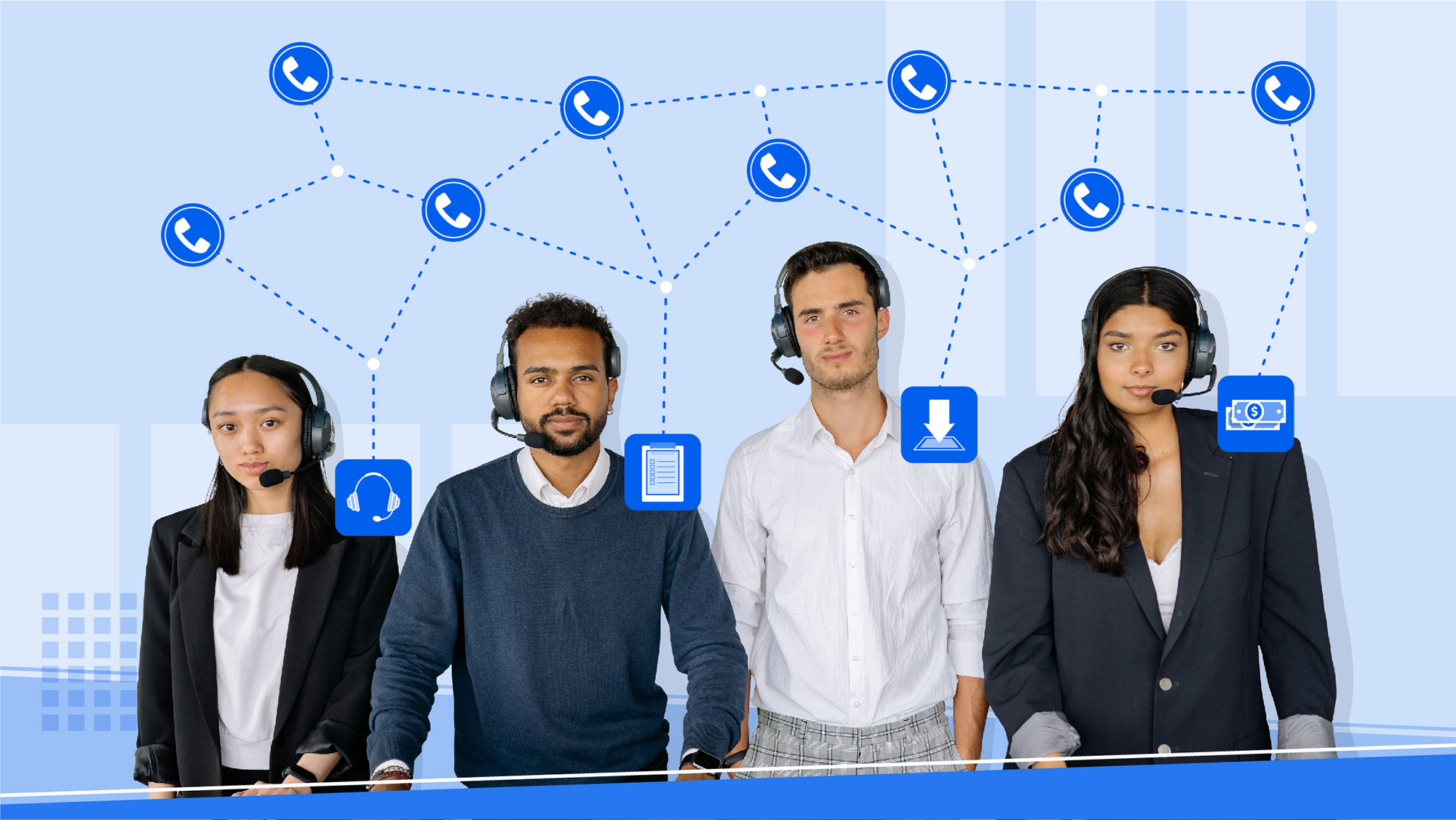 Time is money.
Nowhere is that more true than when you're managing an outbound call center or a telemarketing campaign. When you have customers on the other end of the line, every second counts.
That's where predictive dialer campaigns come in. Predictive dialers shorten the time between answered calls, enabling your team to connect with your customers and reach new leads that much faster.
Plus, predictive dialers have a number of useful functions, from lead generation and fundraising to customer service and debt collection. Read on as we walk through how to set up a predictive dialer campaign that succeeds.
What is predictive dialer software?
Predictive dialer software allows you to make outbound calls en masse from a list of phone numbers. The software makes calls to multiple numbers simultaneously, and when a person picks up, they get connected to a live agent. 
Predictive dialers save time on your team since dialing happens quickly and agents do not have to listen to voicemails from calls that were not answered.
Predictive dialers rely on your call metrics and AI-powered algorithms to forecast your agents' availability and adjust the dialing frequency in real-time. So, for example, if a call center becomes overwhelmed and there's no one available to take a call, the predictive dialer will temporarily slow down the frequency. If, on the other hand, fewer customers are answering than expected, the dialer will increase the dialing frequency.
How do predictive dialers work?
Predictive dialers (you guessed it) predict when your agents will be available, calibrate the dialing frequency, and dial multiple numbers simultaneously. This is the key difference between predictive dialers and other automated dialing systems, such as an auto dialer, which dials numbers sequentially.
This automagical process is what makes predictive dialers so effective. Predictive dialing software eliminates that gap between when an agent hangs up and the next call is ready.
The whole point is to maximize your agent productivity, enabling them to spend more time talking with leads and customers, instead of waiting for someone to pick up.
Types of predictive dialer campaigns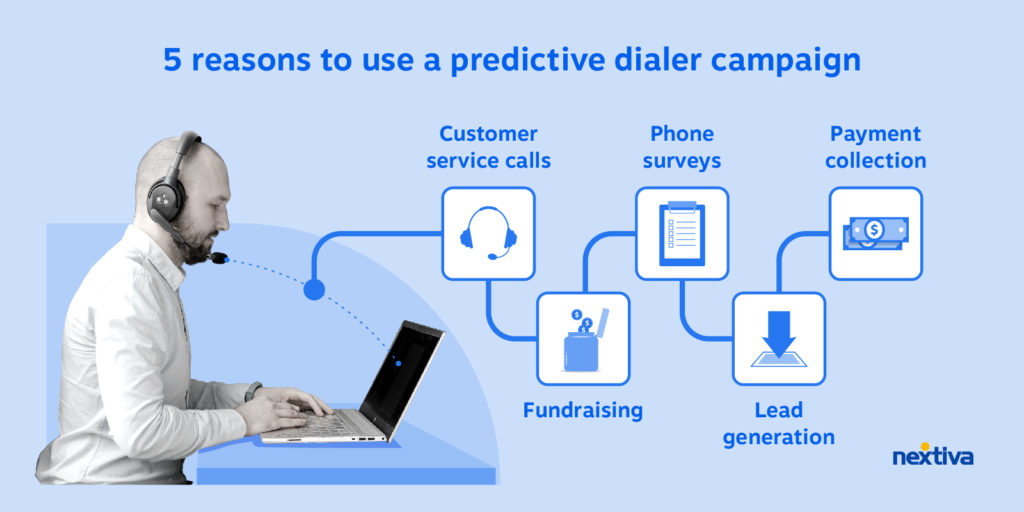 Predictive dialers can be helpful for a number of outbound calling campaigns. For example:
Customer service calls
Predictive dialer software can help your team proactively reach out to customers. This may be useful if you need to remind them of a service outage, set up a service appointment, or promote an upcoming sale.
Fundraising campaigns
By leveraging predictive dialer software, your team can reach more potential donors, enabling you to reach your fundraising goals faster and more efficiently. Predictive dialers can be configured to work with any size of call center, so if you only have a few agents dedicated to raising money, the software can work to make the most of their available time.
Phone surveys
Whether you're performing market research, working for a political party, or simply trying to assess how happy your customers are, surveys are a common use case for predictive dialer software. In all of these situations, you are trying to reach the largest number of people possible. It just makes sense to maximize your agent's productivity with a predictive dialer campaign.
Lead generation
Does your company do telesales or telemarketing? Use predictive dialing to boost sales and move those leads through the funnel. You can connect the predictive dialer software to your CRM to automatically dial leads and connect them with your available agents.
Payment collection
Call centers are often used to collect outstanding payments from customers. The larger your customer list, the infinitely more useful predictive dialer software becomes. Upgrade from manual dialing to predictive dialing, and you can reach a lot more people and get those invoices paid.
How to choose a predictive dialer software
What should you look for in a predictive dialer? Beyond the predictive dialing basics, here are a few bonus features we recommend:
Voicemail message drop: This leaves a pre-recorded message in a person's answering machine. They'll be notified of a new voicemail, but their phone won't actually ring.
Voice broadcast: This predictive dialer feature sends urgent messages to a large number of people simultaneously. It can be helpful for service updates or other time-critical information.
Local presence caller ID: By matching your outbound number to a person's local area code, they will be more likely to pick up.
Time zone awareness: This feature optimizes connection rates by delaying call times to the times people are most likely to answer.
CRM integration: Connect your predictive dialer with your CRM to further improve agent productivity. They can generate leads seamlessly, and their KPIs will get logged in a snap.
How to set up a predictive dialer campaign
Ready to boost agent productivity and your contact rate? Follow this 7-step guide to setting up your predictive dialer campaign.
1. Choose a goal for your campaign.
As with any campaign, success always starts with a clear goal. So, what do you want from your predictive dialing campaign? Is your goal to schedule service appointments? Perform market research with your target audience? Turn leads into customers?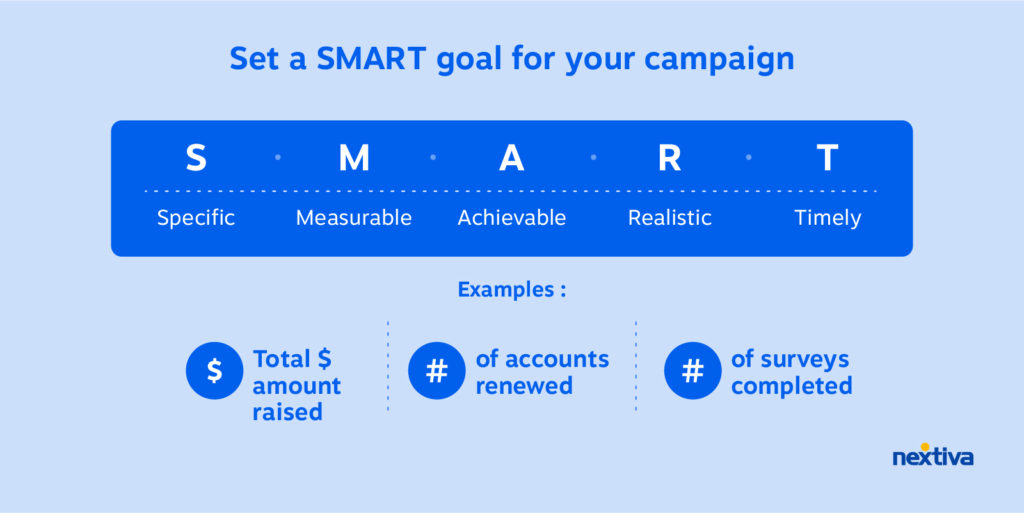 Hone in on your goal. And remember, good goals are SMART goals: Specific, Measurable, Achievable, Realistic, and Timely.
2. Scrub your call list.
Want to really supercharge the efficiency you can enjoy from a predictive dialer campaign? Scrub your list first. Get rid of old, outdated, or incomplete contact information. You might also consider segmenting your list by different customer sentiment scores, location, or other demographic markers. Once everything's all cleaned up, you can import it into the predictive dialer software.
3. Use local outbound numbers.
When's the last time you answered a call from an area code you didn't recognize? We thought so. Your customers feel the same way. Increase your chances that people actually pick up by using outbound numbers that match their area code. Pro Tip: Avoid getting your outbound numbers flagged as spam. This can happen when you make too many calls from the same number. So, purchase multiple local numbers for area codes where you have a high volume of customers.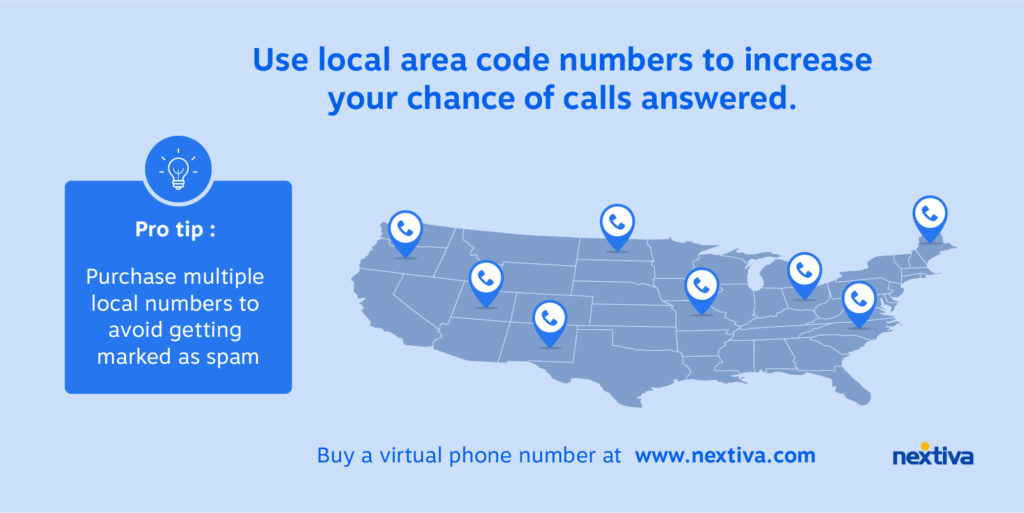 4. Write your script.
Work with the relevant teams to develop a script that's engineered to achieve your goals. Ideally, your script should be on brand. In other words, your agents should naturally sound like representatives of your company. You'll also want to write out comprehensive answers to common FAQs, and walk through how to respond to objections or any hesitation.
5. Develop the voicemail.
Once you've got the script, it's time to write your voicemail. After all, you need a plan for the calls that go unanswered. A voicemail script is the best way to maximize your calls in the campaign.
You want to cover the key points, but keep it short and sweet. That way, there's no confusion about your call to action. It's all about striking the right balance. Oh, and make it easy for people to call you back with a toll-free number.
6. Leverage other channels.
Pairing your outbound calling campaign with other marketing channels can increase your success rate. The more familiar people are with your brand and your value proposition, the more likely they are to answer your call — or to call you back if they missed you.
If you have email addresses on file, follow up with an email campaign. For awareness-building campaigns, you can also post relevant information on your social channels to engage the people who are already following you.
7. Use analytics to iterate and improve.
Predictive dialers use artificial intelligence to optimize agent productivity and connected call times. These softwares are designed to be efficient and maximize performance, but it's still smart to keep a watchful eye.
Determine the metrics you want to track for your campaign and then track KPIs in your call center analytics, such as:
Average agent availability
Average call times
Average connection rates
Average abandonment rates
If things start heading in the wrong direction, you can adjust the settings.
Start predictive dialing with Nextiva
With predictive dialer software, your call center team can reach more people, close more sales, and keep customer satisfaction high. Learn more about how to scale your call center and contact center operations with a predictive dialer system. Talk to a Nextiva expert today.