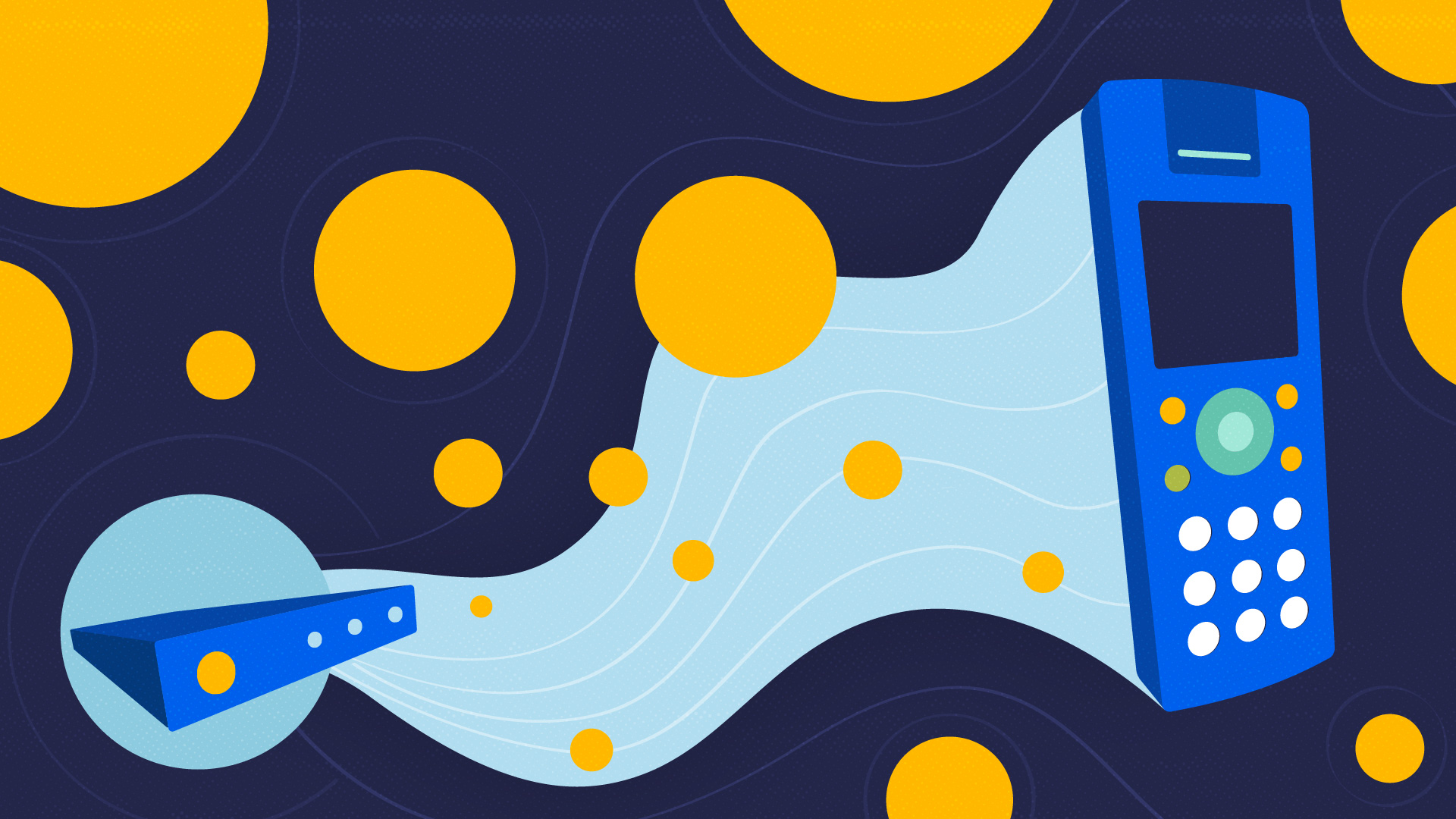 As you're researching the best phones to use, you've likely come across some wireless VoIP phone options. These are phones that connect to a wireless network and don't require messy bundles of cables around desks.
They also make it super easy to move desks and even expand your office as you grow.
To make wireless VoIP phones work for your setup, you can't just pick any phone you find. The range you're looking to cover with your phones, as well as the features you need, play a huge role.
In this guide, we've analyzed and listed 11 of the best wireless VoIP phone options on the market.
Top 11 wireless VoIP phones
1) Gigaset C530IP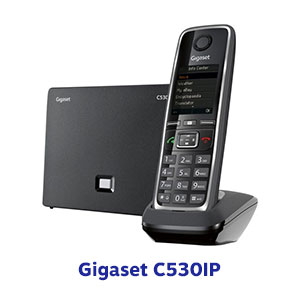 Gigaset C530IP is a hybrid cordless phone that can use DECT and VoIP technologies concurrently.
It's a breeze to set up and start using right away, and it's an ideal option for a small office. You can use it to have up to three calls at the same time without having multiple phone lines — all you need are additional handsets.
You can expand its total capacity to up to six SIP accounts with six different phone numbers so that everyone on your team has access to a reliable phone solution.
Gigaset C530IP: top features
HD voice quality
Hands-free calling thanks to the option to connect a headset to the telephone
Phone book with up to 200 records (including name and surname, three phone numbers, and email), direct download of contacts from your smartphone
Long-lasting battery, so you don't have to recharge often: 14-hour talk time up to 320-hour standby time
Gigaset C530IP: cost + where to buy
---
2) Grandstream DP720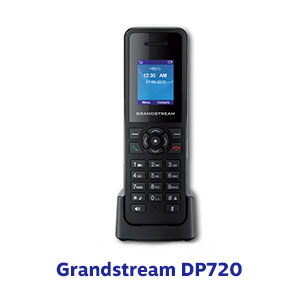 Grandstream DP720 is an excellent DECT solution for businesses of various sizes.
It has an outdoor range of up to 300 meters and an indoor range of 50 meters from the base station. This will give you the flexibility to move during calls, even in larger office spaces.
The DP720 has an easy to navigate menu for effective call management and provides a crisp HD call quality.
Grandstream DP720: top features
Compatible with Grandstream DP750 DECT VoIP base station, which can be paired with up to five handsets, with up to 10 SIP accounts per handset
Three-way conferencing, which makes remote team communication extremely easy
Advanced telephony features such as call forward, call waiting, call transfer, do not disturb, and message waiting indicator
Zero config if used with Grandstream's UCM series of IP PBXs
Grandstream DP720: cost + where to buy
Related: Telecommuting Technology: The Essentials for Remote Work
---
3) Cisco SPA525G2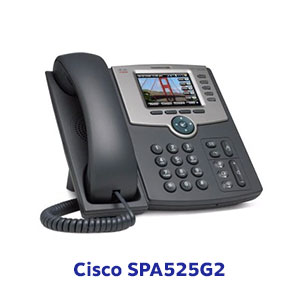 Cisco SPA525G2 is a powerful phone option for your wireless network solution. It's preconfigured and instantly recognized by your network. You don't need to spend hours or days on setting it up every time you add a new employee or move locations.
Use Bluetooth to integrate it with your mobile phone and make and receive calls, import contacts, and charge your cell phone.
The SPA525G2 includes five active phone lines, which makes it easy to adjust to your business needs. You can configure each one to have a virtual phone number or extension. Alternatively, you can have a shared number assigned to multiple phones.
Cisco SPA525G2: top features
Enhanced network connectivity with optional Power over Ethernet (PoE), Wi-Fi client, and Bluetooth headset support
Support for productivity applications directly on the phone, as well as multimedia functions such as viewing RSS feeds and displaying digital photos
Support for Cisco SPA500S Expansion Modules, which are 32 programmable buttons you can install to the side of the phone for simplified dialing and call transfers
Cisco SPA525G2: cost + where to buy
Related: Hand-Picked for You: 10 Best VoIP Conference Phones
---
4) Snom 3098 M9R

Snom 3098 M9R is a DECT phone that's perfectly configurable to your phone system needs.
Its access point covers about 50 meters indoors and 300 meters outdoors. Because it uses a dedicated DECT frequency band, it makes your phone calls clear and free of interference.
Snom 3098 M9R makes getting started simple and straightforward thanks to its preconfigured PBX profiles.
This means you can start making VoIP calls right away. You can have up to four concurrent calls and register up to nine handsets.
Snom 3098 M9R: top features
Expandable to larger coverage with the help of a DECT repeater that extends the signal coverage
A modern solution for both mobility and accessibility: color picture caller ID, address book, calendar, and 100+ hours of standby time
Great potential for future enhancements thanks to the USB interface and the large flash memory
Snom 3098 M9R: cost + where to buy
Related: VoIP Cost Breakdown: How Much Should You Actually Spend?
---
5) Spectralink 8440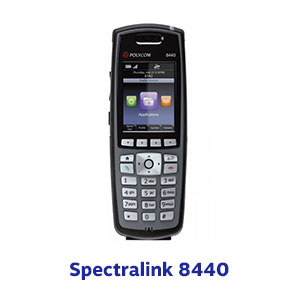 Spectralink 8440 is a Wi-Fi phone particularly useful for employees and teams working on-site. It's ideal for connecting quickly and efficiently with coworkers and customers, such as in retail, hospitality, healthcare, and manufacturing.
This handset is durable and reliable. It delivers superior voice quality and offers two battery capacity options: standard (with 8 hours talk time and 80 hours standby time) and enhanced (with 12 hours talk time and 120 hours standby time).
It also has an LED indicator for incoming calls and new voicemail messages, as well as for out-of-Wi-Fi network coverage issues.
Spectralink 8440 is an outstanding solution for enterprise-grade communication in dynamic environments.
Spectralink 8440: top features
Up to six telephone line appearances
Advanced call management features: call hold/resume, last call return, call transfer, group call pickup, call waiting, multiple calls per line, caller ID, conditional call forwarding
Three-way conferencing for efficient team coordination
Spectralink 8440: cost + where to buy
---
6) Grandstream GXV3240

Grandstream GXV3240 is a modern, multimedia VoIP phone with integrated Wi-Fi. It combines multimedia communication that any fast-growing company can benefit from.
Aside from powerful audio calls, you can also use the GXV3240 for video calls. Not only that — you can have up to a six-way audio conference and three-way video conferencing.
Because it uses the Android platform, you can transfer calls to and from Android phones. It's an incredibly flexible multimedia workstation, giving you the benefits of a desk phone and tablet in a single hybrid solution.
All you need to make the most of it is a Wi-Fi connection.
Grandstream GXV3240: top features
Android operating system, which means you can use the Google Play store and benefit from business apps like Skype and many others directly from your phone
Massive capacity for connectivity: Bluetooth for headsets and pairing mobile devices, USB port, SD card slot, mini-HDMI output for connection to TV monitor, and more
Phone book with up to 1,000 contacts and call history with up to 1,000 records
Grandstream GXV3240: cost + where to buy
---
7) Grandstream WP810

Grandstream WP810 is another option designed for the mobility and durability requirements of logistics, retail, medical, and security markets.
It offers a coverage range of up to 100 meters and supports up to 200 devices. Thanks to a dual-band Wi-Fi radio and advanced antenna design, you can still enjoy clear and stable phone calls even when moving around a lot.
You can add two SIP accounts and two telephone lines. Whether you're in a retail store, hospital, office, warehouse, or a hotel, this phone will let you be as flexible as you need to be.
Grandstream WP810: top features
High-quality audio thanks to the dual microphone design and the HD voice technology
Easy hands-free communication with either the built-in speakerphone or a headset you can connect with a 3.5mm audio jack
Up to six hours of talk time and 120 hours of standby time, despite only being 120g in weight
Grandstream WP810: cost + where to buy
---
8) VTech VDP658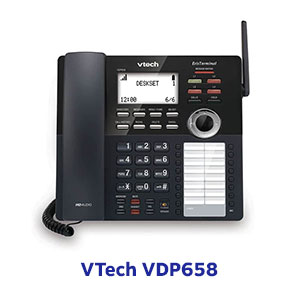 VTech VDP658 is a wireless DECT phone. It connects to a VTech VDP650 base station, so it doesn't require an ethernet cable to operate.
This base station is a DECT-enabled IP base station that can connect cordless handsets at a range of up to 500 feet. Each of the VDP658 phones (you can connect up to 10!) can have its extension and a unique phone number.
This phone gives you up to nine hours of talk time and a week on standby. Because it's a DECT phone, it won't interfere with your Wi-Fi signal and interrupt your other business communication channels.
The VDP658 can be paired with the base station easily, and users can set up their phone systems in minutes.
VTech VDP658: top features
HD voice for both the receiver and speakerphone
You can answer, hold, and resume calls on any phone at the touch of a button because the VDP650 base station handles the SCA lines locally
Flexible call management through programmable backlit line keys (for example, one button hold-and-resume from any cordless handset or desk set)
VTech VDP658: cost + where to buy
---
9) VTech VDP651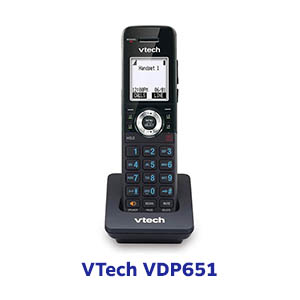 VTech VDP651 is another option you can use with the base station VTech VDP650, as mentioned above.
Unlike the VDP658 wireless phone that mimics the look and functionality of a desk phone, this VDP651 phone is a simple cordless handset that will take up less space on your desk.
This phone is one of the easiest and cost-effective ways to add mobility to your business. You can add up to 10 of these handsets to each of the base stations, and each one can have its extension and unique phone number.
Four programmable LED-backlit keys make call handling simple. The handset can be programmed with up to seven dedicated feature keys for convenient access.
VTech VDP651: top features
Three-way conferencing and multi-line support
Up to seven hours of talk time and a week of standby time
Full-duplex speakerphone with HD voice quality
VTech VDP651: cost + where to buy
---
10) Panasonic KX-TGP600 SIP Cordless Phone System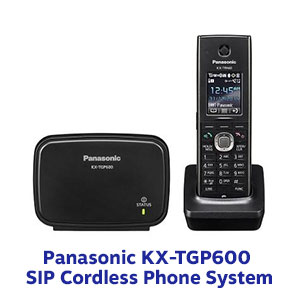 Panasonic KX-TGP600 is a DECT phone system solution that consists of a base station and a handset.
It's easy to set up and manage, with as many as eight DECT wireless handsets or desk phones you can add to the system. Users can have up to eight unique phone numbers.
This is another great solution for dynamic businesses, as the phone can hold up to 500 contacts in its phone book.
There's no need to ever worry about phone calls as you move around the office — you'll have 11 hours of talk time and close to 200 hours of standby time.
The KX-TGP600 supports three-way conferencing so you can easily run remote team meetings and serve your customers well.
Panasonic KX-TGP600: top features
The base can be wall-mounted for a practical setup without messy bundles of cables
You can choose from two maintenance methods: local management with the base unit, or service provider management
Run up to eight concurrent calls
Great area coverage with the base station, which you can expand if needed by installing up to six additional repeaters
Panasonic KX-TGP600: cost + where to buy
---
11) RTX8660 IP DECT Base Station + RTX8630 Handset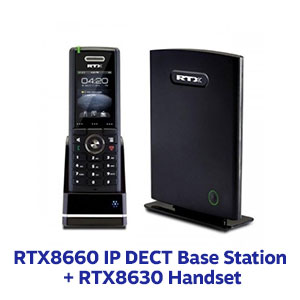 This solution is a combination of a DECT base station, RTX8660, and the RTX8630 cordless handset.
You can use up to 40 of these bases to build a larger phone system to support up to 200 users. Even if your space is particularly large, you can ensure a strong enough signal with repeaters.
It's easy to set up and maintain this solution with features like over-the-air synchronization and support software you can download to wireless terminals.
The RTX8660 base station is also compatible with RTX8830 and RTX8430 handsets.
RTX8660 + RTX8630: top features
Wideband voice that ensures clear, quality voice calls
2-inch LED color display that's easy to use and gives quick access to your local phone book where you can add up to 100 entries
Up to 18 hours of talk time and up to 200 hours of standby time
RTX8660 + RTX8630: cost + where to buy
Related: PBX vs VoIP: 26 Top Differences to Know Before You Buy
---
What's the difference between DECT and Wi-Fi phones?
VoIP phones use your internet connection to make calls, as opposed to using a local telephone company and copper wires like traditional phones do.
As you know by now, some of them do it wirelessly. This means your phone can sit on your desk or be mounted to a wall with no cables running to and from it.
This is possible in one of two ways:
Digital Enhanced Cordless Telecommunications (DECT for short), which works like a local cellular network specifically designed to transmit voice
Wi-Fi, which uses your existing internet service and connection
With Wi-Fi, the phone simply connects to the internet and uses that connection to run your VoIP phone system.
DECT is a standalone system that includes a DECT base station and a wireless handset. In this case, you can think of the base station as the router used only for the phone. It doesn't interfere with your Wi-Fi network, keeping it free for other communication channels.
Both options are common in wireless VoIP phones, and our list includes them. Let's dive in!
How to choose the best wireless VoIP phone
Before you choose your final wireless VoIP phone, here are a few things to review:
Your budget
The most important call features and the option to add more
Your team size and its potential to grow
The range you want your cordless phones to cover
If the options we provided above don't fit your business needs, Prince Rich from Rich Technology Group compiled his top three cordless IP phones in the video below:
If you want to lower the cost of your phone system, implement it fast, and enjoy its rich features, you're ready to move your phone system to the cloud. We can help with that, so be sure to reach out!