In October 2021, Twilio announced that it would be sunsetting the Zipwhip brand and its SMS platform and if nothing is done, all text history, functionality, and contacts would be permanently lost and erased.
Since Zipwhip is no longer accepting new customers, their 30,000 estimated customers who depend on the platform—and perhaps your team—will be in a dilemma in late 2022.
With Twilio shutting down text messaging services, small and medium-sized enterprises will want to turn to a trustworthy business text messaging tool. 
A better alternative is here.
NextivaONE empowers you to send business text messages from your PC, laptop, tablet, or phone. So, instead of relying on only a smartphone app, you can now send business text messages right from your browser or desktop app with ease.
And yes, Nextiva helps companies send and receive VoIP SMS messages from their phone numbers.
When you're ready to move beyond voice and text messaging, Nextiva's got you covered.
Keep communication flowing with NextivaONE.
With NextivaONE, your company has access to a variety of messaging features that make it super easy to reach out and engage with customers. NextivaONE includes customizable SMS, email surveys, smart automated workflows, intelligent reporting, and more – all from one user-friendly platform. And that's just the beginning!
Consolidate all team and customer communications into a single platform to streamline information sharing, team collaboration, and communication. Doing so will help your company maintain a complete view of every customer interaction.
NextivaONE Is More Than an Affordable Business Text Messaging Service
Use one platform to communicate with customers using their preferred methods, including phone, SMS, chat, and email.
Improve team efficiency and information sharing with centralized document sharing
Send surveys to customers automatically after each interaction to gather feedback.
Strengthen your ties with customers by sharing customer conversations and notes across the organization.
Save money and reduce the number of applications needed to complete your work.
Simplify tasks with enterprise-grade workflow automation features
Top 3 Features for Business Owners to Love About NextivaONE:
1. Threaded Conversations
With the help of our Threaded Conversations functionality, you can start a conversation with a customer and view all of their interactions in one spot. Voicemail transcripts, surveys, emails, texts, calls, texts, and notes from your calls are all threaded together into a steady flow.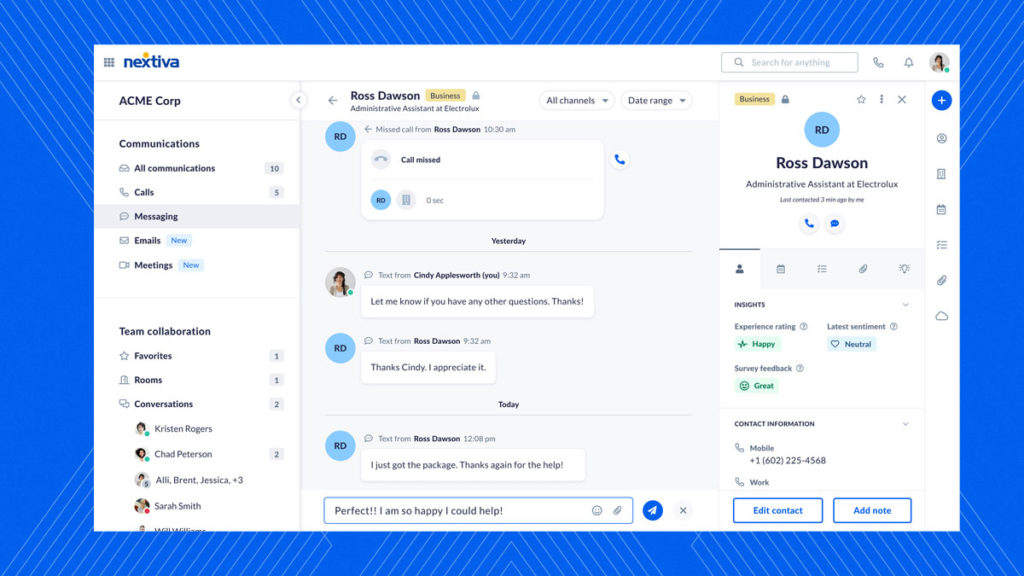 Imagine being able to find all of your customer contacts in one place – regardless of whether they call, text, email, or leave a voicemail for you. Businesses can have a single conversation across all channels – no more switching between email, Slack, Zoom, Asana, and other applications to do your work.
With just one tool, our new software can help businesses of any size increase team productivity and create remarkable, engaging customer experiences. There will be no more obstacles or product silos, just the ability to finish your work swiftly.

2. Voicemail Transcriptions
Read and respond to voicemails with the ease of text messages. With Nextiva's voicemail transcription, you don't need to turn off your music to read that voicemail. It's available in text format right inside the threaded conversation. Respond immediately by text message without skipping a beat or hopping off that other call you are on.
3. Call Pop
Call pop is a software functionality that instantly displays caller information on your screen when a caller calls in. Before you even pick up the phone, you can see who is calling and vital information from their profile, including their most recent sentiment score.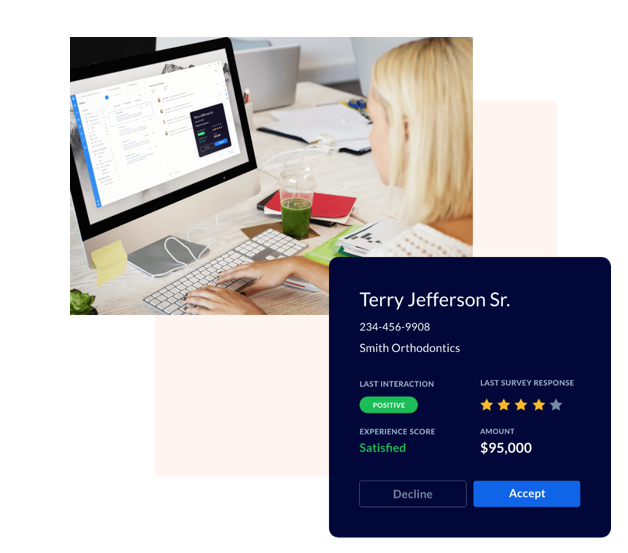 Keep Communication Flowing With NextivaONE
With Nextiva's proven cloud phone system, your whole team has access to the resources required to serve customers and boost productivity. It's now only a matter of saving your business contacts, taking thorough meeting notes in the customer profile, and making phone calls.
Are you ready to streamline your customer records? Talk to one of our experts to get started today.