Gamification is the new strategy for motivating salespeople, maximizing their enhanced productivity, and fostering employee satisfaction. Besides, research has shown that gamification can promote behavioral changes — a 2022 study showed that 89% of employees would feel more engaged in the workplace if there were gamified activities. However, only a small number of businesses have successfully integrated this novel approach into their sales team and reaped its benefits. 
Gamification can motivate, connect, and incentivize sales teams to work more effectively. And improved sales team performance correlates with a more productive workplace and higher revenue for your company.
In this post, we'll focus on the advantages of sales gamification and how you can use gamification to improve your team's performance.
What Is Gamification in Business?
Gamification is a way of turning a daily process into a game, such as introducing competition, scoring points for a particular successful task or action, ratings, "leveling-up," etc. The aim of these gamification techniques is to boost participant involvement, motivate people to accomplish goals, and ultimately improve employee satisfaction.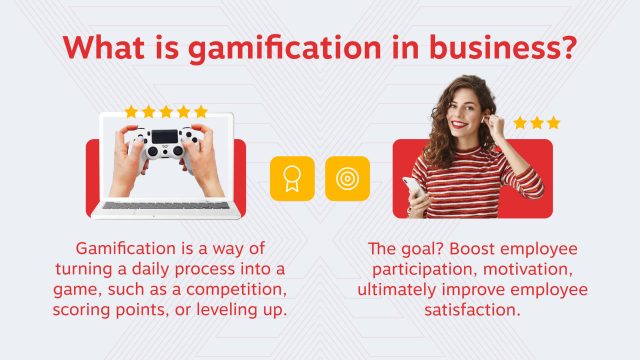 The word "gamification" was first introduced in 2008 and became popular just after two years. Today, lots of renowned companies like United Airlines, SAP, IBM, GE, McDonald's, FedEx, Nike, Microsoft, and many others employ gamification to boost performance.
Tools used in game design like "leveling-up," rewarding users for accomplishments, and earning badges are brought into the real world to help motivate employees to reach their goals or boost performance.
Gamifying the whole sales process is a fantastic strategy to maintain workplace motivation. Real-time leaderboards, internal competitions, and badges are just a few gamification tools that can boost engagement in channel or sales incentive programs.
By integrating gamification into your strategy, you can detect the top percentage of your sales team's inefficiency or efficiency, weak spots, and obstacles. Then, you can act quickly to address these issues while also recognizing high-performing team members. It's crucial to remember that this program or solution ought to be incorporated into your CRM platform.
Sales Gamification Ideas
There are many ways to motivate employees; these methods don't always entail rewards. Some of your sales representatives will be pleased with just being recognized for their hard work, while some thrive on small gifts or receiving praise from their coworkers.
The following six sales gamification ideas can be used to create a gamification technique that will encourage your team members and produce the desired results.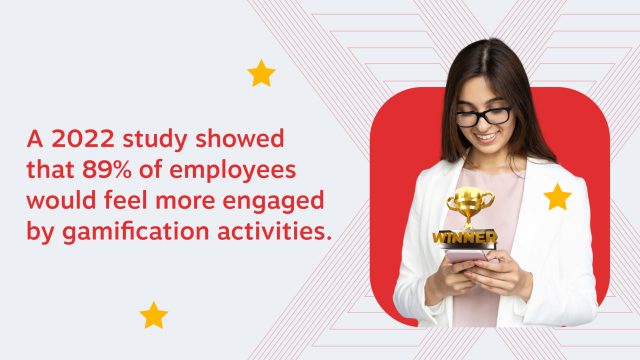 6 ways to use gamification to motivate your team
1. Leaderboards
Leaderboards are a great gamification idea because they are simple to use and are easily understood by everyone. Besides, they complement contests wonderfully as a sales gamification tool and help to improve employee satisfaction! You can create a sales competition based on the KPI you want to hit and showcase the winners on a podium.
To make this method successful, you should display your leaderboards where they can be seen by everyone.
2. Badges
People cherish recognition and desire what they are unable to get. Badges appeal to each of these fundamental desires – like the adult equivalent of scouting badges or stickers. To make things more effective, ensure you award badges only in recognition of progress or mastery.
3. Establish Instant Notifications
Every time someone hits a target, give immediate honor by displaying instant notifications on TV screens, computers, and smartphones. By doing this, you stimulate your reps' desire for recognition, fuel their competitive drive, and enable everyone to share in each other's successes – thereby improving employee satisfaction.
4. Team Sales Contests
All the team members compete against one another in team sales contests. The reps are competing here depending on the number of leads they generate each month. By using conditional colors, it is easy for everyone to see who has accomplished their goals and how far they still have to go before catching up.
5. Head-to-Head Sales Contests
In a head-to-head sales contest, one member of a team dares another to a duel. For example, it could be based on a KPI, such as who answers the most calls. Just keep in mind that rewards don't always have to be material things. Prizes like getting extra leave in a year or the opportunity to leave early on Wednesdays for one month can also be enjoyable and powerful motivators.
6. Flash Challenges
Challenges are a fun approach to encourage immediate action because they are less intense than sales contests. For instance, if energy is lagging on Friday, you can announce a flash challenge like who sends the most emails or makes the most calls wins Monday afternoon off.
Again, if you observe a decline in demos, announce a weekly contest wherein every rep who completes a particular number of demo bookings in a single day wins a prize; allow a single rep to win numerous times and watch how their numbers will skyrocket. The goal is to ensure boosting in performance while also improving employee satisfaction.
How to create a custom leaderboard with Nextiva's analytics dashboard
To create and display gamification leaderboards with Nextiva Voice Analytics, visit nextiva.com, and click Client Login to log in.
If logging in from Nextiva Voice (purchased before Dec 2020), select Voice > Analytics.
Select Communication > Phone System > Voice Overview > Go to Analytics while logging in from NextOS (bought after Dec 2020).
Click the Monitor tile on the Nextiva Voice Analytics Home Page or select Monitoring from the top menu.
On the Gamification tab, customize the leaderboard thus:
Select the time frame that you want.
Click to switch real-time data ON (blue) or OFF (gray).
Click the Slider icon to open the configurator.
Pop out the leaderboard to view it in a separate tab or window.
The configurator's leaderboard settings is made up of six tabs, including Board Type, Board Theme, Metrics, Filter Type, Filters, and Per Page.
On the Board Type tab, select the desired format to display the information.
The configurator's leaderboard settings is made up of six tabs, including Board Type, Board Theme, Metrics, Filter Type, Filters, and Per Page.
On the Board Type tab, select the desired format to display the information.
From the Board Theme menu, select the leaderboard's preferred theme.
Select the quantitative measurement to show on the leaderboard from the Metrics tab.
On the Filter Type tab, determine the competitor type.
Use the filters tab to choose which specific competitors to display on the leaderboard
Determine how many top or bottom performers to display Per Page of the leaderboard.
Ready to try gamification?
Incorporating gamification into the sales process is a fantastic way to motivate your team and grow your business. It enables you to encourage and reward the entire team and help employees add excitement to their work.
If you're already handling significant call volume and want to try gamification, try Nextiva's built-in analytics feature. It monitors your call center's operations, as well as survey responses from your employees and customers. The data it collects and delivers aids in trend analysis, better business decisions, team and agent performance measurement, future business result prediction, and sales growth.
Its impressive features include an easy-to-use custom report, dashboard, wallboard creation, and users' access to real-time and historical data. So, don't hold off. Talk to one of our experts about how to integrate gamification tools into your company today.