A recent survey shows that post-COVID-19, 59% of consumers will care even more about the customer experience than they did in the times before the pandemic when deciding which companies to support or buy from.
With this in mind, it's up to your team to figure out how to cater to customers in a way that shows them you care. Below are five business New Year's resolutions that make you stand out:
Resolution #1: Use AI for an improved user experience (UX)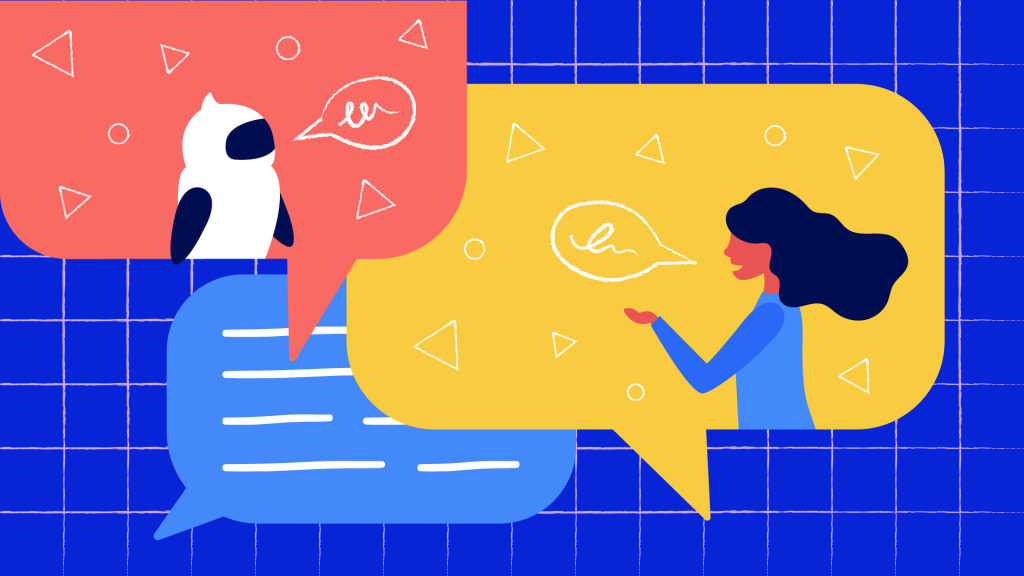 The first New Year's resolution businesses need to carry out is to level up their customer experience with artificial intelligence.
A huge component of the customer experience is rooted in the user experience your business provides. This can range from the quality of accessibility on your website; the ease of access in finding widgets, support buttons, and add-ons; and the length of time it takes for your customer support team to respond to customer queries.

Because we're only human, it's important to find ways to take some of the stress off your support team members while still providing the best customer and user experience for your clients. One way is by implementing artificial intelligence (AI) into your customer service strategy to help enhance the customer experience you provide to users.
Let's explore a few methods for integrating AI as part of your enhanced customer service strategy:
For starters, you can use Unified Communications to address customer queries within one sleek, unified platform. That way, if multiple calls come in at one time, they'll be routed to the right support people without a long waiting period.
Besides that, when your support team is offline, make sure to implement a gateway for round-the-clock support via automated replies to assist customers with technical issues. You can program a chatbot to walk through steps with a customer, where each subsequent step is triggered by a series of yes or no, this or that-type questions.
Even if this doesn't fully resolve your customer's problem, it eliminates the need for a human support agent to repeat the steps with the customer at a later time. This functionality provides faster resolutions to queries while simultaneously reducing overhead for frontline agents.
Messaging via AI aligns chatbots and human agents to work in tandem, relieving pressure on your smaller human fleet of support agents. By using conversational AI to triage issues, route customers, and even answer routine questions, such as simplified FAQs, you free human support agents to focus on the higher-level issues that need a more skilled, nuanced thinker at the helm.
Essentially, bots handle simple queries while human agents take on complex ones. That way, you're focusing on resolving low-level issues in the absence of a human support agent while prioritizing high-pressure situations that need more immediate, specified attention to an agent who can walk through helping someone in real time.
Resolution #2: Use omnichannel to enhance business communication
Something many brands struggle with isn't just keeping up with communication across multiple channels – it's keeping up with consistent messaging, information, and processes across the board.
Depending on the size of your business, you may have multiple people managing different communication methods and platforms: someone who handles email, another who manages LinkedIn and Twitter, someone ELSE who manages Instagram and Facebook, and a different person who manages live chat and chatbots on your homepage.
With all of these proverbial chefs in the kitchen, there are bound to be hiccups in how communication styles, messaging, and language are used company-wide on different platforms. To remedy this issue before it gets out of hand, integrate all of your customer touchpoints (social channels, email correspondence, web-based chat) to deliver a seamless, consistent experience across a variety of communication channels.
Your messaging, action plans, answers to standard questions, quality of responses, and response times should be uniform regardless of the platform someone communicates to your team on.
Because customers want to be able to communicate with your brand immediately on their preferred channels, you need to make sure that the experience you provide them will feel the same whether they DM your company's Twitter page or send a formal email along with a request for a video conference. Both support and assistance requests are valid and should be treated equally as important.
Resolution #3: Use data to create personalized experiences
Unfortunately, many business leaders think that personalization is as simple as adding a prospect or customer's first name to a subject line in an email. But this business New Year's resolution is so much more than that.
Doing something basic like adding someone's name to marketing materials isn't going to woo a prospect or wow a customer; at this point, it's expected. In fact, 63% of customers expect personalization as a standard. This figure applies to all touchpoints, and companies that fail to meet this expectation risk losing customers to their competitors.
So instead of relying on tired, simplistic personalization measures, make sure to continuously capture customer data throughout their journey, and use those insights to optimize and provide tailored, individualized customer service to help you get to know your customers better.
If a customer is browsing your site, activate the chatbot to ask for their name, email address, and basic demographic information from them to help custom-tailor their shopping experience. This is an easy way to derive information like what they're looking for, why they're on your site, and how your solution, products, or services can help.
If you notice a potential customer getting ready to exit or navigate away, use a last-ditch effort of a final pop-up on the home screen to see if they'll stay or be willing to enter contact information so someone from your team can reach out later. These small moves toward better personalization will provide an enhanced customer buying experience.
Resolution #4: Offer real-time support
While we do advocate for using a chatbot on your website (because you can't afford to not have one today), you shouldn't rely on them as your only means of customer support. You need to diversify ways to support your customers beyond what they're already expecting. But that goes for all of the most expected support types: phone support, chatbots, and email support. These are expected, anticipated – and, by some estimates, a little outdated.
However, because people communicate best in different ways: some verbally, others in writing, and yet others face-to-face, you need to offer vast and alternate forms of real-time support to accommodate your customers' unique needs.
For instance, using a VoIP phone system opens the door for support offerings such as video chat and live chat, going beyond a typical phone support conversation. These are some of the best ways to guide customers with their queries and walk them through the services you offer while providing real-time assistance. People don't want to – and shouldn't have to – wait 24 to 72 hours to get helped via email.
Offering a variety of support options helps build trust and customer loyalty, as well as provides more accessible options for those who either prefer or may need specific forms of support communication to suit their needs.
Even so, leaving the tried and true call or email methods might be someone's preferred form of communication. Regardless, you give those who have different needs and preferences an opportunity to find support in the way that works best for them.
Resolution #5: Give customers the option for self-service
While it's true that some customers prefer chatting with sales or support representatives, not everyone is keen on contacting the customer service team. They want to find answers on their own without going through the hassle of reaching out to somebody else. Since your goal is to commit to providing an unbeatable customer experience, this means giving your customers the luxury of choice and self-guided assistance.
To put the control back into your customers' hands, provide them the option of self-service support or knowledge bases that can help them solve problems on their own.
A knowledge base about your products, pricing, services, and offerings could consist of a hub of comprehensive articles on specific niche topics, how-to posts surrounding the usage of your products/services, and video tutorials to educate customers about what you can offer.
Letting people learn independently and absorb as much information as they choose is the best way to return the power of choice to prospective buyers. Then, when they're ready to chat further with a representative, they might even be well-informed to the point that they ask valuable questions beyond the basic FAQs you're used to answering.
Self-service options open up a world of possibilities regarding customer choice. The more time you give customers to learn on their own before being approached by a salesperson, the better. It helps reduce the back and forth between your sales team and your support team and provides a better customer experience all around.
Narrowing your focus for the new year
Heading into the new year can be overwhelming, especially for businesses with such high growth expectations. Focusing on your customers and putting them at the forefront of your New Year's resolutions allows you to narrow your focus and improve execution.
In addition to putting customers first, be sure to take time for training to brush up on your customer service skills. Support expectations are rising. Customers expect issues to be resolved faster and more efficiently, so your support team's skills need to be able to meet the demand.
Apply these New Year's resolutions to your business any time of the year, and you'll attract more profitable customers.