A shiny new year is the perfect time to review the past and plan the future. It's natural to focus on ways to improve your bottom line through better monetary practices and operating efficiencies. But, enhancing the customer experience is a key money-maker, too. Whether you call them New Year's resolutions or strategic planning, here are 5 goals that can help customers throughout the new year.
Resolution #1. Provide the right choices
Every purchase made by your customers is a choice, and they make those choices based on their unique interests and needs. Can your business offer more options to your current customer base and to the new ones that you want to attract?
How and where they shop is certainly an important choice. If you now cater to older customers while wanting to attract millennials, who look for shopping efficiency, then resolve to beef up the online shopping experience. You will make money while your new customers wear PJs and fuzzy slippers while shopping.
And, if those technology-savvy millennials visit your store in person, they probably want speedier checkout, so resolve to provide enough self-service stations in your store. But, be sure to balance their needs with those of older customers who still prefer human assistance.
The right mix of product choices makes a notable difference, too. Resolving to add good quality, mid-priced offerings to your current product line might provide the choices that remain attractive to your customary high-end shoppers, while enticing a broader range of shoppers through your door.
Resolution #2. Improve communication
You may be asking customers the right questions, but how do you respond to their answers? Communication is a two-way street and the answers are as important as the questions. Common example: asking customers if they found what they were looking for is not enough when the customer's answer is "no". Resolve to investigate current practices so that you can fix areas in need of improvement.
Keep in mind that communication between customer-facing employees is also vital. If customers have to repeat themselves when talking to multiple representatives, then this is the time to look into your online systems and practices. Resolving to ensure that employees properly communicate with each other helps to drive a seamless customer support experience.
Resolution #3. Increase employee involvement
Visit a Trader Joe's store and you have a pretty good idea of what employee involvement looks like to customers. Involved employees are knowledgeable and enthusiastic. They naturally enhance the customer experience because their knowledge of the company and its products helps the customer, and their happiness makes it fun to ask for help.
Resolve to encourage employees to learn more about your products or services. If you can make involvement fun (product trivia games, anyone?) all the better. Of course, if your resolution includes offering some form of employee stock ownership, so much the better.
Resolution #4. Pay more attention to data
Sales data tells you when to order more widgets, but you lose out when it serves no other purpose. Certainly every online order tells you a great deal about each shopper if you pay attention. Resolve to identify new ways to use the data that you already have to get to know your customers better. If you can use new-found familiarity to suggest items of interest before checkout or to personalize advertising, you will increase sales, while showing that you care.
Resolution #5. Remove the time clock from customer service
Package delivery services might do well by timing every second of truck-to-door delivery, but let's be real; your customers don't want to feel rushed when you serve them. If you currently rate your customer service reps based on number of calls per day, then it's time for another New Year's resolution. For happier customers, throw away the time clock and focus on quality service in the new year.
You can beat resolution statistics
You've probably seen statistics warning that only about 8 percent of New Year's resolutions may succeed for individuals. News flash: businesses are not individuals. The resolutions described here are important to your customers — and to your bottom line.
By all means, follow traditional advice; add target dates to your resolutions and develop detailed plans that you can implement to meet your goals. And, even before you buy your noisemakers and champagne, take out your smart phone, tablet or even an old-fashioned note pad. You have some New Year's resolutions to make!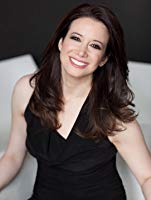 Carol Roth is a radio host on WGN, a CNBC TV contributor, a 'recovering' investment banker & a bestselling author of The Entrepreneur Equation. You can find her on Twitter @CarolJSRoth or at www.CarolRoth.com. She also has an action figure made in her likeness.