Trusted by
150,000+

SMBs and Enterprises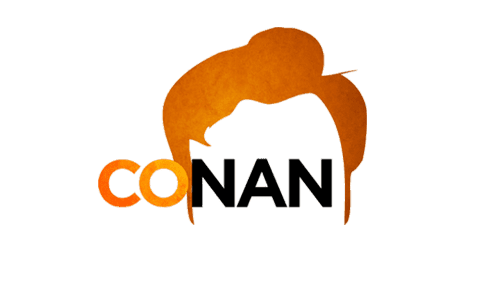 Find the right phone service plan for your business
ALL THE BASICS
Office Pro
---
As low as
$
19.95
PREPAY
36 month agreement
1-4 users
5-19 users
20-99 users
100+ users
$34.95/mo
$29.95/mo
$24.95/mo
$21.95/mo
$32.95/mo
$27.95/mo
$22.95/mo
$19.95/mo
$30.95/mo
$25.95/mo
$20.95/mo
$19.95/mo
Per Month
---
Cloud PBX
Free Number Porting
Advanced Call Management
Unlimited Calling
Free Local Number
Free Toll Free Number
All Office Pro features
Voicemail to Email
Unlimited Virtual Faxing
Shared Call Appearance
HD Music on Hold
Voicemail to Text*
Barge In
*Voicemail to Text is $2.95 per line
MOST POPULAR
Office Pro Plus
---
As low as
$20.95
PRO PLUS
36 month agreement
PREPAY
36 month agreement
1-4 users
5-19 users
20-99 users
100+ users
$37.95/mo
$32.95/mo
$27.95/mo
$24.95/mo
$35.95/mo
$30.95/mo
$25.95/mo
$22.95/mo
$33.95/mo
$28.95/mo
$23.95/mo
$20.95/mo
Per Month
---
Professionally Recorded Greeting (1)
Call Me Now
Conference Bridge
Nextiva Mobile App
Team Presence
Text Messaging
+ All Office Pro features
Cloud PBX
Free Number Porting
Advanced Call Management
Unlimited Calling
Free Local Number
Free Toll Free Number
Voicemail to Email
Unlimited Virtual Faxing
Shared Call Appearance
HD Music on Hold
Voicemail to Text*
Barge In
Get Started
*Voicemail to Text is $2.95 per line
FULLY LOADED
Office Enterprise
---
As low as
$27.95
ENTERPRISE
Month to month
ENTERPRISE
36 month agreement
PREPAY
36 month agreement
1-4 users
5-19 users
20-99 users
100+ users
$44.95/mo
$39.95/mo
$34.95/mo
$31.95/mo
$42.95/mo
$37.95/mo
$32.95/mo
$29.95/mo
$40.95/mo
$35.95/mo
$30.95/mo
$27.95/mo
Per Month
---
Professionally Recorded Greeting (3)
Call Recording
Nextiva Anywhere
Unlimited Calling
Free Local Number
Free Toll Free Number
+ All Office Pro Plus features
Text Messaging
Call Me Now
Conference Bridge
Nextiva Mobile App
Team Presence
Cloud PBX
Free Number Porting
Advanced Call Management
Voicemail to Email
Unlimited Virtual Faxing
Shared Call Appearance
HD Music on Hold
Voicemail to Text*
Barge In
Get Started
*Voicemail to Text is $2.95 per line
Business Phone Service Features
Auto Attendant
Instant automated greeting that lets callers choose the person or department they are trying to reach
Text Messaging
Manage teams and employees by sending and receiving business text messages through the Nextiva app
Nextiva App
Stay connected with your customers, employees, and partners directly from your mobile device - no matter where you are
Voicemail to Email
Access your voicemail messages from a single source, your email account, from anywhere your business takes you
Call Queuing
Organize employees, teams, and departments into queues so that callers will be routed to the next available company representative in the selected queue
Unlimited Calling
No per-minute charges or limits when you place calls in the United States, Canada and Puerto Rico
Benefits
Scalability

Reliability

Low Cost

Cloud-Based

Amazing Service
Modify your preferences and toggle features in minutes. Don't compromise on scale or flexibility.
Always stay connected with our highly redundant network. Get a guaranteed 99.999% uptime 24/7.
Slash your current phone bill by almost 50%. Also get add-on features at no extra cost.
Make calls and manage your system from anywhere. Have one system for all your teams.
Receive the best support from our 100% in-house team every step of the way.
More ways to communicate
than ever before
Nextiva lets you choose your preferred communication method to keep in touch with each of your colleagues and clients.
Place a call from any device and it can display as your office number
Engage in one-on-one HD video calls with users across the country
Instant messages and chat rooms give you a convenient text option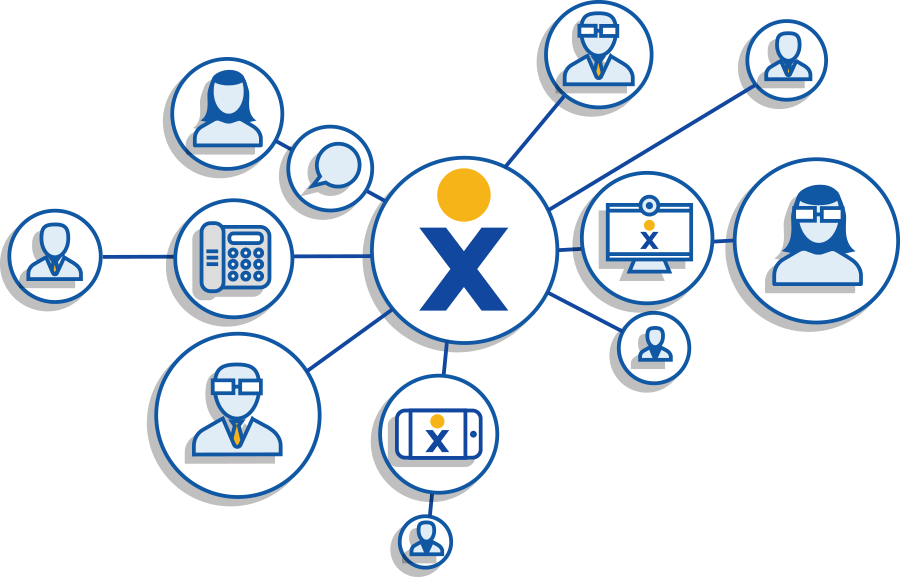 The most reliable
business phone service
Our highly reliable network means 99.999% uptime for your business
8 points of presence across the U.S.
Our carrier-grade data centers provide 99.999% uptime
Our data centers are also SSAE 16 certified and SOC II audited
Support a remote workforce
and virtual employees
Nextiva's business phone system allows you to monitor and modify your employees' communication, regardless of where they are located.
An online control panel allows you to manage calls, employees and locations
Improve employee productivity and efficiently staff your office
Quickly swap and transfer calls between onsite and remote location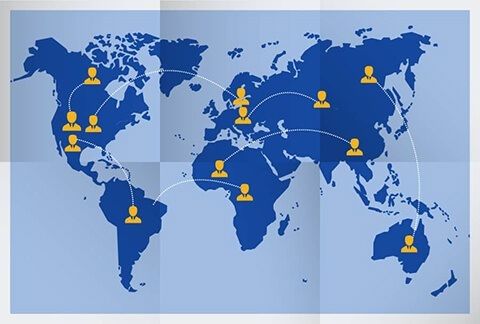 Manage Your Communications from Anywhere
Utilize your business phone system's online dashboard to instantly monitor the pulse of your business throughout the workday.
Manage your dashboard on any Internet browser or mobile device
Identify bottlenecks, availability issues, and employee productivity
Manage all of your incoming and outgoing calls with one simple click
See how Nextiva will transform
the way you communicate.