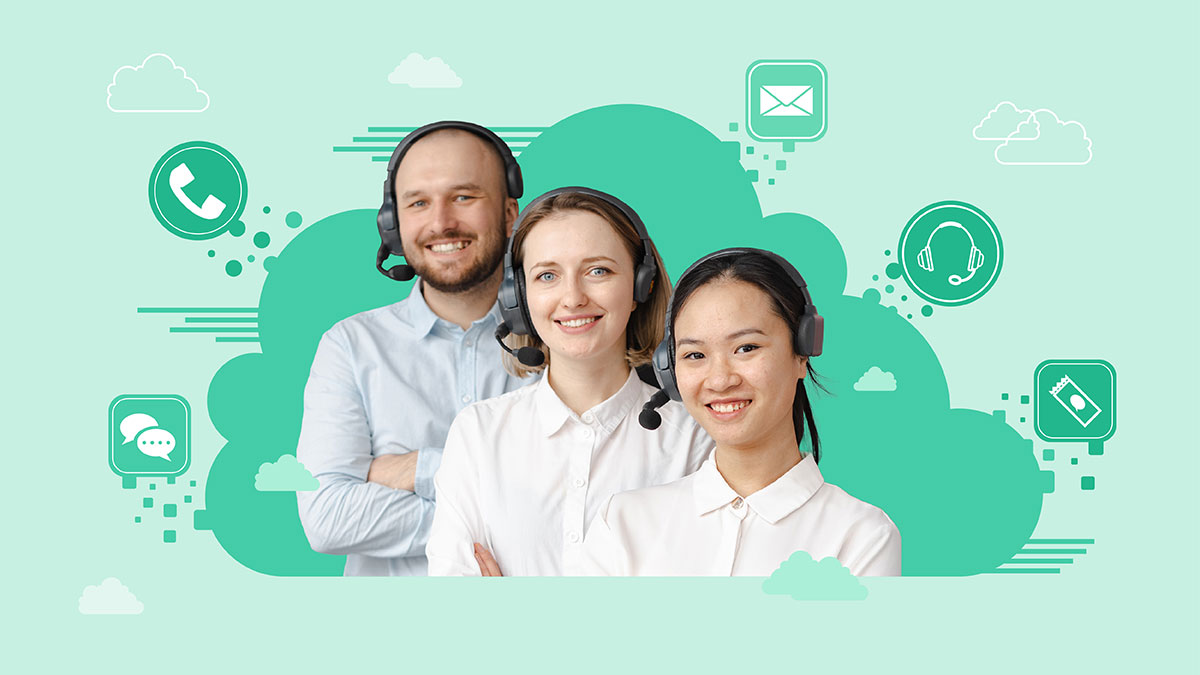 A contact center is a centralized business function that handles incoming and outbound customer communications. Contact centers are omnichannel because they can handle customer calls, email, live chat, SMS, instant messaging, and support tickets.
Cloud contact centers offer the advantages of a traditional, on-premise contact center at a fraction of the cost and allow for easy scaling, improved coordination across teams, and strong business continuity capabilities.
Your contact center is critical to customer experience and can make or break perceptions of your brand. So, it's important to choose the right one and know which features to shop for.
In this article, we'll examine the benefits and features of contact centers and explore why cloud contact center solutions are critical to any business' customer service experience.
8 key features in choosing a contact center
Every business' contact center should grow to reflect the specific nature of their products, services, and customer needs. This section will explore some of the most important features to consider when choosing a cloud contact center provider.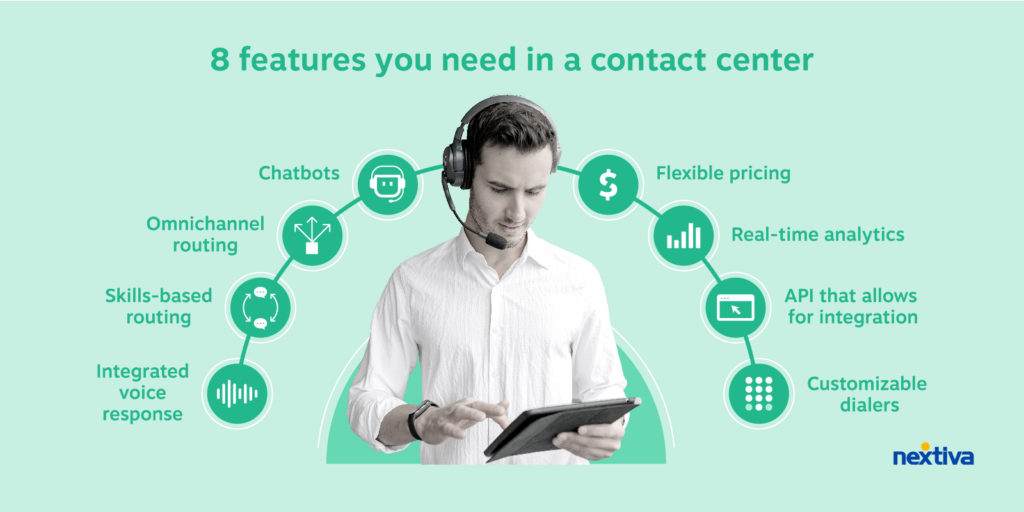 AI-Powered IVR
Interactive voice response (IVR) is an automated technology allowing callers to navigate a phone system with their voice or keypad selections. It allows customers to hear automated recordings that can answer basic questions without needing to speak to a live agent.
Artificial intelligence (AI) is now powering IVR systems to new levels of service and efficiency by allowing customers to speak their questions or concerns naturally. The system evaluates the content and sentiment of their messages in real-time to determine next steps for routing a call.
The results help businesses understand how their customers think and feel about their problems and can drive improvements in documentation, services, and technology. They can also enable more sophisticated levels of service, including skills-based routing.
Skills-Based Routing
Skills-based routing allows a contact center to send incoming calls and problems to the most qualified agents, increasing the likelihood of first-call resolution (FCR) – a key indicator of customer satisfaction.
The variety of skills supported by your system can vary to match your specific company needs.
For example, you may need to provide access to contact center agents who speak multiple languages or who are licensed in complex topics related to your industry – all while reducing caller response time and ensuring quick contact resolution.
Omnichannel Routing
Omnichannel routing ensures that the correct agents are attached to customer needs, regardless of their chosen support channel. Omnichannel routing is a game changer for your business. Not only is it easier for customers to contact you, but it allows your business to more efficiently manage the call flow so the right type of agent gets the call.
With intelligent omnichannel routing, customers can feel equally supported when using any support channel, increasing their satisfaction and engagement.
AI-Powered Chatbots
While the systems above help connect customers to the best agent, companies are turning to AI-powered chatbots to handle first-line support issues.
Natural language processing (NLP) technologies intake a customer's requests and form a response to them that simulates a conversation with a live agent. The results are less formulaic and feel more like a tailored experience, providing a higher level of service even when a call center may be overloaded with requests or closed for the evening/holiday periods.
Flexible Pricing Structure
One of the key benefits of cloud contact centers is scalability. A small-or mid-sized business using a traditional contact center would have to increase hiring and technology spending, or reduce call response times if faced with a sudden surge in call volume.
With a flexible pricing structure, your business can adjust quickly to busy periods without carrying excess infrastructure and technology costs during slow periods.
Real-Time Reporting & Analytics
Cloud contact centers generate real-time reporting and analytics to give agents, supervisors, and other teams a full view of contact activity. A powerful dashboard system can supercharge a contact center supervisor's effectiveness by helping them identify and respond to areas needing attention in real-time.
Public API for Quick Integration
Cloud contact centers are the core of your organization's customer service operations, but many enterprises will look to integrate their contact center with other core technologies.
Your cloud contact center should offer a powerful API that lets you integrate with your chosen CRMs, account/invoice management, business intelligence, and other tools. This ensures that your entire system functions as a single technological enterprise and can be critical for capturing and assessing the complete data picture of your customers and their needs.
Customizable Dialers
Customizable dialers are an essential part of a cloud contact center because they provide your agents with a tool for handling outbound calls automatically.
An automatic call system can save your callers a host of repetitive tasks, maximizing the number of customers your agents can reach and allowing them to focus on providing top service.
Making a Cloud Contact Center Work for Your Business
Cloud contact centers offer robust, flexible opportunities to deliver Amazing Service®. If you're ready to explore how to reduce costs and improve customer service, talk to an expert to learn about Nextiva's contact center.