Telecommuting is on the rise. New technologies, global events, and the availability of coworking spaces have accelerated the growth in remote working — and it is up to companies to adapt to a new model of working that is massively popular with employees and beneficial to the bottom line.
We've been covering remote work in-depth here at Nextiva for some time. Our recently published Business Communication Report details emerging trends in how companies embrace telecommuting and set up their employees for success. As of its publication in January 2020, more than 38% of companies had employees who work remotely. As businesses accelerate efforts to let their staff work from home, remote jobs will be on the rise.
There's good news associated with this trend.
Telecommuting has a history of proven success for employers and employees alike. The American Psychological Association states, "When it's done right, telework can improve employee productivity, creativity, and morale." That means better revenue numbers, less employee turnover, and improved recruiting capabilities.
For employees, the benefits of remote work include better flexibility and work-life balance, among other things.
It goes without saying that when implementing a telecommuting policy, you can't merely send your team home and hope for the best. To shift toward teleworking effectively, you need to have an essential toolkit of technology and the right soft skills in place. With that, you can communicate, collaborate, and create from home at your team's best capacity!
Must-Have Telecommuting Technology Tools
The technology to communicate with colleagues and clients is the foundation of telecommuting. Telecommuting technology encompasses how you share your work, manage your time, and move the business forward.
There are so many technologies that can support telecommuting for your team it can be difficult to know the remote work tools that are out there and which ones are right for you. To help, we've curated the top technology solutions for work-at-home employees.
Getting Started with Telecommuting
The first thing you need to consider is communication while working remotely. How will your team stay in touch with each other when telecommuting? And how will they serve customers?
Think about these technology needs first so you can set your employees up for success:
Broadband: With a high-speed internet connection, you can start telecommuting with your team. Rest assured that even residential broadband is sufficient for teleworking. According to the Pew Research Center, 73% of households in the United States connect to broadband internet. Internet access is even higher among those with smartphones.
Email: Even in a traditional work environment, email is the backbone of modern communication. However, when working remotely, email takes on even greater importance. While not as engaging as a real-time chat, it's a trusted teleworking technology.
Phone: Phone calls have long been the cornerstone of the workplace. With smartphones, you and your staff can talk to each other anywhere. Apps make teleworking even more convenient and accessible.
Video Conferencing: Video conferencing is one of the best replacements for in-person meetings. And in some ways, the video conference is even better than a regular meeting. Robust video conferencing tools allow you not only to see and speak to each other but also to record meetings and share presentations.
Chats & Messaging: Not everything needs to be a call or email. Quick comments and questions are more productive in most cases. And sometimes you just need to share a cat picture fast. Use chats and messaging within your teams for real-time communication.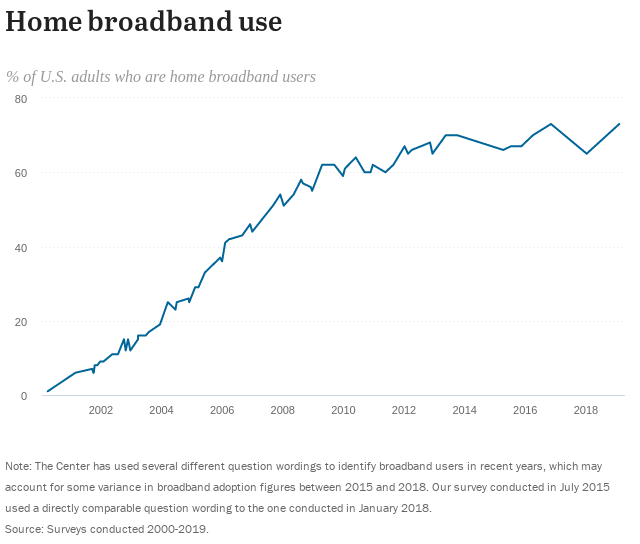 Read more: 7 Benefits of Telecommuting That Says It's Here to Stay
Business Communication Tools
Nextiva
Nextiva provides a complete business communications platform that supports remote working for thousands of employers. Businesses from coast to coast rely on us for their company's phone service, helpdesk software, sales CRM, and team messaging.
Our distinct advantage is that we blend your phone, email, and CRM into one unified communications solution. Workers who telecommute enjoy Nextiva for its ability to stay connected with the office without being in the office.
With a full suite of robust communications tools powered by VoIP, your company can reliably route calls to your team. Our cloud communications platform works well in any office space, coffee shop, or at home quite well.
Additionally, Nextiva also offers decent video conferencing tools for remote teams. Your team can have high-definition 1:1 video calls along with easy screen sharing. You can return to business in just a few clicks and not fumble around with technology. As a virtual phone service for remote staff, it's a dream come true for remote teams.
Gmail or Office 365
Email isn't going away for practically all companies, but it is getting better. A reliable email platform is a must-have to engage with customers and prospects. It's a universal communication technology for exchanging messages.
Moving your company to a cloud-based email platform like Microsoft Office 365 or Google G Suite doesn't take much. At a practical level, just a few quick updates to your domain settings, and you can be up and running. These email services provide well-known email apps like Outlook and Gmail.
Teleworkers also need to manage calendars across different time zones, send and receive emails, and check them from mobile devices. Both email platforms provide reliable connectivity over Wi-Fi, LTE, and wired connections.
Mixmax
Mixmax is a suite of tools built to make Gmail better. This service's goal is to boost productivity and sales for one-off emails. And that's extra important when you work from home.
Working from a remote location might make one feel somewhat distant from the office. Mixmax keeps you aware of how people consume your emails and can be a great power tool to accelerate your workflow.
Features like email tracking show open and click rates. Scheduling integrations mean clients can set meetings instantly from any desktop computer. Beyond revealing the recipient's behavior, it helps you follow up at appropriate intervals.
Collaboration & Project Management Tools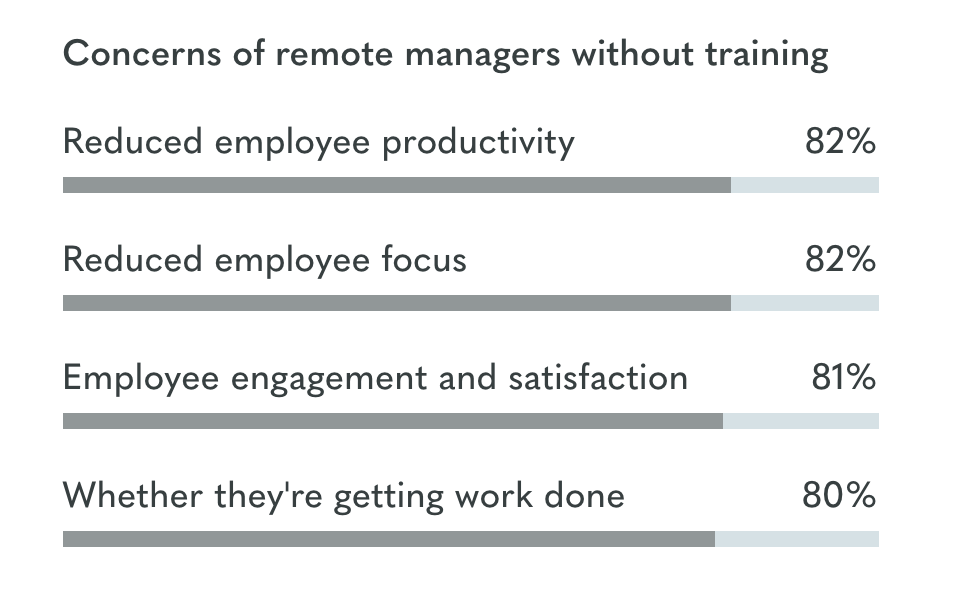 According to Owl Labs, reduced employee productivity and focus topped managers' concerns. How do you make up ground for the lack of in-person interactions? How do you make sure that everyone maintains their productivity?
You still have to work as a team even when you work from your home office. Team collaboration is even more critical with full-time teleworking. Keep driving employee conversations and spark moments of creativity.
Avoid conflicts and even overwork by using project management tools to stay on track. Instead of one person carrying the success of the team, split out sub-tasks, among others, and more work can get done faster.
This way, telecommuting becomes less dependent on live interaction but leverages the throughput of your entire team.
Trello
Trello is an incredible tool for maintaining status on a variety of projects and tasks. Not quite as sophisticated as a full-fledged project management app, it's a great first start for a business.
Even at a personal level, if you're working remotely on the side, it helps keep your ideas better organized.
Regarding telecommuting technology, Trello has been fighting the good fight to keep the interface uncluttered and focused on organizing large sums of information. Once you move your tasks into Trello, you won't look back.
Asana
Asana is a product management solution designed to help teams work together on projects. You can create a project, simplify it into tasks, assign them to team members, and track progress over time. The app provides many different views of a project, no matter how your teams like to work.
For remote teams, Asana ensures everyone knows what they're working on–and what everyone else is working on. For an enterprise, the flurry of activity could be overwhelming at first sight. Nevertheless, the firehose of productivity is a welcome sight for a business owner.
To keep things on track, Asana also provides reports and analytics. Its mobile app helps telecommuting staff stay well-connected to projects and conversations.
Slack
Slack is a collaboration hub for teams. It's a virtual workplace focused on making communication easier. It functions as a backchannel for your company's day-to-day interactions.
You can organize conversations into channels where workers can chat and share ideas.
Additionally, Slack offers novel ways to interact, such as with emojis and GIFs for a more casual conversation. All conversations are searchable. This approach eliminates the need to find "that one email."
Slack is easily accessible on every browser and smartphone. Optionally, you can add on a variety of integrations to expand the platform's reach and functionality.
Security & Access Tools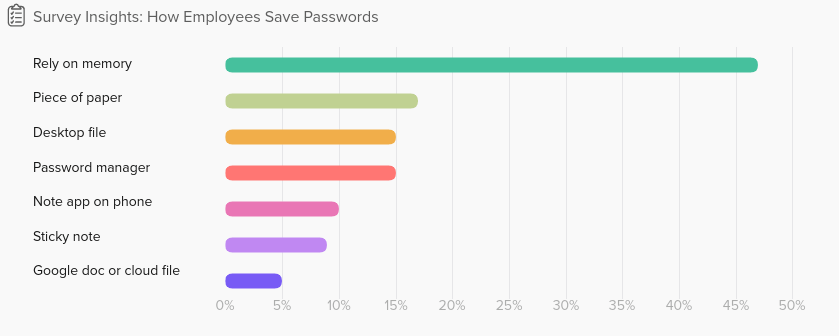 The number one concern information technology (IT) leaders share regarding telecommuting is data security. Not only because it's a good idea but they are required to enact additional measures to protect customer data. Protecting business data is more challenging when employees are not in the office—but it's not impossible.
As a part of any telecommuting plan, you must apply additional safeguards to protect employees and customers. Whether your team works in the office or at home, you must be relentless. Secure your connection, implement multi-factor authentication, and practice good data hygiene, and you will be ready to work remotely.
It should shock you that Okta's research shows that most employees do not store passwords in a password manager. This finding means passwords are likely floating around in other documents.
For any company looking to scale their remote options should look to these tools and support telecommuting policies to empower (and protect) people while working remotely.
Okta
Okta is an identity management service. You can link your apps, devices, and logins together on their cloud-based system. Security is everyone's responsibility, not only IT.
The online security service works over any personal computer or smartphone. It provides real-time authentication through a code sent to your cell phone whenever you sign in to web-based apps. Additionally, companies can adjust their expiration for enhanced security.
Okta empowers companies to extend internal tools to remote workers who can access anything they need risking security. They can do it without complicated login and authentication procedures.
1Password
If you're looking for a simple tool to safeguard passwords, 1Password might be just the thing. Besides encrypting stored passwords, 1Password lets employers securely share them with team members.
Remote workers can have easy access to whatever they need without risking security breaches. And managers can easily track how workers are using the product. Additional security features in a password manager can generate passwords, access them on your cell phone, and monitor for breaches. Human resources leaders also appreciate features to grant and revoke access as needed.
A cloud-based password manager is a simple solution to get your team telecommuting securely. Even for personal use, 1Password is a great way to organize passwords.
NordVPN Teams
As your employees operate from the comfort of their home office, the network becomes "untrusted." To address this increased risk, many employers use a Virtual Private Network (VPN) to secure their network connections.
NordVPN Teams is a prominent VPN solution that is now available for business users. Large organizations and enterprises might use a more robust, centrally managed VPN, but NordVPN Teams is plenty sufficient for many small businesses.
Its solution secures a telecommuter's connection no matter if they connect over Wi-Fi or Ethernet. The company's technologies provide many useful features to limit security threats and maintain your business continuity.
Telecommuting Best Practices
Not all remote tools and apps are created equal. And the wrong choice can get in the way of getting work done when telecommuting.
Here are a few best practices when choosing the right telecommuting solutions:
Tools should work across all devices in all locations. If it only works in your office, forget it. Mobility is the name of the game. SaaS apps in the cloud generally are accessible to anyone with an internet connection.
Aim to improve internal and external communication. For example, internal communications include tools to help you hold meetings and one-on-ones with your staff. External business communications include a platform for supporting account management, sales meetings, and support calls.
Choose tools that are easy to use. Don't be dazzled by bells and whistles. For instance, are social media integrations required? Focus on the fundamental ways your company functions and how you intend to operate a telecommuting team. Ease of use is a primary reason why certain business apps succeed in the workplace.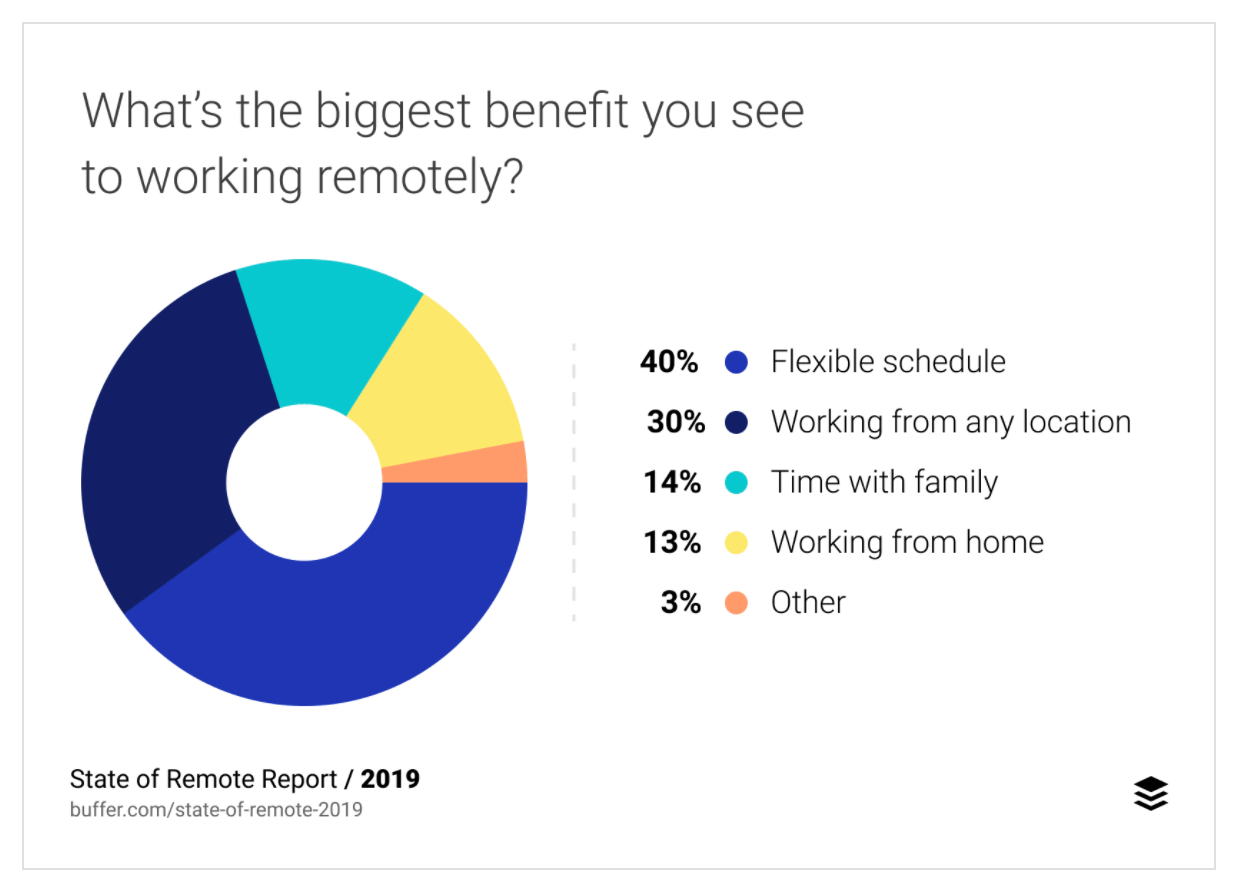 Never lose sight of your business goals. A distributed workforce unlocks even greater access to talent than you could find locally. While there are cost savings, you'll soon find that remote workers can thrive when given the right tools.
Communications tools ensure that work still gets done. Collaboration and project management tools keep teams connected and highly productive. And security and access tools keep everyone and their data safe.
Buffer's 2019 State of Remote Report indicates that flexibility and autonomy top the benefits of working remotely. It's time to leverage technology as part of your business plan. Remote work jobs tend to offer substantial benefits to employees and employers alike.
Lastly, FlexJobs cites credible research that telecommuting saves on greenhouse gases and improves environmental air quality. After all, if employees don't drive to work, fewer tailpipe emissions go into the air. The global impact is even higher for businesses that don't operate a traditional office and expand with more telecommuting jobs.
Ultimately, telecommuting helps employees balance their work-life balance, increase performance, and become more engaged with their teams.