When it comes to a career in technology, becoming a Vice President of Technology is one of the highest positions one can achieve. A VP of IT career path is varied and never looks the same for everyone, but is highly dependent on experience and skills, just like the CIO career path.
Most VP of technology career paths start with gaining a Bachelor's degree. From there, certifications in other areas can be helpful, but getting business experience is of utmost importance.
Having a mind for operation management, strategic planning, and people management are huge aspects of this role.
Another reason many people strive to become an IT VP is due to the high salary. PayScale suggests that the median salary for this role is around $170,000 annually, making it one of the most lucrative positions in the technology field.
So, what does the career path to a VP of Technology look like? To begin, let's take a look at the role.
What is an IT VP?
A VP of Technology is an executive position that oversees the technology initiatives of an organization.
This can mean everything from the implementation of new business phone systems and proposing new software intended to improve the business. IT VPs also help strategize and execute the direction of technology within the company.
Individuals in this position are in charge of the technology decisions as they relate to the vision and goals of the organization. It's important for people in this position to have an excellent mind for business, as budgeting, project management, and organizational growth are crucial aspects of what they do daily.
They must be able to lead an IT team and keep track of projects while also maintaining fresh ideas that keep their company in line with changing technologies.
Don't let the varying titles in IT confuse you
Let's see how varying titles can shift the focus of responsibilities. For example, a VP of IT Infrastructure and Operations role deals mostly with voice networking, network performance, contact centers, data privacy management, etc. That is, essentially, anything that isn't either communications, security, or applications.
Then there are different titles that require the same set of skills, like VP of Information Technology and VP of Technology. What they all have in common is that they're all in charge of overseeing the technology decisions within their organization.
Related: IT Director Interview Questions: Real-World Answers to Get Hired
What Responsibilities Does an IT VP Have?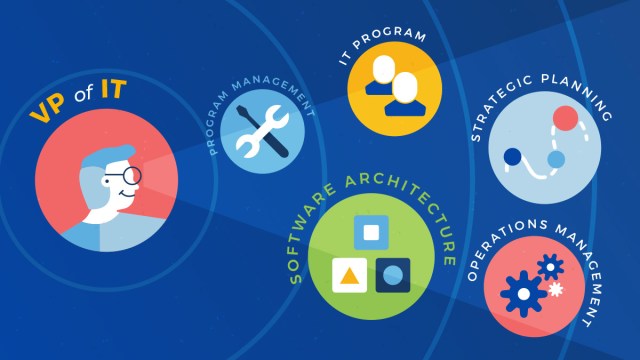 While not all organizations have the same goals, many VP of IT roles require the same experience. These are five major skills that can affect this role day-to-day.
Program Management
IT Management
Software Architecture
Strategic Planning
Operations Management
Let's take a deeper dive into what each of these means when it comes to the IT VP role.
Program Management
The technology department ensures that the right tools are in place to let employees function efficiently within an organization. A VP of technology is continually searching for new ways to improve a company's performance by ensuring that the right technology is in place every step of the way.
They should be able to provide insight and ideas for solving complex issues as they relate to technology initiatives.
IT Management
Many VPs of technology come from an IT management background. That means that many people who step into this role already have the skills to enable an organization to function at its best.
This involves optimizing resources, managing staff, improving IT processes, etc. Apart from this, they should also be able to suggest and implement technology best practices across the organization. Like many other aspects of this role, it requires leadership skills and the ability to plan strategically.
Cloud Architecture
As a VP of technology, implementing new infrastructure is a key priority. So, having experience with cloud architecture is a huge must. Being able to make fundamental structural technology decisions is a must-have skill.
Related: The Beginner's Guide to the Perfect VoIP RFP (+Free Templates)
For example, choosing which vendors to go with and project planning. Understanding how software functions concerning data backups, scalability, reusability, and security within a given organization is key. It can make an impact on whether or not the infrastructure will allow the company and the employees within it to function successfully.
Strategic Planning
Any executive within an organization must be able to make strategic decisions with long-term goals in mind. VPs of technology need to be able to align the overall strategic vision of the company with that of their department.
This can mean developing new policies and procedures, recruiting new talent, and developing new software and hardware tools. Each goal they create for the future needs to positively impact the company as a whole.
Operations Management
Operations management is another area where having strong business skills is a must. Understanding the ins and outs of business allows a VP of technology to build out tools, change processes, and implement new systems. This adds to the fundamental workflow of the organization.
These days, technology is a huge piece of what makes a company successful. For instance, instead of developing custom APIs, a smart IT leader would opt for an ETL tool to move data between systems reliably. So knowing how to change operational procedures via technology can make all the difference.
How do you gain these skills?
What Skills Does an IT VP Need?
As we mentioned before, the start of a VP of technology career path is a bachelor's degree. Computer or information science are some of the most common majors here.
Though this is a great start and can get you moving in the right direction, many people that go on to become VPs also complete additional education like a graduate's degree and various certifications.
Some of this education can be done while working, which makes it easier to get started on the experience portion of your resume.
If you plan to focus on one industry, say finance or health care, it's important to work your way through the ranks early. Specific industries have additional qualifications and knowledge they'll likely expect you to have.
Related: Wise Words from 9 World-Dominating Women in Information Technology
What Kind of Salaries Do IT VPs Earn?

Being a Vice President of Technology is a lucrative and demanding career. According to information from PayScale, the median base salary is about $169,874, which doesn't include any profit sharing, equity, or bonuses.
However, things can vary depending on the industry, location, and company size of the organization you wish to work for.
At the low end of the range, you can likely expect to make $117,000 to start, while the high range can exceed $240,000 annually.
What are the factors that weigh into these numbers?
For one, the industry. Companies like Barclays, Goldman Sachs, and Blackrock are some of the top-paying firms when it comes to VP of technology roles. What do they all have in common? They're in the financial sector. There's immense pressure to deliver on security and compliance.
IT VP Career Path: Yea or Nay?
Like any technology career, there are many different ways to get to a VP role, but it's more important to put the work in to move your way up the ladder. Below are a few of the roles that serve as excellent stepping stones to a career as VP of technology.
Sr. Software Engineer/Developer/Programmer
IT VP
Chief Information Officer (CIO)
Chief Technology Officer
Some of these roles might have the same functions as an IT VP. This makes them excellent places to gain the experience most companies are looking for.
Technology is a fast-growing industry — one that isn't slowing down any time soon. The goal of becoming an IT VP isn't an easy one.
Not only is there room for growth, but there's always the chance that you'll find another role you love just as much. Technology is an industry that will provide you with both job security and an innovative work environment.