BlueJeans is one of the more popular video conferencing tools for larger companies. It's well-known for its high-quality audio and HD video. 
Unfortunately for BlueJeans users, however, Verizon will sunset the product in the first half of 2024.
This means that corporate customers must plan for a BlueJeans replacement now so they can choose new video conferencing software and get it implemented in time. 
To help you find a good option, we'll discuss five BlueJeans alternatives that offer virtual meetings and video call functionality.
Pros and Cons of BlueJeans
BlueJeans is being phased out in early 2024, but before choosing a BlueJeans alternative, it's good to consider the pros and cons of the virtual meeting platform.
Pros of BlueJeans
These are the most significant benefits of BlueJeans' video conferencing solution:
High-quality audio and video. BlueJeans was known for incredibly high-quality video and audio conferencing, even in online meetings with a large number of participants.
Ease of use. The platform is user-friendly and easy to set up, even for people who aren't typically familiar with video conferencing software.
Wide range of features. BlueJeans offers functionality like screen sharing, recording, breakout meeting rooms, whiteboards, and more.
Extensive integrations. The platform integrates with multiple complementary apps like Microsoft Teams, Slack, and CRMs like Zoho.
Cons of BlueJeans
Just as there are advantages to using BlueJeans, there are also a few downsides:
End of life. The meeting software will be shut down by early 2024. This makes BlueJeans an unsustainable choice for businesses that need reliable communications.
Pricing. BlueJeans is more expensive than some other video conferencing platforms. The cost can be prohibitive for many companies, especially small businesses.
Occasional lag. While overall call quality is considered high, some users have occasionally reported lag, especially when they have poor internet connection.
Limited customer support. BlueJeans customer support isn't always as responsive as other platforms, with some reviews citing poor customer experiences with support team members.
Top 5 Alternatives to BlueJeans
If you're looking for a better BlueJeans alternative, there are plenty of meeting platforms on the market. We're going to take a closer look at more comprehensive video communications software that offers extensive features with enterprise-level scalability.
1. Nextiva
Nextiva is an incredible all-in-one communications solution that offers audio and video conferencing through unified communications as a service (UCaaS) functionality. We also offer cloud-based VoIP with outstanding call quality and top-of-the-industry reliability.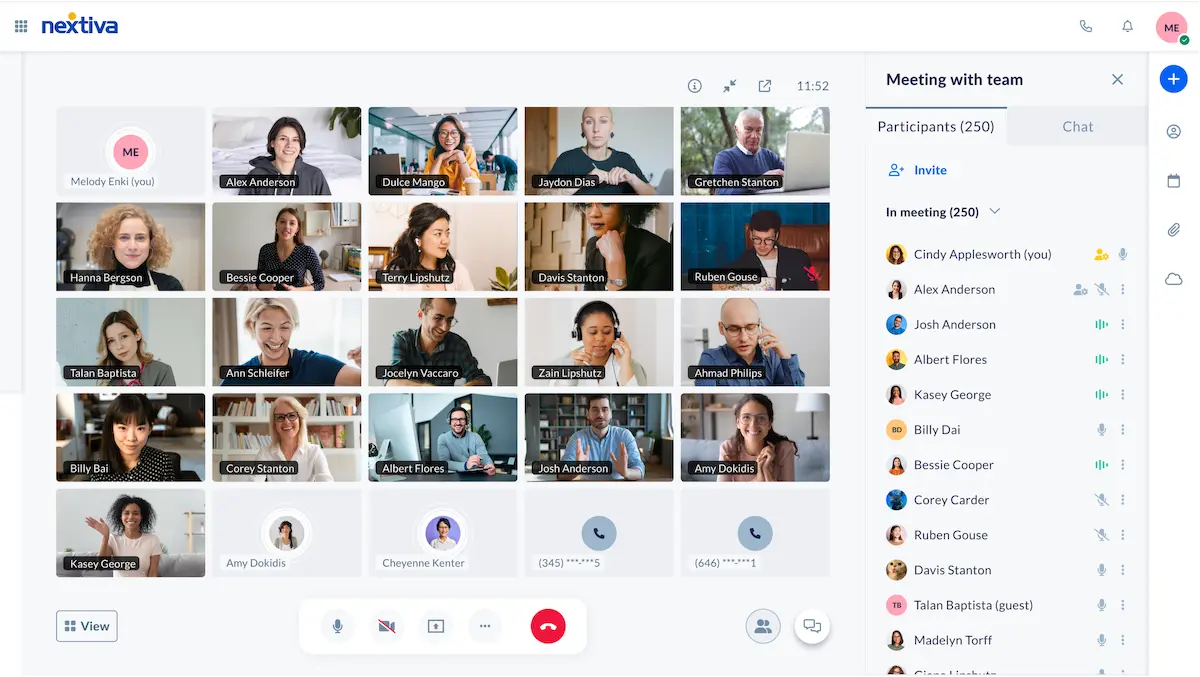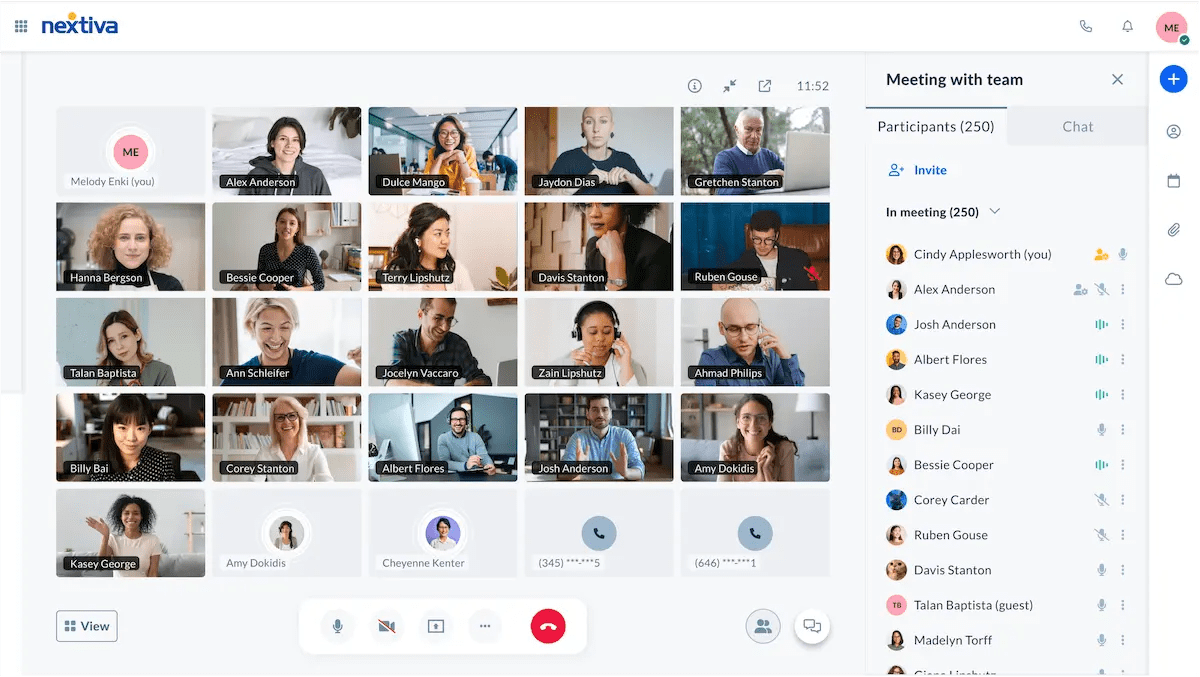 Top features
UCaaS features like video conferencing, screen sharing, live streaming, webinars, messaging, whiteboards, and more.
Numerous VoIP capabilities so that your company maintains a professional, tailored phone system experience.
Advanced analytics, which provides a real-time dashboard of your team's communication channels.
What do customers like?
Based on customer reviews, reliable phone and video conference quality and personalized customer service stood out as Nextiva's top qualities.
Nextiva is a good BlueJeans alternative because it offers a broader range of team communication and collaboration tools beyond web conferencing. It also works well with other corporate software thanks to a long list of integrations, and the company's dedication to customer support is exceptional.
2. Jitsi
Jitsi is another great application that offers video conferencing. Made by 8×8, Jitsi is a video conferencing app for desktop and mobile devices. While free, there's a lot of work you must put in to implement this in a company.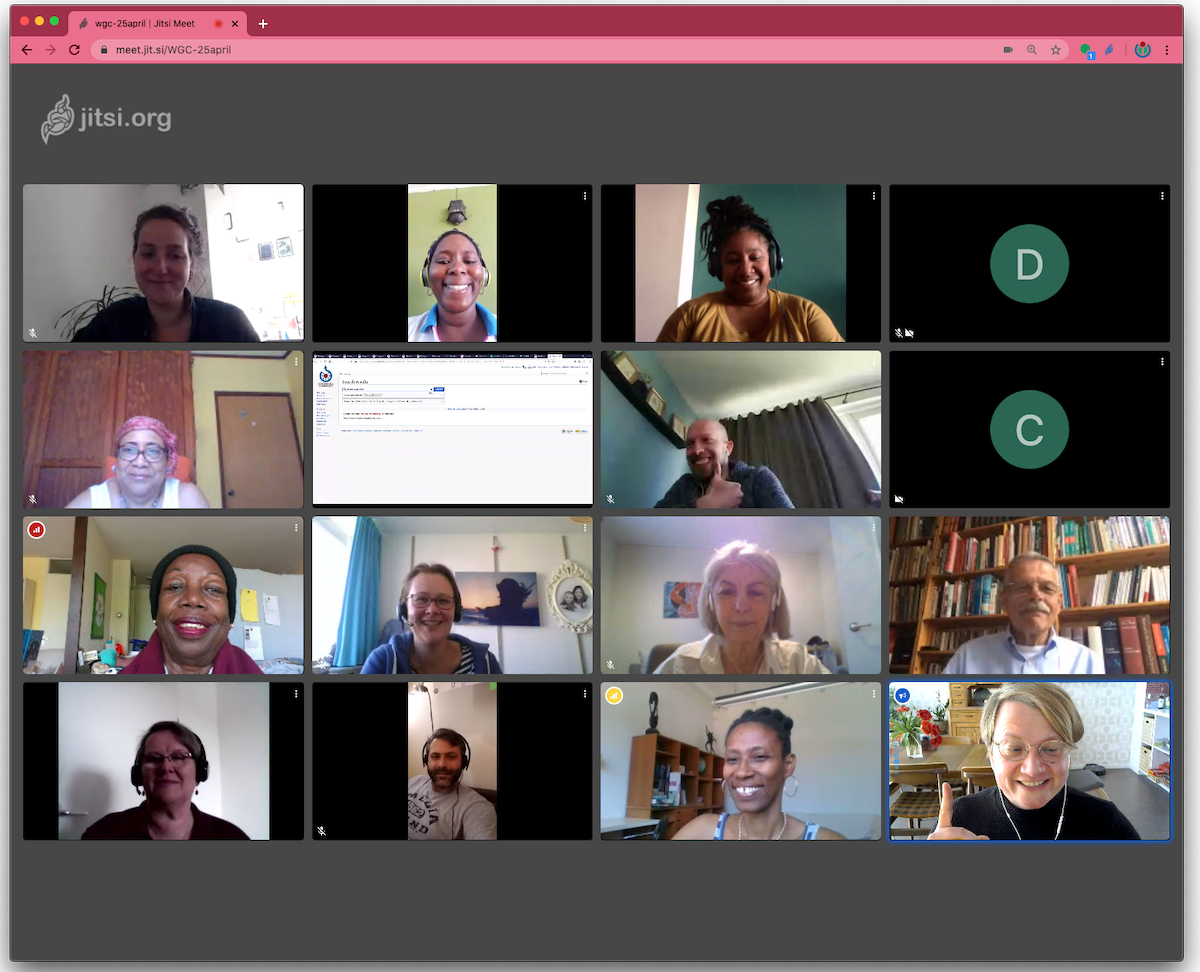 Top features
Open-source, which means developers can create and iterate on a publicly shared codebase.
Customizable features and plugins to tailor the platform around your organization's specific needs.
No limits on video meetings other than what your hosting infrastructure can handle.
What do users like?
In reviews, customers have repeatedly shared that they like that the tool is free to use but still offers a high level of privacy and security.
However, it requires extensive configuration for an organization to consider it a direct BlueJeans alternative. Jitsi may be a good option following the BlueJeans sunset if you are looking for cost-effective, secure, and customizable solutions.
3. GoTo Meeting
GoTo Meeting is a well-known web conferencing and online meeting solution. Stream webinars and conferences in real-time with solid reliability.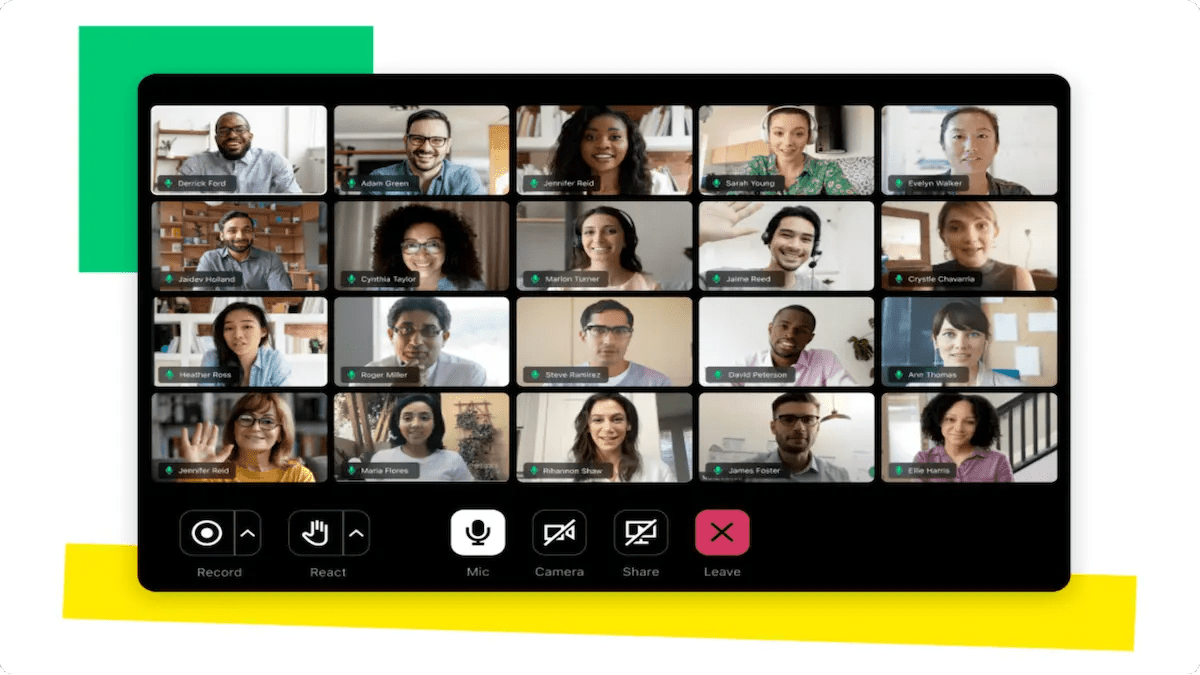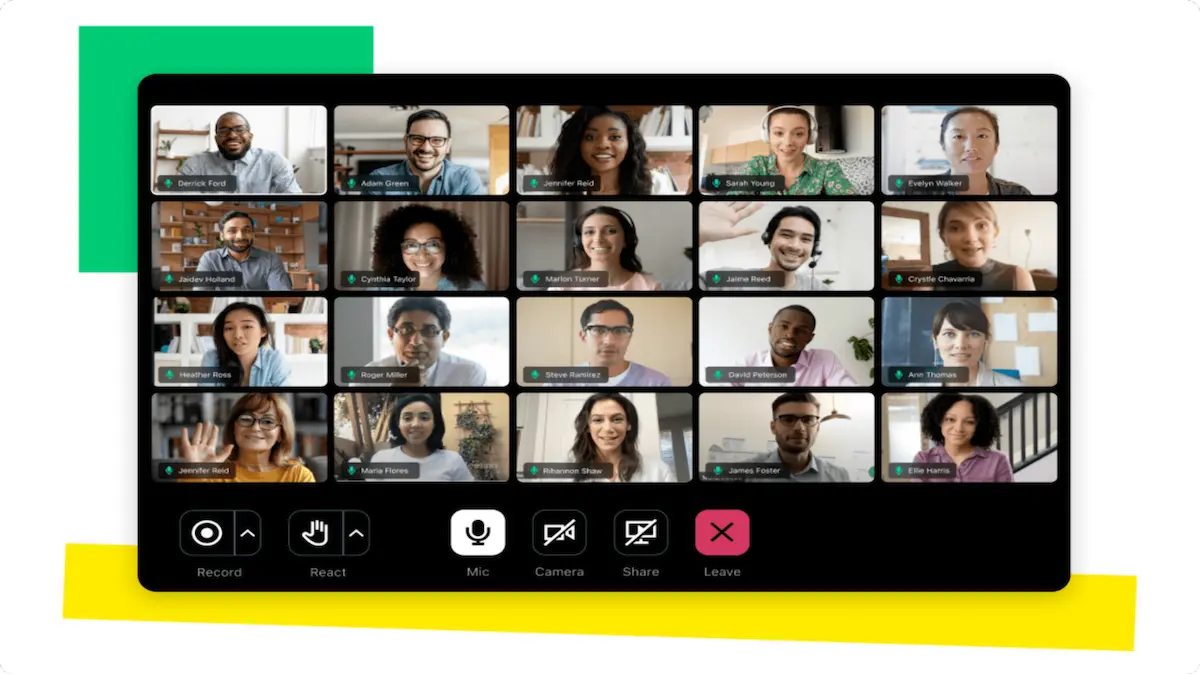 Top features
Familiar user interface allows team members to meet and engage consistently.
Screen sharing helps ensure attendees can see presentations live.
Meeting recording lets you share your video meetings later with colleagues.
What do users like?
Customer reviews often say that they're pleased with the company's reliability and that the ease of use on both desktop and mobile devices makes for a positive user experience.
GoTo Meeting is known for its simplicity and effectiveness, especially for smaller teams, making it a great choice if you're looking for a straightforward solution that can facilitate team collaboration.
4. Zoho Meeting
Zoho Meeting is part of the Zoho suite of tools, including business management, social media, marketing automation, and more.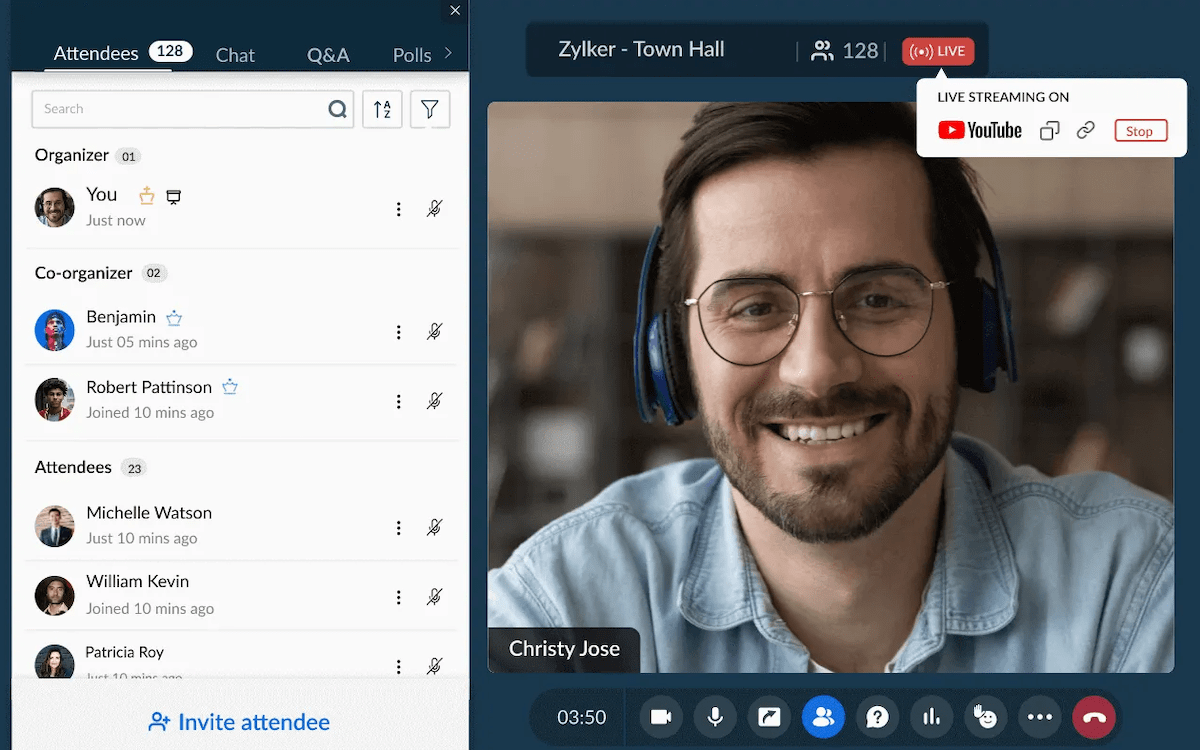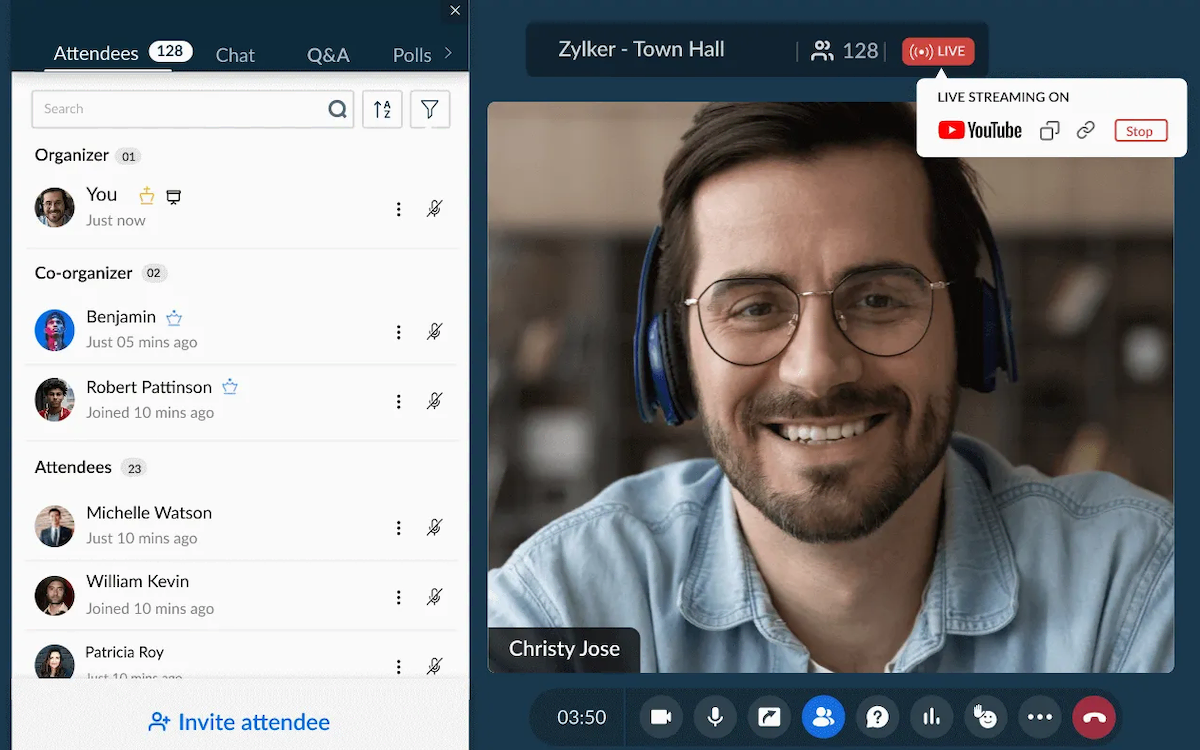 Top features
Zoho integration enables seamless scheduling and follow-up.
Webinar features facilitate interactive demos and online broadcasts.
End-to-end encryption secures meetings from eavesdropping.
What do users like?
Customer reviews most frequently mention that they love the seamless integration with other Zoho apps and others mention they like the affordability of this option.
Zoho Meeting is best for businesses that are already using Zoho products. It offers a comprehensive and secure meeting solution, though it may not be as feature-heavy as other virtual meeting workspace options.
5. Cisco Webex
Cisco Webex is another well-known and established video conference solution. WebEx meetings are very secure, and this tool comes with additional features that some simpler options don't.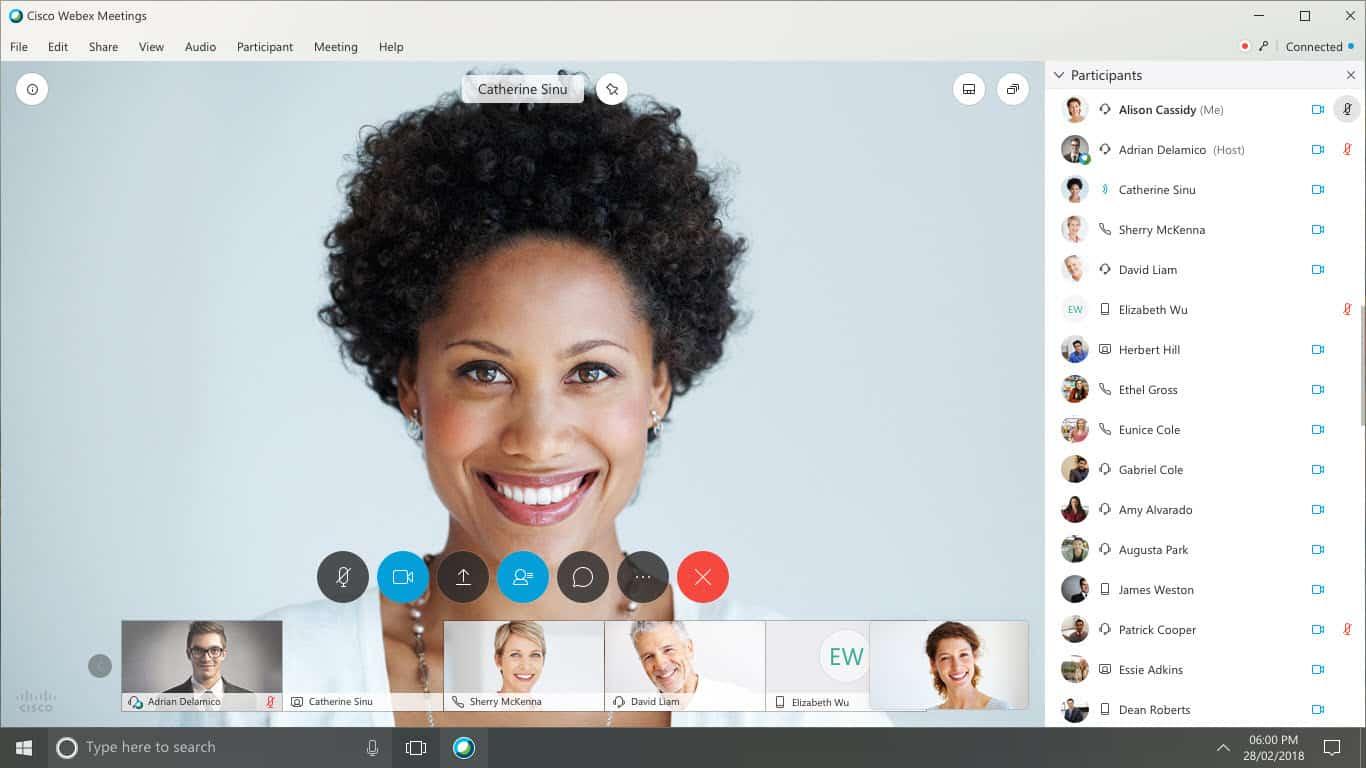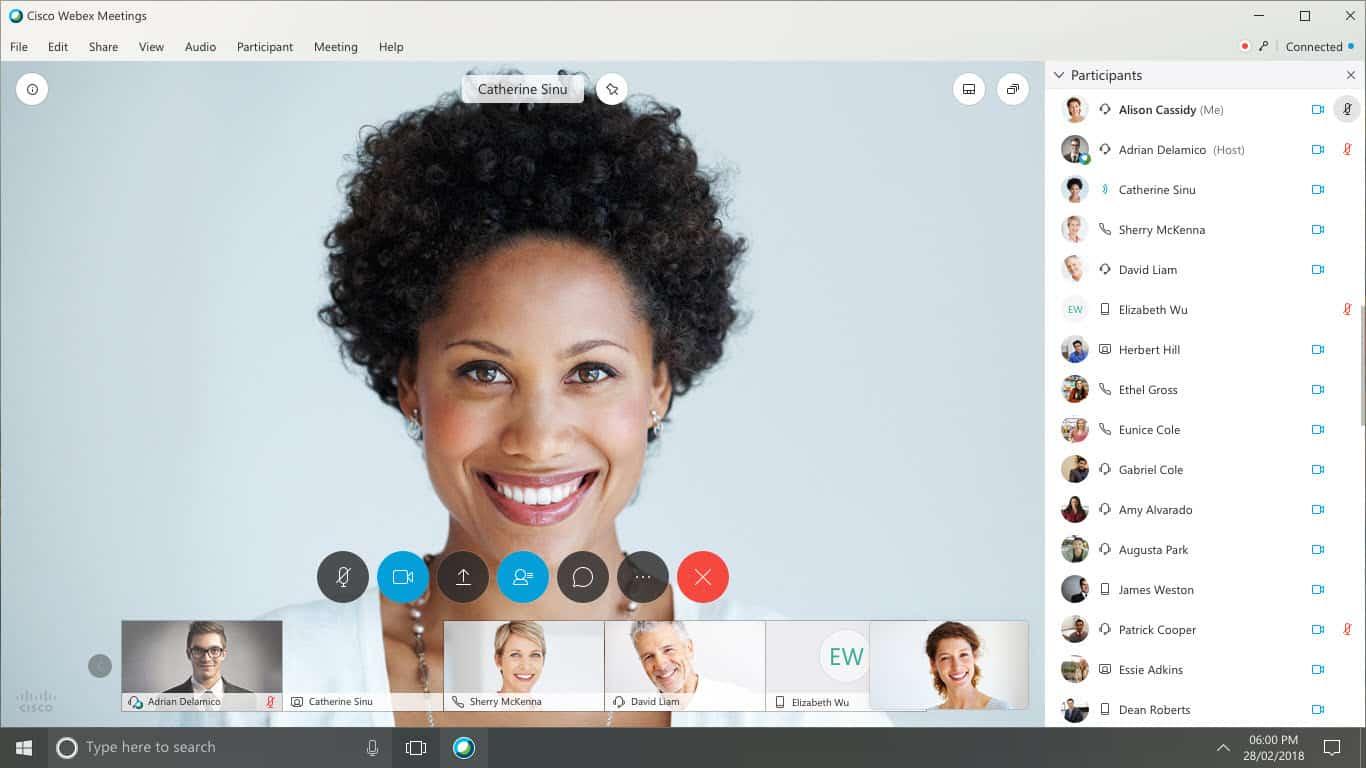 Top features
High-quality video enables clear communication and collaboration with sharpness.
Security features protect sensitive meetings and data from eavesdropping.
Virtual backgrounds increase the privacy and professional appearance of participants.
What do users like?
Customer reviews often discuss the product's dependable performance and strong collaboration tools.
Cisco WebEx is a good solution for larger organizations that need a secure and scalable conferencing solution.
What to Look for When Switching from BlueJeans
When you're switching from BlueJeans to other virtual meeting software alternatives, you'll want to keep the following in mind:
Cost-effectiveness. Compare pricing closely, and don't just look at the per-month price. You want to consider what features and support options are included at each price point and check for potential hidden fees and required add-ons.
Ease-of-use. If you want user adoption, your meeting platform must be easy to set up and use. Plenty of team members will use this software, so it needs to work even for those who are less tech-savvy.
Comprehensive features. Make sure that the tool you choose has all the features you need. Top features include screen sharing, call recording, group chats, and whiteboards. If there are specific BlueJeans features your team uses regularly, consider which solutions can best replicate them.
Available integrations. You want to choose a video conference solution that can integrate with your existing tech stack, especially your communication platforms. It should integrate and add value to the employee and customer experience.
Quality and reliability. High-quality video and audio conferencing is crucial, as is platform stability. Look for solutions that have strong customer reviews raving about call quality, uptime, and reliability.
Device compatibility. Do you want a tool that works on mobile devices (including softphones for iOS and Android)? Or do you only care about desktop browser-based streaming? More options often win out, so look for a tool with mobile functionality.
Security and privacy. You want to choose a cloud-based tool offering security features like end-to-end encryption, compliance with GDPR and other relevant regulations, and clear data privacy policies.
Proven scalability. You may only have 20 employees now, but you hope to have 200 in the future. You want support for your typical meeting size, but you also want to choose a tool that can scale alongside your company.
Accessible customer support. Accessible customer support and training resources are both essential during onboarding, training, and ongoing use of the software. Highly rated support should never be overlooked.
Positive customer reviews. Look for feedback and real customer reviews to ensure your web conferencing solution is credible and capable of replacing BlueJeans.
Why Nextiva Is the Best Alternative to BlueJeans
BlueJeans meetings was a popular video conferencing tool, but the good news is that there are plenty of great alternatives out there, with Nextiva at the top of that list.
To start with, Nextiva offers a single communications platform that provides a bundled conferencing solution without the expense of costly add-ons with other services.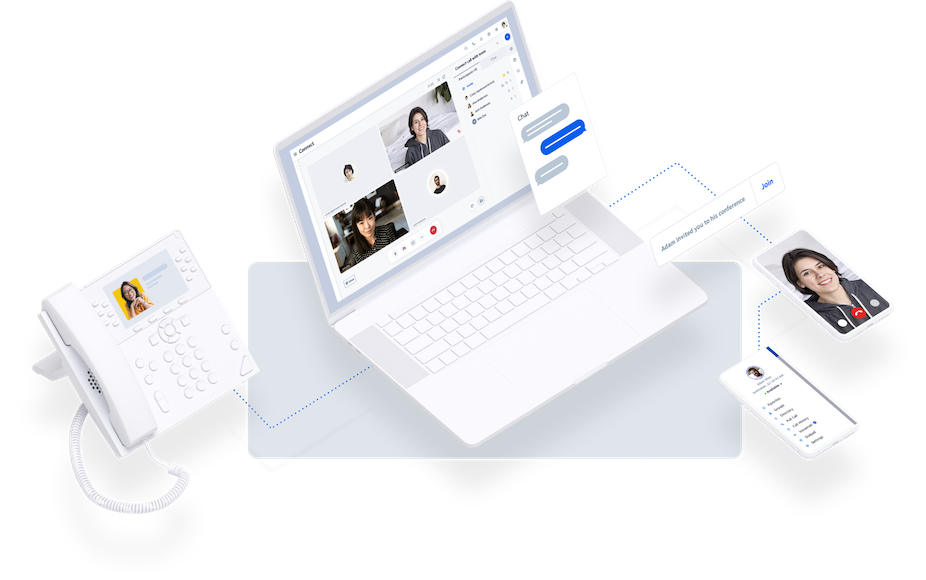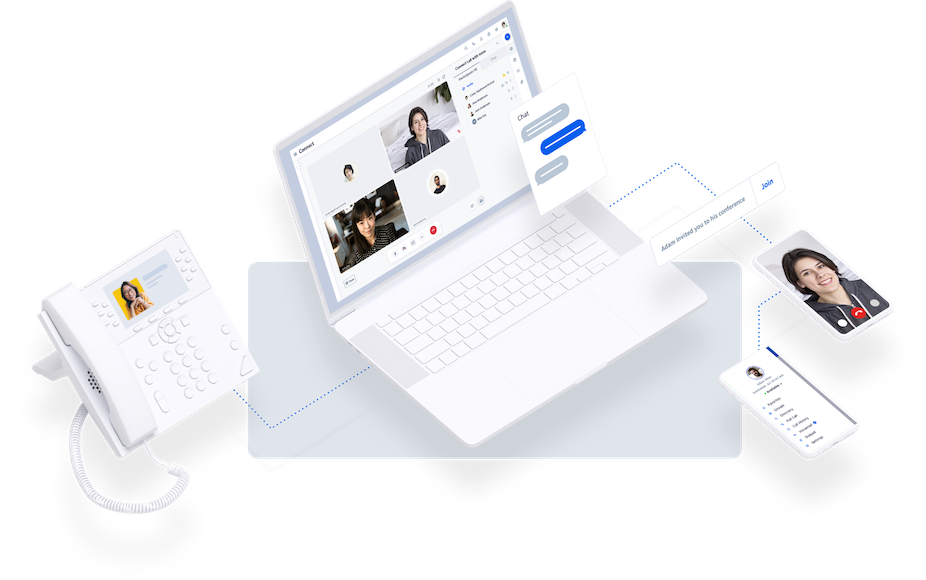 And when we say all-in-one, we mean it. NextivaONE allows you to keep your team and customer communications in one place.
But if desired, we also offer extensive integrations, including many of the integrations that BlueJeans offers. If you're already using BlueJeans, you can easily switch to Nextiva without worrying whether it will be compatible with your existing apps and tech stack.
Finally, you get personalized customer service from day one. No matter your business challenge, our Amazing Service® team will ensure you're fully supported.
Our white-glove support will help you through the onboarding process, with dedicated account managers who can help you set up your entire system exactly how you want it.


Upgrade to the business collaboration platform that won awards for customer service, including a Five9 U.S. Partner of the Year. We've also amassed over 8,400 reviews with an average 4.5-star rating.
Ready to make the switch from BlueJeans? Get started with Nextiva today.