When we launched the new NextOS platform in December 2020, we wanted to make it as simple as possible for our customers to run their businesses with Nextiva by adding more user-friendly options and more customizations. Since then, we've been hard at work developing additional features and making improvements so now the platform is even easier to use.
While our customers have multiple priorities for their phone systems, we know how important it is for calls to reach the right place, and that's why we've put a ton of focus on our call flow builder over the past few months. The call flow builder lets anyone design the ideal way they want their calls answered.
What's a call flow?
A call flow enables business owners to design the first impression a person has when they call in. For example, when you hear an automated menu that tells you to "press 1 to speak with someone in customer service," that was designed in a call flow.
Call flows are the more modern approach to auto attendants. They're more capable and easier to set up. In one canvas, you can adjust business hours, call routing, and more.
Our customers regularly tell us that call flows are crucial to their businesses. Business owners rely on them to help their customers reach the right person or department when they call in. This customer experience serves as a key pillar to how a business is perceived by its customers.

We've acted on this feedback and added multiple features to improve call flows. The five features listed below are brand new in NextOS, and they make the call flow builder experience even more powerful. We invite you to try out these features and provide feedback to our team.
If you're not yet a Nextiva customer, get started today.
1) Edit active call flows.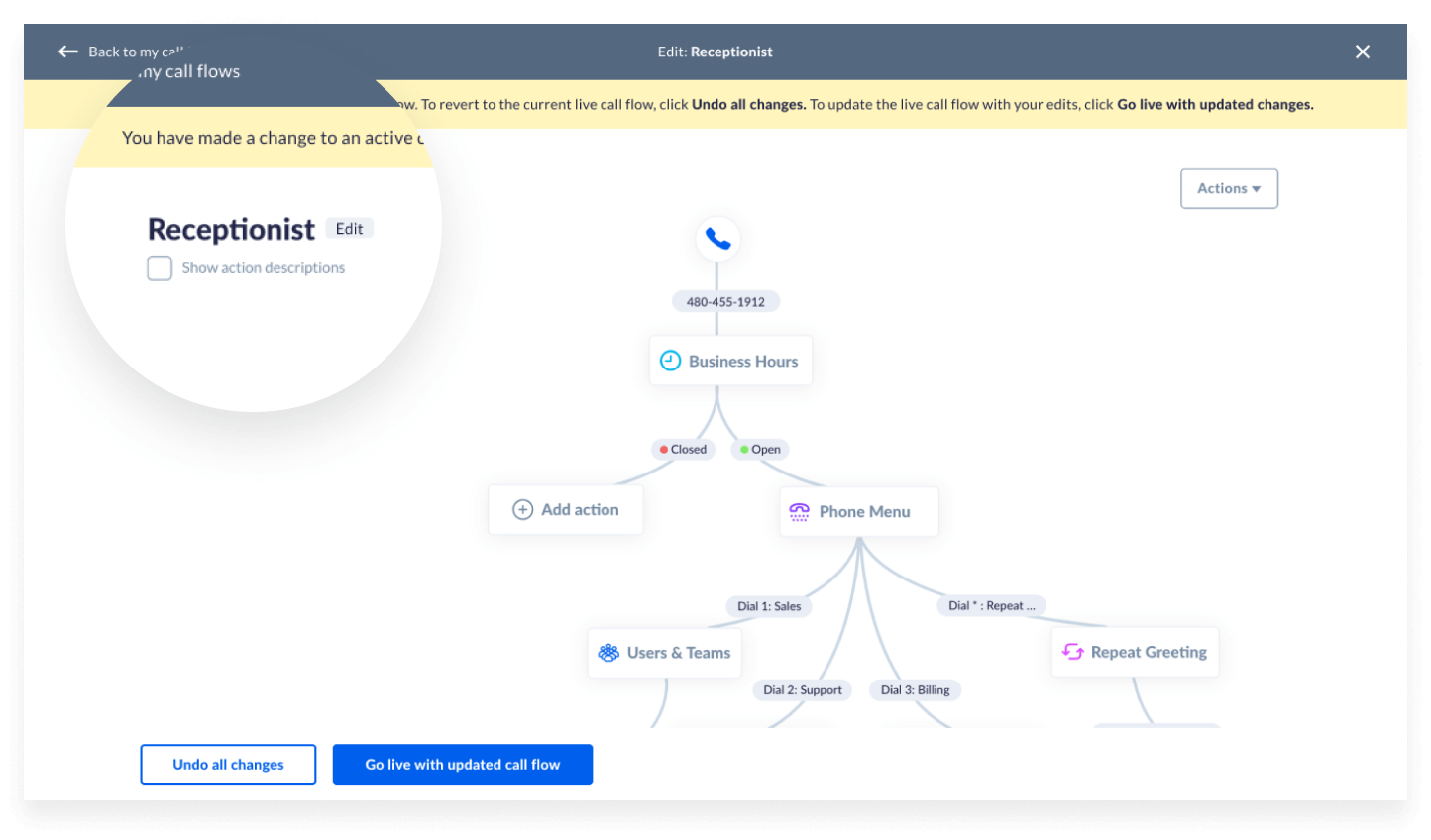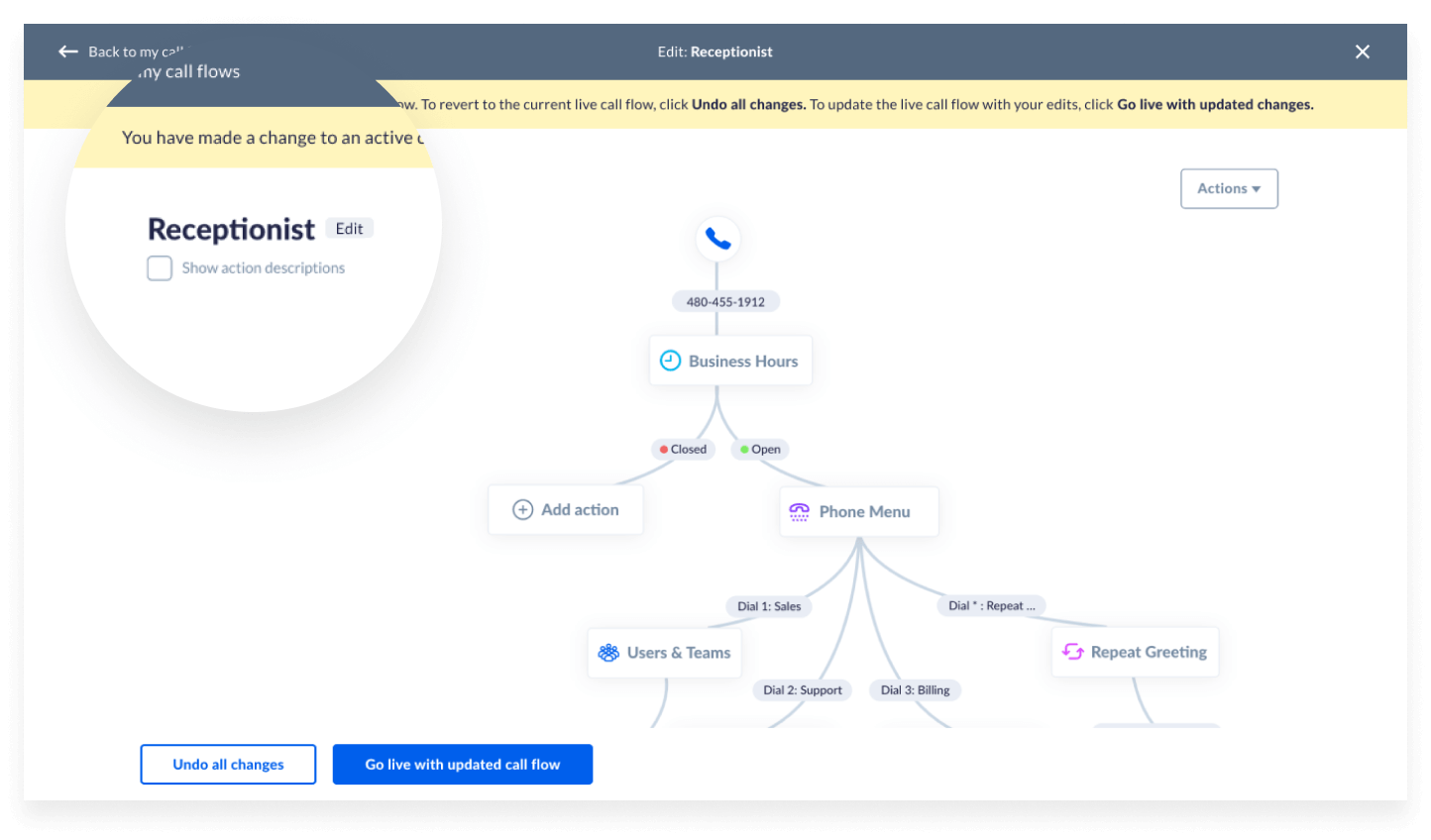 Sometimes you need to make a simple update to your call flows during business hours. Maybe you're closing early for an employee appreciation event, or you're running a monthly promotion.
Now you can edit your business hours and phone menu greetings without deactivating the call flow. With just a few clicks, you can edit your call flow to quickly adapt to the changes in your business.
We'll be adding more ways to edit live call flows soon, so stay tuned.

2) Add additional numbers to a call flow.
Businesses often have more than one phone number, depending on specific needs.
For example, you may have a direct phone number to the sales team and a direct number to the customer support team, or you may have a special 1-800 number for a new customer promotion.
Each of these numbers needs a call flow assigned to it, to ensure that your customers promptly get to the right person.
Now you can create one call flow and apply it to any and all phone numbers that serve your business, saving you time when setting up and editing your flows.
3) Start a call flow from an extension.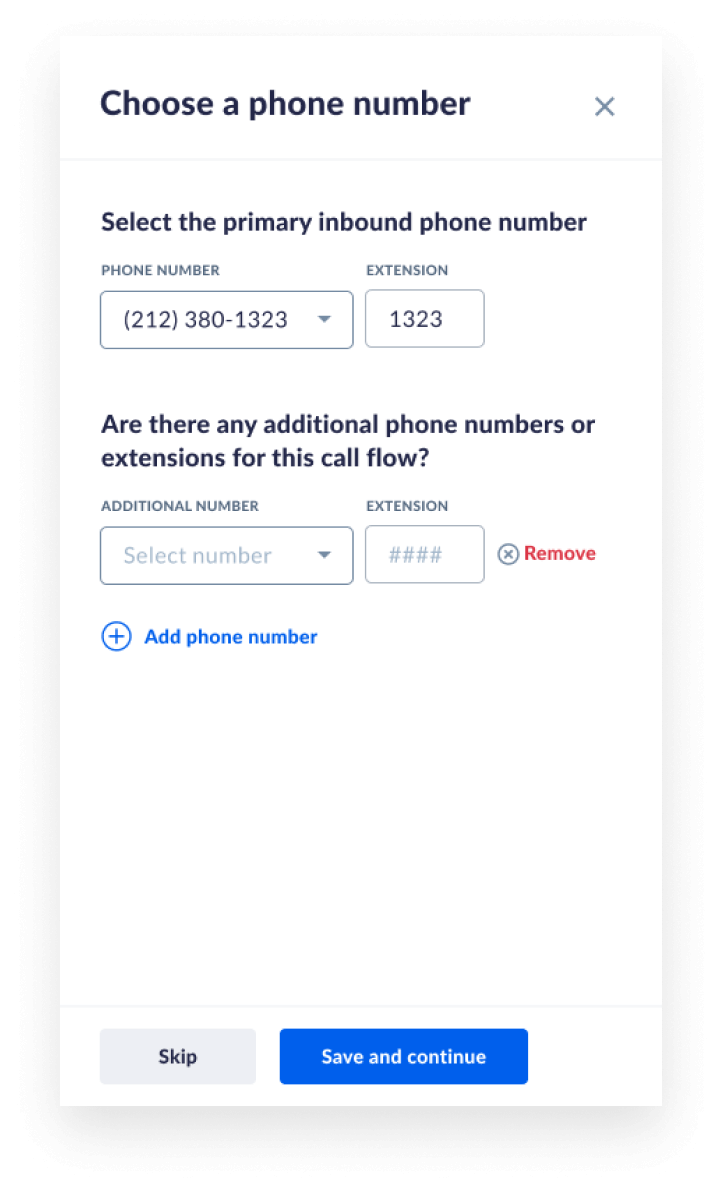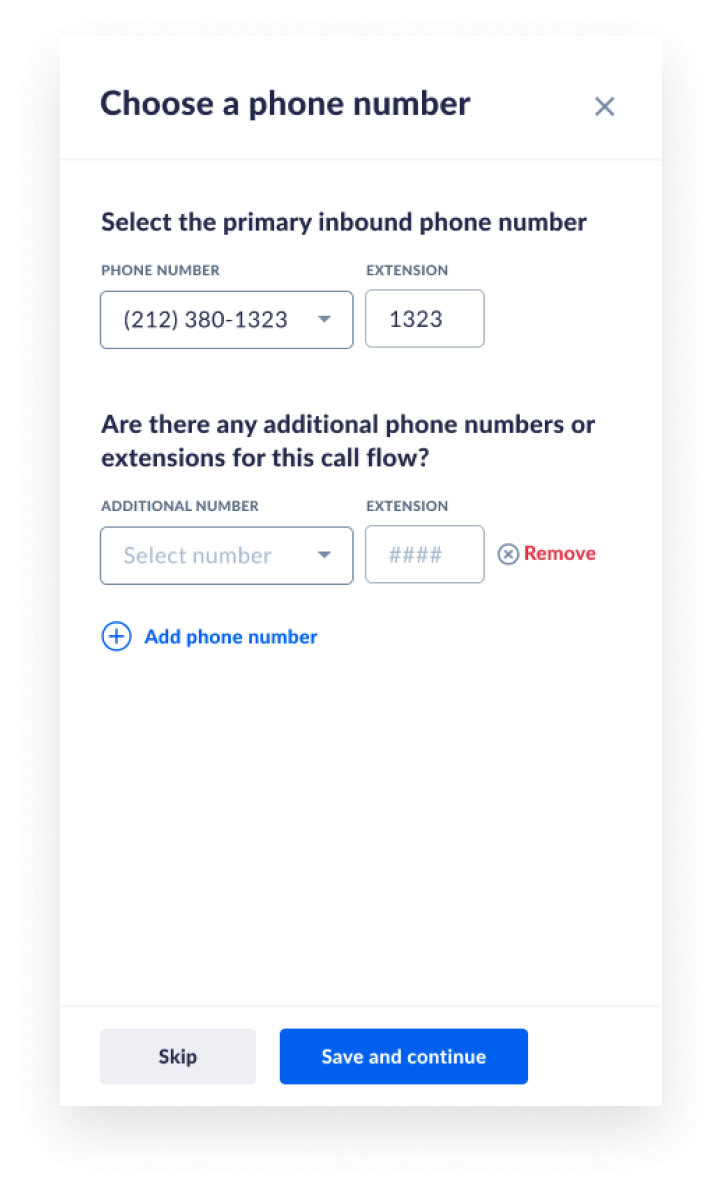 Internal calls need to be routed too! When you need to transfer someone to another department, such as human resources or the finance team, starting a call flow with an extension allows you to do just that without using a full phone number.
This provides more flexibility without increasing costs, making it even easier to route callers.

4) See all the details of a call flow.
You're a detail-oriented person. Aren't we all? When it comes to your phone system, you might want to review your call flows regularly to optimize how calls are routed.
Simply click on each area of the flow to get the information you want. See all the details within a call flow without making any changes to it.
This improvement lets you see how your virtual phone service handles incoming calls at a glance.
5) Catch the errors in a call flow.
Imagine this: You crafted the ideal way for your company to handle inbound calls. Then you push it live and realize that you missed a step. Oops!
Worry no more. Before you press that "Go Live" button, Nextiva's call flow builder lets you know if there's a problem and shows you how to fix it.
Now anyone can manage their company's phone system like a pro.
These five new features in the NextOS platform make it easier than ever to manage your company's phone system. You don't need any technical skills or training to provide an exceptional customer experience.
Stay tuned for more product updates.
Related: Introducing New Ways to Improve Customer Experiences [Fall 2021 Update]