Pumpkin-spiced lattes and cooler weather only mean one thing. It's time to share the latest product updates with you. ?
We've been busy making many improvements to our products and product portfolio. Here are a few of the exciting new products and solutions designed to help businesses improve customer experiences.
Nextiva Contact Center
We made summer hotter than ever when we introduced Nextiva Contact Center. This new product helps sales and service teams manage customer interactions across multiple communication channels.
Integrated with Nextiva Business Phone System, our contact center solution makes it easier for businesses to connect their core customer and internal communication technology, so you can focus on delivering and scaling superior customer experiences that help grow the business.
For example, when a customer emails a request, the support agent can see it and instantly place an outbound call and reply over email at once. No separate emails. No additional transfers. One and done! Likewise, when contact center agents need to consult with an internal subject matter expert, they can reach colleagues across departments for real-time support, and either transfer the call or conference the business expert in without additional toll charges for a smooth handoff.
Many customers are already serving their customers better through our integrated solutions, and this is only the beginning!
Get the full scoop on our integrated cloud contact center and how it increases productivity and customer satisfaction.
Nextiva Mobile App update
For busy folks who prefer to talk rather than text but don't have time for a phone call, we added in-app support for audio files (.mp3, .wav, and .m4a up to 2 MB) in the new version of the Nextiva Mobile App (25.1.0). This is an exciting new feature for customers who use multimedia messages (MMS) to communicate.
We also made minor UI updates and performance improvements, implementing valuable customer feedback to improve call and text functionality and make the user experience even more seamless.
NextOS Admin Dashboard: New user and teams features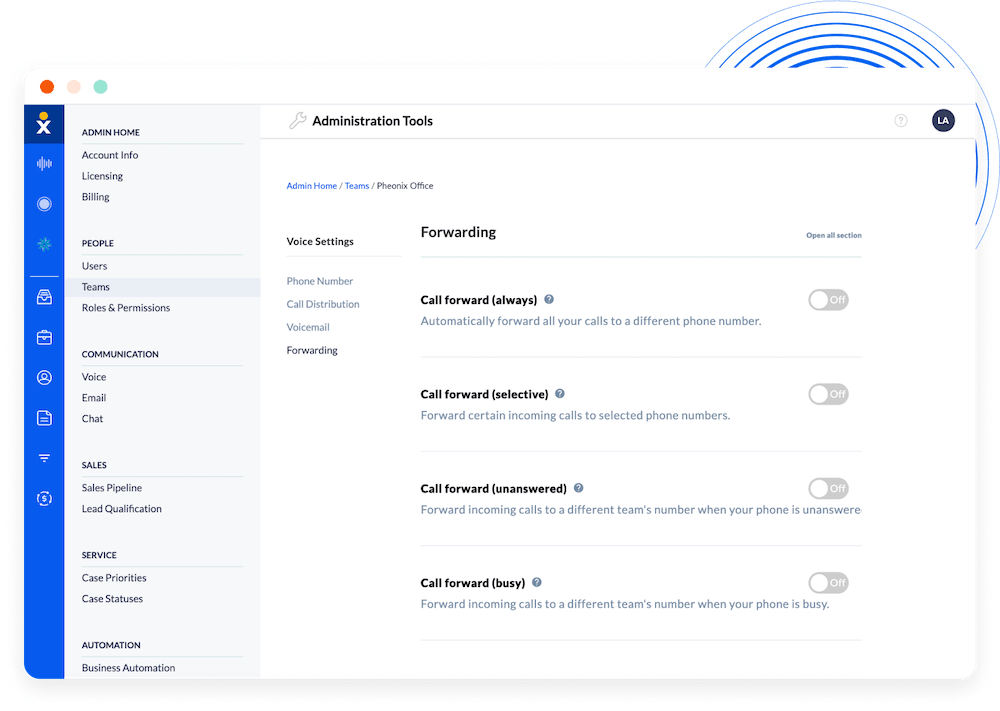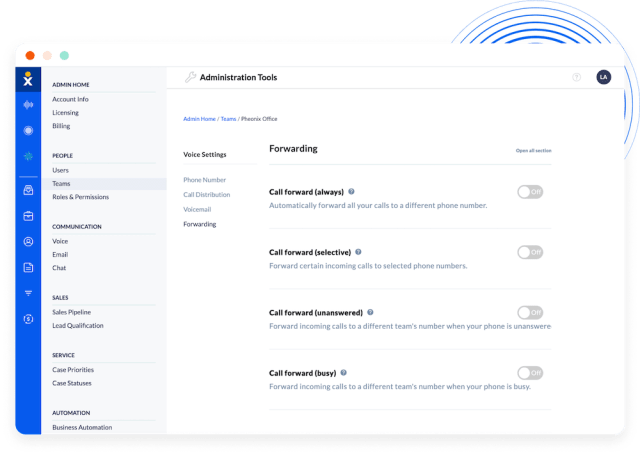 We've also continued to build on our phone service dashboards over the summer, adding more features that help businesses adjust settings and route calls with confidence. For example, we've added more ways to set call forwarding on teams and more ways for users to control their own phone settings.
Admins now have a much simpler way to set call forwarding for an entire team and then use those settings to route calls in a call flow, choosing from call forward always, unanswered, busy, and selective.
Once a team's call forwarding settings are configured on the team voice settings page, admins can make updates to those settings without disabling a live call flow.
Users are now able to configure more of their own phone settings, including:
Voicemail for all calls, busy calls, and unanswered calls.
Do not disturb (to send all calls to voicemail, instead of ringing to the phone).
Call forward always, unanswered, and busy.
Block my caller ID (which blocks the user's name and number when making external calls).
Nextiva Sales and Service
With some recent performance improvements to Nextiva Sales and Service productivity tools, it's even easier to track the customer journey in one interface.
Bulk upload your contacts, whether you use Google or Outlook, then track how your customers are feeling using feedback trend and sentiment analysis. Get visibility into how a person is feeling at any time by clicking the Analytics tab. Or automatically send surveys at key points during the customer lifecycle, and watch how those survey results impact these customer trends.
When you use our quick automation templates to send a five-star customer feedback survey, you can get the insight you need about your customers, without the hassle of doing the work. Simply select the template that fits your business need, copy it, and turn it on.
Then use Nextiva Sales and Service to track the customer journey, whether you're looking at an account, contact, or case — without leaving the screen you're working in.
These four product milestones focus on helping businesses provide a better, lasting customer experience. When it's easy to manage and use, employees can exceed customer expectations and carry out their best work.
As I tell my family and friends, more than 100,000 companies choose Nextiva for our vast customer and team communication tools so they can work smarter and grow faster.