Working remotely is the new norm. But if you've taken on a new role as a remote manager, you might have to brace yourself for a tricky transition.
You've worked hard to become an effective leader, but due to unforeseen circumstances or the nature of your business, you're now managing a remote team. Not only does that bring out new challenges, but it also creates a tremendous learning curve for you.
Take advantage of this unique position so you and the members of your team can thrive while working remotely. Get started by implementing these 15 principles into your management style.
15 tips for first-time managers with a remote team
1) Keep scheduled check-ins
Do not cancel one-on-ones just because you aren't in the office. Your employees need consistency and visibility to tell you how they're doing. And as a new boss, you've got to ensure you're there for them.
There's no better way to communicate with your new team than to hold consistent one-on-ones.
Be sure to ask how they are doing and what you can do to make working remotely more efficient. As long as they aren't asking to cancel one-on-ones, go ahead and listen with an open mind.
2) Promote work-life balance
People tend to overwork themselves when working remotely. Usually, in a day, employees have to commute, chat with co-workers, take a lap around the office, and maybe get that extra cup of coffee.
But at home, you might feel like you're bound to the computer for hours. That's not true.
Lead by example and show your employees that you aren't letting work take over your life. Establish boundaries for yourself and your remote team for better work-life balance.
3) Ask questions
The key to keeping your employees engaged is by asking them questions throughout the day. Asking how to enable them to do their best work will get you off on the right foot. Of course, there's a fine line between this and micromanaging, but you know what I mean.
Then dive deeper and ask what they do to take breaks and recharge throughout the day. Or ask when they thrive most professionally.
Listening to your employees is the key to being a good manager. People just want to be heard, and you can't fix what you don't know. Start asking questions today on your telecommuting technology of choice.
4) Use video conferencing software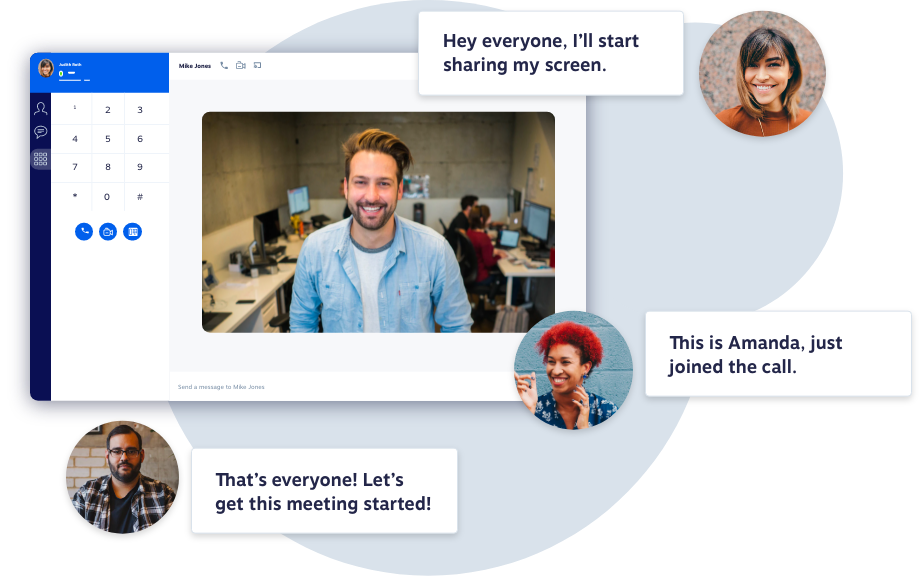 Video conferencing software is a saving grace when working remotely. It allows you to communicate with anyone at any time. Employees at all levels can use video conferencing tools. It makes remote meetings feel like they are in-person, or at least close to it.

Have something complicated to explain? Simply share your screen or record a video.
The Nextiva App, for example, lets you:
Chat/instant message with other app users
Make video calls between app users
Share your screen during calls
Send/receive SMS messages
5) Schedule team events
Just because you and your team are remote doesn't mean that you have to cancel all team bonding events. Schedule a coffee talk with your team once a week so you can just catch up on stuff that would otherwise come up naturally.
Or ask your team if they'd want to participate in a virtual happy hour or trivia night. These events help the team feel connected and place importance on work relationships.
6) Set clear expectations
For remote work, clear expectations are especially crucial. Your direct reports must know exactly what is expected of them daily, weekly, monthly, and quarterly. Make sure to check up on their goals in your one-on-ones and keep track of their wins and opportunities.
Without clear expectations, employees can become bored and unproductive. To prevent that downhill spiral, set guidelines for your report and expectations for your manager. This way, everyone remains accountable.
7) Show empathy
Keep in mind that there is some ramp-up time with regard to working remotely. Show your employees empathy if they struggle to get the hang of it. Working remotely can be isolating and lonely.
Also, be empathetic toward their current situation. Learn if they're working remotely with kids at home. Or do they have a new puppy they need to walk every three hours? As long as they're hitting their goals and being productive, let people be human.
8) Keep communicating
Everyone knows communication is key. It's especially crucial for the success of your team when working remotely. Continue conversations as you would in an office.
Hop on a video conference just to have a coffee with a friend, or instant message someone a funny meme that you would've normally shown them.
Having a presence is essential when it comes to managing. People need to know that you're there and keeping an eye on things. By staying in touch with employees, they'll see that you're not slacking off either and are trying to keep things just as they would be in an office.
9) Continue learning
Part of being a good manager is focusing on your development. Put time on your calendar for your learning and up-skilling. Your leadership skills could use all the training, reading, and talking to mentors it can get.
If you really want to be an overachiever, write a LinkedIn post on what you've learned so that others can do the same. This will also nudge others to follow suit.

10) Make documents collaborative and shareable
If you're still sharing files via email and through server paths, you're doing it wrong. Work remotely with ease by using cloud content collaboration software. This type of software makes it simple to store different files and allows external and internal file-sharing.
With cloud content collaboration software, teams can store, share, create, and collaborate on projects remotely. Connecting to a server is not difficult because everything is on the cloud.
For example, if you have a list of email subject lines that work, share it with all of your team members. The more individuals are kept in the loop, the better their chance of success.
11) Make a collaborative playlist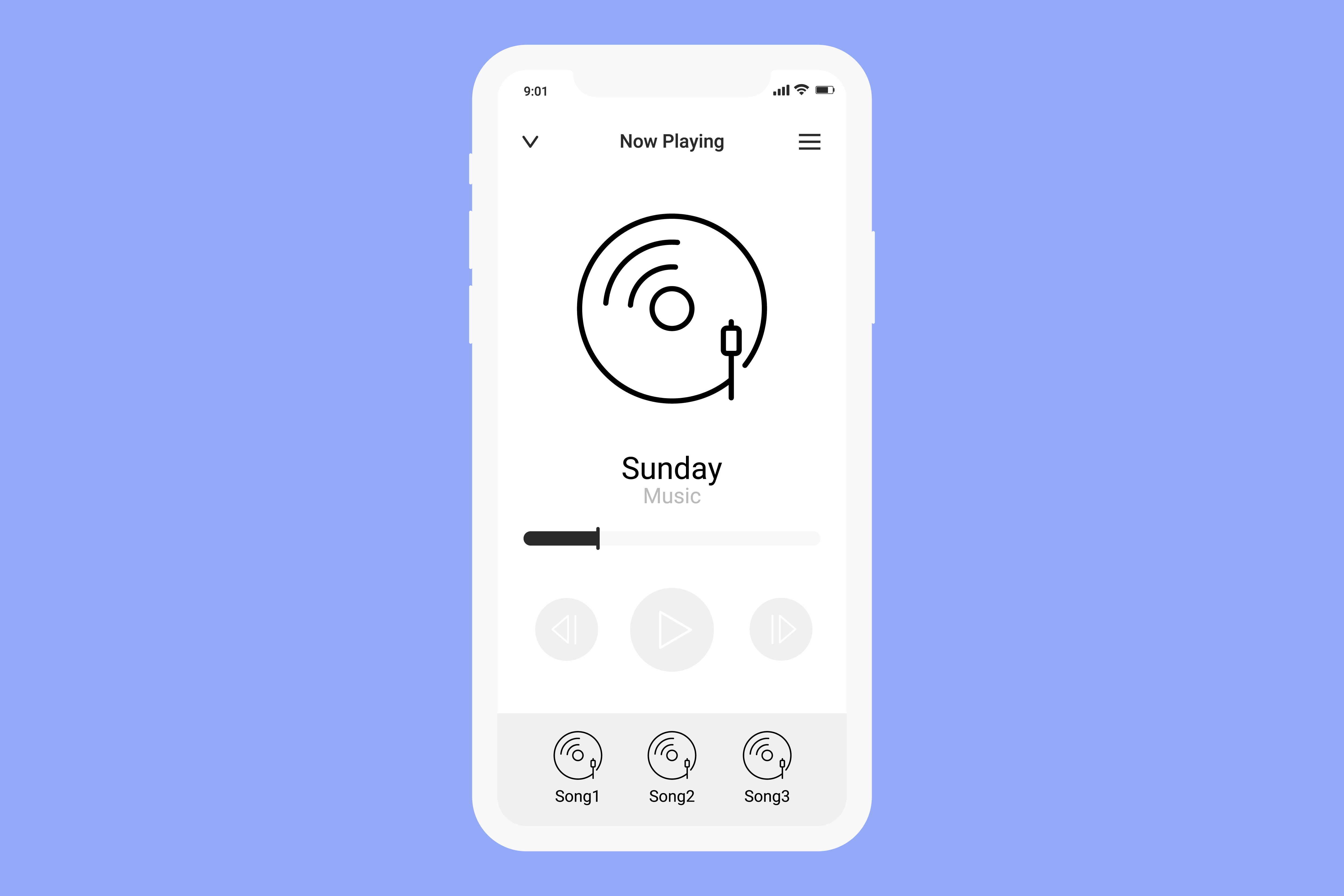 Make working from home a little more fun by creating a collaborative music playlist on your preferred streaming service. Just name the playlist, add your favorite songs for being productive, and then share it with your team to add their music.
This gives the team music to work to and get closer as a unit. If your group loves the idea, begin making themed playlists, too.
12) Lead by example
Even if you're not in the office, people are watching your every move. People like looking at calendars, seeing if you are on chat, and your social media presence throughout the day. That's just the world we live in now.
You must lead by example if you are a manager, especially a new manager. Don't spread negativity, engage appropriately, and keep a pleasant attitude. All of these things will go a long way in gaining the trust of your direct reports.
13) Be flexible
This goes hand-in-hand with empathy, but you need both to succeed as a new manager. As the world continues to change, companies have to adapt, which trickles down to management to, well…manage.
Being flexible, especially when the going gets rough, is crucial because it shows that you are a calm, collected, and confident leader.
Additionally, be flexible with your team. If someone has a great idea, champion that idea and pivot your strategy accordingly.
14) Implement an internal communications system
Communication has been a highlight of this piece, but how do you communicate without a system in place?
Remote work tools enable teams to communicate internally more casually than by email. It eliminates that annoying back and forth and facilitates one-on-one conversations and even group conversations.
All managers and employees benefit when the right internal communications system is in place.
15) Lean on your project management tools
Project management software allows managers to keep track of tasks from a high level and down into the details. Long-term projects and task assignment is easier with these tools.
With project management software, you can also assign tasks with deadlines, monitor productivity, and manage workloads.
This software helps managers keep track of multiple tasks all in one place and eliminates the need to remind their direct reports about deadlines and upcoming projects constantly.
You got this
No one said managing a remote team is easy, but with these 15 tips, you'll be on the path to success in the age of digital transformation. Stick to reliable business communications, put your people first, and use the right tools to help you.