Gamification is the process of making work like a competition—or a game.
It's no secret that work plays second fiddle to our personal lives. So, the idea of making work more fun is welcomed by most people.
Most commonly seen in sales environments, gamification involves rewards, visual displays, and genuine competition to perform better than your colleagues (or opponents).
But could gamification be useful for your contact center agent productivity as well?
To master contact center gamification, we must first fully understand it. A common mistake is jumping into new trendy ideas before understanding why we're attempting gamification and how agents will react to it.
In this post, we cover the following topics:
What is gamification?
Why is gamification useful?
Is gamification just for sales?
Gamification examples
How to master gamification in your contact center
What about gamification in the contact center?
In a contact center setting, you can use gamification to inspire all forms of activity.
From collections to support, it's not just telesales that gamification helps.
Think about metrics like number of tickets closed, first call resolution, and average handle time. These are all examples of cross-functional KPIs that apply to any department.
Gamification can bring a competitive edge to encourage agents to beat their best score or win the prize at the end of the week.
What is the purpose of gamification?
Like with any game, the purpose of gamification is to introduce fun and competition. But, ultimately, everyone wants to win.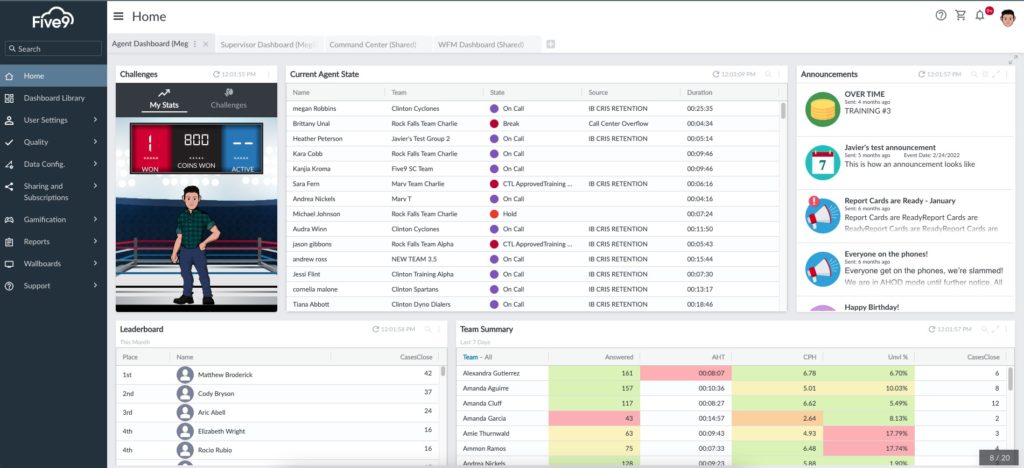 Think about the reward as well as the game element itself. Sure, games are fun. But games with prizes at the end drive better competition.
To ensure everyone wants to win, you must make sure the reward appeals to all members of your team.
A common goal like finishing early on a Friday is a good way to inspire an entire team.
Likewise, an extra day off for being the top ticket closer per month appeals to all staff.
Make sure your gamification plan involves all your team. Otherwise, you'll see repeat winners and demoralized agents who don't feel like they can join in; defeating the purpose of gamification.
Why is gamification useful?
When you use gamification correctly, it's useful to boost morale and achieve your targets.
Be it at a personal, team, or business level, there are many benefits of gamification.
Benefits of gamification in your contact center
When you gamify a contact center, the instant benefits like happy and incentivized staff lead to a number of things:
Agent retention.
Increase in sales.
Staff development.
Boost in collections.
Employee engagement.
Higher ticket closure rate.
Improved social collaboration.
Increase in first call resolution.
Appeal to new staff when recruiting.
Decrease of call abandonment rate.
Do employees like gamification?
It's recognized that employees like gamification as it encourages them to achieve something more than their day-to-day activities.
When you inspire people to go the extra mile, they are more likely to do so. And the game element makes it seem like less effort.
But that's not to say everyone enjoys gamification.
Make sure you factor in personal preferences and personality types.
For example, sales teams thrive in gamified settings. Getting to the top of the leaderboard each week is a bragging right.
"I sold the most. I'm the best salesperson."
This is often enough in a sales environment, with bonuses or commission already taking care of the monetary aspect.
But, at the other end of the spectrum, you have people who are happy in their job already. And gamifying elements might make it seem like too much of a competition. These people could start to fear underperforming and gamification may have the opposite impact.
Ensuring the right balance, and including the right people, is the first step in mastering contact center gamification.
You know your people best. Do what feels right.
What are the disadvantages to gamification?
Like any change in a contact center, there will be cons as well as pros.
Some people thrive when using games and competitions but others may hate the idea of exposure when they don't perform as well as others.
To combat this, think about how you display people at the top of leaderboards and keep private those at the bottom. You can have a quiet word if agents underperform; it doesn't need to be public knowledge.
There is also an associated risk of repeat winners. If the same agent keeps winning days off, not only will they have much more vacation than others, it will demotivate other agents from competing.
Introduce rules where repeat winners are only possible for certain prizes (or not at all).
Is gamification just for sales?
It's a common misconception that you can only use gamification in sales environments.
In fact, businesses are using gamification across HR, marketing, and customer service.
In your contact center, try introducing gamification to your collections, support, and helpdesk.
A classic example is call time but that can be manipulated and drive the wrong behavior.

Rather than rewarding agents for spending the most amount of time on the phone, try some of the following:
Whatever your most important metrics and KPIs are, have these displayed on wallboards and use gamification to drive better results in your department.
Gamification examples
Rather than spending time reinventing the wheel, draw inspiration from these gamification examples.
Jeremy Clifford, founder and CEO of Router CTRL, takes a monetary approach. Some managers don't like this. But, at the end of the day, money is a huge motivator—especially in lesser-paid jobs like call centers.
"We wanted to increase first call resolution rates, so we set up a contest where the agent who resolves the most calls in a day gets a bonus. We also give out prizes for the agent who resolves the most calls in a week, month, and quarter. This has been a great motivator for our agents and has resulted in higher first call resolution rates."
Luke McCann, Owner of Collection Agency Match, also takes the monetary approach and sees a clear ROI in gamification:
"By utilizing our display board, we have timed games and our collectors can view the leading board to see where they stand. The top performers get rewarded with cash bonuses, paid time off, and gift cards. We see a 15-20% increase in payments collected on days that we run contests so the ROI has been a game changer for our call center."
It doesn't always have to be cash prizes…
Adbul Saboor, who works at The Stock Dork, says his company keeps it simple:
"Daily awards can be coffee shop gift cards or extra breaks. Or you can start a point system that allows your agents to accumulate points for completing tasks and redeem them for larger awards. Banking points have the added benefit of ensuring that your staff will remain with the company and strive for larger prizes."
Victoria Mendoza, CEO at MediaPeanut, shares a gamification technique that didn't work:
"We tried quiz nights as a gamification technique but it didn't work because of lack of interest among participants. We included trivia about our clients and our company but it failed because people were eager to get back to what they are doing at home."
A key learning here is to incorporate gamification during work—rather than creating another activity that may feel like work.
This is what Martin Lassen, Founder & CEO of GrammarHow, does:
"We award trophies and badges for product knowledge and understanding new features of our product. We include leaderboards to encourage competition. Employees with the most significant product expertise feel appreciated and rewarded—boosting their output and job satisfaction. People who are unsuccessful in this round are inspired to improve in the next one."
How to master gamification in your contact center
There is no cookie-cutter approach to gamification in contact centers.
Those who try to copy other contact centers end up with flawed processes and non-inclusive competitions.
Follow these three gamification principles when introducing it for the first time.
1. Plan gamification based on your people
What works for others may not work for your contact center agents.
Every human is different so this part of your gamification plan is crucial.
Sure, it might be easier to create a competition that you know high-performers will love.
But the purpose of gamification is to incentivize everyone and improve your department as a whole.
Take these proactive steps to solicit gamification ideas for your team:
Ask what motivates your agents.
Send out a questionnaire asking for ideas.
Ask what won't work (these are the most important).
Interview agents who've worked in gamification environments before.
Send sample ideas for agents to vote on what they think they will enjoy.
When you have a list of common rewards and competitions, find a middle ground and test out your gamification techniques.
2. Use contact center tech that includes gamification
The last thing you need is to introduce new technology for agents to learn.
Remember, the premise behind gamification is to make work fun.
So a new interface and weeks of learning go against that.
Nextiva Contact Center allows you to create custom dashboards that show who's performing best at certain points of the day/week/month.
And it's built into the same interface agents use to handle calls, emails, and live chats.
Supervisors can access the full suite of reports and update staff who don't regularly check display boards.
For agents working from home, they have access to everything to see where they are on leaderboards or how far they are away from unlocking a reward.
You can gamify all these (and more) to improve metrics you identify in your reporting and analytics packages.
3. Review what's working and what's not
There's little point forcing gamification on your agents.
If they don't react well to new incentives, try another one.
Speak to your teams about why they didn't like the new games and competitions. Send email surveys and gather anonymous feedback.
Use this feedback to prepare a better version or start a new game. It's amazing the difference in morale and performance even the smallest tweaks can make.
Like when teaching a new skill or mastering a new art, gamification in contact centers takes time to perfect.
That's not to say you won't nail it the first time.
But don't get disheartened if you don't.
Learn what works and what you can improve.
These are the first steps to mastering gamification in your contact center.
Want to try a contact center solution that allows you to implement gamification? Talk to a Nextiva expert about how our product can optimize your business.