In an ever-changing industry like customer service, it can be easy to lose sight of the "why" that is at the core of what you do. To help reenergize you and your team, we've compiled a list of 121 inspiring quotes on customer service from industry experts.
We sourced words of wisdom from CX experts, customer service podcasts, and the blogs of industry movers and shakers to serve as a reminder of the importance of great customer service. We hope these quotes also provide insights into how you can create outstanding customer experiences within your own company. 
After all, in the wise words of Sam Walton, "The goal of a company is to have customer service that is not just the best but legendary." 
Excellent customer service quotes to energize and ignite you
Providing excellent customer service is the key that will unlock endless success for your business. Share these quotes with your team to keep them energized and excited about their work. 
"Customers vote with their feet and decide if they will stay or leave based on their perception of how much we value them and how we treat them. And more are leaving every day just because of our inability to the basic blocking and tackling of delivering our products to them. Getting customers to love you has got to start with showing them the respect they deserve by making it painless and eventually a joy to do business with you."
— Jeanne Bliss | Founder and CEO of Customer Bliss
"Send out a cheerful, positive greeting, and most of the time you will get back a cheerful, positive greeting. It's also true that if you send out a negative greeting, you will, in most cases, get back a negative greeting."
— Zig Ziglar | Author, salesman, and motivational speaker
"It's important to have well-trained employees but let us not forget: If you don't have customers, there is no need for employees."
— Dr. Kaliym A. Islam | Author
"If you work just for money, you'll never make it, but if you love what you're doing and you always put the customer first, success will be yours."
― Ray Kroc | Former CEO of McDonald's
"Socially savvy, mobile-minded customers are the new black. NPS, revenues, and reputations will rise and fall according to how well organizations adapt to this challenge."
— Martin Hill-Wilson | Owner of Brainfood Consulting
"In the age of the customer, executives don't decide how customer-centric their companies are — customers do."
— Kate Leggett | VP and Principal Analyst at Forrester Research
"Respect is how you treat everyone, not just those you want to impress."
— Richard Branson | Founder of Virgin Group
When you're trying to make an important decision, and you're sort of divided on the issue, ask yourself: If the customer were here, what would she say?"
— Dharmesh Shah | Founder and CTO at HubSpot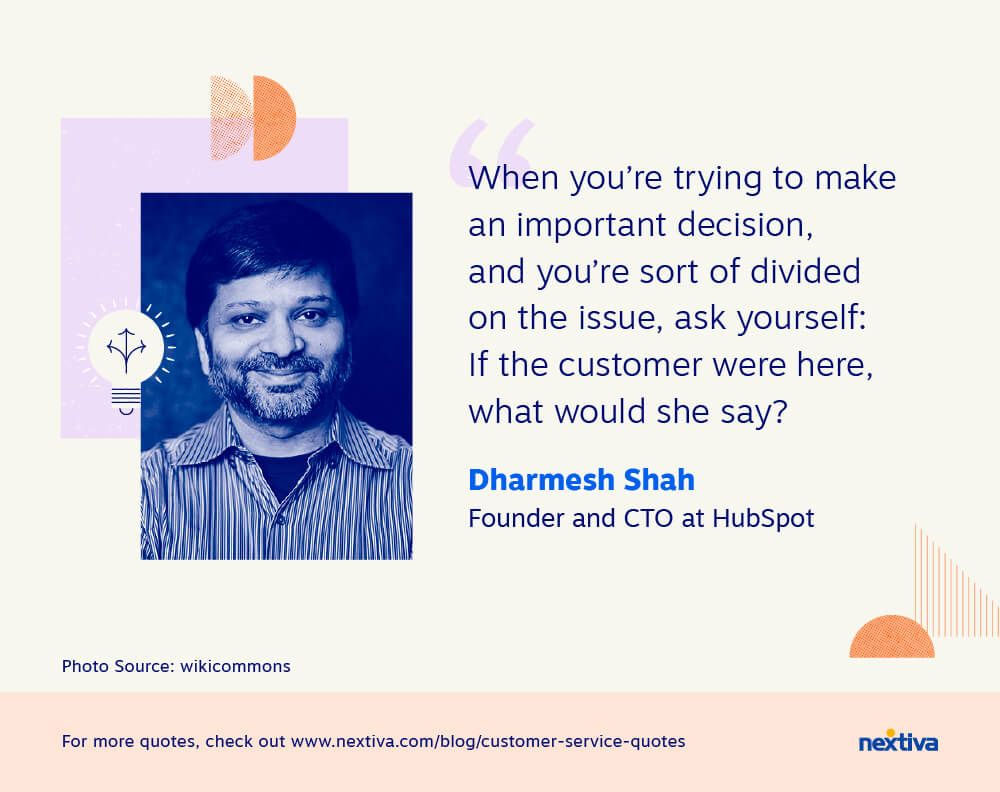 9. "Tough and uncertain times are one of the greatest opportunities to strengthen your relationship with your customers."
— Paul Reilly | Professional speaker, sales trainer, and author of "Selling Through Tough Times"
10. "Customer data is the thread that connects all aspects of the CX strategy. It allows us to meet customers where they are with what they need. For years, we have been the beneficiary of increasing volumes of customer data. With the accelerated digital engagement journey of the past six months, we now have even more data at our disposal to understand key customer segments."
— Mazen Ghalayini | Managing partner, digital product & experience lab leader at West Monroe
11. "It's simple: Happy customers reward you with their loyalty. Exceptional customer service converts into customer loyalty. It converts into raving fans who will praise your team on Twitter, and Facebook, and talk about their experience over lunch with friends. There is no greater marketing for your product than happy, surprised, raving fans, and no reason you can't start now."
— Sarah Hatter | Founder of CoSupport, LLC
12. "When you are making a decision about how best to serve your customers, your own experience is often a better guide than a more sophisticated analysis of the market."
— Richard Branson | Founder of Virgin Group
13. "Be your own customer. Travel your customer journey, and look for quick fixes. I bet there's one hanging over your head right now! A broken link, perhaps? Maybe it's an outdated catalog item or a process that takes too long. You need not label it a 'customer experience issue' to get support from your organization. It's broken! Make that one item a priority and fix it, then find another. The more speed bumps you remove, the better the journey will be for your customers."
— Jeannie Walters | CEO and Chief Customer Experience Investigator with Experience Investigators
14. "Customer service is everything and anything that touches a customer ― directly or indirectly. Customer service means servicing customers, and it's so much more than just solving problems or addressing complaints. Customer service is part of a holistic customer experience that is capable of providing a critical competitive advantage in today's increasingly cluttered and commoditized marketplace."
— Joseph Jaffe | Author and consultant
15. "[Companies] need to figure out that when you over-promise, you're bound to under-deliver and lose customers' trust and respect. But, if you under-promise and over-deliver, you just might gain a customer for life (not to mention a brand advocate whose going to tell her entire social network!)"
— Denise Lee Yohn | Brand leadership expert, speaker and author of "What Great Brands Do"
16. "If you want to make a good first impression, smile at people. What does it cost to smile? Nothing. What does it cost not to smile? Everything, if not smiling, prevents you from enchanting people."
— Guy Kawasaki | Chief evangelist at Canva
17. "I believe that all brands will become storytellers, editors and publishers, all stores will become magazines, and all media companies will become stores. There will be too many of all of them. The strongest ones, the ones who offer the best customer experience, will survive."
— Natalie Massenet | Founder of NET-A-PORTER
18. "Customers today have an 'I need it now' approach. Customer service professionals need to know how to easily access information for them to understand the context of the customer's concerns."
— Daniel Fallmann | Founder of Mindbreeze
Inspirational quotes from leaders in customer service
At times, customer service may feel like a thankless job. Help reignite your team's passion for what they do by sharing words of wisdom from industry pros.
19. "What is necessary is to listen to your customers: understand their needs, expectations and jobs to be done, and design an experience that meets those needs."
— Annette Franz | Founder and CEO of CX Journey Inc.
20. "Customers will never love a company until the employees love it first."
— Simon Sinek | Author and speaker
21. "LEARN: Listen, Empathize, Apologize, Respond, and Notify."
― Micah Solomon | Consultant and keynote speaker
22. "The best are just a little above average, but above average all the time."
— Shep Hyken | Chief Amazement Officer and speaker with Shepard Presentations LLC
23. "Cater to your customers' lifestyles. It will create instant rapport and a lasting sense of 'I belong here.'"
— Marilyn Suttle | CEO at Suttle Enterprises LLC
24. "Be a generous listener to be a generous contributor. We often listen to respond instead of listening to relate."
— Janna Cachola | Customer service expert at Air New Zealand
25. "If the pursuit of customer imagination were a religion, passion would be its hymnal."
— Chip Bell | Founder Chip Bell Group
26. "Customer satisfaction is worthless. Customer loyalty is priceless."
— Jeffrey Gitomer | Speaker, author, and sales expert at Buy Gitomer
27. "Make sure the voice of the customer is the loudest voice at the strategic table."
— Skip Prichard | President and CEO at OCLC
28. "I have learned to imagine an invisible sign around each person's neck that says, 'Make me feel important!'"
— Mary Kay Ash | Founder of Mary Kay Inc.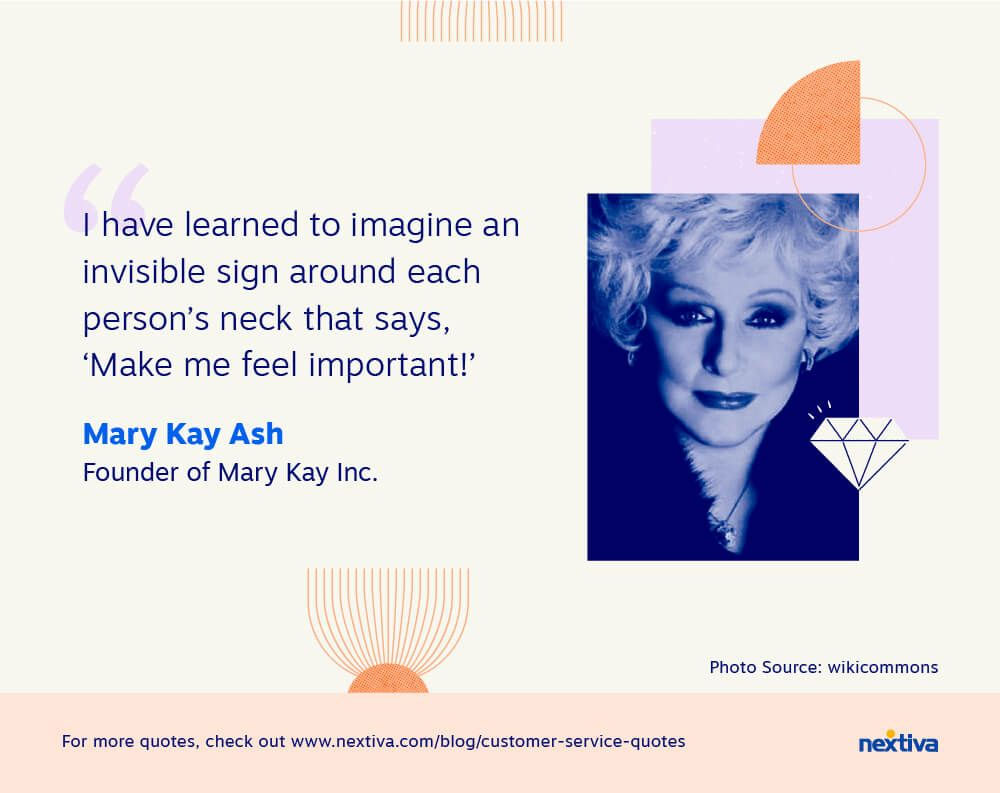 29. "Great customer service doesn't mean that the customer is always right, it means that the customer is always honored."
— Chris LoCurto | Entrepreneur, speaker, and coach
30. "Making an emotional connection matters, because people — customers and employees — are emotional beings. We identify with others who connect with us emotionally — and we trust them more."
— Denise Lee Yohn | Brand leadership expert, speaker and author of "What Great Brands Do"
31. "Customers want to bond with a brand on a deeper level. They want you to be their BFF, sherpa, and cheerleader all in one."
— Charlene Walters | Author of "Launch Your Inner Entrepreneur: 10 Mindset Shifts for Women to Take Action, Unleash Creativity, and Achieve Financial Success"
32. "Customer expectations? Nonsense. No customer ever asked for the electric light, the pneumatic tire, the VCR, or the CD. All customer expectations are only what you and your competitor have led him to expect. He knows nothing else."
— W. Edwards Deming | Author, lecturer, and management consultant
33. "When your customer experience is memorable, you turn passive users into superfans. These are brand evangelists who are passionate about your values, offerings, and continued success. To tap into these superfans, you need to implement clear strategies that put your customers first."
— Brittany Hodak | Keynote speaker
Customer service quotes from industry pros
Who better to speak about the customer service industry than those that have helped pioneer the current gold standard of the customer experience? We've compiled a collection of quotes from industry experts to spark your own team's creativity.
34. "In a world where products and services are becoming more and more commoditized, customer experience is the only true differentiator."
— Annette Franz | Founder and CEO of CX Journey Inc.
35. "Realize that employees and the customers both have to be engaged, at the same time, to move your business forward for sustainable success."
― Bob Thompson | CEO of CustomerThink Corp.
36. "A jigsaw puzzle is an extremely good analogy for the customer experience… you can only see the picture if you put the pieces together."
— Ian Golding | CEO and Founder of Customer Experience Consultancy Ltd.
37. "If you want your employees to make it a habit to deliver outstanding customer service, you have to make it a habit to thank them when they do."
— Bill Quiseng | Chief Experience Officer and speaker
38. "A brand is what a business does, reputation is what people remember."
— Ted Rubin | Social Marketing Strategist, Author, and Speaker
39. "A lot of B2B companies are so focused on their product, that they forget that their company has a fantastic story to tell that they can share on platforms like LinkedIn or YouTube. A lot of B2B companies underestimate that sharing their experience with your customers will increase the bond in a more digital way."
— Steven Van Belleghem | Author of "The Conversation Manager"
40. "The key is to set realistic customer expectations, and then not to just meet them, but to exceed them — preferably in unexpected and helpful ways."
— Richard Branson | Founder at Virgin Group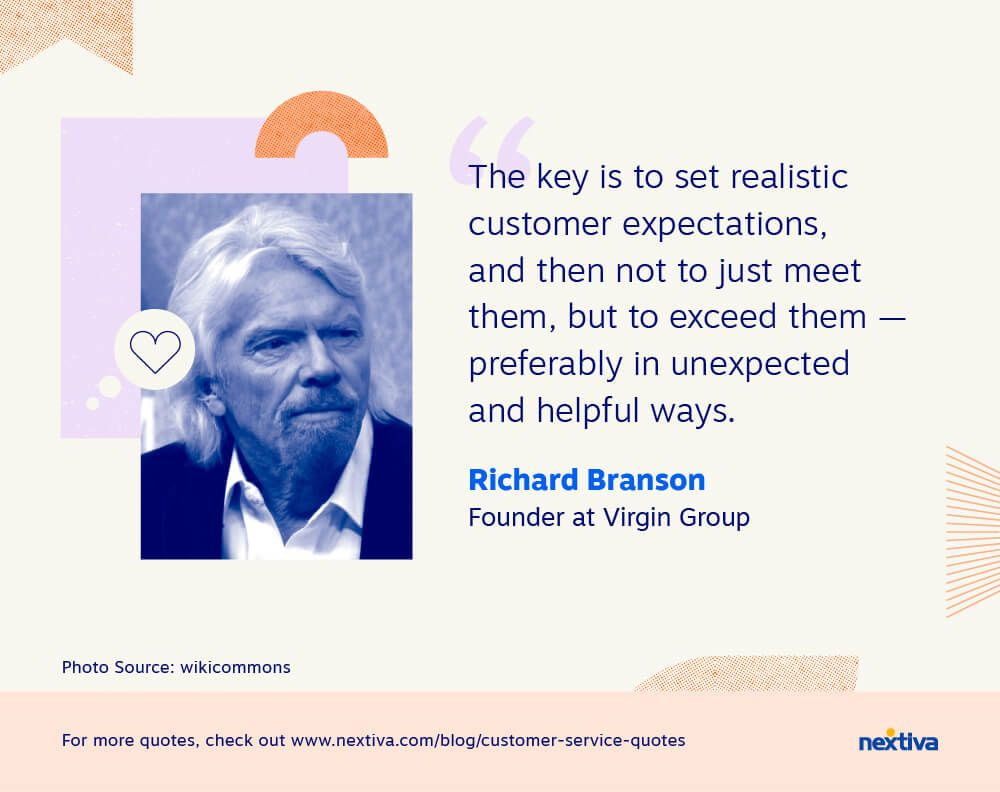 41. "You can't transform something you don't understand. If you don't know and understand what the current state of the customer experience is, how can you possibly design the desired future state?"
— Annette Franz | Founder and CEO of CX Journey Inc.
42. "Customers are speaking to you implicitly via their behavior, captured in the footprints they leave behind in your systems."
― Bob Thompson | CEO of CustomerThink Corp.
43. "It's not the customer's duty to be loyal to you; it's your duty to be loyal to your customers. Focus on quality, relevancy, and the BEST customer service possible. Make sure your business is creating a service experience so good that it inspires loyalty."
— Steve Maraboli | Keynote speaker and business consultant
44. "All the search engine optimization in the world can't outweigh the impact of a successful and happy customer."
— Meghan Keaney Anderson | CMO at The Wanderlust Group
45. "No longer will people accept viral marketing. What consumers are expecting — and craving — is a more personalized, curated experience."
— Penny Wilson | CMO at Appnovation
46. "Leaders often say, 'We're just getting started with customer experience,' but that's a myth. CX has been happening as long as your organization has existed — with or without your attention and intention!"
— Jeannie Walters | CEO and Chief Customer Experience Investigator with Experience Investigators
47. "The most dangerous customers aren't your haters; they are the 'meh' in the middle, the dissatisfied customers who don't take the time to complain."
— Jay Baer | CEO of Convince & Convert and best-selling author of six business books
48. "A great customer experience needs to be holistic as well as contextual."
— Jamie Edwards | Director of Talent at Deliveroo
49. "My definition of a 'customer centric' culture is where people are asking the right questions to the right people, who are able and willing to collaborate to provide their insights. In such a culture, over time, individuals ask the right questions more often and get the right answers more often. This is a reinforcing feedback loop. As this culture takes hold, more and more of the solutions coming out of the group would yield positive customer experiences."
— Secil Watson | Former EVP, Head of Digital Solutions for Business at Wells Fargo
50. "When a customer enters my store, forget me. He is king."
— John Wanamaker | Merchant and founder of one of the first American department stores
51. "The question I get the most often when I walk off a physical stage, it's always somebody from a B2B company. They'd come up to me and they'd say, 'Oh great presentation. I was really inspired. Does what you talk about apply to B2B companies?' And I kind of perfected this. With a very straight face I would say, 'Well, that depends. Are you marketing to human beings?' And then they'd be like, 'Well, yeah.' Then customer experience applies to you because the people that are buying your product are people."
— Dan Gingiss | Customer experience speaker and author
52. "One big mistake we see in customer service is the assumed customer journey. An expected customer journey reflects the commercial perspective on what works and what does not. But it doesn't capture the customers' views, customer touch-points, or emotional drivers."
— Tanya Ahmed | Digital marketer at Vantage Circle
53. "By automating time-consuming, repetitive tasks, you're able to free up your CSMs to focus on customers. Customer success automation is beneficial because it eliminates human errors and minimizes wait time. However, the downside of automation is that it makes relationship building more challenging by excluding the human approach."
— Gustavo Bianco | Head of Sales & Customer Success at Restream
Quotes on building and fostering customer relations
Relationship building is key to developing an impressive customer service reputation. Here are a few inspiring quotes to help remind you about the power of nurturing relationships with customers.
54. "Get closer than ever to your customers. So close that you tell them what they need well before they realize it themselves."
— Steve Jobs | Co-founder and former chairman and CEO of Apple Inc.
55. "If you give customers a chance, they'll communicate with you in many ways."
― Bob Thompson | CEO of CustomerThink
56. "The key to forming loyalty lies in your Customer Experience, and more specifically in the memories your customers have of your Customer Experience. By minding how these memories are formed—in the peak and at the end of your experience — you can help customers remember your experience well."
— Colin Shaw | Founder and CEO of Beyond Philosophy
57. "The tides of change have been working, and customers have realized they control the brand, not the company."
— Frank Eliason | Consultant at Frank Eliason LLC, formerly Citi and Comcast
58. "The greatest technology in the world has not replaced the ultimate relationship building tool between a customer and a business — the human touch."
— Shep Hyken | Chief Amazement Officer and speaker with Shepard Presentations LLC
59. "Every overlooked moment — those moments that leave the customer feeling a bit neglected instead of cared for, or those moments when they need information or support and can't find it — matters. These are opportunities to deliver a positive experience and build that trust with the customer."
— Jeannie Walters | CEO and Chief Customer Experience Investigator with Experience Investigators
60. "The customer is always right. But not every customer is right for you."
— John Wass | CEO of Profit Isle
61. "In this day and age, it is the business that knows how to woo and win the hearts of its customers that will eventually win their pockets."
— J.N. Halm | Author of "Customer Romance: A New Feel of Customer Service"
62. "It's easier to love a brand when the brand loves you back"
— Seth Godin | Entrepreneur, best-selling author, and speaker
63. "In this world, the people who interface between your organization and the customer are the single most important people. What they hear from the customer is the best intelligence that your organization has. And yet, if they're existing in a world where they're only told what to do, they don't have any power to share what they heard, and you've lost a massive opportunity."
— Simon Mulcahy | CIO at Salesforce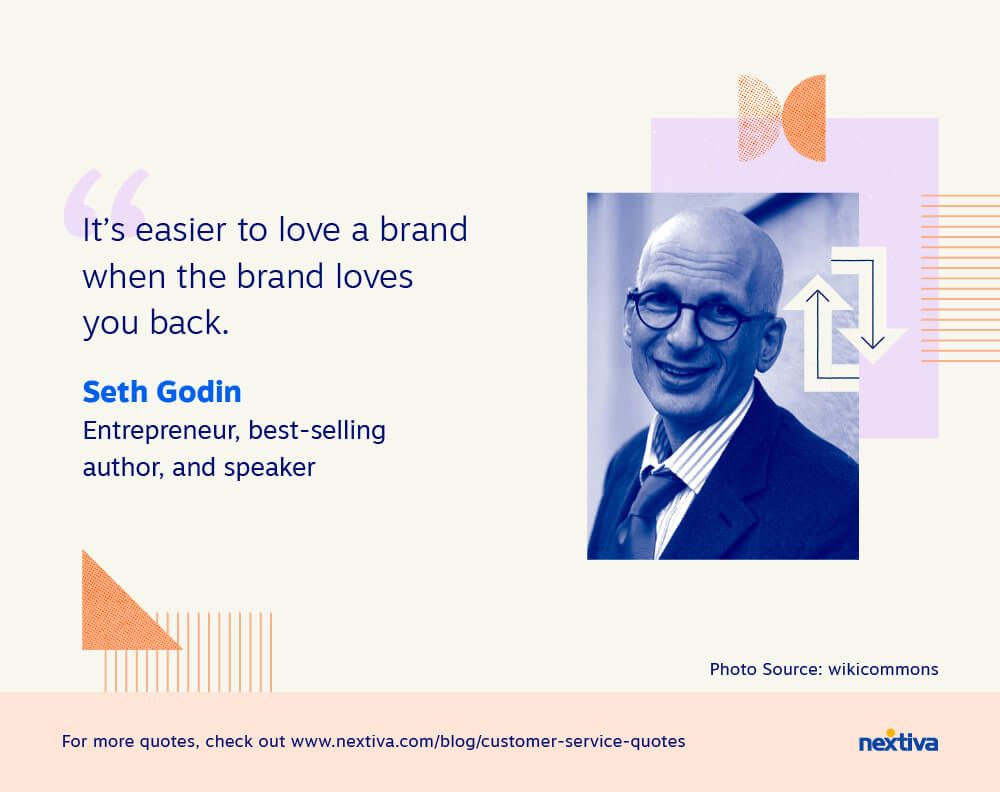 64. "If people believe they share values with a company, they will stay loyal to the brand."
— Howard Schultz | Co-founder of Schultz Family Foundation, formerly Starbucks
65. "I have come to realize that customers love companies that make them feel good about themselves — companies that reflect what they, the customers, believe about themselves. Customers fall in love with the company that says to them, 'You are unique. You are great. We are the only ones who can make you feel that way. Fall in love with us and we will continue to make you feel great.'"
— J.N. Halm | Author of "Customer Romance: A New Feel of Customer Service"
66. "Your target customers have to love you more than they hate change. And people really hate change."
— Erika Hall | Co-founder and Director of Strategy at Mule Design Studio
67. "The toughest thing about the power of trust is that it's very difficult to build and very easy to destroy. The essence of trust building is to emphasize the similarities between you and the customer."
— Thomas J. Watson | Former chairman and CEO of IBM
68. "One of the best ways to get authentic feedback from customers does not involve fancy math or a psychology degree. If you spend more time than a quick survey, and get to a deeper level of communication, then you can get more perspective on why a customer does what they do and what they really want. In-depth interviews can reveal a lot about what a person really thinks."
— Colin Shaw | Founder and CEO of Beyond Philosophy
69. "The fundamental way to be customer-centric is to listen to customers consistently. Then use that feedback to do incredible things within the organization."
— Sean McDade | CEO at PeopleMetrics
70. "Customer effort, one of the biggest predictors of loyalty after a service interaction, is formed by one-third of what the customer needs to do and two-thirds of how it feels to them."
— Rick DeLisi | Co-author of the "The Effortless Experience"
71. "Customers expect information on a timely basis. Even when there are no updates to share, great CX means picking up the phone and explaining that you have not forgotten and that you are still working on a resolution. Silence is never an option, especially for high-paying customers."
— Stacy Sherman | Founder of Doing CX Right
72. "Empathy is one of those traits that lets customers know that you truly value them; that they are more than dollar signs to you. You're not there just to make a sale. You're there to ensure they enjoy the process and are taken care of."
— Alejandra Zilak | Writer for Bluleadz
Humorous quotes to boost team morale
Not every interaction with a client is a positive one, but there are still lessons to be learned. Use these funny customer service quotes to boost your team's morale and keep them smiling.
73. "The mindset that the way you've always done things is still working, prevents you from opportunities to learn and grow from feedback given to you by your customers."
— Adele Gutman Milne | Host of the Hospitality Reputation Marketing Podcast: Get Great Reviews
74. "How would your company act if every customer were your mom?"
— Jeanne Bliss | Founder and CEO of Customer Bliss
75. "The 'Your payment has been processed' communication is not exactly how your mother taught you to write a thank-you note."
— Jeannie Walters | CEO of Experience Investigators, and Customer Experience Speaker, Trainer, and Consultant
76. "The customer is not always right, but they are always the customer!"
— Shep Hyken | Chief Amazement Officer and speaker with Shepard Presentations LLC
77. "Saying hello doesn't have an ROI. It's about building relationships."
— Gary Vaynerchuk | Chairman of VaynerX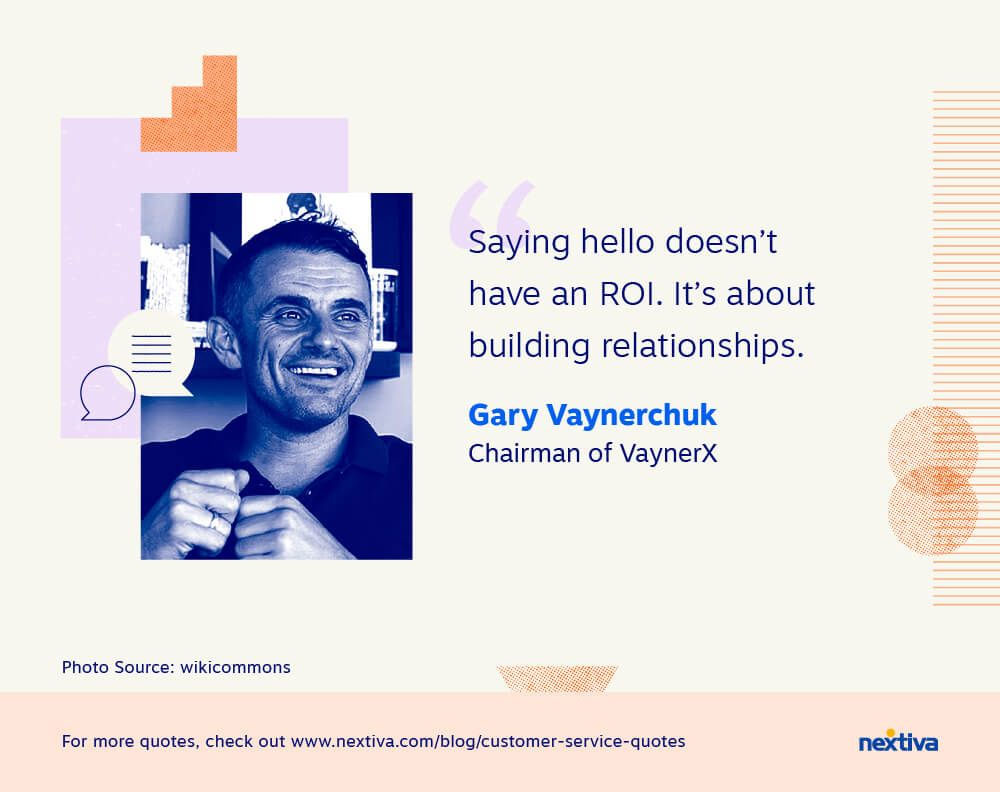 78. "Customers, like spouses, can be at your beck and call if you give them what they need, when they need it and how they need it. Massage their ego and you have them by the heart."
— J.N. Halm | Author of "Customer Romance: A New Feel of Customer Service"
79. "Opportunity is missed by most people because it is dressed in overalls and looks like work."
— Thomas Edison | Inventor and businessman
Quotes about the importance of good customer service
A poor customer service experience is all that it takes to turn a customer away from your company forever. Consider these quotes from industry pros on the importance of making every interaction a positive one.

80. "If you make customers unhappy in the physical world, they might each tell six friends. If you make customers unhappy on the internet, they can each tell 6,000 friends."
— Jeff Bezos | Founder and executive chairman of Amazon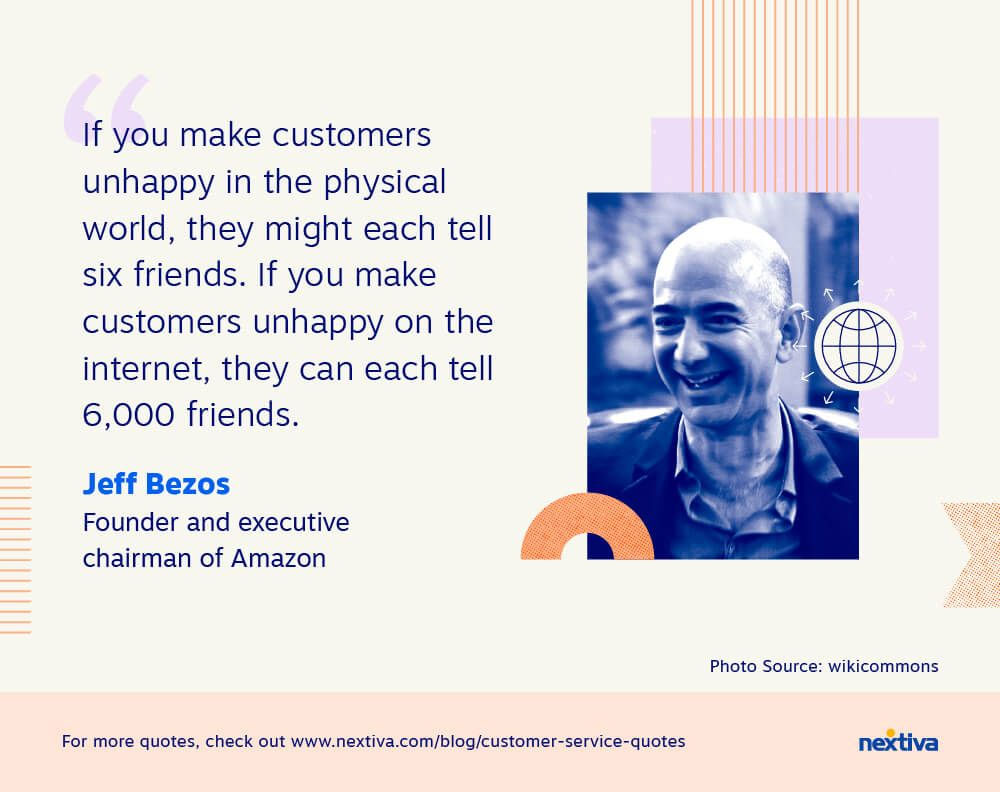 81. "Good customer service costs less than bad customer service."
— Sally Gronow | Head Of Customer Service at Dŵr Cymru Welsh Water
82. "When a customer complains, he is doing you a special favor; he is giving you another chance to serve him to his satisfaction. You will appreciate the importance of this opportunity when you consider that the customer's alternative option was to desert you for a competitor."
— Seymour Fine | Author of "The Marketing Of Ideas And Social Issues"
83. "A brand not responding on Twitter is like hanging up the phone on customers. With millions watching."
— Dave Kerpen | CEO of Celebrating Live
84. "Whether it's a bored demeanor, a dismissive look, or just plain rude behavior, sloppy customer service spells disaster faster than just about any other business transgression."
— Lauren Simonds | Managing editor of Small Business Computing
85. "Any customer that walks away, disrespected and defeated, represents tens of thousands of dollars out the door, in addition to the failure of a promise the brand made in the first place. You can't see it but it's happening daily."
— Seth Godin | Entrepreneur, best-selling author, and speaker
86. "You can't pour enough business into the top of the funnel to sustain real growth if customers are leaking out the bottom at a high rate."
— Nick Mehta | CEO at Gainsight
Quotes about leading with values in customer service
As you develop your own customer service philosophy, it can be easy to lose sight of the most crucial element: that the customer is paramount to the success of your company and the growth. Keep these customer philosophy quotes in mind as you and your employees interact with customers on a daily basis.

87. "When you assume negative intent, you're angry. If you take away that anger and assume positive intent, you will be amazed."
— Indra Nooyi | Former chairperson and CEO of PepsiCo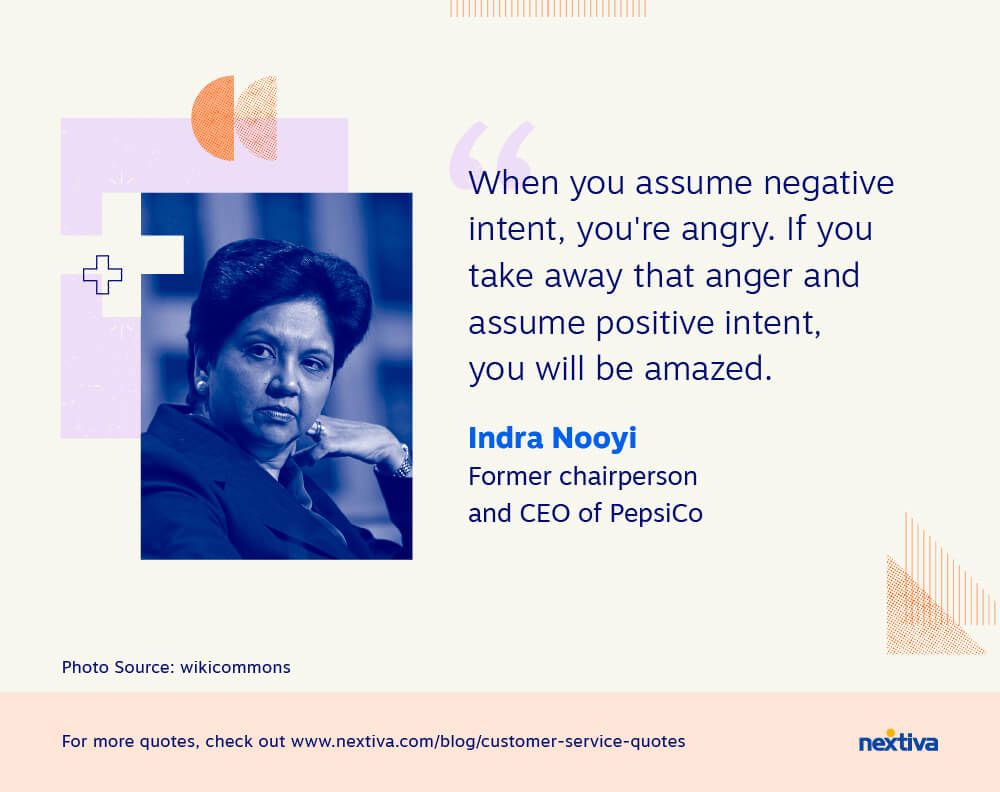 88. "The most convenient brands are able to anticipate an issue that they're already ready to solve."
— Jeff Toister | Author, consultant, and trainer
89. "Both EI and IQ are important. The best customer service representatives balance product and systems knowledge with instinctive, human-centered capabilities that help them deliver extraordinary service — core to giving customers a positive brand experience."
— Monika Jo | Former Director Of Communications at Mursion
90. "Imagine what you would like customers to say about you and then strive to be that business that gets those kinds of reviews. Start with the end in mind."
— Adele Gutman Milne | Host of the Hospitality Reputation Marketing Podcast: Get Great Reviews
91. "To create customer happiness, it is equally as important to create employee happiness."
— Ian Golding | CEO and founder of Customer Experience Consultancy Ltd.
92. "We're not here just to provide an answer. We want people to connect with us as people, with our brand, and what we're doing."
— Stacy Justino | Director of Customer Happiness at Wisteria
93. "The future of communicating with customers rests in engaging with them through every possible channel: phone, e-mail, chat, Web, and social networks. Customers are discussing a company's products and brand in real time. Companies need to join the conversation."
— Marc Benioff | Founder and CEO of Salesforce
94. "Your employees are your company's real competitive advantage. They're the ones making the magic happen — so long as their needs are being met."
— Richard Branson | Founder at Virgin Group
95. "Service, in short, is not what you do, but who you are. It is a way of living that you need to bring to everything you do, if you are to bring it to your customer interactions."
— Betsy Sanders | Principal at The Sanders Partnership
96. "Building a good customer experience does not happen by accident. It happens by design."
— Clare Muscutt | Founder of Women in CX
97. "Customer service is not a department. It's a philosophy to be embraced by every member of an organization, from the CEO to the most recently hired."
— Shep Hyken | Chief Amazement Officer and speaker with Shepard Presentations LLC
98. "It shouldn't matter how or where the customer seeks their service resolution. You should be able to rise to the challenge and meet them anywhere they want."
— Jeff Nicholson | Global Head CRM Product Marketing of Pegasystems
99. "Consumers are statistics. Customers are people."
— Stanley Marcus | Former president and chairman of Neiman Marcus
100. "Customer service is just a day-in, day-out, ongoing, never-ending, unremitting, persevering, compassionate type of activity."
— Leon Gorman | Former president and chairman of L.L.Bean
101. "The most important thing you can do is make the distinction between customer service and guest hospitality. You need both things to thrive, but they are completely different."
— Danny Meyer | Founder of Shake Shack
102. "Like the perfect score to a film, a good user experience is unobtrusive and transparent to the consumer because 'it just works.'"
— Jeff Olson | Vice President of Customer Experience at PaySimple
103. "If you look at feedback as a gift, you will realize that these are customers that are trying to help you. In fact, they want you to help them. And so it's mutually beneficial. You help them, they help you by exposing an issue that you then can fix. Not only for them, but for any other customer that might be having the same problem."
— Dan Gingiss | Customer experience speaker and author
104. "Research shows that the factor most directly linked to creating a positive customer experience is actually our own employees. The fastest way to get customers to love your brand is to get employees to love their jobs."
— Tiffani Bova | Global Customer Growth and Innovation Evangelist at Salesforce
Quotes to encourage great customer interactions
Happy customers are the key to a great customer service reputation. Inspire your employees to make the best of every interaction by sharing these motivational customer service quotes.
105. "There can be no improvements if you have the silver-bullet solution mindset. There is no substitute for making the small, incremental steps to improve things over the long haul. If you are looking for a simple, easy, quick solution, you won't find it."
— Colin Shaw | Founder and CEO of Beyond Philosophy
106. "Your most unhappy customers are your greatest source of learning."
— Bill Gates | Founder of Microsoft Corporation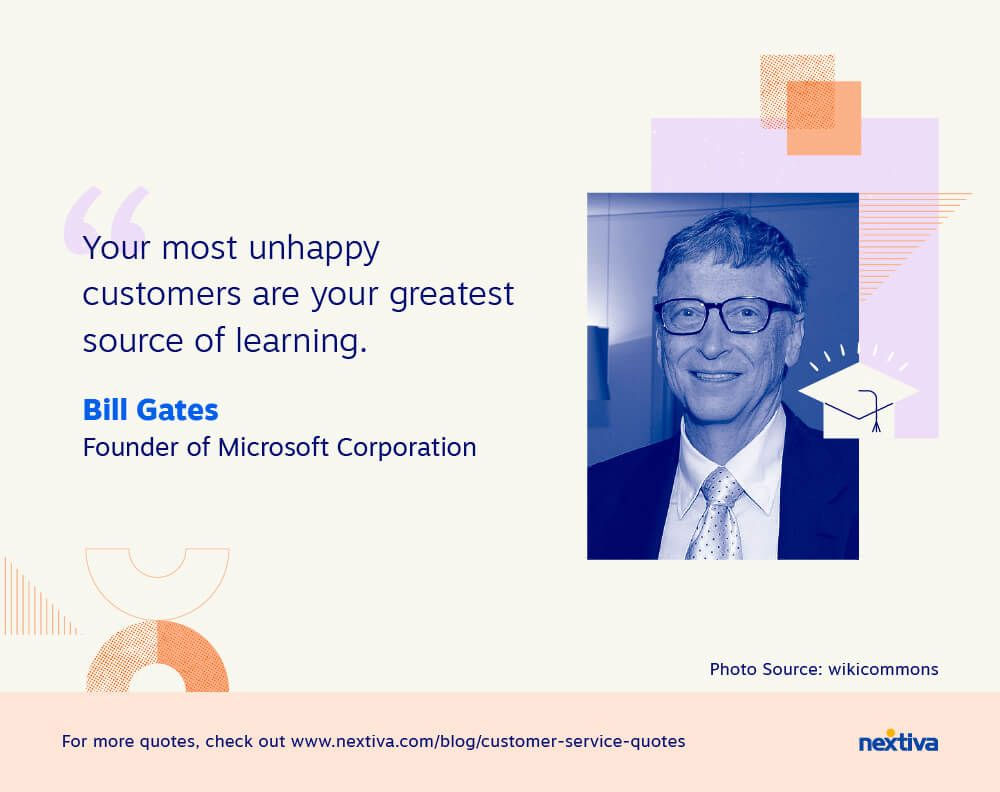 107. "To the customer, you are the company."
— Shep Hyken | Chief Amazement Officer and speaker with Shepard Presentations LLC
108. "Your most important assets are not your customers and your employees. It's how your customers and your employees feel about your company."
— Bill Quiseng | Chief Experience Officer and speaker
109. "Support information is basically a gold mine of insight. And that goldmine is not just for your support department, it's for an entire company."
— Sharad Khandelwal | Co-founder and CEO of SentiSum
110. "A good design shows respect for your customer and you're either respectful of their time or respectful of what it is that they desire, and so it makes it a very fundamental element to everything that you do."
— Penny Wilson | CMO at Appnovation
111. "If you make a sale, you can make a living. If you make an investment of time and good service in a customer, you can make a fortune."
— Jim Rohn | Entrepreneur, author, and motivational speaker
112. "You do not get recommendations if your customers do not trust you. Make your business worthy of recommendations."
— Ali Rayl | Vice President of Customer Experience at Slack
113. "Reaching out to customers is the best way to be proactive instead of reactive. Recommend products that might help them. Ask them about their pain points. Gather feedback on previous transactions and make improvements based on their needs. You can also engage in social listening, checking in on what customers say about your brand online and responding accordingly."
— John Hall | Co-founder of Calendar
114. "When a brand connects with their customer, that in some ways is the easy part, the hard part is keeping the customer at the center after the success/profits comes flooding in. Success can breed complacency, success can breed arrogance."
— Anna Farmery | Co-founder of Care Quality Professionals and author of Focus on Customer Experience Delivers Profit
115. "Customers don't always notice when you change something. It is not that they do not care; it is that they have other things going on in their lives. You must alert customers to changes, explain it was because of their feedback, and describe how the new process improves the situation."
— Colin Shaw | Founder and CEO of Beyond Philosophy
Customer service quotes from famous figures
When it comes to sharing words of wisdom from experts in the customer service field, we would be remiss not to include quotes from the industry's movers and shakers. From Sam Walton and Jeff Bezos to Walt Disney and Steve Jobs, these industry goliaths certainly know a thing or two about excellent customer service.
116. "I've learned that people will forget what you said, people will forget what you did, but people will never forget how you made them feel."
— Maya Angelou | American poet, memoirist, and civil rights activist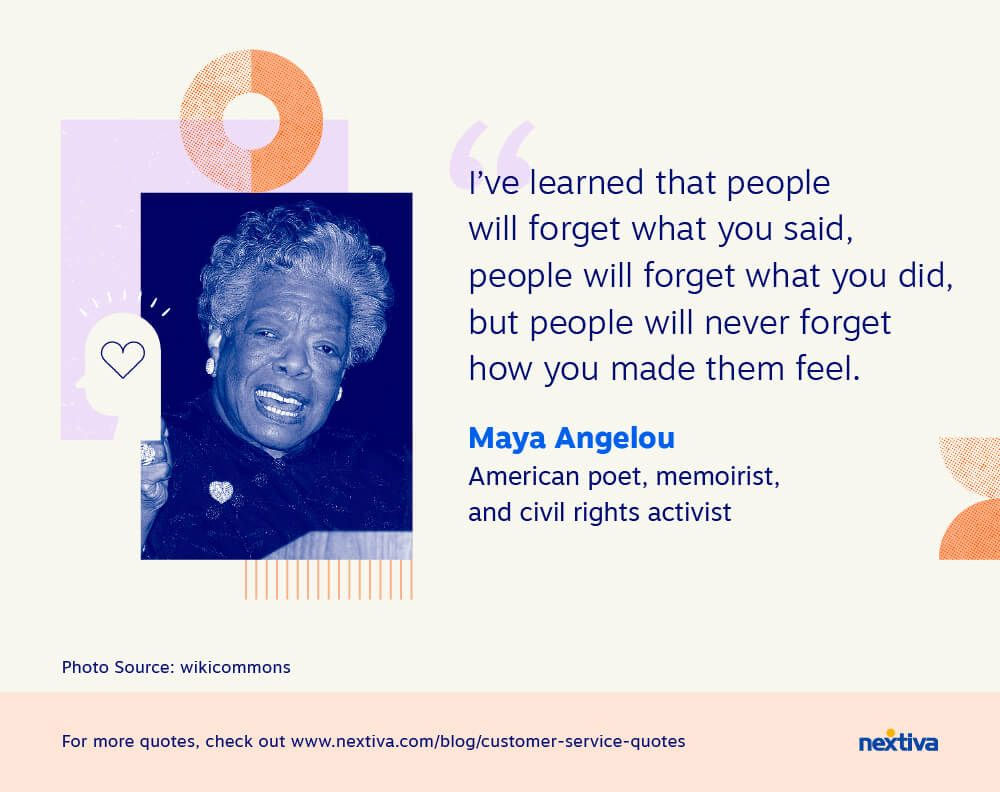 117. "You've got to start with the customer experience and work back toward the technology, not the other way around."
— Steve Jobs | Co-founder and former chairman and CEO of Apple Inc.
118. "It is not the employer who pays the wages. Employers only handle the money… It is the customer who pays the wages"
— Henry Ford | Founder of Ford Motor Company
119. "It is so much easier to be nice, to be respectful, to put yourself in your customer's shoes and try to understand how you might help them before they ask for help, than it is to try to mend a broken customer relationship."
— Mark Cuban | Entrepreneur and investor
120. "The best way to find yourself is to lose yourself in the service of others."
— Mahatma Gandhi | Lawyer, anti-colonialist, and political ethicist
121. "The achievements of an organization are the results of the combined effort of every individual."
— Vince Lombardi | Former head coach and general manager of the Green Bay Packers
We hope these quotes will serve to inspire and motivate your team to create an experience that customers rave about.
You can help achieve that by ensuring your team has the proper tools to connect seamlessly with customers to quickly and effectively resolve any question or issue they might have. 
Nextiva offers a wide variety of service tools to turbocharge your service team's efficiency and gain instant customer insights to nurture relationships and create happy, lasting customers.