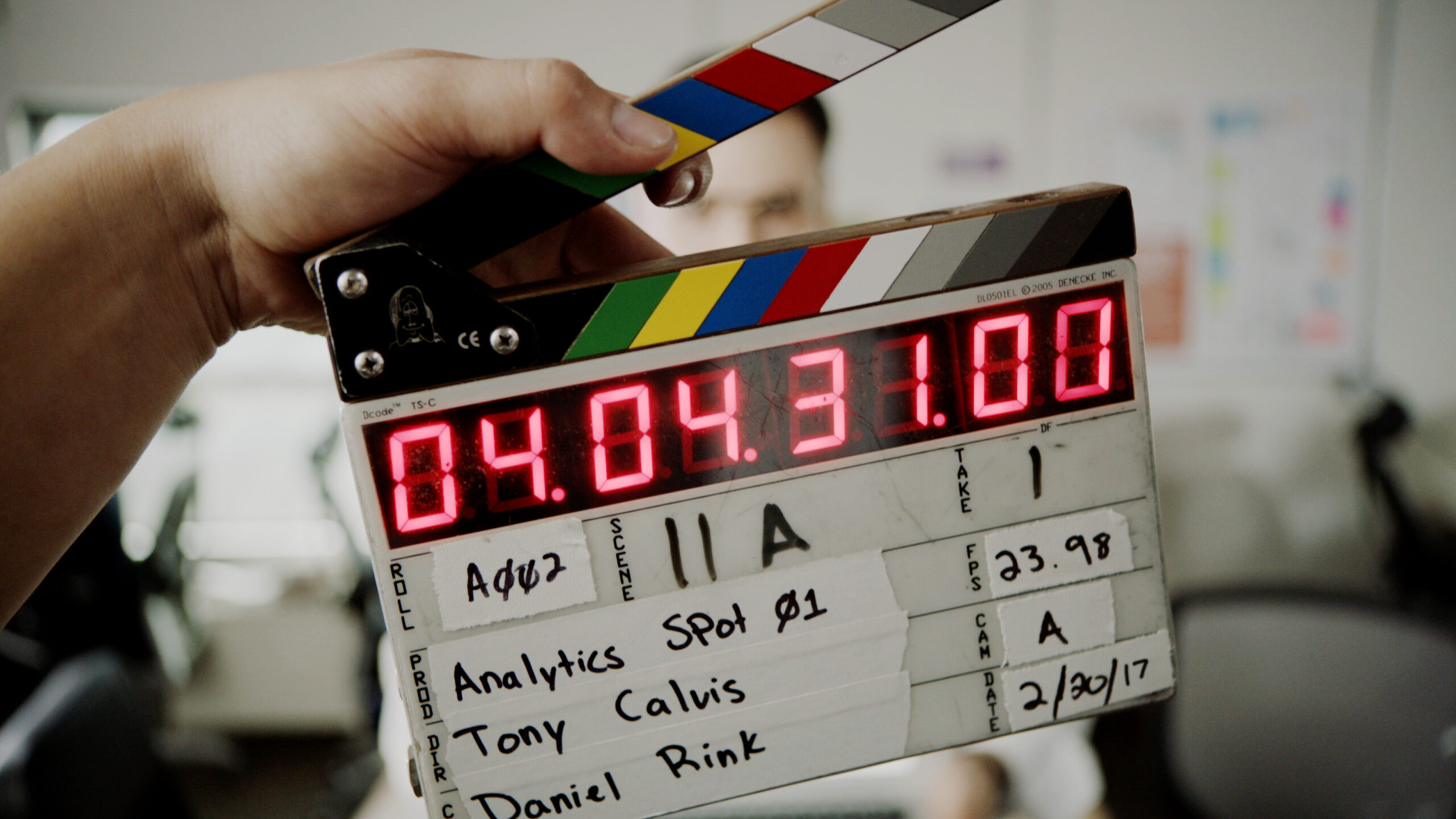 Tell me if you've heard this one yet: "Online video is the future of marketing." I'd be shocked if you haven't. In fact, you're probably sick of hearing this since your entire online experience gets blasted by video ads multiple times a day.
So, with this over-saturation of video marketing, how will your videos stand out amongst not only the competition, but also every video that auto-plays in someone's Facebook feed? Here's the best answer marketers have come up with: "We haven't the faintest idea."
You might be thinking the answer should've been "money," but I remain skeptical of that. For example, let's look at a 20-second video I made with help from a coworker, some basic filmmaking equipment, and about an hour of my time.
The Problem
About a year ago, you would have found a typical 'request a demo' form accompanied by a laptop with the video all queued up to play at the bottom of some Nextiva.com webpages.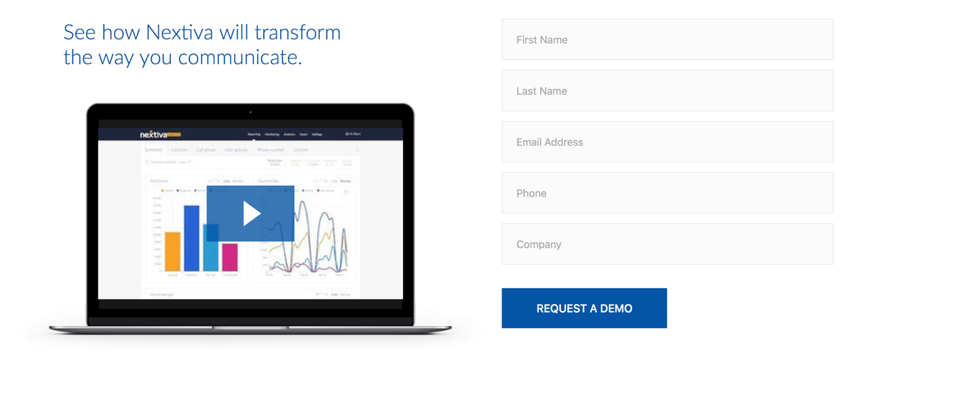 If we're kindred spirits in any way, you might be wondering, "Can I sneakily click the play button without filling in my personal information?" Let's give it a shot…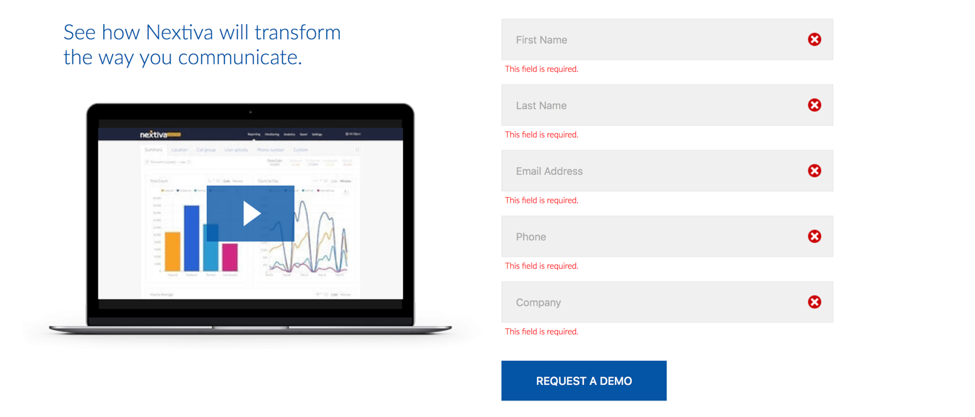 Yikes. What an unsightly way to foster my user journey. Each text box angrily screams, "Wrong!" just for my trivial curiosity click.
On average, this approach brought us an 'okay' number of leads per month, but more importantly, it didn't serve to showcase the Amazing Service that Nextiva is known for. So how could video marketing help this situation by improving the user's experience, increasing leads, and not playing the demo video until we have a conversion?
The Solution
Here's the solution we came up with. Go ahead and click the play button to test it out yourself (sound on, please).
See how Nextiva will transform the way you communicate.
Certainly feels better, doesn't it? In fact, you might even be motivated to, dare I say it, fill out your contact information online. If so, you're not alone.
Since that new 20-second-and-barely-cost-us-anything video was posted nine months ago, it has been watched 8,000+ times and increased our average monthly form-fills by 10%. Without promotion of any kind, this video has organically facilitated a much easier transition for the user to trust us with their information compared to the experience before. The improved user experience takes the website visitor one step closer to Nextiva's award-winning Amazing Service.
Also, Nextiva's hat is off to Wistia who hosts this video since their player kept the experience 100% ours. Had we gone with the likes of YouTube, the experience would have automatically been polluted by outside branding and chanced distracting our viewers from completing the form.
Your Turn
Is there a point in your customer's journey where you request information from them? Is it the same point that you find a high bounce rate? This is an opportunity to make a short, budget-friendly video assuring the viewer that more excitement is in store for them after filling out your form.
Get creative, provide a friendlier user experience, start generating more leads, and understand that online video is not the future of marketing. It's right now.
Share this article
ABOUT THE AUTHOR
Tony Calvis
Tony Calvis is a video producer at Nextiva, heading the company's video production for brand, products, and large-scale events. He works closely with leadership and marketing teams to ensure the customer journey lives up to Nextiva's standard of Amazing Service, especially in regards to CX, brand identity, and marketing communications.
Posts from this author