The results are in! Glassdoor has named Nextiva as one of the Best Places to Work in 2020. Only 100 employers across the United States have been awarded this elite distinction, and we are thrilled to have made the list.
Glassdoor identified the best employers based on eight attributes seen in employee reviews, including satisfaction, career opportunities, compensation, benefits, values, senior leadership, and work/life balance.
Nextiva is a Best Place to Work in 2020
Yaniv Masjedi, our chief marketing officer, summed up our culture well. "Nextiva provides growth opportunities in an environment where people can be themselves. We love what we do, and it shows—that's why Nextiva is the best place to work."
"We're proud to have been named a best place to work thanks to our team's reviews on Glassdoor – this goes a long way to showcase the extraordinary company we've built together," said Mark Green, our chief people officer. "What makes Nextiva special is our incredible talent and the entrepreneurial spirit we have been able to maintain, even as the company has scaled to over 1,000 people across the globe."
Infectious Culture of Amazing Service
Nextiva's culture centers around providing Amazing Service, both to customers and each other. Beyond delivering truly excellent service, we like to have fun, too. We serve lunch weekly, give back to our communities, and offer numerous health and wellness activities.
Here's a peek inside life as a Nextivian:
There's more to our culture than these fun events. We've built our company culture of trust and autonomy. Everyone is empowered to make a difference regardless of their title.
Many consider Google, Salesforce, and LinkedIn to be the ultimate employers. However, the results suggest otherwise. The Glassdoor Best Places to Work award showcases top employers around the United States.
Related: How Do CEOs Organize Their Day? These Founders Reveal Their Routines
Inspiring Employee Reviews Reflect a Best Place to Work
Read through more than 450 passionate and energetic reviews from Nextiva employees. You'll find that we don't just provide a fun place to work, but a meaningful, enriching one, too.
Here are a few of my favorites.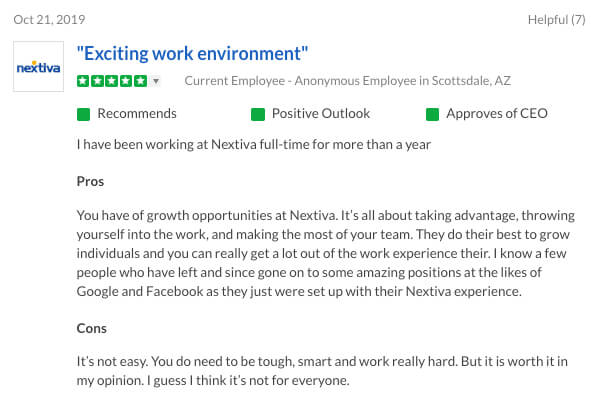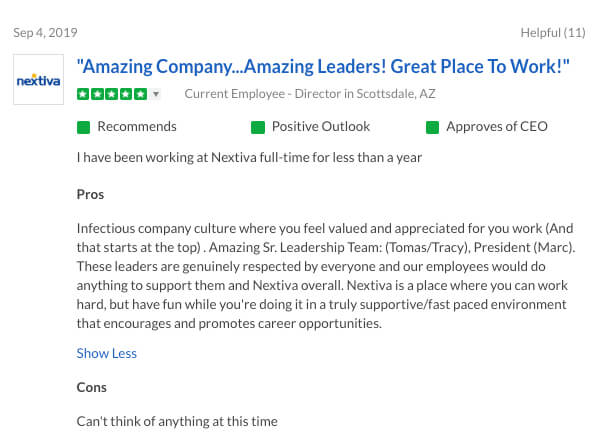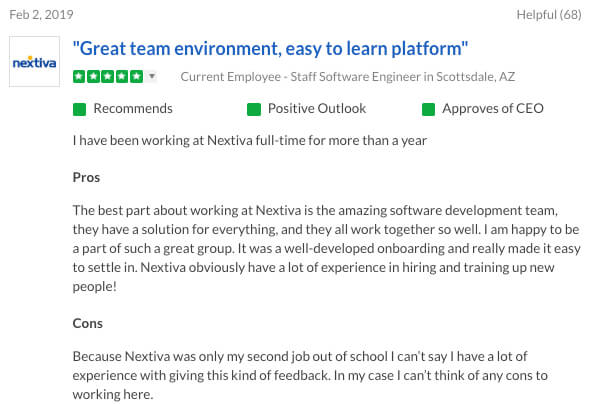 Thrilled to be Ranked a 'Best Place to Work'
It's also worth mentioning that Nextiva is one of three employers headquartered in the Phoenix metropolitan area that is rated one of the best places to work in the nation. Wow!
Phoenix remains an attractive city for growth. Besides a stable and strong real estate market, a thriving economy, the city is home to many well-known software companies, but most of them did not make the list of best places to work. Business growth leader, Greg Head, has curated a detailed listing of software companies based in the greater Phoenix area.
Slowly but surely, Phoenix has become a top destination for software firms and innovative companies. San Francisco, New York, and San Jose aren't the only hubs of tech companies.
The companies that earned a Best Places to Work award for 2020 in the Phoenix area are:
Nextiva
Taylor Morrison
JDA Software
We don't have an in-office playground. We don't have a luxurious office space. We do share a focus on helping businesses communicate with customers. Everyone at Nextiva is proud to put in great work and enjoy generous PTO in the company's competitive benefits package.
It's no surprise that Nextiva was also recently named one of the fastest-growing technology companies in the United States. You don't get that way by being mediocre. The work environment makes it a great place to work in North America.
Behind its award-winning product, Nextiva has a growth-oriented leadership team. Comprised of rich backgrounds in building successful companies, the management team continues to guide the company in making it one of the best workplaces in the U.S.
We have something special here. You might even say we're Amazing.
We're hiring: Browse our 50+ job openings!
Press Release: Glassdoor Names Nextiva One Of The Best Places To Work In 2020
Related: Nextiva Wins Multiple Stevie Awards for Excellence & Innovation for Fifth Consecutive Year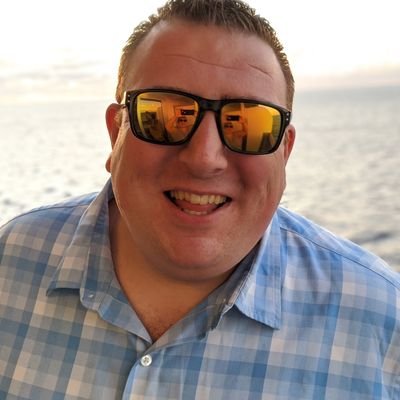 Joe Manna is a content marketing manager for Nextiva who obsesses over the Oxford comma, embraces the em dash, and thrives on authoring content that compels people to take action. He is savvy with networking technology, a staunch privacy advocate, and in tune with today's business needs. His expertise helps companies large and small serve more customers.