Who faxes anymore?
Believe it or not, faxing is still a vital communication method used in many businesses today.
However, with security breaches, data breaches, and cyber threats seemingly working around every corner, the traditional style of faxing is no longer safe and secure.
But like everything else, technology offers a better solution that makes online faxing possible.
For those who still admittedly use traditional fax machines, why should you consider switching to an Internet fax?
Related: How to Send and Receive a Fax Without a Fax Machine
Don't worry, we will tell you.
Read on to learn about the top six reasons why you should use an internet fax and ditch your old traditional fax machine.
1. Easy Access from Anywhere
One of the primary reasons why the benefits of Internet fax outweigh traditional fax is accessibility. In today's fast-paced, mobile, on-the-go business world, gone are the days when you had to remain in an office in order to receive, sign, and/ or send important documents via fax.
Internet fax allows you to send and receive faxes from virtually anywhere with an Internet connection and a mobile device. Most Internet fax providers offer mobile apps that allow faxers to receive, download, sign, and re-send important documents.
2. Save Space and Storage
Most traditional fax machines are large, clunky, and take up much-needed desk space in an office. All faxers need to use an Internet fax is an email address and an Internet connection in order to send and receive faxes. That's it! With Internet fax, you can finally get rid of that old fax machine.
In addition to saving physical storage space, most Internet fax providers also offer sufficient data storage to archive old files and faxes. Some also offer a website and mobile app option to store faxes in the cloud.
However, it's worth mentioning that different providers offer different levels of storage capacity. Some providers will allow you to store all of your faxes permanently, but others may not. Therefore, it's important to do consider investing in additional cloud storage, especially if you do a lot of faxing and file management.
3. Go Paperless, Go Green
Internet fax makes it easier and ever for users and businesses to "go green". All incoming and outgoing faxes are saved as electronic files and can be downloaded and uploaded in various file formats. Electronic faxes can even be electronically signed, which reduces the need for printing hard copies.
Not only are you saving a great deal of physical storage space by finally tossing your old fax machine, but you also reduce the amount of paperwork and files. Internet fax makes it incredibly easy to save space, save paper, save money and become more environmentally friendly and conscious.
4. Organization
Saving space, reducing paper clutter, and increasing storage all mean one thing: more organization. When you get rid of your traditional fax machine, you immediately mitigate the risk of losing important paperwork, damaging file or not receiving a fax at all.
Internet faxing allows faxers to easily save their sent and received faxes all online. So, if you are searching for a particular file or fax, instead of sifting through endless piles of paper, simply access your faxes on your tablet or phone.
Many Internet fax providers allow you to sort faxes and files by date, sender or even specific keywords that appear in the file name or title, or even within the document itself. With Internet faxing, you can find what you are looking for in minutes instead of hours, and without the headaches!
4. Enhanced Security
Security is a huge concern for businesses today. In fact, many businesses have invested in cloud storage as well as Internet faxing to remain compliant with new security standards put forth on many industries, such as healthcare. Internet faxing is encrypted, which means you automatically add a layer of security to your faxing and document control activities.
Cloud storage is also more secure than traditional filing cabinets. Although most filing cabinets can be locked, with some force, they can be broken into easily.
Additionally, without having files or paperwork lying around in an office, business owners and managers can immediately increase security by simply investing in Internet faxing. Without extra copies of a customer's address or credit card number lying around, businesses can rest assured that their customer and/ or user data is protected and secure.
5. Convenience
Another reason to consider an Internet fax is convenience. Again, because life and business on the go has become the norm, it is incredibly convenient to send and receive faxes in between meetings at a coffee shop, traveling or virtually anywhere outside the office.
The convenience factor alone makes it easier for faxers to quickly send and receive faxes, which increases productivity and efficiency.
6. Cost Savings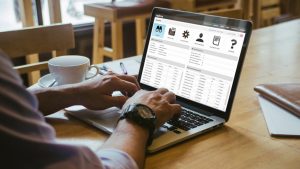 Finally, one of the last—but certainly not least—advantages to Internet faxing is the cost savings. Think of all the money you can save on paper, ink cartridges, toner and maintenance. Believe it or not, traditional fax machines cost hundreds and even thousands of dollars a year to operate, depending on usage, of course. Businesses can easily adopt Internet faxing, and sync up with an Internet faxing provider for a fraction of the cost.

Internet Faxing for Modern Businesses
As the digital age continues to transform and shape, Internet faxing is replacing the traditional and somewhat obsolete fax machine that sits in a corner of an office. Internet faxing clearly increases accessibility, security, organization, efficiency and it is incredibly convenient.
Are you ready to make the switch and begin shopping for Internet fax providers? If you are looking for a reliable and reputable Internet fax provider, Nextiva is the best place to start. Nextiva vFax offers simplified faxing for modern businesses. Learn how to fax online quickly.
So, even if you aren't 100 percent sold on Internet faxing, businesses can easily make the transition without giving up their traditional fax machines—yet.

More:
Is your fax machine costing you?
5 Reasons Online Faxing is Better than Traditional Faxing