A
Washington D.C.

area code will give your business access to the heart of the US.

When your local business presence isn't enough, Nextiva takes you where your customers are.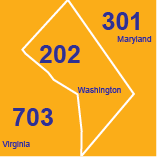 Washington DC is unique as the capital city of the United States. It's not located in any state but is instead listed as a "federal district." It has an estimated population of 693,000 people and covers 68 square miles. The Washington DC area code is located on the east coast of the United States and is bordered by the states of Maryland and Virginia.
Washington DC became the capital of the United States in 1790 and is named after the first American president, George Washington. Congress officially settled into the city in 1800 and held their first session the city.
Washington DC grew in both importance and population during the Civil War and then the New Deal in the 1930's led to major construction and growth in the area as well. It is the 20th largest city in the US and the Washington DC area code is widely recognized as one of the most important political cities in the world because it is home to the United States government.