Connect to the local Ohio economy with a
Toldeo

area code.

When your local business presence isn't enough, Nextiva takes you where your customers are.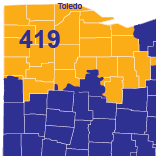 Toledo is the 4th largest city in Ohio, after Columbus, Cleveland, and Cincinnati. It has an estimated population of 279,000 people and covers 84 square miles in the northeastern part of the state. Toledo is the county seat of Lucas County and was built along the coast of Lake Erie. Area code 419 includes other Ohio cities like Findlay, Upper Sandusky, Celina, and Defiance, and is 68 miles from Detroit, Michigan, 114 miles from Cleveland, and 243 miles from Chicago, Illinois.
The city of Toledo was founded in 1833 and it began to grow in 1843 when the Erie Canal was completed in the area. As railroads gained in popularity in the state toledo became a transport hub and more settlers began to move to the city in the second half of the 19th century.
Toledo became one of the biggest and most important cities in Ohio but the Great Depression and the decline in automotive manufacturing in the United States in the 1900s caused the economy to suffer. Now they are beginning to revitalize the downtown area, but Toledo has still seen a slow population decline in recent years. Despite this, it is still the 4th largest city in Ohio and the 71st largest in the United States.