Tempe

area code is ideal for any business ready to expand in Arizona.

When your local business presence isn't enough, Nextiva takes you where your customers are.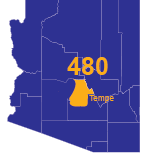 Tempe is the 8th largest city in Arizona and has an estimated population of 185,000 people. It is only 10 miles from the capital city of Phoenix and is located in Maricopa County as well. Along with Tempe, area code 480 includes the cities of Scottsdale, Phoenix, Gilbert, Mesa, Chandler, and more. Tempe covers 40 square miles and is located in the central part of the state of Arizona.
The area around Tempe was first settled when Fort McDowell was built in 1865. It was named "Tempe," after a mountain in Greece, in 1879. The Territorial Normal School, which would later become Arizona State University, was founded in 1885.
The town was linked by railroad to the rest of the state in 1887 and the population began to grow as it became an agricultural hub in the area. Finally, it was incorporated as a city in 1894. In 1912 Arizona officially became a state and the city of Tempe continued to flourish. Now it is a suburb of the capital of Phoenix, and the 8th largest city in the state.