Grow your business in Iowa with a
Sioux City

area code.

When your local business presence isn't enough, Nextiva takes you where your customers are.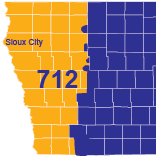 Sioux City has an estimated population of 82,000 people and covers 59 square miles at the head of the Mississippi River. The city is located in the Northeastern part of the state and is the seat of Woodbury County. However, area code 712 includes Buena Vista, Clay, Pottawattamie and other counties as well. Sioux City is the 4th largest city in Iowa and is located 106 miles from Omaha and 199 miles Des Moines.
Sioux City was founded in 1854 and incorporated in 1857. When railroad lines connected it to the rest of the country the city grew rapidly, and the population increased by over 30,000 people between 1880 and 1890.
The Sioux City Army Air Base was established during World War II and became a location for flight training in the Midwest. In the 70's and 80's Sioux City went through an urban renewal program to fix up their downtown areas, and the redevelopment plans were again picked up by the government in the early 2000's. Sioux City is now the 4th largest city in the state of Iowa.