Scottsdale

area code should be on the radar of any business looking to expand in Arizona.

When your local business presence isn't enough, Nextiva takes you where your customers are.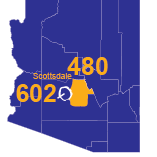 Scottsdale is a growing city outside of Phoenix, Arizona. It has an estimated population of 246,000 people and covers 184 square miles. Scottsdale is located in Maricopa County in the central part of the state, so area code 480 and 602 include the nearby cities of Tempe, Gilbert, and others as well. A Scottsdale area code is an asset to businesses that are ready to tap into the local Arizona market because it is only 11 miles from Phoenix and 114 miles from Tucson.
Scottsdale was incorporated in 1951 and is named after Winfield Scott, a US Army Chaplain. It was settled in the late 1800's but didn't experience a population boom until the 20th century. Then, the economy continued to improve during World War I when they provided cotton for the war effort.
Some milestones that spurred further growth in Scottsdale were opening the Thunderbird II Airfield during World War II, the Motorola plant opening in 1950, and establishing themselves as a resort town and vacation destination for Americans. Now Scottsdale sits comfortably as the 7th largest city in Arizona and the 94th largest in the United States.