Growth in the
Santa Ana

area code starts with Nextiva.

When your local business presence isn't enough, Nextiva takes you where your customers are.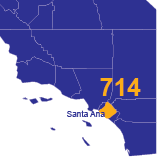 Santa Ana has an estimated population of 334,000 people and covers 27 square miles in the southern part of the state. It is the seat of Orange County and area code 714 includes the cities of Anaheim, Irvine, Huntington Beach, Costa Mesa, and more. The Santa Ana area code is an asset to any business ready to expand in California because it is the 11th most populous city in the state and sits only 35 miles from Los Angeles and 92 miles from San Diego.
Santa Ana was founded in 1869 and incorporated in 1886. It was named after Saint Anne and became a part of the United States when the US won the territory in the Mexican-American war of 1848. The city's position on railway lines between San Diego and Los Angeles helped with its initial growth.
Then, the Santa Ana Army Base was built in World War II which also helped boost the population of the city in the 20th century. The city's location in the Los Angeles - Long Beach - Anaheim metropolitan area provides a strong foundation for the economy and now Santa Ana sits comfortably as the 11th biggest city in California and the 57th largest in the United States.