Connect to the
San Jose

area code with Nextiva VoIP services.

When your local business presence isn't enough, Nextiva takes you where your customers are.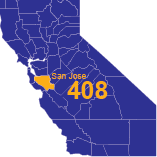 With an estimated population of 1 million people, San Jose is the 3rd biggest city in California. It is the county seat of Santa Clara County, and area code 408 includes parts of Santa Cruz County as well. San Jose covers 180 square miles and is located in Northern California in the Santa Clara Valley. The San Jose area code is only 49 miles from San Francisco, 125 miles from Sacramento, and 366 miles from Los Angeles.
San Jose was the first capital city of California and was incorporated soon after the state joined the US in 1850. The economy originally grew in the agriculture industry but during World War II it began to focus on industrial manufacturing. Companies like Ford and IBM moved into San Jose after World War II and helped continue the population surge. The rise of Silicon Valley in the late 1900's and first decades of the 21st century boosted both the population and economy of San Jose even more, and now the city is the 3rd biggest in California and the 10th biggest in the United States.