San Francisco

area code is within reach for any business with Nextiva VoIP services.

When your local business presence isn't enough, Nextiva takes you where your customers are.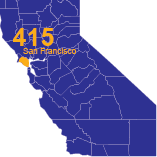 San Francisco is the 4th largest city in California and has an estimated population of over 884,000 people. It's located in San Francisco County in Northern California and covers 46 square miles along the west coast. Area code 415 also includes the cities of Fairfax, Marshall, Strawberry, Brisbane, Ross and many more. A San Francisco area code is valuable for any business because outside of New York City, San Francisco is the most densely populated area inside the United States.
San Francisco originally grew to prominence during the California Gold Rush in 1848 and 1849. The city was incorporated in 1850 after California gained statehood, and is named after St. Francis of Assisi. Wells Fargo was founded in 1852 and the Port of San Francisco was established, firmly entrenching the city as one of the powerhouses of the state.
San Francisco had such a strong economy that it continued to thrive through the Great Depression and played an important role afterward during World War II. In the second half of the 20th century, the city became a cultural hub and the population continued to grow. This occurred alongside the rise of the internet in San Francisco, including the dot-com boom in the 1990's and the second social media boom in the early 2000's. Now, San Francisco is the 4th largest city in California and the 13th largest in the United States.