Nextiva VoIP services make it possible for businesses around the country to get connected with a
San Diego

area code.

When your local business presence isn't enough, Nextiva takes you where your customers are.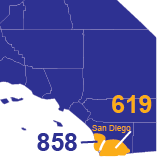 San Diego is the second biggest city in California after Los Angeles. It has an estimated population of 1.4 million people and covers 372 square miles along the state's southern coast. San Diego is the seat of San Diego County, and area code 619 covers the southern half of the city and its suburbs while area code 858 covers most of the north. The city is located on the Mexican border, and the San Diego area code is an asset to any business ready to expand in California because of its close proximity to Los Angeles.
Although Southern California was originally Mexican Territory, it was won by the United States in the Mexican-American war in 1848. Afterward, the city of San Diego was officially incorporated in 1850. The area quickly became a base for US Military branches and because of that the population and economy grew during World War II. Now San Diego is a cultural and economic hub of California and the 8th largest city in the United States.