New York City isn't the only important part of the state. A
Rochester

area code can also help you reach new audiences there, so call Nextiva to get started with area code 585 today!

When your local business presence isn't enough, Nextiva takes you where your customers are.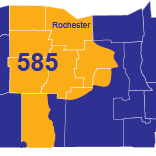 Rochester is the 3rd biggest city in New York after NYC and Buffalo and has an estimated population of 209,000 people. The city is in the western part of the state and covers 37 square miles along the shore of Lake Ontario. Area code 585 is located in Monroe County, but also includes Allegheny, Monroe, Ontario, Yates and five more counties as well. The Rochester area code sits 76 miles from Buffalo, 272 miles from Toronto, Canada, and 373 miles from New York City.
Rochester was founded in 1788 by Puritans after the Revolutionary War and was incorporated in 1834. The city is widely regarded as America's first "boomtown" because they experienced a major population surge in a short amount of time. The first big industry in the area was manufacturing flour, but it soon expanded as Eastman Kodak was founded and the University of Rochester was built.
By 1870 Rochester had a population of over 60,000 people and a diverse range of jobs for residents in the city. Now, it sits comfortably as the third-largest regional economy in New York state.